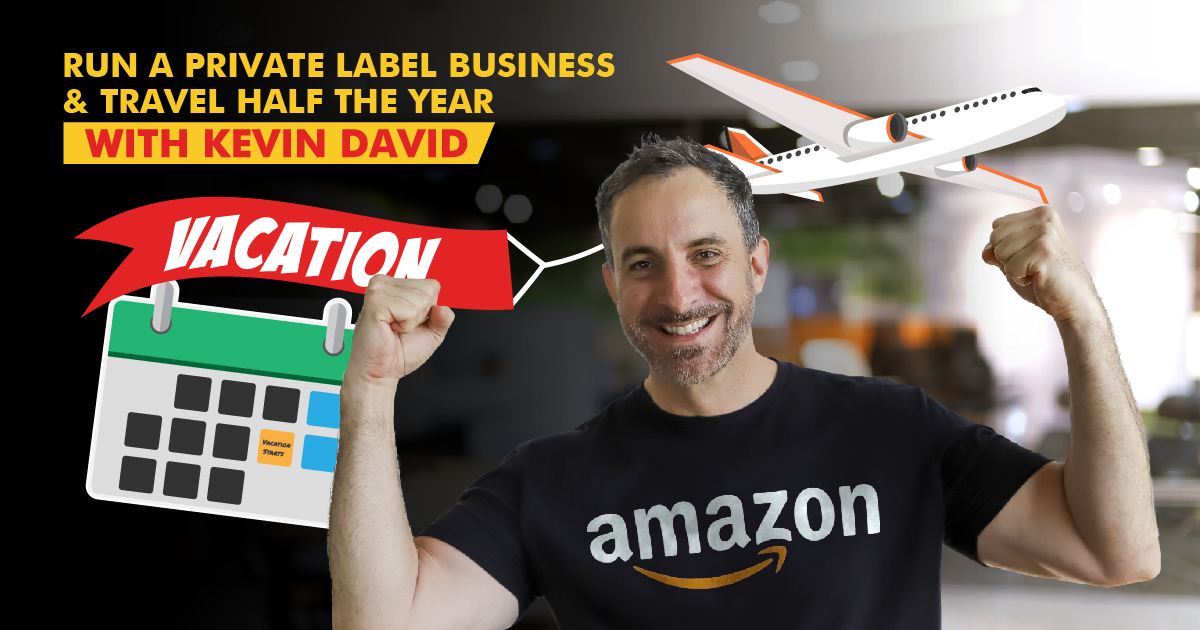 Kevin David: Run a Private Label Business & Travel Half the Year – AMPM Podcast EP 195
Podcast: Play in new window | Download
Subscribe: Apple Podcasts | Android | Email | Google Podcasts | Stitcher | TuneIn | RSS
In a captivating interview, we sit down with amazingly successful Amazon seller Kevin David!
For those of you unfamiliar with Kevin David, he is a young entrepreneur from San Diego, CA who owns multiple 7-figure Amazon businesses and operates one of the largest Amazon-related social media and YouTube channels in the world.
He started off working in the tech industry and found that the lifestyle did not suit him. He decided to walk away from the hustle and bustle of Silicon Valley life to build a strong career as a seller on Amazon.
Kevin also exhibits an interesting work ethic that is both efficient and flexible: he works hard for six months out of the year and then travels for the rest.
In this episode of the AMPM Podcast, host Manny Coats picks the brain of Kevin David, a very successful private label seller on Amazon who commands a massive following on social channels.
Kevin offers a gold mine of information regarding selling on Amazon, what worked for him in his seller journey, and how to set yourself up for success offering private label products.
In this episode, Manny Coats and Kevin David discuss many hard-hitting Amazon subjects that include:
What Did You Do Prior to Selling on Amazon?
What Inspired You to Become a Private Label Seller?
How Many Hours Were You Putting in When You First Started on Amazon?
How Many Hours Do You Put in Now for Your Amazon Business?
Teaching Amazon Strategies to Thousands of Students
A Breakdown of Kevin's Amazon Income
What Products Should People Avoid?
What Categories Should People Avoid?
How Much Money Should New Sellers Start Out with on Amazon?
What Are Your Suggestions for Borrowing Funds for Your Business?
What Was Your First Product?
Where Do You Source Your Products Besides Alibaba?
What is the Income "Sweet Spot" as a Seller on Amazon?
How Do You Get Better Rates When Sourcing Products?
Using Chinese Freight Forwarders to Save Money
How Do You Know If You've Gotten the Best Price from a Supplier?
When Did You Start Making 7-Figures?
How Did You Differentiate Your Products Enough for Success?
Paying Attention to Competitor Negative Reviews for Your Advantage
What Qualities Do You Look for When Sourcing a New Product?
What is Your #1 Amazon Selling Tip?
The Problem with Starting Out on Amazon with $500 or Less
Trying to Find the Funds for Starting an Amazon Business
Who Should Not Sell on Amazon?
How Do You Get Product Reviews?
Ninja Tip #1 – Getting the Lowest Price from Suppliers
Ninja Tip #2 – Using a Reverse ASIN Tool for High-Ranking Keyword Discovery
Ninja Tip #3 – Doing PPC Marketing the Right Way
What Was Your Biggest Mistake as an Amazon Seller?
If You Could Go Back in Time, What Advice Would You Give to Yourself?
What Marketing Book Would You Recommend?
What Is Your Most Favorite Book of All Time?
Who Is a CEO That You Follow?
How Can People Contact You?
Enjoy this episode? If you found this episode helpful, be sure to check out our previous episodes for more insight into being a successful Amazon FBA Seller! Don't forget to "Like" our Facebook page and join the conversation with over 56,000 prominent Amazon sellers. And don't forget to subscribe to the podcast!
Want to absolutely start crushing it on Amazon and make more money? Follow these steps for helpful resources to get started:
Want more from Kevin David and his Amazon seller journey? Sound off in the comments below!