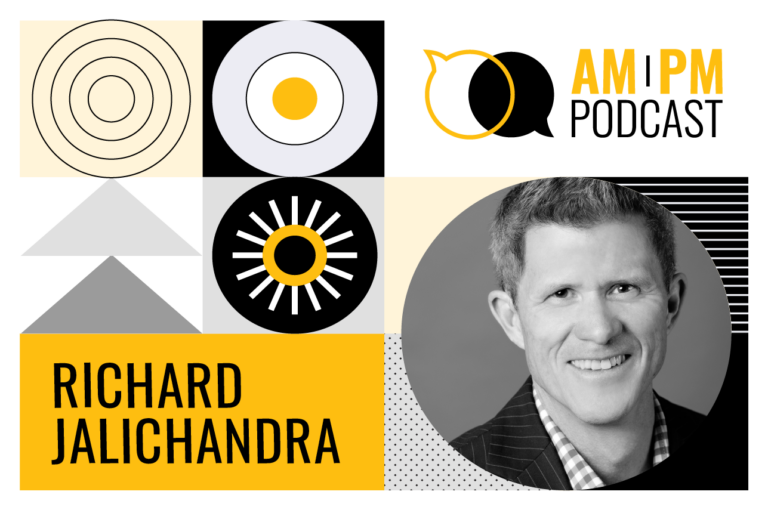 #296 – Amazon Aggregators: How It All Started And Where It's Going with Richard Jalichandra
In episode 296 of the AM/PM Podcast, Kevin and Richard discuss:
01:25 – Richard Shares His Backstory
03:45 – Kevin & Richard Getting Connected Through The Aggregator Space
05:00 – How Richard Got Started In This Industry
09:45 – Building A Solid Team For 101 Commerce
10:31 – The Challenges Of Aggregators From Then To Now
13:00 – To Be A Good Amazon Seller, Your Must Be Good At These Five Things
15:20 – The Fate Of 101 Commerce And How The Funding Bonanza Started
17:33 – Doing Consultation Gigs For The Aggregator Industry
19:00 – Breaking Down The Equities Or Investment Capital For This Industry
20:45 – What Is The Big Investor Attraction In This Industry?
23:01 – Weighing The Risks Of Investing In This Industry
26:00 – SDE (Seller Discretionary Earnings) Vs. Net Contribution Margin
27:09 – The Real Business Health Metric For An Amazon Business
28:00 – Richard's Take On Today's Acquisition Multiples
30:00 – Is The Aggregator Space Moving To D2C Or Other E-commerce Platforms?
32:30 – Macroeconomics, Recessions, & The Current State Of The Industry
36:25 – What Does This Mean For Sellers Looking To Do An Exit?
39:30 – Are Aggregators Launching Their Own Brands?
42:00 – In Conclusion, Where Is The Aggregator Industry Going?
43:30 – Will The Aggregators Be The Next Main Competition For New Sellers?
45:15 – What Is Richard's New Venture And How To Contact Him
48:05 – This Week's Golden Nugget
Transcript
Kevin King:
Welcome to episode 296 of the AM/PM Podcast. In this episode, I'm speaking with RJ. RJ was one of the original aggregators back before there was Thrasio back before this gold rush of aggregators, we're gonna be talking about the old days about what's happening right now in the space about what to think about if you're a seller and looking to exit and a whole bunch of other really cool stuff. So enjoy the episode.
Kevin King:
Richard Jalichandra, or just RJ. How are you doing, man? I'm so happy to have you here on the AM/PM Podcast. Welcome.
Richard:
That's great to be here, Kevin. It's been a long time of getting to know you and actually hearing you on the AMPM is coming full circle on a couple of stories.
Kevin King:
Yeah, it is. Actually, we go back and you're the guy that a lot of people have probably don't know the name, but they should, because you've had played an instrumental role in this entire aggregator space and what's happening. So let's tell them a little bit about your background before we jump into that, you've been in this tech space since like the early 1990s, I think before there was a Google back when there was Lycos and all those kind of stuff, right?
Richard:
Yeah. I actually was running an ad agency in Singapore and in January 1999 Singapore telecom basically was one of my clients and they said if you ever heard of the world wide web and I said, yeah, I have. And they said, can you build us a website? This was January of 1994. And I had no idea what a website was. And I remember being in the lobby after the meeting and running down and calling one of my friends on a pager, remember pagers and I basically asked him, what the hell is a website? And he is a geek, a computer geek and I like started explaining, I just said, can you build it for, was like my intro into worldwide web, January 1994. So I've been from the start. I've been in a variety of early stage startups. And more recently later stage companies, more mature companies, six times CEO in technology. And as you alluded to a lot of people often accuse me of being the godfather of the aggregators' movement in the Amazon space.
Kevin King:
Yeah. You go back as far as me, I think you were in early 1994, I think I was mid-1994 is when I sent my first official email or something like that. It's changed a lot. But like you said, you've been the CEO of six different companies in the space, some big ones too, like ClickBank and MapMyFitness, and Technorati. And you've been most recently were involved with Spiceworks with Ziff Davis, a whole bunch of other stuff. But the thing where we connected was in this aggregator space. And, you know, I remember back around 2016, 2017, I think it was, I was listening to a podcast from Ryan Daniel Moran, and he had talked about, he just sold his yoga mat company to somebody that bought it for like $2 million. And I was like, what the heck? Wait a second. People buy businesses, Amazon businesses. And I looked it up and some outfit outta Chicago. I can't even remember the name of it right now, but some sort of group outta Chicago, I believe it was that bought his little yoga mat business for like 2 million. What was the name?
Richard:
Yeah, I don't remember what it was, but it was a boutique PE fund, a Private Equity fund.
Kevin King:
Yeah, yeah, exactly. And then that's about all I heard of. I was like, that's a kind of cool concept. And then I think it must have been about 2017, 2018, somewhere around in there. I get this random email to one of my brand accounts. You know, I have five different brand accounts, five different brands selling on Amazon. This random email comes in and it's like, Hey my name is Richard or people call me RJ. I'd like to talk to you. I don't remember exactly what you said, but I'm putting together a deal to buy Amazon businesses. I happen to be here in Austin. I see that you're in Austin. Can we get together for lunch? I'll be happy to buy you some barbecue. And I was like, anybody that's gonna buy me barbecue. I'm there. I'm like, I'm on the way.
Kevin King:
And so I think that's how you've reached out at first and come to find out, you know, you were putting together at that time. You hadn't started your company yet, but you were starting in the process of starting your company. That later became 101 Commerce, and you're doing your due diligence. You're doing your homework. I think I remember meeting you for the first time. You're like, you know what I've done well in life. You know, I don't need to work, but this is looks like a pretty cool challenge and I want to give it a go. And so you were talking to everybody in the space. I remember hearing from other people, Hey, did you hear from this guy named RJ? Yeah. He contacted me. He contacted me. So can you walk us through that process and how, how you became interested in this crazy Amazon world?
Richard:
Yeah, well, I mean, if we go through the full origin story goes back a little bit before that I was the CEO of bodybuilding.com which was about a half-billion dollar-a-year vitamin and supplement company and e-commerce direct consumer. And I was hired to kind of like reboot the company, take over from the founder. And a couple of months into the deal I was realizing, Hey, you know, this there's some major cracks in the foundation here. And I remember telling one of the investors, I said, you know, I think your company may be in trouble. And of course, they didn't like hearing that. But the first thing they said was, is it Amazon? Is it Amazon? I'm like, well, it's Amazon, but what I didn't realize it took me another few months to realize it wasn't just our wholesale partners that sold on bodybuilding.com that were moving to Amazon.
Richard:
It was what I called death by a thousand paper cuts. And that was all the mom and pop, you know, vitamin and supplement brands that I'd never even heard of that were selling protein powder and, you know, pre-workout and postworkout stuff. And all of a sudden I was like going, man, there's thousands of these little sellers and invariably, you know that gig ended in early 2017. There was really not a good path with the competition from Amazon, not just the wholesale going over there, but also this mom and pops that I kind of went into semi-retirement. And, but I couldn't stop thinking about all these mom and pops. So I joined a couple of solopreneur and e-commerce communities to kind of meet solopreneurs and digital nomads that were running Amazon FBA businesses. And I kept hearing the same story over and over you know, that, oh, I'm, you know, I started a brand in 2015 or 2016.
Richard:
I was making, you know, $40,000 a year. My life looked like office space. I was in a cube and I was just trying to get a side hustle. Next thing I know I'm making a hundred thousand dollars a year on Amazon. I quit my job. And then I become an eCommerce entrepreneur. So I heard that over and over. And then I remember one day I was riding a bike and of course, I became obsessed with some of the podcasts and AM/PM was one of the ones that I became super obsessed with. And I think I listened to, you know, hundreds of episodes of that all the way back to the first one. And then I'm listening to one and it's you Kevin King and Manny Coats. And I'm literally riding my bike out in the hill country and I stopped my bike and wrote down Kevin King, I gotta Google this guy, cyber stock him, and look him up.
Richard:
Cause of all the people I'd listened to, you know, and all these other podcasts. I don't remember anybody that really impacted me the way you talked about, you know, running one of these businesses and all that. So, yep. You're right. You got the story. I emailed you, Brando. And we met and kind of became Amazon and business friends since that was a really important meeting. And then of course I picked your brain multiple times after that in the process probably talked to I think 700 Amazon sellers in a very short period of time, probably like three or four months. And then in late in 2017 founded 101 Commerce. And you know, that's kind of a funny story too, is I was talking to hundreds of FBA sellers and you know, to that point, I think, you know, when you were talking about Ryan selling his business, there really wasn't an M&A secondary market for FBA businesses, you know, before 2016.
Richard:
And then all of a sudden, you know, there were couples sold and then 2017, all of a sudden there were hundreds of 'em sold. And, you know, I was like, how come nobody's tried to buy a whole bunch of these things because the margin profiles were all really good. I can't even tell you how many sellers I met that were having 30% net margins and STE margins and all that. And I was like, well there were so many too, that was the other things there's so many. And I was like, well, if I bought a hundred of these with 30% net margin, I would have the most profitable e-commerce company ever known to man. If I bought a hundred, 1 million businesses with 30% net, that's where the idea came from. And then, of course, to make it catchy I bumped it up to 101 Commerce and kind of stole the California highway sign and said, that's 101 Commerce.
Kevin King:
Yeah. You ended up launching. And I remember you were trying to hire me. And I was like, no, I'm not really interested in coming and working for somebody I'm happy just running my business, but I'll be happy to help you out or help you in any way that I can introduce you to some people I remember one of your guys came out to one of the events. I think it was a prosper show or something. And I was like, introducing him to some people helping 'em out. But when you started 101 Commerce, I remember you brought in some big hitters, you brought in some people from like RetailMeNot. And I think the shipping coordinator guy at Dollar Shave Club and you weren't playing around. I mean, you put together a pretty good team, but of people from outside the Amazon space that really had some logistics experience and had some e-commerce experience.
Kevin King:
But I think you found it a little bit hard to actually find people with Amazon experience because a lot of the people that you're talking to that had the Amazon experience that were the big sellers really weren't interested in going and working for somebody else. And I remember you telling me, Hey, just come work for us and you get paid twice, I'll buy your business. And then, you know, we'll pay you and get some nice equity or something. And I think you were kind of running up into a wall on some of that. Is that true?
Richard:
Yeah, it was really hard and it is still very hard for aggregators to hire people with Amazon experience because anybody with really good Amazon experience is running their own brand. And if they're really good at it, they're making too much money. So it doesn't even make sense to offer them any kind of rational salary or anything like that cuz they're already making so much more than that. And it's still true today. I mean, as in the consulting I do with aggregators you know, it's one of the biggest things that, that they, I always get hit with is, Hey, can you help us hire people? And I'm like, Nope, good luck. You know, now for an aggregator to kind of get into it and really train people.
Richard:
They've gotta figure out a way initially to keep some of the great entrepreneurs in there until they can train enough people to kind of start running these things the right way. But that was certainly a problem with us, you know? And with 101 Commerce you know, we certainly ran into problems early on, simply because we closed all these deals. I think we closed eight deals in 75 days right out of the gate. And then I remember we closed the eighth one and we're sitting around a picnic table, three of US, and we're kind of like, well now we gotta run these things. Oh, crap.
Kevin King:
Yeah. That's, that's what the hardest part right now is I think a lot of these aggregators, you know, there's about, I don't know what the actual count is, but there's over a hundred aggregators in the space, at least as of this recording, who knows someone may be going under before this comes out, but there's quite a few of them out there. And a lot of them, you know, they got some good people on the team, you know, got a lot of wall street guys, a lot of Harvard MBAs, a lot of M&A skills, but they don't have those operational skills that really takes this is running an Amazon business is a grill of marketing type of business that in a lot of ways can be scaled up. But a lot of 'em just really don't know anything about it.
Kevin King:
And a lot of 'em the sellers that they're buying from know a heck of a lot more, even the inexperienced sellers know a heck of a lot more than they do. So why do you think that is? Why do you think it's so difficult to actually get people like you just kind of alluded to it, they're making more money, but why don't you think if someone that sells out or there's a lot of people that give it a try on Amazon even, and they don't succeed, they don't have the right funding or something, but they're smart people. Why can't those people be hired?
Richard:
Yeah, Kevin you know, as well as anybody cause you've trained so many successful sellers that to be good at Amazon at scale, and I'm talking like over a million dollars in GMV and definitely you get into different strategy or stratosphere altogether when you're over 5 million or 10 million in revenue. But you know that you gotta be good at least five or six things. And most people in their life are usually good at one or two things, but at Amazon you gotta be good at five or six things. You know, whether it be advertising or product development or supply chain, inventory management or doing listings, good copywriting. I mean, you gotta be good at a lot of things, gotta be good at customer service. And so it is really hard to find people that can do all that. I think the aggregators have really thought this out pretty well at this point.
Richard:
And, you know, cuz I mean we were first and then, you know, Thrasio came behind us and there's a bunch of others that basically built it into their plan that we're gonna have to get some Amazon experience early and then figure out how to train multiple functional experts in all those things that just rattled off plus pretend more. But you know, early on it was nearly impossible. I can't tell you how many people like you. I tried to convince to come on board and help us out. And they would only do it part-time, you know, as consultants they were just too busy running their own Amazon businesses.
Kevin King:
Yeah. I was just coming back two days ago from an event in New York. I was up at NFT New York and to get on the plane and a guy I'm walking down to my seat and a guy stops me and says, "Hey, Kevin King." I'm like, I didn't recognize the guy. And he's like, I used to work for 101 Commerce. And I was at the, one of the things where you came in, you kind of training, you kind of came in and like gave us a little, couple hours lecture or something." And I'm like, "ah, nice to see you." So yeah, it was hard. It was hard to get people to come in.
Richard:
It still is, you know, one of the things I've advised, you know, the aggregators that I've done consulting for is that they, they kind of have to build their own internal university, you know, to really train up people in the right way. So, you know, the good ones are doing those things I see happening today you know, again, I wish we'd had some of that foresight back in 2017, 2018.
Kevin King:
Now you said you are advising a lot of aggregates. Now there's been over $15 billion raised in the aggregate space or at least access to over 15 billion committed. And you've been instrumental in about five-plus billion of that. Can you tell me a little bit about that? What was your role their kind of behind the scenes in that?
Richard:
Yeah, so you know 101 Commerce, you know, let's finish that story cause it segues into you know, kind the last couple of years, the great funding Bonanza and where we are now, but so 101 Commerce was what I'd call a sideways exit or a sideways success. We were not anywhere near as successful as we wanted to be by any stretch of the imagination though. I wouldn't call it a failure either. So we ended up selling that company to another company that now is a quasi aggregator themselves interestingly enough, and that was in 2019. And, you know, I kind of had a non-compete, so I went out of e-commerce for a year and then phones started ringing off the hook in early 2020 you know, around really Thrasio had really figured it out. And this is really true, you know, if you think about most new industries, the first company or the pioneer usually isn't the most successful, it's usually the fast followers that do much better. Cause they've got, you know, six to 12 months of being able to look at the wake of other companies.
Kevin King:
Yeah. You're the one with the arrows since. Back
Richard:
Yeah, something like that, but it's so true. I can even think of social networking. Friendster was out there and then MySpace and then Facebook went and won it years later and other ones, and that, that happened with us. So I still have high hopes that those stock certificates and the other company will do pretty well at some point. But but that was what happened to 101 Commerce. And then long behold, Thrasio announced an incredible series B investment round at an incredible valuation. And I think it was in February or March of 2020. And of course this other thing called COVID also hit around then too. Sending everybody you know, flying for zoom meetings and stuff, but I got called a lot after Thrasio announced that series B round, and all these investors started calling me up saying, Hey, we're interested in investing in this space.
Richard:
You seem to know as much or more about it than anybody. Over the next two years, a year and a half, whatever it was. I ended up doing about 80 consulting engagements to private equity funds, venture funds, debt institutions as well as aggregators themselves. I worked for multiple aggregators and helping them formulate their strategy or figure out a tactical plan or hierarchy executive or something like that. So I did about 80 consulting engagements. And to your point by my count, I was probably involved in about five and a half billion of debt and equity financings that I can actually, you know, count. There's probably maybe a little bit more just from some of the blind diligence calls I did for various investors, but yeah, that is a wild one because in the midst of multiple or several of those calls you know, I got asked again, if I wanted to do it, if I wanted to do it again and, and try it again, but with a much, much, much bigger pool of money than when we had available to us at 101 Commerce. Ultimately I decided not to go do it again and instead work with some other aggregators in a consulting or investor capacity.
Kevin King:
So there's of all these aggregators out there. I think there's last count, I think marketplace, Paul said there's like over 30 of 'em have raised over a hundred million dollars. Can you walk us through the audience that doesn't know, is that actual money in the bank or is that equity and a line of credit, or how does that often work when they raise these big, big amounts of money?
Richard:
Yeah, so there were some very big PR announcements and there are some legitimate nine figure equity investments. There were multiple nine figure equity investments, but most of the press releases at least for the first founding investments were usually equity and debt. And it was usually a probably anywhere from 25 million in equity financing and then 150 to 200 million in debt financing. So they then they'd say, oh, we raised 300 million. But the actual equity amount was usually between 20 and 50 million, which by the way, is still not insignificant. That's a lot of money for an initial funding for any company.
Kevin King:
So back again, you kind of mentioned it a minute ago, when you were doing this at 101 Commerce, the multiples are probably in the two to three-ish range, maybe, but now they're crept up to, you know, at sometimes between four and eight, I think they're creeping back down now, but why, is so many companies come into this space, you know, over a hundred of them, what has really attracted them to this? Because in my opinion, there's only so many good businesses you can buy on Amazon. You know, there's a lot of business that may be cash flowing, but they're not really making good money. And I think it's finite, they what's, the latest number is 15 or 20,000 are doing over a million of dollars a year in sales, on Amazon worldwide. You know, half of those are more, are big brands like Nike and Adidas and, you know, the big, big names out there. Another big chunk of them are wholesalers and drop shippers and stuff. So there's a finite number of these businesses out there and it's attracted so much money. What is the big attraction? Has it just become the end thing on wall street or what is drawing them so much?
Richard:
Well, I think it goes back to what some of the things that I was attracted to back in 2017, and that's because of the Amazon FBA platform, you can have an incredible amount of operating leverage and run at much higher profit margins than a direct to consumer business. Because essentially you're outsourcing all the things that are hard about e-commerce to Amazon, you know, whether it be traffic supply chain, delivery, fulfillment and all that. Those are all the hard things about eCommerce. I mean, you run a small e-commerce business for a long time, so, you know exactly, I mean, I've been in your garage, I've seen you packing boxes. So look, I mean, you know how hard it is to kind of do all that when you're outsourcing a good deal of that to Amazon that's where you get these companies that can literally net 25%, 30%, I've seen some that had 40% profit margins at scale.
Richard:
There's one stat. I would probably correct you on Kevin and that's, there's a lot more businesses out there that are doing a million dollars than you think. I think it's, by my count, it's about 65,000 1 million or better businesses. And there's you know I can't remember the exact number of eight figure businesses, but it's well into thousands. So there's a lot of targets out there. Now, the problem is you have somewhere, and again, it's a foggy number. Nobody really knows how many aggregators there are, but I've heard people claim 130. I've heard people claim 200. There's a lot of aggregators trying to buy those 65,000 1 million sellers or whatnot. So it does get a little more crowded, a little harder to do. And as you rightly pointed out, not all of those are solo entrepreneurs. Some of those are actually companies or real brands that are just happening to use FBA and make up some of that 65,000 1 million seller. So you're right. It is getting crowded. But the attraction is still the operating margins. You, you still can run an incredibly efficient business with a shockingly small number of employees for the amount of revenue per employee.
Kevin King:
But what about the risks on that? I mean, do you have those high margins, but you're dealing at that level. You're playing in someone else's sandbox. I mean, at any point it doesn't matter how much money you have or invested or how connected you are. Amazon can shut you down on a whim and you may not get back up, or if you get back up, you're not gonna get back up at the same level. So how do they mitigate that? Or how do they evaluate that when they're putting this much money in?
Richard:
Well, there's, there's multiple Amazon risk. And, but the risk of getting booted off the platform, I think is probably overemphasized to my knowledge, I've only heard of a handful of single brands for multi-brand aggregators that got, you know, kicked off or something or shut down. And it was usually over some product category that had a lot of risk inherent in it to begin with like a hazmat, you know, kind of category or something like that.
Kevin King:
Yeah, I wouldn't be so, so much about the, the company going under it's it's individual products, having issues.
Richard:
Yeah, no, I hear you to me, there's, there's, there's definitely risk inherent in the Amazon ecosystem for us. One of the big problems we had is was always the one thing that I was terrified of. And we had our Chinese factory start competing against us by launching their own brand. That to me was the largest risk and it happened to us and it certainly kind of kicked us in the shins when it occurred. But there's other risks, you know, look, I mean, it's incredibly competitive to you know, achieve and maintain rankings as you know. So I think the competition is probably as big a risk as anything else, but look, I mean, I think that's something where investors are, you know, that's what investors do is they, they, they make bets so they accept a certain amount of risk and are willing to, to live with it.
Richard:
There are absolutely some investors who wanna run for the hills after the investments they've made and some are happy with the investments they've made, but I don't think you're incorrect in pointing out. There's absolutely risk. But the flip side of that, Kevin is what I'd say is there's risk in running a direct consumer business as well, where let's say a Google algorithm ranking SEO change could also impact your business almost as much as being on the Amazon platform and or could be Facebook advertising, you know, changes one of their policies. And all of a sudden, you know, all that Facebook traffic you're getting gets crushed too. And we're already seeing that number of like iOS changing, some of its advertised in terms of service definitely impacted some of the social advertising, which has absolutely impacted a bunch of direct consumer websites as well.
Kevin King:
Yeah. There's a big changes going on right there in that space right now with the ability to follow people from side to side and some of the privacy stuff that pretty, pretty impactful. That's a good point. Now when you were actually starting to buy businesses back in the 101 Commerce days, you, you made a big point that you didn't eally care about SDE, that you were born looking at the net contribution margin. Is that a mistake that a lot of people make when they're buying businesses? They're looking at the wrong numbers. I know some of the brokers out there, they focus on this SDE or seller discretionary earnings versus net contribution. What can you explain the difference in the two and why you really have to look at the right numbers when you're buying one, of these businesses?
Richard:
Yeah. For us, and I will say this I think a lot of people have discovered that now. And a lot of aggregators I talk to now are less concerned with SDE than net contribution margin. In fact, I was just, you know, rocking on a consulting project with another aggregator who they don't look at, anything that a broker sends them, they get into the Amazon account and they figure out what the net contribution margin is, and the unity economics of every single ASIN versus the whole portfolio of ASINs. So it's a much more scientific approach, but seller discretionary earnings is the earnings that the seller would make from the whole business, including some mad banks if they're writing some stuff off or, you know, whatever. Whereas the real health metric on Amazon is understanding the unity economics down at the ASIN level. And that's one of the great things about Amazon as well is it's very easy to literally do a PnL for every single ASIN.
Kevin King:
Yeah, that's true. And so basically when an aggregator comes in, they're just cherry-picking a seller's ASEN a lot of times they're a lot of people don't understand that they're not buying the, oftentimes not buying the entire business. They're buying just certain ASINs or a portfolio of ASINs and not actually an entire business.
Richard:
If you remember at your first billion dollar seller summit, when I spoke there that was one of the predictions I made is that people won't buy businesses in the future. They'll just buy ASINs and that is happening to some degree, but I think people are still buying the whole business more often than not.
Kevin King:
What do you think it's gonna happen with the multiples? You know, they kind of skyrocketed because of some of the competition, where do you think those are gonna settle? You know, they were like, when you were buying with 101 Commerce about two, two and a half, three, maybe in that range, you know, occasionally go a little higher and then they've gotten up as high as eight, or sometimes you hear the outlier. That's even more than that. Where do you think it's a reasonable number that they're gonna probably settle at once all this consolidation and the dust settles on all this?
Richard:
Yeah, no, you're spot on, but I mean, multiples change in every asset class all the time. And we had the last 10 years, the such a low inflation and interest rate environment that multiples you know, started creeping up when COVID hit and inflation started happening and all the competition started happening and all that, but you'll absolutely see a pullback in multiples. I think for 101 Commerce, we bought our portfolio for a blended multiple of 2.7 times. And, you know, we bought the same portfolio in 2021. We probably would've paid you're right, probably in the low fours or something like that all in. It just got more expensive just because of the sheer amount of money that came in and good deals get even better than that. Six to eight times was not uncommon for a really good deal or good business.
Richard:
But look here we are in, you know, June of 2022 different environment, we've got a super high inflation environment, these central banks all around the world or raising interest rates it's definitely gonna have an impact and you can just see it like wall street has you know, not just wall street, but every equity market you know, is getting coming back down to earth, multiples are coming down and that's certainly gonna impact the Amazon FBA ecosystem and e-commerce multiples in general. And so you know, I think we're in an environment now where I think you're gonna get back down to three to four times pretty consistently high twos. But that's probably healthy too, cuz I think frankly, things were kind of crazy in 2021. And when all that 15 billion of debt and equity, just all of a sudden hit the market.
Kevin King:
Now when you were buying it, a lot of the early aggregator deals, they, all they really cared about was Amazon. If you had you know, some Shopify sales, unless it was significant, you know, I think I heard someone, maybe it was you that actually said, unless it's over 30%, we don't really care about it. But has that changed a little bit, you know, there's even companies now that are aggregating Shopify sites and stuff, has that changed, do you think in the aggregator space where they're actually paying a little bit more attention to that D2C or that outside, or is it still, most of them are just all they care about is the Amazon ASINs.
Richard:
I think it really has to do with the individual strategy of each aggregator. You know, I will say that some of the most successful aggregators I've seen refuse to have any non Amazon simply because it makes their operations much more complex and expensive, and this is what I was getting. I was actually one of the proponents of really maintaining mostly Amazon you know, to maintain profitability. But look like I said, everybody's got a different strategy and there are some that think a healthy percentage off Amazon is risk mitigation. But what they haven't done is they haven't done the financial math of seeing okay, 20% of my sales off Amazon, what does that do to my net margins? And actually, the net margins go down when you sell direct consumers. So especially at scale but like you just pointed out there's Shopify aggregators as well that are now I think gonna become pretty common as well. It really just depends on what your strategy is, and what your core capabilities are. I think it's really difficult to be an aggregator and good at multichannel marketplaces, that's gonna be very challenging in the short term. More mature companies probably can pull it off, but being a startup and trying to manage multiple channels is really challenging.
Kevin King:
So this reminds me in some ways of like 1999, 2000 in the internet days, you were, you were there where people were just coming into this space and just blowing money, like crazy. Thrasio came in, they hired well over a thousand employees. You know, they were throwing big, expensive parties at prosper, sponsoring everything out there to get their name out there. And now I'm seeing them all pulling back. A lot of 'em are now pulling back. They're being more selective in what they do. They're not spending all this money they're laying off. You know, there's been a lot of impressed lately about different aggregators that have laid off significant numbers as staff. What do you think's happening here? Are we going through a consolidation right now or just, they just grew too fast, what's happening in that?
Richard:
Well, I'd separate two things. First is the macroeconomic environment and then the aggregator in the Amazon environment. So first off, you know, we're likely already in a recession now, even though the government hasn't by the official statistics had the definition of a recession, but you know, I think we're probably already in a recession. And what happens in any kind of recession or the fear of recession is almost every board of directors or investor group will tell their CEOs and their leadership teams be really careful. And pause your hiring, for example, don't do as many deals from an M&A per standpoint, or they may just say stop doing deals until we kind of understand where the market is going. So that's happening across every industry, not just e-commerce. I mean, literally, every industry are having those conversations you know, with boards of directors to CEOs of like, just, Hey, be careful right now, go slow.
Richard:
In the aggregator space, there was so much money put in so quickly. And generally when investors give you capital or debt, they want you to use it and, you know, they don't just give it to you to leave it in the bank. They actually want you to invest it in your business plan. And I think a lot of people went out and tried to do it, you know, frankly, I may have, you know, kind of caused some of this when I declared really early on, on some podcasts, Hey, we're gonna buy 101 businesses in 24 months. That's a lot of businesses to acquire. And I've subsequently seen that in multiple investor decks from other aggregators. And I think that happened, people went out with that kind of speed and pace. And then I think a lot of 'em got out over their skis, you know, frankly, they got out ahead of themselves and started realizing some of the things that we opened up with is like, Hey, these things are actually hard to run. And especially when you start buying multiple ones and all of a sudden you've got a couple thousand ASINs and 30 seller central accounts that are serving 30 different markets. You know, it becomes very complex, very fast. So I think there's a whole combination of things, but I would start with the macroeconomic, but then the whole aggregator space itself probably move too fast, too soon. And then there's some that frankly just have to figure out their stuff from an operational standpoint before they can keep growing.
Kevin King:
Now, some of these aggregators, do you see it that there's gonna be a consolidation and I've heard some of them, they are looking at buying the bigger ones or buying the smaller ones or two smaller ones emerging together. And they're kind of cherry picking what they're taking. They're not taking the whole portfolio of another aggregator. Do you know anything about that? Or can you enlighten us on what's happening?
Richard:
Yeah. So invariably there were gonna be winners and losers and there's already some losers out there. And I think you'll read about some train wrecks, frankly, but short of train wrecks, there are aggregators that were really good at, at this, this type of business, we're not really good in this category. And so I think you're also hearing aggregators that are talking to each other about rebalancing their portfolios so that they can maybe specialize in either certain types of product categories or, other things that they're good at maybe like supply chain and things that are supply chain intensive or something like that. I think you'll see that, but more important, I think there's just too much money put in too fast. And I just think you're gonna have a lot of companies that are, you know, either having really big problems or kind of middling through to the point where it's gonna make sense for them to join forces with a merger of equals or a larger aggregator.
Kevin King:
So if I'm a seller right now, and I've been thinking about selling my business, or I'm preparing to do an exit, what should I consider given the current circumstances out there? Should I be assuming that whatever money I get on closing day is all the money I may ever see because of all this consolidation, or should I carefully pick the company that I sell to? Or what would you recommend to a seller at this point, from the seller's perspective of what some things they should consider or what they should be aware of if they're looking to exit?
Richard:
Yeah, no, I mean, here's, here's the thing selling your business is always both a personal and a financial decision that you have to kind of make. There's a bunch of things you gotta take into consideration. Obviously we're more challenging economic times, and a lot of aggregators are gonna be much more conservative about the way they're acquiring, how much they're acquiring, what prices they're paying, all that kind of thing. But the reality is good companies get sold all the time, even in the worst recessions, good companies will get acquired. And you know, so it's a real personal decision that sellers kind of make of what's the right time for them and their family or what's also really important is the liquidity window. And what I mean by the liquidity window is like sometimes M&A just freezes up all together and in really hard recessions, or like after the financial crash, there was this thing nothing got done for a year.
Richard:
So the liquidity window disappeared or shut completely. That hasn't happened so far in the Amazon space or the eCommerce space deals are still getting done. There's a lot of businesses that are still for sale, and a lot of businesses that are still closing. Now, the terms, as we've already talked about the multiples, may be coming down a little bit, but good deals are still getting done. And there's creative structures where you may be able to take a lower multiple, but also have some skin in the game for some back end compensation that help overall raises the value of your whole exit. The other thing to remember in the aggregator space is there's a lot of different strategies out there. And there's a lot of aggregators that were just funded to run you know their strategy.
Richard:
There's very few that are going out and just kind of being in a multi-category we're gonna buy every category kind of thing. Most of the aggregators that have been funded recently have been something that are really niche either from a product category standpoint or a geographic strategy. You know, we're only buying things in Spain, for example you know, Spanish accounts and something like that. So deals are definitely gonna get done if you fit into one of these niches, but just from like looking at the overall market there's a lot of deals that got killed in the last three months, but there's still plenty of deals getting done. So I think, you know, if you're ready to sell your business, it's a good time. That's the other thing, you know, a seller really needs to determine, can I get any more out of this business or, with my skills can I get anything more out of this? And if you come to the conclusion that you can't really continue to grow it yourself you know, at the same growth rate, and maybe you're gonna hit your ceiling, then you should sell.
Kevin King:
Yep. Yep. I agree. A lot of Aras too, I think are pivoting. And then to not just buying, but actually creating their own products, creating their own brand, extending what they have, or even in some cases, actually coming up with an entire new brand and kind of putting it into their portfolio, because some of 'em are figuring out that in some cases, if, if they have a good team, it can execute. It may actually be cheaper to create a new brand than to an acquired brand. They can get those economies a scale and get that cash flow going by acquiring. But then if they come in and they actually create something, you know, a new product line or a new brand, they can do well. Are you seeing any of them doing anything like that?
Richard:
Yeah, I've absolutely seen some that are trying to launch their own brands. I've seen some that are buying brands and then killing that brand and just changing the brand. So it's a single brand for the whole portfolio. Like I was alluding to earlier, everybody's got different strategies. Some actually will have the, the product launch expertise to be able to do that. As you know, launching products is really hard and to be successful, particularly on Amazon but even out in the wild, it's hard to launch products. So I think it really depends on what that aggregator strategy is, what their capabilities are for some, it's still gonna be cheaper for them to just go and acquire a brand that's already up and running.
Kevin King:
Yeah, that's, that's true. But we are seeing though like I do with Steve Simonson, we have Products Savants where we actually take some of the pain points out of helping people find products. And we don't launch the products for them, or we don't, you know, manage the supply chain or anything like that, but we find good opportunities on Amazon, and then we do the sourcing. And then one of the things that we've noticed is that we've had a lot of people come to us and interested in what we call our Brand Genesis program, where we actually will create, you know, here's a line of five products that all fit within, you know, maybe in the automotive category or it's a home and kitchen category, something and saying, here you go, here's a great opportunity for these five products that are all related to each other, all compliment each other. And we're seeing some of the aggregators and be interested in that kind of thing. And, and so I think some of 'em are, are kind of dabbling in both of those to just see where is the best fit. What's the best opportunity here besides just acquiring. It's gonna be interesting to see where that all goes.
Richard:
Yeah, I think that's right. I think it's also, you know, from the strategy means inside some of those companies they're saying we have to be able to show some organic growth in addition to the inorganic acquisition growth. So I think it's an important thing from an evaluation standpoint to have that ability.
Kevin King:
So what's your overall opinion here, just to wrap up of what is happening in the space and where is it going? You said you were just recently at some sort of meeting with a bunch of different aggregators in the space, and what's the general consensus or the general feeling of where we're going next with this, this whole industry.
Richard:
Well, I don't think aggregators are going anywhere. I do think there'll be some rationalization and some consolidations. And typically what happens in any industry is the companies that survive a recession are usually really strong when they come out of it. So that's one of the things that I would look for, you know, with it's 150 or 200 aggregators, how many are actually there two years from now, they're probably gonna be really good legitimate companies that survive at the tough times and things that are going on right now and that, so that's something I would look forward to. I also think that we're gonna be in a high interest rate environment for, you know, interest rates are gonna go up for the next couple of years and they're probably gonna stay up for a few years. So I think that's something that we're all gonna have to deal with. There's an impact on your operations because of working capital requirements and, you know, just the ability to run your business with you know, day to day debt, but also it affects the M&A market as well because a lot of transactions are, are partially financed with debt,
Kevin King:
You know, back a few years ago, when you were doing 101 Commerce and, you know, in the late 2017, 2018, 2019, especially a lot of individual sellers, you know, a lot of the one man shops or the one or two person FBA sellers felt that the foreign based sellers, especially from Asia were actually the main competition, because some of these people were doing Black Hat stuff. Some of 'em, they had a competitive advantage because they spoke the language and can do, can do all kinds of, you know, things they had inside information. But now where it's going is I kind of see that, you know, some of those guys are, are backing off and they're focusing on Walmart or other platforms, and they're still there, but there's been a kind of a little pullback. Amazon has shut down some of the bad players where I'm seeing this going is these aggregators could become the next main competition and could become, create this Mo they could acquire so many of these businesses that have the high reviews. And especially in a lot of the big categories and the popular products where it's gonna be almost impossible for a new seller to come in, or they're gonna have to really niche down, niche down, niche down to have a chance. Do you see something like that that aggregators are almost gonna be putting a different kind of gate around some of these product categories as we continue going forward?
Richard:
Yes, but I think it's bigger than that. Kevin, I think it's just so much more competitive to launch and operate, you know, any kind of products on Amazon. It's just so much more competitive. And Hey, it's Helium 10's fault, you know, for enabling so many people to kind of do product research and run their businesses and things like that. It's just gotten more competitive. And so whether it's Asian sellers or aggregators, whatever, I just think only the strong will survive and that, that could be a mom and pop, that could be a big company, that could be an aggregator.
Kevin King:
And now you helped a lot of the aggregators raise money to buy businesses. And now I understand you're helping sellers or what's your latest little venture in this space that you're doing. Can you tell us a little bit about that?
Richard:
Well, for years in this space, I've been reached out to repeatedly by people wanting help selling their businesses. And I finally started saying yes, so I'm actually helping a bunch of Amazon related businesses be sold everything from Amazon SaaS businesses to FBA brands, to I've got an affiliate business that I'm bringing to market here pretty soon too. So I'm doing that and having a ball with it, you know, cause I've done a lot of M&A in my career and to kind of be really helping, you know an entrepreneur kind of find their liquidity event is pretty exciting, especially given, you know, that I'm a basically an operator myself, I'm not just like an investment banker or broker, anything like that. I'm really an operator who sold a number of businesses and bought a whole bunch of businesses. So I think I take a little bit different point of view from the entrepreneur's perspective I've been in their shoes. So that's kind of what I'm up to.
Kevin King:
So someone was looking, they're looking to do an exit and they wanted to reach out to you. How would they do that?
Richard:
Pretty easy. You can go to my website, inclinecapital.net, or most people actually find me on LinkedIn, just find me on LinkedIn, and send me a message. But you also can go to my website.
Kevin King:
Awesome. Well, RJ, I really appreciate your time today and coming on and sharing your insights. It's always great to catch up with you and yo speak with you. You always have your finger on the pulse of what's happening and it's been great.
Richard:
Well, it's also fun to kind of come full circle that a lot of my whole journey and the aggregator journey started with an AM/PM Podcast episode with you on it. So that's really full circle. It's fun to come back.
Kevin King:
Great. Well, thanks for coming on again. I'll let you get back to your family there. Be sure to reach out to RJ at inclinecapital.net or look him up on LinkedIn, if you wanna reach out if you're looking to exit. RJ, appreciate it, man.
Richard:
All right, take care.
Kevin King:
RJ really knows his stuff. When it comes to this aggregator space, it's gonna be an interesting riot over the next couple years to see where it shakes out. Hopefully, this gave you a little bit of insight into where it came from and where it's going. I definitely think it's gonna have a major impact on all of us as Amazon sellers. Don't forget if you are a member of Helium 10, you have access to the Freedom Ticket, which is A to Z course on how to sell on Amazon. Be sure to check that out and I hope you join us again next week. For our next episode, it's gonna be pretty action packed. We're gonna be talking about how our guest client took $10,000 and grew that into $30 million and some of the tactics and techniques that he used. And now just wanna leave you with this week's golden nugget. "If you ever find yourself in a negotiation, whether that be in business or in life, never make the first offer. You're always at a disadvantage if you make the first offer." So remember in all negotiations never make the first offer. We'll see you again next week.
---
Enjoy this episode? Be sure to check out our previous episodes for even more content to propel you to Amazon FBA Seller success! And don't forget to "Like" our Facebook page and subscribe to the podcast on iTunes, Spotify, or wherever you listen to our podcast.

Want to absolutely start crushing it on eCommerce and make more money? Follow these steps for helpful resources to get started: