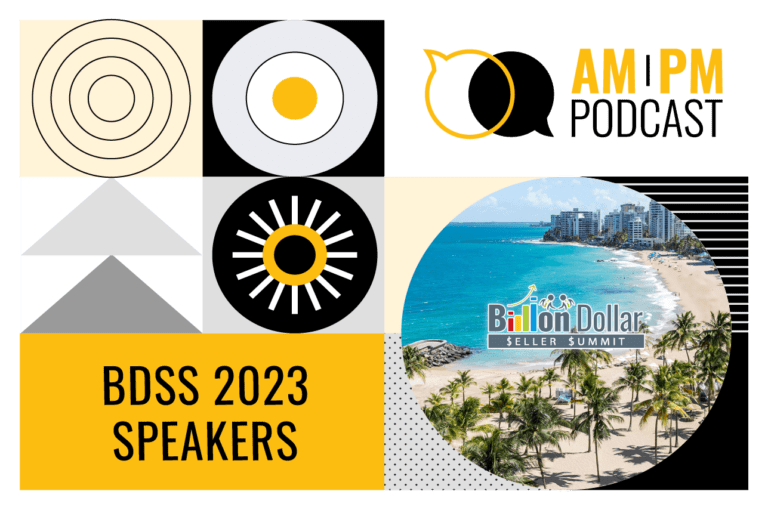 #337A – BDSS 2023: Amazon Titans Share Their Top Secrets & Powerful Strategies – Part 1
In episode 337A of the AM/PM Podcast, Kevin and the Billion Dollar Seller Summit keynote speakers discuss:
00:35 – Join Us For The BDSS Webinar On April 18th 2PM EST
03:10 – Steve Simonson's Winning Record On BDSS
05:10 – How AI Is Going To Change Everything
07:30 – AI Is Going To Level The Playing Field
08:30 – Steve's Topic For The BDSS Puerto Rico Event
11:00 – Why You Should You Consider Going To BDSS In Puerto Rico
12:30 – How To Train GPT 4 To Create Midjourney Prompts
13:30 – Leo Sgovio Enjoying The Good Weather In Miami
14:30 – How He Plans On Defending His BDSS Best Speaker Title
15:40 – Leo's Topic For The BDSS Puerto Rico Event
18:30 – Using AI To Analyze Data
21:00 – Matt Altman Is Ready To Blow People's Minds In Puerto Rico
23:30 – Managing Over 150 Brands With $1-2 Billion In Total Amazon Sales
24:40 – Biggest Mistakes Amazon Sellers Make In Product Launches
27:30 – Matt's Topic For The BDSS Puerto Rico Event
30:30 – Janelle Page Is Taking It To The Next Level In Puerto Rico
32:40 – How Attending Masterminds Are Paying Dividends For Her
34:00 – Janelle Will Be Launching Two Big Brands
35:40 – The Launch Strategy That They Will Be Using
36:55 – Janelle's Topic For The BDSS Puerto Rico Event
39:00 – Beards, Kings, & Cigars. Norm Farrar Is Back On The Show!
39:35 – A Beard Story From The 80's With Kevin King
41:20 – Why Norm Is Always Attending BDSS
42:45 – Norm's Topic For The BDSS Puerto Rico Event
44:10 – Understanding The Life Of An Influencer
51:25 – A Teaser For His Entry For The Webinar Hack Contest On April 18th 2PM EST
52:40 – Antonio Bindi, An 8-Figure Amazon Seller From Brazil Joins The Show
54:25 – The Value Is From The Connections You Build From These Events
56:30 – Antonio's Topic For The BDSS Puerto Rico Event
58:30 – Sharing His Amazon Bundles Strategy
01:00:30 – Learn His Product Packaging And Size Techniques On The Webinar
01:01:45 – This Week's Golden Nugget Tip From Kevin
01:02:21 – Stay Tuned For Part B Of This Episode!
Enjoy this episode? Be sure to check out our previous episodes for even more content to propel you to Amazon FBA Seller success! And don't forget to "Like" our Facebook page and subscribe to the podcast on iTunes, Spotify, or wherever you listen to our podcast.

Want to absolutely start crushing it on eCommerce and make more money? Follow these steps for helpful resources to get started:
Get the Ultimate Resource Guide from Kevin King for tools and services that he uses every day to dominate on Amazon!
New to Selling on Amazon? Freedom Ticket offers the best tips, tricks, and strategies for beginners just starting out! Sign up for Freedom Ticket.
Trying to Find a New Product? Get the most powerful Amazon product research tool in Black Box, available only at Helium 10! Start researching with Black Box.
Want to Verify Your Product Idea? Use Xray in our Chrome extension to check how lucrative your next product idea is with over a dozen metrics of data! Download the Helium 10 Chrome Extension.
The Ultimate Software Tool Suite for Amazon Sellers! Get more Helium 10 tools that can help you to optimize your listings and increase sales for a low price! Sign up today!
Protect Your Amazon Brand with a Trademark! Protecting your brand from hijackers is vital. SellerTrademarks.com provides a streamlined process for obtaining a trademark for your business and shielding your products from fraud!
Does Amazon Owe YOU Money? Find Out for FREE! If you have been selling for over a year on Amazon, you may be owed money for lost or damaged inventory and not even know it. Get a FREE refund report to see how much you're owed!