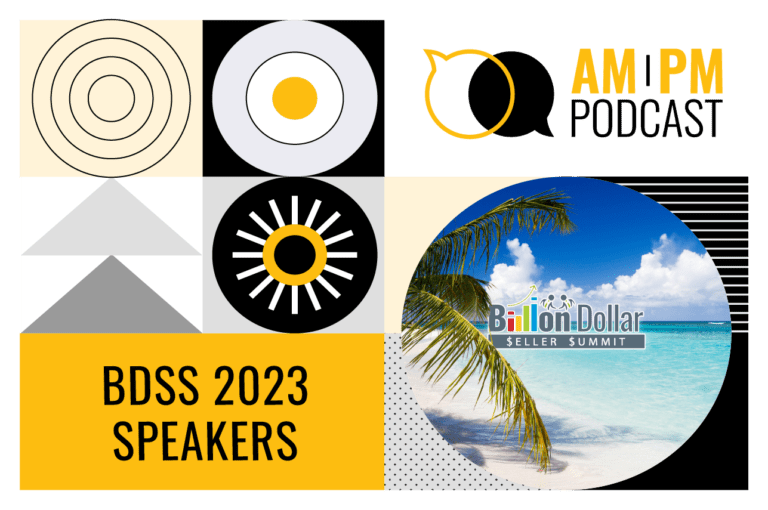 #338 – BDSS 2023: Amazon Titans Share Their Top Secrets & Powerful Strategies – Part 2
In episode 338 of the AM/PM Podcast, Kevin and the Billion Dollar Seller Summit keynote speakers discuss:
00:30 – Register Now For The Billion Dollar Seller Summit In Puerto Rico
00:42 – Or Join Us For The Free BDSS Webinar On April 18th 2PM EST
01:30 – Bradley Join Us Live From A Conference In Japan
03:30 – Bradley Has Attended ALL BDSS Events
05:00 – His Favorite Billion Dollar Seller Summit Activities
06:45 – Bradley's Topic For The BDSS Event In Puerto Rico
09:10 – Reviewing The Keynote Speaker Lineup
10:45 – A New Game-Changing Tool From Helium 10
14:15 – Dr. Travis Zigler Will Be Speaking At This Event
17:00 – Why Dr. Travis Loves Attending BDSS
18:50 – Travis Zigler's Topic For The BDSS Event In Puerto Rico
21:40 – Catch Dr. Zigler At The Free BDSS Webinar On April 18th
22:45 – External Traffic Is Vital To Your Sales
26:18 – Alina Vlaic Will Be Joining Us In Puerto Rico!
27:00 – BDSS Is One Of The Top 5 Events In The Industry
27:35 – Alina's Topic For The BDSS Event In Puerto Rico
29:20 – Amazon Attribution And Amazon Associates Combined Hack
34:00 – Ritu Java Winner Of The Virtual Event Will Be Speaking In Puerto Rico
36:00 – Attending A Mastermind Event In Japan
37:30 – Ritu's Topic For The BDSS Event In Puerto Rico
40:22 – Catch Ritu's Full AM/PM Podcast Episode On April 27th
40:45 – Her Top Amazon PPC Tips That You Should Consider Doing
44:00 – Our Next Guest Is Anthony
45:30 – His Topic For The BDSS Event In Puerto Rico
47:10 – Something That Amazon Sellers Forget
50:35 – This Week's Words Of Wisdom From Kevin King
Enjoy this episode? Be sure to check out our previous episodes for even more content to propel you to Amazon FBA Seller success! And don't forget to "Like" our Facebook page and subscribe to the podcast on iTunes, Spotify, or wherever you listen to our podcast.

Want to absolutely start crushing it on eCommerce and make more money? Follow these steps for helpful resources to get started:
Get the Ultimate Resource Guide from Kevin King for tools and services that he uses every day to dominate on Amazon!
New to Selling on Amazon? Freedom Ticket offers the best tips, tricks, and strategies for beginners just starting out! Sign up for Freedom Ticket.
Trying to Find a New Product? Get the most powerful Amazon product research tool in Black Box, available only at Helium 10! Start researching with Black Box.
Want to Verify Your Product Idea? Use Xray in our Chrome extension to check how lucrative your next product idea is with over a dozen metrics of data! Download the Helium 10 Chrome Extension.
The Ultimate Software Tool Suite for Amazon Sellers! Get more Helium 10 tools that can help you to optimize your listings and increase sales for a low price! Sign up today!
Protect Your Amazon Brand with a Trademark! Protecting your brand from hijackers is vital. SellerTrademarks.com provides a streamlined process for obtaining a trademark for your business and shielding your products from fraud!
Does Amazon Owe YOU Money? Find Out for FREE! If you have been selling for over a year on Amazon, you may be owed money for lost or damaged inventory and not even know it. Get a FREE refund report to see how much you're owed!