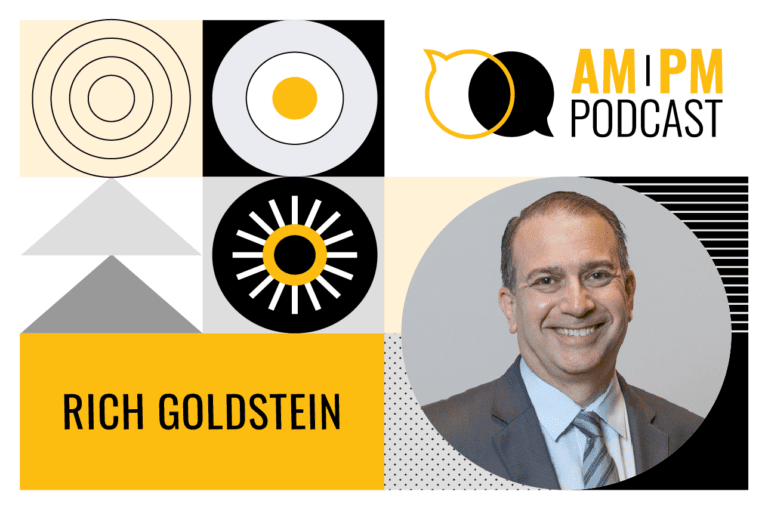 #354 – You're Leaving Money On The Table With An Ineffective IP Strategy with Rich Goldstein
In episode 354 of the AM/PM Podcast, Kevin and Rich discuss:
01:39 – Who Is Rich Goldstein?
02:27 – How Kevin And Rich Meet?
03:50 – Talking About Rich's Las Vegas Parties
07:16 – Creating Memorable Experiences And Relationships
09:11 – What Does IP Mean?
09:56 – Differences Of Trademarks, Registered Trademarks, and IPs
14:28 – State Trademarks And Federal Trademarks
16:45 – How Long Does A Copyright Term Last?
21:16 – Opportunities with Abandoned Trademarks
24:06 – Filling Your Trademarks As Early As You Can
27:07 – It's Important To Police Your Trademark
28:12 – Trademark Nightmare Stories From Kevin King
29:57 – Best Time To Start Applying For Trademarks
31:45 – Why You Should Get A Skilled Intellectual Property Attorney
35:57 – A Trademark Is A Valuable Asset A Company Has
37:01 – E-Commerce Brand Valuation Involving Trademarks
38:38 – The Best Type Of Patent For Amazon Sellers
44:46 – What Most People Don't Know About Patent Applications
48:49 – Clarifying The "Patent Pending" Status
50:39 – How Is Artificial Intelligence Going To Affect IPs?
51:16 – You Can Copyright Your Amazon Listing
57:05 – 3 Main IP Mistakes Most Amazon Sellers Make
01:02:18 – Trademark Protection, Exit Valuation,
01:04:21- How To Get In Touch With Rich Goldstein
01:05:13 – Get A Free Book From Rich
01:07:58 – This Week's Golden Nugget Tip From Kevin
Transcript
Kevin King:
Welcome to episode 354 of the AM/PM Podcast. This week, my guest is none other than Rich Goldstein. Rich is one of the foremost IP attorneys in the e-commerce space, and we've got some really cool stuff. You know, IP sometimes can not be the most exciting thing to talk about trademarks and copyrights and patents, but I think you're gonna really enjoy this conversation. And he shares a couple really good nuggets of information that most sellers don't know. It's a huge mistake that a lot of sellers make that has successful products. And if you don't know this, you could be shooting yourself in the foot big, big time, and really cutting, potentially millions of dollars off your valuation. So enjoy this episode, learn a lot, and we'll see you on the other side. Rich Goldstein, it's such an honor to have you here on the AM/PM Podcast. How are you doing, man?
Rich:
I'm doing great. Thanks so much, Kevin. I'm really thrilled to be here.
Kevin King:
I don't know how many times a year I see you. You know, it's, it must be like at least 10 times a year.
Rich:
17 this year, actually,
Kevin King:
It's 17. You've been That's right. You have that little tally sheet. That's right. Saw Kevin again. I saw Kevin again.
Rich:
I keep it on a spreadsheet, each person. Yeah.
Kevin King:
Now, for those of you who don't know who Rich is, rich is the foremost IP e-commerce IP attorney in this space. I mean, there's lots of people that provide IP services and can help you with trademarks or patents or those kinds of things. But if you want to go to the best, rich is your guy. And Rich is you know, he's one of these guys, or he is not just about the money he likes, he gives back. That's what I like about him and his firm. He is got a whole team that works for him. It's not just him, but he's got a whole team. He is been doing this a long time. He wrote the book on it. I mean, this guy is, is the guy. So if you, if you ever are out there and you need from copyrights to trademarks to anything IP related patents, and we'll talk about some of that. This is the guy that you want. But more than that, rich is a good guy because I've known Rich, when did we first meet? Was that 2017, 2018, something like that?
Rich:
Yeah. About 2017 or 2018, I think it was at a prosperous Prosper show.
Kevin King:
Was it at Prosper?
Rich:
Yeah, it was at and it was at a a reception and someone had said, have you met Kevin King and Manny Coates? No. And so she brought me over to introduce me to you guys. And after that, you had me on the the Illuminati mastermind call. We did, I did a presentation, and then we became friends
Kevin King:
After that. That's where that presentation was like the first, your first of like true official ex exposure to, to speaking and getting out to this Amazon community, right. In
Rich:
The Amazon space. Yeah. It was my, it was the first presentation I did in the Amazon in the Amazon space
Kevin King:
That was, so for those of you who don't know, Illuminati was the precursor to a Helium 10 Elite. Now it's called Helium 10 Elite. It's the advanced training that I do, I host monthly. That started back in 2017 when Manny Coates and Guillermo Puyol were actually the the founders still running Helium 10. They sold out in 2019, and it got changed from Illuminati Mastermind to Helium 10 Elite and still runs to this day. And you've been on a couple other times I think since then as well, right?
Rich:
Absolutely. whatever, whenever you call I show up.
Kevin King:
I appreciate that. But Rich, I mean, one of the things I gotta talk about is a lot of people know you as the party guy because it, it seems like there's become this new tradition that anytime you're in Vegas and there's any kind of e-comm or entrepreneurs, it could be Amazon people, it could be people in ai, it could be people you know, that I don't, I don't know that are doing some, some of the crazy thing. You're, you're big, big claim to fame in Las Vegas is like the, these sweet parties. Yes. So you talk about that. You, so it's always at the MGM, it's like in the Barbara Streisand suite at the MGM Sky Loft. Tell, tell us about that.
Rich:
Yeah, so it's, it's great. It's pretty great. I mean the first one that I threw was during Seller Con 2019, I guess the, the, the last cell con before this, this year is one. And essentially I got a small suite and I and I just threw an after party and, and it was extremely successful. And from that point on, I developed a relationship with the people at M G M that has allowed me to throw bigger and bigger parties there. And it's really difficult in Las Vegas to throw a, a sweet party. Like most of the time you might get this elaborate gigantic suite, but then you try to have 10 people over, and you'll have security at your front door they don't want parties.
Rich:
But I have a relationship there that allows me to throw these big parties, and it's totally sanctioned. And MGM security actually checks people in, in downstairs and brings them up on the elevator. It's quite a great experience for them and for me and, and, and my business. I mean, the, the, the cool thing is it just helps to further relationships. I mean, I I, I throw the parties and people remember it all year long. So it's like, at different events, you can have a booth, and then you can stand there for three days. And then no one really remembers you or your booth. But when I throw a party, it's like all year long, I'll have people coming up to me saying, rich, I was at your party. It was, you know, it was awesome.
Rich:
Or I'll be introduced to someone and they'll say, no, no, I already know you. Like I've been at your party before. So it, it's been really great for just establishing me within the community as someone who just who could be counted on to create a, a, a fun time and a, a great experience. And I think a lot of people have subconsciously equated that with, that working with me would be a great experience, or that that's something that they can count on. And and I think overall it's been good for my brand, and it's been a lot of fun.
Kevin King:
Yeah. I, I, I like your point there where you say that throwing this is, it's maybe not a, these things cost a lot of money. I know you spend tens of thousands of dollars sometimes on these parties with the food, the alcohol, you know, renting the space every everything that comes, you know, you're in Vegas, so there's like, if this is the price, add 40% to it, because there's automatic tips and service charges and whatever, eight
Rich:
Soda,
Kevin King:
$8, eight
Rich:
Isn't like 50 bucks. It's like $200 or whatever, you know? Yeah. It's
Kevin King:
Like a dollar per ice cube and, you know, whatever. So it's, it's much, these things get expensive, but like you said, you could have a booth or you could be at the show and you could network, but there's no better if you create a memorable place. And that's what you do. It's not just some suite. This is like the suite that was built for Barbara Streisand when she had a, a residency in Vegas. It's like a two story suite. And it's like, like on the 25th floor, the Sky Lofts special access to get to it, special entrance, special elevator, everything. And people feel cool going to this. Mm-Hmm. They, they're like, man, I'm going to this Barbara Streisand suite. And they get in there and they're like, just looking around and they're like, wow, look at this bathtub. Look at this, you know, this room.
Kevin King:
And then it may that ROI doesn't come back right then for you, you're not like, it's not like people are coming to it, and like the next day they're calling your law firm and saying, Hey, help me with my ip. But down the road, you're creating, you create a memorable experience. And the next time they need it, whether it's two years from now or their buddies eight months from now saying, Hey, I need to file a trademark. Do you know anybody? Oh yeah, this, this guy, he throws these park rich. You know, it comes back in goodwill like that down the road. And I know sometimes you get sponsors that come in and help out with everything, but that's something that I think is important for a lot of people to think of, is don't always go the traditional routes when you're trying to get your name out there.
Kevin King:
And marketing, whether you're selling products or if you're a service provider listening to this and throw something that's memorable that people are gonna think about. Just like the Carnival of Dreams that I did, and Rich was a sponsor his law firm was a sponsor of that back in June. And during Seller Con, it's something that's memorable, something that people are gonna walk away from. And that was cool. That was a cool experience. It's not just a, let me sell you something. Give them an experience. And then you also build a list. You know, people have to register for these things. So you're getting a, you know, a list of potential clients in context that depending on how you use that could actually result in some business too. Speaking about creating and protecting relationships when it comes to ip, that's your specialty. What, what is actually, when someone says ip, what does that mean?
Rich:
Well, IP stands for intellectual property. And I mean, it's loosely means property of the mind. I mean, essentially it's the way in which you protect ideas. It's the field of the law that deals with the protection of ideas. And it includes things that we've all heard of, patents, trademarks, and copyrights also includes something called trade secrets. But intellectual property really are those, those ideas, those intangible things that can create tremendous value for our business. And and, and often we need to take steps to create that IP to protect that ip. But, but that's really what IP is all about.
Kevin King:
So a lot of people get things confused when it comes to ip. Let's first break down trademarks and copyrights. A lot of people get those mixed up, you know? Yeah. I'll see someone say, I need to get a copyright on my logo, or I need to get a, a trademark on something, and they get 'em mixed up. Can you explain the difference between the two for the people that don't understand?
Rich:
Absolutely. So, yeah, so, so copyright is for content. So the, the content of a webpage, the, the content of a musical composition the content of a video, like that's protected by a copyright trademarks
Kevin King:
Are for brand or title of a TV show. That would be, well,
Rich:
The title of a TV show would be more of a trademark. Okay. so trademarks are for branding, trademarks are for the type of things that you see and you say, oh, I know what that is. So like, the title of a TFI show, like you see Dexter, and you know what that's supposed to be? If, if there was a another show named Dexter and you went to it, you would think like, this is going to be about that guy who lives in Florida. He works for the police department, and he's also a serial killer. Right? So it would confuse the public into thinking that you are you are, you are getting something else than what you're getting. So trademarks are about protecting those consumer expectations in branding. And so the trademark can be for the name of a product or service. It could be for a logo that's used to to differentiate that product or service like the swoosh for Nike, for example. That's a trademark. And it could also be for a slogan, like, just Do it for Nike or The Real Thing for Coca-Cola. Like that's what is protected with trademarks and as opposed to copyrights, which as he said, are just for really content.
Kevin King:
Can you explain the difference when someone, sometimes you see on Amazon on a listing, someone will put, you know, the, the initials tm, like the little, you know, little initials t and other times you'll see the R in a circle. Can you explain the difference between those two for, for people?
Rich:
Absolutely. So here's the thing. So w with trademarks, it is about protecting consumer expectations. So let's say even if you, you opened a restaurant or you had a restaurant in a certain city that people recognize, people know of let's say UCI in Austin, Texas. If someone else were to open another UCI in Austin, people would automatically think it's affiliated. And so you acquire what's called common law rights just by using the name out there. Like the extent to which someone could prove the owner of Gucci could prove like, no people in the city know my brand. They are confused by this competitor opening up their own restaurant with the same name you could prevail. You don't need to register your trademark if you can prove that people are being confused or people are likely to be confused. But you can take and so when you put your name out there, like when you put a product name out there, you are free to put the TM next to it.
Rich:
And all that's saying is, I am asserting that this is my trademark and the extent to which I could prove my common law rights. Like, you know, you should stay away from this. You're putting other people on notice, Hey, like, that's not just a general term like sushi restaurant, that's, you know, UCI, that's the actual brand name. So you put a tmm, you're putting other people on notice for the fact that like that this is, this is what you consider to be a brand name. If you go through the process and get a federally registered trademark, you apply for a trademark at the U S P T O, and it's, it's granted, then you can put that r with a circle next to it. So the r with the circle means registered trademark, and there's additional rights that go along with that. So it's like, so if UCI, for example, was trademarked and then someone opened a, a restaurant called UCI in Chicago the owner of UCI wouldn't need to prove, well, people in Chicago know of my Austin restaurant. That might be hard to prove the the trademark registration is effective throughout the United States, even in places where you can't prove that they already know of your mark. So Tmm is just asserting a common law rights and the all with circle around it is saying, I actually have a registered trademark.
Kevin King:
So what about, you can also file trademarks on that federal level, like what you're saying to cover the whole us. But you can also do it on the state level. Why would I wanna do something on a state level?
Rich:
You know? Like nearly 30 years into my career, I never really understood what state, what the, what the effectiveness of state trademarks is, or why. Yeah, I don't
Kevin King:
Get it either. I've never done one. I just, but some people wanna do that. I'm like, it's just do the federal one, you don't need it.
Rich:
Right. May, maybe there's some trademark lawyer out there that's smarter than me that could explain to me why. But I, I just never really got it. It's there are state trademark registrations, but yeah, really like why bother do the federal registration and that will cover you throughout the, the 50 United States.
Kevin King:
What about like, on the confusion thing that you said, pizza Inn and Pizza Hutt. So what about common words? 'cause The word pizza is a common word, right? So how did, how was there, at one point, I think Pizza Inn may have gone under, but one, when I was growing up in my town, there was Pizza Hutt, which is still around, and there was Pizza Inn you know, both serving pizzas. So how did they get away with something like that?
Rich:
Well, typically for something to be trademark, it has to be distinctive. So descriptive is not distinctive. So when something directly describes what the product is, like red licorice or pizza, you can't protect that. You can't prevent your competition from, from using the same term that everyone uses to describe what the product is. So when something's descriptive, that's not trademark. When you add another term, like say Pizza Hutt to it, then you can protect the overall commercial impression of the term pizza Hutt. And so that's what gets protected, not the descriptive part. So not the, not the pizza part, 'cause it's, you know, no one can stop anyone else from using pizza to describe pizza. But you know, in another context, maybe pizza would be protectable. Like, I, I mean, it just occurred to me the, the, the title of the movie, licorice Pizza. Like, so maybe in the, in the realm of, of like movie titles or things like that, you could protect pizza, but if you're describing pizza, you can't protect pizza. And and so you could have pizza Hutt and pizza in and some other you know, little Caesars Pizza, the pizza isn't the protectable part of the trademark, it's the other terms.
Kevin King:
So like copyrights, what those last, what is it, 70 years? Something like that. 'cause I, you always see stuff that comes into the what's it called? The common common you know, old stuff from like the, that was copyrighted and say 1920. It, it becomes available to be utilized, you know, by anybody at some point because it becomes common property or whatever the word is for that. It goes
Rich:
Into the public domain.
Kevin King:
Public domain. That's the word I'm thinking. Thank you. So is it copyrights or like 70 years? Right.
Rich:
Well, here's the thing. Currently if you get a copyright it, it's actually way longer than that. It goes for the life of the author plus an additional 70 years. Okay. And it, it's a little different if it's you know, if it's a, a work for hire, which means that like, okay, so it's something that's actually put out by a corporation, then it's like 95 years from publication or 120 years from the date of creation. So it's so it's a long time. Right. but the thing is that the, there wasn't always this rule, I think 1978 is when they put in this like past the life of the author term. So I think it was 50 years plus the life of the author, they changed it to 70. But back in the twenties it was different.
Rich:
There was different rules and there was a different term. I, I think it was 2 28 year terms was the length. So it had nothing to do with how long the author lived. It was an actually a fixed amount of time. And it cha the, the length of the copyright term changed a few times over the years. So basically whatever the rule was, when you, when the, when the work was created or published, that's what affects the copyright term. So some of the stuff from the, the twenties is now entering the public domain. Things that are older than that are in the public domain. You can take a novel that was published in the year 1900 and republish it, if you like, because that copyright has expired. But anything from the modern era like the, at least the last 40 years or so you would have to check really carefully to see if that copyright is expired, because it's not likely to be it's likely that it'll last quite a long time.
Kevin King:
And trademarks are not nearly as long trademarks are. I, I know in my case, if you don't, you you have to renew them every so often and or improve usage. How does that process work? If, if you don't actually use it or renew it, you lose it, right?
Rich:
Yeah. if you don't renew it or or continue to, you need to continue to use it in order to renew it. And let me just explain overall how it works. So it's like, in order to get a trademark registered, you need to show an example of it being used that your mark being used for the product or service that you're, that you are registering it for. So if it's a, a mark called I don't know fairway, and you're making hand creams then you need to show an example of of hand creams that are that are bearing your mark fairway, right? And, and so in order to get the registration, you need to show that it's being used and then five years, or between five and six years after it's registered, you have to show that it's continuing to be used, that you're continuing to use it.
Rich:
It's called a statement of continuing use. So you have to take certain actions between five and six years after registration, and then after 10 years you do a renewal again. You show that you're continuing to use it. And then every 10 years from then on you can continue to re renew it. But that's the interesting thing is like, so yes, there's actions that have to take place after five years and after 10 years, then every 10 years thereafter. But you can keep a trademark forever if you continue to use it and continue to renew it, as opposed to something like copyright, which will eventually enter the public domain. And this makes sense because like, it would be crazy if like suddenly Coca-Cola was in the public domain and anyone could just call their product Coca-Cola. That would be pure chaos for the consumer. So the, the way trademark rules are is you can keep a trademark forever, as long as you follow through with the procedures and you continue to use it.
Kevin King:
So there's lots of opportunity then in trademarks where you can actually, when you're doing a search maybe someone's abandoned their trademark or it wasn't used and you might be able to grab something. So there's, there's lots of opportunity there, right?
Rich:
Yeah, no, absolutely. And and so with, with trademarks typically it's when something is ha has not been used, let's say the, the trademark application itself was abandoned for about three years. There's a presumption that it that it's actually been abandoned. The, the one thing to watch out with, with trademarks is someone might have failed to follow through on the renewal procedures, but they're still selling the product. They didn't actually abandon it. So you have to do some, some legwork out in the real world to see if, if, if it's truly been abandoned be because you, again, there are common law rights. If someone had been using that product for and, and actually selling products, and then you start to you, you adopt that trade name they could come after you and try to prove, well, no, people are being confused. Yes, we might have let our registered trademark lapse, but we still have rights because we've been continuing to sell it. So you have to be careful. But yes, it is possible to pick up on, on things that have been that have been let go and, and slid by the wayside.
Kevin King:
So if I, so if I started Kevin's cool products as an Amazon business, and I, I I, I didn't have a lot of money to start with and I've been selling 'em, that's my store name, that's my brand name that's printed on my packages. Maybe I didn't go through the brand registry with Amazon yet 'cause I didn't have the money to, to file for a trademark. And then someone else says, Hey, that's a cool name. Kevin's cool Products is a cool name. And they go register to the trademark ahead of me, even though I was selling first. What happens in that case? Do I have to change my name?
Rich:
No, generally you could prevail, but it's a much more expensive prospect. So it's like if you've been selling it first and someone beats you to the trademark office and files their application before you, you can often prove that, well, I should have superior rights to them because I was using it first. But that's a, that will cost you a lot more. So instead of costing maybe $2,000 to file a trademark application and get it approved, it might be like $50,000 now to try and get that mark back, which is one of of the great reasons why it pays to file your trademark application at as early a time as you can. Because if someone happens to sneak ahead of you and file their trademark application, you've just multiplied or brought to a another order of magnitude, the cost of, of getting your trademark.
Kevin King:
Yeah, I've had issues with Trademark too. And one of my other companies where we had to just throw in a towel, but it was Toyota came after us. The, the Toyota, the car manufacturer came after us, you know, 'cause they have a car called the Lexus. Everybody knows, you know, the Lexus the, one of the Lexus cars we had in one of our calendars, a model named a Alexis, you know, that was her name. It was her stage name, but it wasn't her real name. It was her stage name, Alexis. And we actually got letters from Toyota saying that you're violating our trademarks by having this model's name. And they threatened all kinds of stuff against us, and we probably could have fought that and probably prevailed, but it would've cost us a lot of money, like tens of thousands of dollars. And it just, it just wasn't worth it. So we just can caved in and just changed their name. Basically does those kinds of situations happen a lot where these big corporations, they just, that have lawyers just sitting around? Nothing to do will come after you?
Rich:
Yeah, they do. And, and, and like just, here's a few things, a few principles about that. First of all trademark rights are specific to the type of product or service that you are registering them for. So it's like you can have the same name like one company can use the name maybe to sell bottled water, and the other company is using it for auto parts. And like, so there are many trademarks, there are many names that are being used by very different companies in totally different contexts, and they can coexist. And what it comes down to is whether there's a likelihood of confusion between them and generally there isn't. Right? And so in in general terms, a trademark is about the type of products or services that are being offered under that mark. But things get a little fuzzy when you get very famous brands for, for a couple of reasons.
Rich:
Like, you know, number one, because they could be very aggressive and sometimes overreach, but also they can perhaps legitimately claim that people might think you're affiliated. And so it's like if you wanted to open a mc shoe store McDonald's would be all over you. And they would say like, well, when people see mc shoes, they, they're gonna think it's an offshoot of our brand. And if it was a a a non-famous brand, they, their claim would be very weak. But considering how famous McDonald's is, they have a better claim. So it is a bit of a combination of the fact that when you have a famous brand they have a better claim that someone might think you're affiliated when you're using something similar. And it's a combination of that they just have more money and they're more aggressive and they might not actually have a leg to stand on.
Rich:
That Alexis situation sounds ridiculous to me. But again, that's more of the latter. That's more that they're just a big company and they, they're like, well, we're, we're just gonna bully people around as much as we can. But taking their side for a moment and is an important lesson there is that it's important for you to police your trademark. So they probably didn't need to do anything there about your use in the calendar, but if you see another brand using your trademark, you need to do something about it. You just can't let it slide. Because what happens is your trademark gets diluted over time. It's like if you allow a second party to be using your brand name, then when a third party comes along and starts using your brand name, it'll be harder for you to enforce it against them because you trying to enforce it against the third party is saying like, Hey, when they see your product, they think of me. And that third party would say, well, no, not necessarily. When they see my product, they might think of second party. So it's not necessarily distinctive to your brand anymore. So if you have a mark that's being infringed, you need to take action because that might prevent you from taking action against others in the future. Might cause you really to lose your trademark rights.
Kevin King:
Yeah, I didn't, I've had several other issues. I mean, as an Amazon seller, I had a brand called Elite Beauty, and we were selling like eye serums to help the eyelashes grow. And like 3D Fiber Lash Mascara and makeup brushes, and the company Elite that does elite modeling, I guess Elite Modeling agency came after us. And like you said, they had when I looked it up they had filed in, I don't know, 500 different categories under the word, you know, for Elite, and this is what we do. But the ones that we were in, they had not. So they were, they were protected in like 500. You know, they've gotta pay individual filing fees for each one of these little categories, like you said. And that they, they had done that, but in ours they weren't. But they came after us and we ended up changing the name, had another situation with a a, a dog bowl and the brand name's Wag House.
Kevin King:
And originally that name was Tail Waggles, and I spelled Tail Wagg as I spelled a little bit uniquely, and I put it like a z on the end because there was another trademark that was, I think Tail Waggler or something like that. And I was actually, had actually filed, it waited like four months, you know, I'd already talked to the, you get that phone call from the trademark office to, you know, just to ask you a couple questions. After a few months and everything seemed fine, then I get a, a letter back from the trademark office saying, actually, you can't use this. It's too similar. And so I'd, I was already in production on my dog bowls with molds and everything, and I had to stop production, remake the molds and change the name from Tail Waggles to Wag House. So the importance here, how long should you wait? Before when you, if you, I go and file a trademark, whether I'm using Legal Sherpa, using your, your firm or somebody else, how long should I wait before I actually start manufacturing something under that name? Or, or should I not wait and just take, take the chances?
Rich:
Yeah. I don't know if, if waiting really is is the way to overcome that risk. A couple of principles here first that when the, the trademark office considers your application, the trademark examiner develops their own opinion on whether there's a likelihood of confusion with other marks. And, and of course, if there are or if they think there is, then they won't approve the application. If they don't think there's a likelihood of confusion, they may approve the application. But that doesn't mean that some company out there might not look at it and say, Hey, wait a second, I think we really do. I think they really are in conflict with us, rightfully or wrongfully, right? And they could bring an action, they could bring it to court. And if you get to court and they're saying that it's a trademark violation you know, the fact that you have a trademark registration isn't going to save you.
Rich:
It's like they, they will re-litigate that question of whether there is a likelihood of confusion. So so getting the mark doesn't mean that you're in the clear. And again you know, and they don't necessarily, you know, like if you waited six months, that doesn't mean that this other party might have even noticed you or or, you know, it's, there's no telling how long it might take for them to take notice of you or take action. So waiting a certain length of time isn't necessarily going to mean you're in the clear. I think it's a good reason why to not skimp in the beginning when you are trying to determine like, well, what is the trade like, is this trademark available for me to register? Is it available for me to use? Or is there some other direction I might wanna steer it to steer clear of the other marks?
Rich:
Like that's where getting advice from a skilled IP attorney really helps because like, you know, people look at the trademark process, they'll often say like, well, it's simple, it takes like 10, 15 minutes to do the application. Like, I could get like LegalZoom to do it, or I could, maybe I'll do it myself, but it's, it's sometimes that that, that that set of eyes by an IP attorney that will save you from bigger difficulty down the road. Now granted, your typical trademark search isn't isn't like a deep dive due diligence. Like people aren't willing to pay enough for trademark search to really give it the deep consideration sometimes that it needs. I mean, like, you know, just a comparison, it's like we do a trademark search at 600 bucks and that really allows us to do a, a reasonable trademark search. But it's not like a deep dive into common law sources, for example, like a look at like phone books of old or things like that where there might be a, a company kind of in the space, prominent in the space, but it's just not showing up in the trademark registry when bigger companies do trademark due diligence.
Rich:
You're talking about a three or $4,000 search, but I don't know any seller that would ever pay for that, right? Like three or $4,000, you know I could, I could have Goldstein do it for 600 bucks or I can get LegalZoom to do it for $200. Like, yeah, like it's the thing, it's like sometimes it's, it's, it's a risk reward type consideration, but it definitely pays to have an attorney involved in the research. Because a lot of times they'll spot those types of issues and it's not a guarantee that there won't be an issue, but you have a much better chance of not having to do a hundred, $200,000 rebrand later.
Kevin King:
Yeah, I agree. I you could, you know, I've done 'em in the past where it's $89 plus the filing fees of what, 3 25 or whatever they are right now. And that's where I ran into problems when I've actually had an attorney and paid a little bit more. I haven't run into those problems. And the money I saved by not having to redo molds or not having to change later or change branding was, was huge. So it's not always about what's the cheapest at the moment. It's about, about protecting yourself and an attorney. A good IP attorney is gonna gonna do a lot more than what these, these services are gonna do. Or whether a cursory check a trademark or something is gonna do, which you should do. I mean, if you're coming up with a name, you should go and look yourself on Trademark yeah.com or some of the other public sources and just see, but don't make any final decisions. I, I would not recommend until you've actually spoken with an IP attorney.
Rich:
Yeah, definitely. It's, it's good to do some initial checking and and, and you know, it, it's kind of like what the thing to look at is, well, what is the cost? What is the potential cost if it goes wrong? Because truth is, you know, LegalZoom will get it right about half the time, probably, maybe a little bit more, but if you are the half or even the quarter that they don't get it right, like what's the cost going to be for your brand? Like, is it worth saving a thousand dollars, you know, or to, to have it done inexpensively if like even there's a 10% chance that it might cost you a hundred thousand dollars.
Kevin King:
And you look at trademarks too. Trademarks can be of, of, of someone that properly brands can outlive the company. You know, a lot of times you look at like, Playboy is a good example of that. Playboy basically is, for all intents and purposes, non-existent of what it used to be, but the Playboy brand is still out there, and the Playboy mark is, is still out there and being licensed and generating millions of dollars per year. You look at the trademark for some famous singers, you know, like Michael Jackson or, or some of those, you look at the trademark for Toys R Us, toys R Us went under and closed all their stores, but then now they got a little kiosk coming back up inside of Nordstrom's or whatever it is. You know, trademarks to cover yourself are super important. And they can, they can often outlive the company and, and continue to be cash cows.
Rich:
Yeah, absolutely. I mean, a trademark can be among the most valuable asset that a company has. Like, there are certain brands out there that the brand itself has been appraised for billions of dollars. Like, like when someone looks at the company and what's the company worth? They'll say like, just the, the brand and the trademarks that protect that brand are worth billions. I could tell you that so many e-commerce acquisitions, e-commerce acquisition deals have gone bad because the seller didn't have the trademark or it wasn't clear if they had the right to to use it. And, and so if you ask any anyone who's been acquiring trademark brands, any aggregator, they will all have stories of, of $10 million deals that had just went south in the due diligence phase once they realize that the seller didn't have the trademarks and that there was some, some lack of, there was a lack of clarity around whether they had the right to stop the competition from using similar names.
Kevin King:
I mean, it even happened with one of the, somebody in our space, you know, one of the, the big software companies in in our space was actually going to to sell. And they had been around for a while and, and the trademark they had filed, I think they had filed or you know, the story 'cause you helped 'em out, but they had you, you tell the story, they, there was some issue there that almost blew up the whole thing.
Rich:
Yeah, well interesting. I'm just wondering what best to say about it. But, but essentially yeah, I mean they had filed for the logo and not for the name. They had gone through a service and the service had them filed for the, for the logo. But meanwhile they were a famous software company in the space. And you know, so by the time we were hired to to, to get them the mark to try and get them the word mark, the mark for the name itself, there were a bunch of like tiny little players that had had filed for kind of not the same exact one, but for ones using similar terms. And the trademark office had actually said, well, well, no, you can't have it because of these other people are ahead of you. And so we had to fight our way back uphill to get that get that approved. But yeah, essentially in, in a, in a very big deal potential deal, it could have been a deal killer that they didn't have the rights to the, the name itself, they just had the rights to the logo.
Kevin King:
So when it comes to patents, what are, what do people need to know? There's like two different types of patents and I think people get confused between the two types of patents. And let's just talk briefly a little bit about patents and when should an e-commerce seller consider actually doing a patent?
Rich:
Okay, so the two types of patents are utility, patent and design patent. And a utility patent protects what you typically think of as an invention. Like you think of someone taking a product and cleverly improving it to work better than previous products. Those types of structural improvements, those types of functional improvements are water protected by a utility patent. But then there's also a design patent, which is just for the, what's called the ornamental appearance of the product, the way that it looks. So it's not about the function, it's not about the concept, it's about the way that the product looks. Now, traditionally people would say that utility patents are more valuable than design patents because they'll say, well, with a design patent, if you change the way that it looks, it's not going to infringe the patent. So it's better to go with the utility patent, which is more about the concept, but it's different these days, especially on Amazon for a couple of reasons.
Rich:
So first of all, when, when people copy your product they don't look at your product and get inspired by the product and say, wow, that's a really cool concept. We should sit down and figure out how to design our own version of this. Like, no, they just say, well, what factory in China can make us 10,000 of these? They don't get imaginative, they don't get creative, they just knock it off directly. And when they do, it's gonna look just like your product. And so if you have a design patent, you'll be able to shut them down. But also utility patents, the, the protection of them is defined using a description. It's defined in words. So there are descriptions at the end of the utility patent that that will, in words say what the concept is, what it takes for something to infringe the patent.
Rich:
But that's hard to interpret. Design patents are infringed by having something that has a substantially similar appearance. So now if you fast forward to the moment at which you've got a competitor copying your product and you want to shut them down, if you were contacting Amazon and doing an IP complaint and, and you said that there's a utility patent that's being infringed, they're not really gonna know what to do with that patent, how to interpret it, like how to interpret whether there's really infringement or not, and they'll kick it over to another procedure that, that could be used to enforce it, but it's not gonna be simple to shut them down. If it's a design patent which is judged based upon a sim substantially similar appearance, you're gonna have the seller central employee look at their product, look at the, the drawings from your design patent and say, well, yeah, it looks similar.
Rich:
Shut 'em down. So it'll be a lot easier to shut them down from a design patent. So like in terms of your last question of like, well, when is a pay to do it? I think anytime you have a distinctive looking product that you're expecting to, to do anything more than really small volume, like in other words, if it's a product that's going to do that you think might do, you know, $5,000 per month and up, then it probably pays to do a design patent simply because it could really be worth it in terms of shutting down competitors and also create additional value for you at exit. When you go to exit, having that design patent is going to get you a lot more than what you invested in it.
Kevin King:
And the design patent is, takes a what roughly, give or take about a year for it to go through and co cost a couple grand plus filing fees. Is that, is that about right?
Rich:
Yeah, probably cost around 5,000. And, and yeah, roughly takes about a year and a half, two years. Oh, that long. Okay. You could also expedite it and get it done much faster for about another thousand dollars. You can get it done within a about a year. But one thing to keep in mind though with it, and this is the thing that, that nearly no one knows about patents, it's, it's really even the most savvy business, people don't know this fact about how patents work and how the patent system works. And that is that you lose the rights to ever apply for a patent by having the product out there in public. And people don't know that. And, and you know, as a smart entrepreneur, you, you want to conserve your resources and patents cost money. And so you might say, Hey, let me launch the product and if things go well, I'll circle back around and do the patent later. But you might not be able to because if you don't apply for a patent before you you begin to sell the product, you immediately lose the rights in much of the world. In the US it's actually a little bit lighter on you, which is you get a little bit of a break, and that is that there's a one year grace period. And if you haven't filed within one year of that first public disclosure, then it will be too late to ever apply for a patent. So
Kevin King:
It's not, not a matter of someone beating you to it, it's a matter of just being eligible to apply,
Rich:
Being beaten to like being made ineligible by your own act of making it public. Wow. So that's something that, that most people, like 90% of people don't know about patents. And I mean, if they knew it was a year, maybe they'd get around to it within a year, but, but it seems like I get the phone call about like I've got a great product that I need to protect, protect that I've been selling for a while more than a year into it. And, and it's unfortunate when that happens and, and people will often ask, well, how would I have known about that? How would I have known I'm losing the rights? And unless you are listening to Kevin's podcast, you, you might never known, that's
Kevin King:
An so if you, if you launch, so the moral there is if you launch something and you don't have the money to spend the five K to do at least a design patent, I mean, utility patents take a little bit longer and they cost even more. but at least to do the basic design patent you need to make a decision within those first 12 months. Yes. You know, if your product is going well you're like, you need to make a decision that to go ahead and, and move forward or you're gonna lose it. Yeah.
Rich:
So, but, but two things to be careful of there. Number one is not just make a decision because it, you could expect that once you hire an attorney to do the design patent application, it might, it might take them two months to get it done. So you can't wait the full 12 months is one. Yeah. But number two is like, there have been issues recently that I've seen where so you know, remember the rule is one year from the first public disclosure. But what happens often when you create a catalog listing on Amazon, you create the catalog listing in let's say June. And then you, you know, you get all your info that you need to, to, to order the products and properly label them and ship them to Amazon. And then Amazon puts it live, let's say in August. But if you look on the, the, the listing page, it may say date first available June when you created the catalog entry happens all the time.
Rich:
The date first available isn't actually the date that it was public, the date that the patent office should be using to say, well, that's when we start the one year count It is when you made the listing and it wasn't public at all, it was in the backend of, of your seller account not visible to anyone just waiting for you to ship products to the warehouse. So don't wait the full year, notice that date first available on your Amazon site and consider that, that you wanna make sure you file your application before the date listed there because they, they might use it against you.
Kevin King:
Yeah. And you can actually put that date forward too. If you create, if you're creating your listing, you can actually, on Amazon, you can actually put, there's three different fields for date. Like first date, I forget the exact names. So first date on sale date of there's, make sure you put those forward and not, not the default current date that you're making the listing. Another
Rich:
Thing. Yeah. I've had situations though where it's been locked and people have tried to change the date to what it Yeah,
Kevin King:
You can't change. Yeah. Yeah. You can't, it, that's why you should do it from the get-go from day one. Yeah. If you, if you know, it's gonna be a couple months delay to put that put, put that date further out. Another thing I, I, I know is like, while you're filing for that trademark other people can knock you off. I know there's a company called bunch of Balloons that they, they're water balloons. Instead of having to fill up water balloons for a water balloon fight one by one, you know, sticking it around the, the hose or around the, the faucet, you'd connect this connector and it'd have like 50 little things on, on it to where you could hook all these balloons and you could fill it up really, really fast. And I was wholesale, I was actually buying those back in like 2015 to actually sell on Amazon.
Kevin King:
Before I was doing private label, I was actually, you know, buying, there's a company in Dallas, I went up and bought like $10,000 of wholesale these things to 'em, and they were selling like hotcakes on, on Amazon. But right at the same time, a whole bunch of infomercials came out selling a very similar product. They call it something slightly different, but basically the exact same product. And there was nothing this bunch of balloons company could do until that they had filed for their design patents. And I, I assume their utility too, I'm not sure, but they, I was asking 'em about it, I was like, there's nothing we can do until we get the mark. They can still, they can sell it. And they know these infomercial companies are, they, they see a cool thing on cool Kickstarter, cool thing in selling well on Amazon, and they just knock it off and they know we've got a year bef to sell this, and then we'll either stop or we'll make some sort of offer, you know to, to do it. So what do you see a lot of those kinds of situations?
Rich:
Not a lot, but it, it, it definitely happens. And, and like and, and so first of all, when, you know, when it's patent pending, like w while the, your application after application's been filed, it's considered patent pending. What you've done at that point is you've, you've protected it from being stolen in the sense of you pro protected it from someone coming along and, and filing their own patent application and saying that they were before you, right? Like, you've essentially put your foot, your, your line in the sand about when it was when it was created, when a when you have priority with regard to this patent application, but you can't stop anyone from making, using or selling it until you actually have an issued patent. And and that could be a year or two away. And so, and it's interesting because like sometimes people will use that as an excuse not to bother with the patent.
Rich:
They'll say like, well, this is gonna be a fad. It's gonna be here here today and gone tomorrow. But, you know, I know that those those balloon products are still around. I see them at birthday parties all the time and so it is something that had staying power. If the product has staying power, then eventually it catches up. And, and perhaps then all those other people that were knocking you off, like all they really did was help create a bigger market for you. Yeah. and you know, eventually you will have the exclusive right. You'll have the ability to stop them from making, using or selling it. Maybe you might even choose to have them license it from you, let them continue making it and collect money without even having to manufacture and ship products.
Kevin King:
Yeah. I just saw 'em in Costco you know, over the summer they're, they're selling 'em there, so they're still going strong. Eight years later just printing money. So when it comes to, like, one of the hot topics right now out there is ai and there's I know this is not your, you're at the AI conference, but it's not your specialty. But I just wanna get your, your maybe opinion a little bit on some of this. A lot of people are creating things with ai now they're, they're uploading images or they're creating images around ai, you know, they're doing the prompts and it's, it's spitting out images and they're using those images in their graphics or in their product, or it's spitting out product renders or it's creating, you know, the copy for their Amazon listing. But a lot of people, they don't actually read the fine print on open AI or some of these.
Kevin King:
It basically says you don't actually own those rights. You know, the, the US government has actually come down and made a couple statements on this, that things that are made by AI are, are not copyrightable or i, I believe. But how do you know if some, you don't know if something's made by AI necessarily, so what, what do you see of this gray area? I know I'm not asking for a legal opinion here, but I'm just saying, what, what do you see in this gray area with all this AI created stuff, how that's gonna affect ip?
Rich:
Yeah, let, I mean, let's look at some of the practicalities of that. So yeah, first of all for something to be copyrightable, it needs to have human authorship. So, which means that things created by AI are not eligible for copyright.
Kevin King:
But didn't I write, I wrote the prompts. I'm the human writing the prompts to create the image
Rich:
That's probably not going to be sufficient. I mean, that, that might be something that's a future Supreme Court case about whether that constitutes authorship. But, but as of this moment the, the assumption is that ai and things created by a computer and not kind of created at the direction of, of a human say through prompts would not be copyrightable. Would not be protectable. That's kind of what we're going by mostly. And now, here's the thing. So you say, and, and kind of how would people know you probably could file copyrights for images or for text that were generated by you using prompts and through ai. And you know, it's like, I don't know how the copyright office might know, like, I don't know if they're using any of these tools for detecting ai. There are some tools that can pretty reliably detect when something was created by ai, but who knows they're even using that.
Rich:
Let's assume you get the copyright registrations. It's probably down the road during enforcement when you're trying to enforce your rights against someone that the issue would come up of, well, how it was created, and maybe the, the other side would be seeking to prove how it was created. Kind of like, you know, like on the patent, like on the patent side, like, so we were talking about the one year rule, right? We were talking about how if you, if you, if you publicly disclose something, then one year from then it, it's too late to ever apply for a patent. But, you know, there are a lot of times when people do apply for a patents a year, more than a year has passed by patent office doesn't figure it out. But then someone later copies the invention and then the patent owner sues them for patent infringement.
Rich:
Now, the leading infr leading defense for patent infringement, well, let's say for copyright infringement is invalidity. It's like that the patent should not have been granted or the copyright should not have been granted. So and, and, and so if someone is in a situation where they, they might be infringing, but if they could prove that, for example, you were selling your product more than a year before, then that's gonna be their path towards, that's gonna be their get outta jail card. So the same thing in this AI situation. It's like you might be able to get the copyright, but down the road, when you go to enforce it the other side will do whatever they can to try to prove you should not have been eligible for it. And so possibly proving like, you know, hey, you don't have, you are claiming to be the, the author of this image, but you've got no artistic ability, you know prior to this date when you started putting out these images, like it's pretty clear that like, you know, you, you, you had no ability to create an image like this could be, I don't know, this is probably a few years ahead of time of, of how it's going to go or how one will figure this out.
Rich:
But the other aspect of it is that a lot of this will be determined by contract law determined by those terms of service, which, which indicate who owns what. And like, so that probably is the most telling of like what your rights are going to be, is you look at the terms and service terms of service and they say that that things created belong to to the the you know, AI platform or what have you. So I think that's more determinative about than, than what else is gonna happen down the road. In
Kevin King:
My view, some of those terminals of service say that it's owned by the platform, but you have the right, you know, if you're gonna do more than 10,000 copies of it or, or something, 10,000 people are gonna see it, or something like along those lines, then you have the right to actually apply for a license and actually pay pay basically a royalty. So it's gonna get interesting, you know, it's still in the early stages right now, but just everybody that's doing a lot of AI generated stuff, and even if that's your listing, you're having it write your bullet points you know, you can actually copyright an Amazon listing. You can actually go and file, you know, spend the 65, 70 bucks, whatever it is right now for the filing fee and actually copyright your listing. And then if someone steals your listing and, and actually basically just duplicates your listing with for their counterfeit or other product, you can often have Amazon if you can prove that you filed the copyright on it, you can actually have that shut down that by law, I think you own, as soon as you publish something, you technically own the copyright, but to have ha have the actual proof you need to have actually filed it yeah.
Kevin King:
But if it's AI generated your, your bullet points were AI done, you I don't, I don't know how they're gonna be able to prove that, but that, you know, that could be an issue as well.
Rich:
Yeah. And, and I don't know how that's gonna shake out, but you know, technically it's not eligible. How they'll be able to determine that is, is another story. But yeah, technically things created by a machine or not eligible for copyright.
Kevin King:
So what would you say that you, you've seen a lot of e-commerce sellers and dealt with a lot of issues. What are, what are like three things, three main things, like, man, here's another one of these, here's another one of these, another guy calling me about this same thing that people just need to be aware and to do as an e-commerce seller that they're just constantly making mistakes on that you're having to try to put out fires or fix for them.
Rich:
Yeah, I mean, probably the biggest is just kind of looking to start the patent too late. That's probably the, the biggest one that I see that I've seen my entire career. Like, you know, even before Amazon and before I was doing work with Amazon sellers let's see the fire I mean, there, there are a ridiculous number of people that are just using PR famous brand name products. You know, like they're trying to sell like Mickey Mouse, this or that, and it's just unbelievable that people think that they'll get away with it. You know? It, it's and so like, I see those too, where someone's like, oh, we got the cease and desist and okay, well check it out for you. And I look at it, it's like, come on. Like, why did you even think that this would be okay to do this?
Rich:
So it's like, I, I think common sense comes into play with a lot of that. If you think you're ripping someone off, you probably are right? You know, like I, I think more people need to use common sense in that regard. A third one is don't don't wait too long to file your trademark application. It, I, i way too often do I get calls from people who have been selling the product for quite some time and just delayed filing the, the trademark application and then someone else filed an application ahead of them. And now it's a much more complicated situation. And for this one, it happens often, but it also, we should throw extra weight on the fact that how much of a problem it creates, it really takes a, a $2,000 trademark and turns into a $50,000 trademark problem that might take you know, a couple of years to resolve. So you know, absolutely the way to bypass that is by filing a trademark application at as an early at as earliest stage as possible. And
Kevin King:
Where should I file? I mean, a lot of people don't understand that you file a trademark in the us it only covers you for the us You're not covered in Canada, you're not covered in Europe, and I know you can file like what's it under the Geneva Convention or something like that, and it covers like 65 or 70 or some number of countries, not all 200 or roughly 200 countries in the world. When should you actually consider actually going beyond filing trademarks in other countries? Is only when you sell in that country, or if you think you're gonna sell in that country, or when should you actually take that, those steps and spend that extra money?
Rich:
Yeah. Well here's the thing. So first of all you can file individually in each country where you'd like protection. And typically that means hiring an attorney in that country to get it done. Or, you know, if you're working through a law firm, that law firm will, will reach out to their colleagues and hire law firms to file in those individual countries. But you can do kind of as you, as you're saying, a Madrid protocol application, which then
Kevin King:
Geneva. Yeah, Madrid, I said the wrong word. Yeah,
Rich:
Yeah. Geneva, Madrid, you know this, there's a country for everything. There's a Paris Convention. That's right,
Kevin King:
That's right. My European cities mixed up, but go ahead, I'm sorry.
Rich:
No, it's okay. So you could file a Madrid protocol application where you still need to decide what countries you want protection in. Like maybe you pick 10 of them because you're paying filing fees for the individual countries, but you're filing one application. And the advantage there too is that if the application goes through smoothly, meaning it's not objected to in those individual countries, then the registration will be granted. If, let's say one of those countries has an issue and they issue a rejection, then you'll need to get trademark council in that country to deal with the rejection. So it's likely that you can get by for a lot less in fees by doing a Madrid protocol application. The time that you, you should do it is within six months of filing your US application. If you do it within six months, then you can claim priority from when you filed your US application.
Rich:
If you don't, then you'll get like new priority as of whenever it is, you file that, that Madrid protocol application. So if someone had filed an application in between, you won't be able to say, well, I filed mine first. So technically it should be within six months. And now when to do it is, is a matter of philosophy. And it's you could say that it's like if you have plans to sell in a particular country, then it, it pays to to also include that in in your trademarking and, and get the trademark there. But the other philosophy is, if you're looking at exit, if you're looking at at exit valuation if you're only selling in the us but let's say you get trademark protection in Europe and in South Korea and in Brazil, Mexico, Canada, then you know, you might spend $10,000 doing that.
Rich:
But if you build a multimillion dollar brand when you go to sell it, that's gonna be huge upside for whoever's buying it. They're like, oh, wow, you do, you have the trademark rights in you know, in Canada, Mexico, Europe South Korea, et cetera. Like that's going to add many times more than what you spent on the trademarks like that. If you had a, I mean, just imagine if it was a brand that was going to sell for $5 million, you might get an extra million dollars just for the fact that you had all that upside for, for having the rights in those other countries. So it might be turn a $5 million deal into a $6 million deal, in which case you got a million dollars on a $10,000 investment, which was a hundred time ROI. So if you think in terms of exit, if you're really planning your business toward exit, then IP will help you maximize the value. And, and, and in every single case, IP will give you an ROI if you get to exit.
Kevin King:
Awesome. Well, rich, I really, we could sit here and talk for a long time. I really appreciate your time today. And you know, I, I know as a attorney, what's it, what, what, what's your hourly rate? It's, I'll have to send you the you will,
Rich:
You'll, you'll find out later. I'll, I'll send you a bill.
Kevin King:
I'll get a bill on the mail.
Rich:
Start by email or, or by text. I'm, I'm just gonna text you a bill. Hopefully that'll get paid quickly.
Kevin King:
<Laugh>, that'll work. That'll work. You're good
Rich:
For it, right?
Kevin King:
If if people wanna reach out or, or, or learn more about this stuff or follow you you know, listen to your podcast or reach out to your firm, or they got some IP issues they need to discuss what, how is, what's the best way to, to go about that?
Rich:
Okay. Yeah. Let, let me give you some resources there. So first of all, if you wanna learn more about patents, there is my book, the a b a Consumer Guide to Obtaining a Patent. And it's it's written in plain English and explains how patents work. And you know what I will give to your audience a give here, which is like, I could tell them like, just go buy it on Amazon, but if they send an email to my assistant, I will give them a free copy. And that might be dangerous 'cause you've got a big audience here. But you might be sending out
Kevin King:
A few of these.
Rich:
What's that?
Kevin King:
You might be sending out a few of them. So what email address should they email to get a free copy of that book?
Rich:
Okay, so if they email, this is
Kevin King:
A printed book, this is like in the physical mail, right? Well, you ship it just in the US or you ship it anywhere.
Rich:
You know what? Okay. So just, just within the us okay? So if you're within the US then I will send you a copy of the book. It's a printed book. So I need a physical mailing address. And also need a phone number 'cause I'm gonna order it from Amazon. And, you know, you need a phone number to, to send something. I'm not putting you in a marketing funnel. Just need the phone number to send it to you. Send an email to assist a S S I S [email protected]. G O L D S T E I N pc.com. And include your you know, of course your name, your mailing address, and your phone number, and I'll send you a copy
Kevin King:
That's very generous of you.
Rich:
And so that's one resource. Then if you, you know, if you wanna learn more about patents in general, you can go to my website. It's goldstein patent law.com, and we've got great videos there. I've got a, a podcast Innovations and Breakthroughs where I talk about the path that people take from having an idea to bringing the product out into the market. And I've great interviews with people who've followed along that path in some respect. And then lastly, if you want to see if it's a match to work with us, if you want to to see if we can help you with something, then you wanna talk to Larry Slavin on my team. His job is to talk with you about the process and to figure out if it's a match to work together. And all you need to do is go to speaktolarry.com, and you could set up an appointment to talk to Larry and figure out if it's a match for us to work with you. And, and that's it, you know, really happy to help. And I'm a strong believer that it really pays for entrepreneurs to learn about ip. It will pay off tremendously the more that you learn. So, you know, check out some of those resources and I'm, I'm happy to help you better understand IP
Kevin King:
Rich. Thanks again. I'm, I'm sure I'll see you at some other event here in the next few weeks or month.
Rich:
Absolutely. you can count on it..
Kevin King:
Thanks. Rich IP is such a critical part of any business, and it's something that's just overlooked by a lot of people. It's not sexy, it's not fun, but it, it's crucial. And as you can see from what Rich was talking about, it can really add a lot of money to your valuation and to your long-term prospects. If you go to sell or if something goes belly up on the brand for whatever reason, you still have a, maybe have something to hang your hat on and actually generate some cash by licensing out the name and other opportunities. So, I hope you got some good information from this episode. We'll be back again next week with the next episode of the AM/PM Podcast. Until then, I've got some words of wisdom for you. You know, sometimes you have to let go in order to grow. It can be hard to grow beyond something if you won't let go of it. That could be a product that you're doing, it could be a relationship, it could be a number of things, but you have to let go sometimes to grow. It's hard to grow beyond something if you won't let go of it. Take care and we'll see you again next week.
---
Enjoy this episode? Be sure to check out our previous episodes for even more content to propel you to Amazon FBA Seller success! And don't forget to "Like" our Facebook page and subscribe to the podcast on iTunes, Spotify, or wherever you listen to our podcast.

Want to absolutely start crushing it on eCommerce and make more money? Follow these steps for helpful resources to get started: