The 5 Most Common Mistakes That New (and Existing) Amazon Sellers Make When Trying to Scale Their Business – EP130
Amazon FBA veterans will tell you about the early mistakes they made when they first began selling with Amazon FBA, but there are some faux pas that even veterans still make that may be cutting into profits for Amazon Sellers. 7-Figure Amazon FBA All-Star Kevin King is back to discuss the 5 major mistakes that many Amazon Sellers make that can stifle growth and slow sales.
One major mistake Sellers make is ordering the incorrect amount of products for the amount of sales they expect to do. This blunder can be crucial to whether or not time and money are wasted, especially for Amazon Sellers just starting out. Using data and realistic expectations can help Sellers to calculate how much inventory to order. Sellers can then make smarter ordering decisions to decrease unnecessary costs and learn how to properly scale their business.
Amazon likes for Sellers to have at least 30 days worth of inventory at any given time for better rankings, so it is important to take things like manufacturing time, shipping time, expected sales per day, and your competition into account when making ordering decisions.
Another mistake Sellers make is focusing on small things when they should be concentrating on things like sourcing products and paying attention to market trends. Finding trustworthy sources for products can affect your bottom line just as much as sales, so focus on getting the best product for the best price.
Additionally, Sellers should focus on their long-term goals for their Amazon business and create a plan that is not just for short-term profit, but also for growing the business and looking many years down the road.
BSR numbers also may not matter as much as you think when it comes to selecting your products. While there are many great tools for evaluating BSR, these numbers can fluctuate and be affected by many outside factors, so concentrating on the quality and keyword demand of your products should be your more influential deciding factors.
In terms of competitiveness on Amazon and the aptly named Amazon Gold Rush time period of yesteryear, opportunities have grown exponentially for Amazon Sellers, but the selling landscape has changed dramatically as new players around the world (particularly China) have come into play.
Making money hand over fist the easy way is no longer the standard, and Sellers have to put more effort into their business to be at the top of their respective fields. However, those who treat Amazon like a real business and learn great skills such as correctly choosing products, launching products, and staying current with selling trends will be rewarded.
Perhaps the most prominent mistake among Sellers is the mismanagement of cash flow, whether it's the initial investment into the business or managing the money made from profits. A great rule of thumb to follow is to always invest 2 to 3 times as much as you think you need to begin if you truly want to scale your business. The reason for this increase in investment is to account for all the other little costs, ranging from having your next batch of inventory ready to shipping costs. If you haven't invested enough, you may find yourself in the red quickly.
A great bonus hack that Sellers can use to help scale their business utilizes creativity and abstract thinking regarding large items and gaining the skills necessary to sell them effectively. There are many benefits to selling large items that many Sellers don't consider including less competition, fewer reviews required, and less number of units needed to be sold.
In this episode, Manny and Kevin answer the following question:
Introduction to Kevin King
How Much Product Should I Order To Ensure I Don't Run Out of Inventory on Amazon FBA?
What Should an Amazon FBA Seller Focus On?
Should I Focus on BSR When It Comes to Product Selection?
Is the Amazon Gold Rush Over?
How Does Cash Flow Affect My Amazon Business?
A Bonus Hack for Amazon Sellers!
Don't Forget! Check out the Amazon Product Selection Strategy Webinar with Manny & Kevin at FreedomTicket.com
Ready to get serious about your Amazon FBA game? The Illuminati Mastermind offers monthly training for intermediate to advanced level sellers (not recommended for those new to Amazon) for advanced tips and tricks to help your sales climb higher. This program is designed for six, seven, and eight-figure sellers, so only serious sellers should apply! Reserve your seat today so you don't miss out on this helpful webinar! CLICK HERE TO FIND OUT HOW TO JOIN
Spend less & make more with the ultimate software tool suite for Amazon Sellers! Helium 10 offers 10+ tools that help you to better optimize your listings and increase sales with an easy-to-use system for one monthly membership price. CLICK HERE TO SIGN UP TODAY
To watch the video version of this episode of the AM/PM Podcast, check out our YouTube channel below: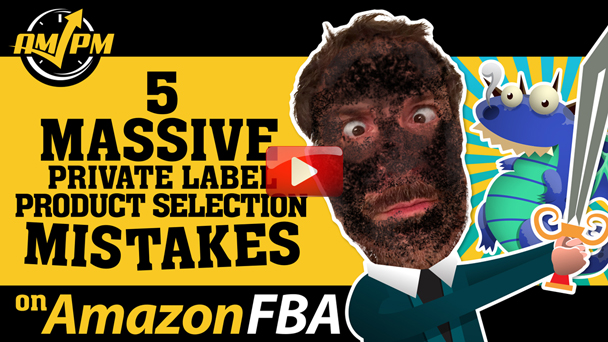 Enjoy the episode? If you found this episode helpful, be sure to check out our previous episodes for more insight into being a successful Amazon FBA Seller! Don't forget to Like us and join the conversation with over 22,000 prominent Sellers on Facebook and subscribe to our podcast!
Be sure to check out our latest content on our Instagram!