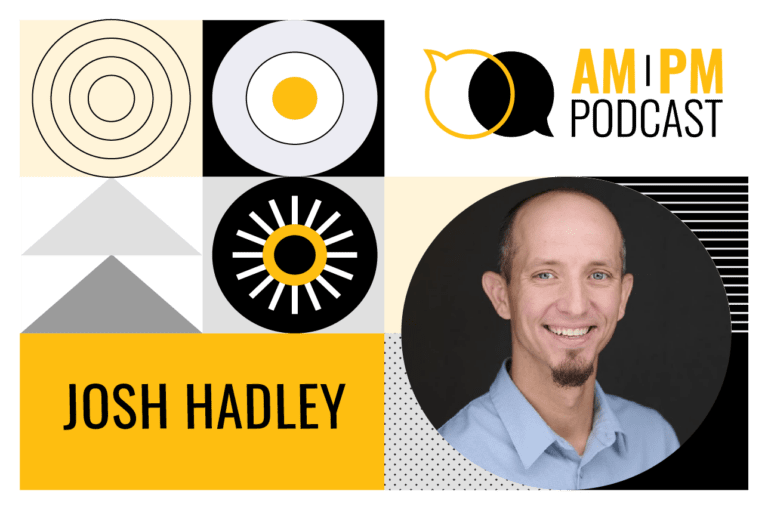 #318 – 8-Figures And 1,300 SKUs: How Josh Hadley Is Crushing It On Amazon
In episode 318 of the AM/PM Podcast, Kevin and Josh discuss:
01:05 – A Town In Flower Mound
03:01 – Josh Hadley's Backstory
03:45 – American Airlines Stories From Kevin And Josh
10:34 – Travel Hack For Amazon Sellers
13:10 – Managing 1300 SKUs On Amazon
17:23 – Product Design, Artwork, And Wedding Invitations
20:00 – How COVID Decimated Their Business And The Pivots They Made
21:40 – An "Aggregator" Of Product Design-Based Products And Their
23:45 – The Long-Term Vision For Their Brands
26:23 – Doubling Down On Amazon And Launching New Products
28:40 – When Is The Best Time To Get IPs, Copyrights, And Design Patents
34:26 – How To Copyright Your Amazon Listing On A Budget
36:00 – Josh's Wife Is A Digital Artist With 100K Followers On TikTok
38:45 – Marketing Plans, Monetizing The Audience, And Building A List
41:22 – Josh's Product Launch Techniques And List Management Techniques
47:00 – Josh's Product Launch PPC Strategy
51:40 – Making 6-Figures On Merch On Amazon As A Separate Revenue Stream
52:24 – Josh's New Podcast: Ecomm Breakthrough
57:45 – How To Listen To Kevin King's Episode In Josh's Podcast
59:33 – This Week's Golden Nugget Tip Of The Week
Transcript
Kevin King:
Welcome to December and episode 318 of the AM/PM Podcast. Today I'm speaking with Josh Hadley. Josh and his wife have created an amazing eight figure business based on her really creative and unique style of design. And they've applied that to a whole multitude of products, got some great IP around it, and have some interesting ways of launching that product and building their list. And that's what we're gonna be talking about today. I think you're getting a lot of good value from this episode, so enjoy. Josh Hadley. Welcome to the AM/PM Podcast. How are you doing man?
Josh:
Hey Kevin, thanks for having me on. I'm excited to be here today. Doing great.
Kevin King:
Now you're just right up the road from me. I'm down in Austin and you're up in Dallas. Actually, technically not–. You have to say Dallas cuz no one's ever heard of the actual town you're from. So if you say Dallas, they have an idea, but if you say, Flower Mound, they're like, "what? There's a town named Flower Mound?"
Josh:
Yep. Only you would know where that is, Kevin, right?
Kevin King:
That's right. Because that's where I grew up. I actually grew up in Flower Mound and actually, I was just back up there a few weeks ago and my parents are moving from the house that they've been in for, I think it's 45 years that they've been in that house. And they were moving to some apartments that had just been built for seniors. Not a nursing home, but like senior apartments. And I went up there to to help them. My dad was just emphatic like, I don't want anybody touching my computer because they'll screw it up, I wanna make sure my computer works when I move it from the house. So I told 'em, leave everything alone, Kevin, will you come up and move my computer? I'm like, yeah, no problem dad. I can come up.
Kevin King:
It's a Mac, so it's easy. But you know, he doesn't know the difference between a USB cable and an ethernet cable. So if you're on the phone with him, plug the cable in. They're like, which hole? So I'm like, no problem. I'll come up there. But yeah, Flower Mound is a little town just north of Dallas, just north of the airport, actually, DFW Airport. And when I moved there 45 years ago when they bought that house, I think I was in the third or fourth grade, something like that. That town was maybe a thousand people. And we were a little neighborhood right on the edge of–, right on the way almost to Louisville over off of Kirkpatrick Road over in 1171 I think it was. And there was nothing out there. But now, every time I go back, that place is just completely different. I'm like, I I don't recognize it.
Josh:
Yeah, it is grown a lot. A lot of good families around here. So we enjoy being here for sure.
Kevin King:
Now you've come from Utah originally, right? You have just been there for a handful of years. Came over, I think it was you're working for American Airlines if I recall. Something like
Josh:
That. Yeah, that's correct. That was the journey. I am originally from Utah and graduated from the University of Utah with my MBA, joined American Airlines in their MBA leadership development program. And I was actually there for five years, but it was during year number one there at American Airlines that my wife and I started our business on the side. And then we just kept growing it on the side, working evenings a lot. But that's what originally brought us to Texas.
Kevin King:
Now before we get into the business stuff, we gotta just talk about American Airline. We have another thing in common. My mom worked for American Airlines as well, and the reservation department for, I don't know, 20 years. She was like a supervisor or something over there. And I remember I had D2 passes, you remember?
Josh:
Oh, flying standby. Yeah.
Kevin King:
Flying standby. And I remember, you know this was a little before you were working on one 'em, but in the original days it was a paper ticket and you had this blank paper ticket that she would get these little booklets and you would just show up at the airport. And we always had to wear our coat and tie because you didn't know back, this was like in the '80s, '90s and early 2000s, you didn't know if you were gonna get bumped up to first class as long as–
Josh:
And you had to be dressed.
Kevin King:
You had to be dressed,
Josh:
You had to be dressed professionally if you could receive a first-class ticket, right?
Kevin King:
That's exactly right. It was like the 19 flying in the 1950s or something back when everybody used to dress up to fly. But yeah, we'd show up at the airport and we would just right in where we wanted to go. And as long as they had an open seat we were on the plane and sometimes, I remember one time we were on the plane and we weren't sitting in first class all happy that we wore our tie that day. And then some late people showed up and we got bumped off, it got pulled off the plane and up like waiting seven hours or something for the next plane. But I used to use those D2 passes to fly all over the world. And the D2pass, for those of you that don't know if you work for American, they basically, you just pay the airport fees, it's basically like 10% of the price of a ticket and it just comes out, the employees check.
Kevin King:
But they can give them to friends, they give the family members or they can give 'em toba really they get so many D2s I think are unlimited and D3s I think there's a limited number, which is like the next level down yeah's like a buddy pass. Yeah. And I used to fly, I'd show up and just go to Hawaii. I'd show up and just go to Paris or whatever. And it was freaking awesome. So did you get a chance when you were working there to actually use any of that stuff to travel?
Josh:
Yeah, so when I did my internship with them between year one and year two of my MBA. And so at that time, my wife and I had just barely gotten married, maybe I think it was three months prior to that. And so for us, like we had no obligations, not a whole lot going on at home. And so every single weekend we went somewhere new that summer. So I mean, we went to Nashville, we went to San Francisco, we did a lot of domestic trips. Then we ended up, I think we went to, we did a couple international, we obviously went to Mexico. We ended up going to Korea. That's where I served a mission for the church of Jesus Christ of Latter-Day Saints. So it was fun to go back there to those stomping grounds. So yeah, we used it a lot. There was one experience where we were standing by for a flight to go to Hawaii and we'd been working all summer long to try to like identify one weekend when there might be some open seats on a Hawaiian flight. And anyway–
Kevin King:
Cause there's that special program they have, right? That special as an employee, you can log in, you can see the load levels, you can see like, okay, this flight has 36 empty seats. It's probably a pretty good chance I'm gonna make that flight. This one only has six, or this one's oversold. So that's what you're talking about. So continue, go ahead. I'm sorry. I just wanted to explain that to the audience.
Josh:
Yep, yep. So we saw that it looked pretty good. But then when we got to the ticket counter, I mean it changes as you know, on like an hourly basis, right? A flight gets delayed or something gets canceled, and all of a sudden people get rebooked onto the flight. Well, long story short, we're there at the ticket counter, we're waiting and there ends up being only one seat left on the plane. And it was like, well, are my wife and me, are we gonna split up? And then the other person would have to wait until the next flight and then cross their fingers that they end up making it. But what was funny is like, we turn around and the next gate, was Cancun that was boarding. So we go over there, we had our passports and we're like, "Hey, do you have any open seats?" They're like, "oh yeah, in fact, we have first-class open." So we flew to Cancun and that was an amazing experience itself. But that's like one of the experiences that unless you're working in the travel industry, you're not like, so I showed up at the airport planning to go to Hawaii, and then five seconds later I've changed my mind and I'm boarding going to Cancun.
Kevin King:
I've done the same thing. I mean, I've done the same thing in trying to get to Paris and I couldn't get to Paris cuz the flights were full. And like the heck with it, I just, I can get on a flight to LHR, to London, to LHR and just take the train over. You get to creative because you're saving so much money and you're basically flying for free. And my parents did the same thing like you did. They used to travel, they took heavy advantage of it for like 10 years. They would go somewhere every weekend or every other weekend almost when, when they could. And they would just go to San Francisco for the lunch and come back it stuff like that. Or just go somewhere for the weekend. It's a great little perk, but the airlines now have tightened up and they got their load management so good now with these algorithms that they fill these planes, so it's much more difficult to actually game it than it was, you know, 10 years ago.
Josh:
Oh, a hundred percent. And you're probably used to, I think for you it was pretty rare to kind of get denied boarding, for the most part, right? I think you could basically go show up at the airport and basically guarantee you know, you'd be able to get on whatever flight you wanted to. But I know, you know, while I was working there, it got more and more difficult every single year as they tighten load factors and all of that stuff. And as we started having kids, that's when it became not fun. It's one thing for my wife and me to be like, "oh, we missed the flight. Bummer. All right, let's go plan something different. Or let's wait a couple of hours for the next flight." As soon as you work kids into that equation, you've already packed for the kids whatever weather, or heaven forbid you to have to stay at the airport any longer with kids, it was like, eh, not so much fun anymore with the free tickets because it was hard having to like a plan on that. You, you just never could plan on it, right?
Kevin King:
That's right. And then, then after my mom quit working there, I didn't have access to those passes anymore. But I was flying a lot, you know, I've been to 92 countries, all seven continents. I've done a lot of flying and I became executive platinum on American for like, I had that for like seven years, which is, for those of you listening, this is their highest level. So you get system-wide upgrades and automatic bumps to first class when seats are available and you get, if the plane is delayed or canceled, you're at the top of the list over everybody else that's out there. You can earn extra miles, and you get access to the really kick lounges, like in the big airports that are really, really nice. Some of 'em have free massages in 'em, some of 'em have like a really nice sit-down meals and all kinds of stuff.
Kevin King:
I had that for quite some time. And then I quit traveling for a couple of years to focus more on business. And now there's a little hack out there. I just wanna give people that may be listening. If you get an Aviator MasterCard, it's an American Airlines MasterCard issued by Barclays Bank, you go to aviatormastercard.com. American Airlines just this year or in 2022, change the rules on how you can get executive platinum. It used to be you had to have your but in the seat and fly a hundred thousand miles per year, but in the seat, or you had to spend quite a bit of money, I forgot what the number was, but quite a bit of money to get that. Now with this credit card tied to your Amazon business, I use it for my PPC, I use it to buy inventory, I use it to buy, pay for postage on one of my other businesses at stamps.com, and used it for everything. And that card, all the spend on that card not only earns you miles, but actually earns you status on American Airlines. And, I got executive platinum status without flying a single flight earlier this year. Like in March, I had it within the first two months. You have to spend, I forget what the number is exactly off the top of my head, but–
Josh:
200K.
Kevin King:
It's 200K. Yeah. So I spent that by the first, by March, some point in March of this year from January. So I have executive platinum stats now, which actually no matter what airline I'm flying on, whether it's American, anybody in the One World Alliance, which is like British Airways and Cutter Airways, you know, I'm going to the World Cup semifinals and finals with my wife and we're flying Cutter Airways. I get all the elite status, all the elite check-ins, all the elite access to everything. And it's a great little hack out there that if you're not taking advantage of that, it's probably one of the best things you can do.
Josh:
Yeah. Kevin, you weren't supposed to spill the beans on that. Cause me, I was the same way. I signed up for that immediately because I was like, this is the biggest loophole ever. Like, you don't have to travel at all and I'm gonna get EP status overnight. And yeah, I essentially just put that credit card for all of our PPC spend, and then similar to you, within two months, I'm an EP status and have been enjoying those free upgrades. But now my question is how many people start getting that EP status and now I'm battling with them, right? Because it'll be interesting to see how American Airlines navigate this change.
Kevin King:
Yeah, there are a few little rules along with that. If you look at the fine prints, like some of the system-wide upgrades, don't kick in until you get like, I don't know the number off the top of my head, three or 400,000, you gotta earn some more. But yeah, it's gonna make it a little bit more competitive for the people that understand how that works. But speaking of competition, you sell on Amazon, you have like something like 1500 products or some crazy number of SKUs or something like that?
Josh:
Yeah, we have 1300 SKUs on Amazon right now.
Kevin King:
Now is that individual SKUs or is that like there are actually only 300 products and there are four variations of every product or what is that?
Josh:
Yeah, that's a good question. So the way we have it set up right now, all of those are individual, like parent ASINs, right? So they're not just variations. Now, if you were to like kind of boil it down, we do have many of them. You could consider variations because our unique, spin on things, you're just product design. My wife's a fantastic graphic designer, I would argue one of the best in the entire world. And she's so good at like creating product designs that we can come out with a new product with a new design on it, and we don't necessarily cannibalize any of our existing sales for the other products, but we're able to show up like if you look for one of our search terms and you'll see probably 10 or 15 of our listings occupying all over that first page. Whereas if we made them parent-child relationships, you only got one ASIN that shows up, you know, on page one for that search term.
Kevin King:
So even though someone might be similar. That's a question a lot of people always ask their selling on Amazon should I do parent, child, or make 'em as individual parents? And you're of the school of thought of making 'em individuals, so you take up more real estate and own more of the spots.
Josh:
Yeah. And one of the things that my team and I are just recently testing. I don't have like conclusive data yet, but what we're experimenting with is because that's been the age-old debate and I've asked that question numerous times to people like Brandon Young and even yourself, like experienced sellers. They're like, "Hey, how do you guys approach it?" A lot of people do tie into variations, but what we are going to do is our approach is, Hey, let's launch a lot of designs up front, and then let's see what sticks. Let's see, you know, what's funny is like I'm typically proven wrong, whatever. I think if I love a particular design, I'm like, I think this one will crush it. It ends up being the worst-performing one. That's why I don't do the design work, I guess, right? But anyways, what we plan to do is at the end of that honeymoon period, let's say it's 90 days, right after the first 90 days of this product has been launched, we see which of those ASINs have stuck on the first page and they've gotten ranking on the first page they're doing well, then what we'll do is we'll take those loser ASINs, so to speak, that haven't gotten good ranking, and then we will make those like parent-child relationships to the top-selling ASINs so that it gets that let's say the flywheel effect there.
Josh:
Well, now it shows, you know, maybe a few extra options that can increase the conversion rate for some of our best sellers and then kind of feeding extra traffic from, you know, some of the long tail keywords that those loser ASINs were actually getting ranked for. Those will still show up there, but now we're kind of feeding traffic into amazon.
Kevin King:
So if an ASIN gets to page one, that's a winner. A and it keeps, it stays as a parent standalone parent, but if something, you launch something and it's just trickling and it just for whatever reason just is not as popular or just can't, it's more competitive, it can't get ranked and it's sitting on page 2,3,4 something, then you'll combine that to with one of the ones on, on page one to give it a little boost.
Josh:
Correct. Yep. So I'm hoping that you know, the hypothesis is true is that it would create that flywheel effect, right? Where oh, great. Now we're generating even more sales. Amazon continues to give it a lot of organic ranking love, so to speak when we do that. But if the reverse starts to happen and it decreases conversion rate and we start losing organic ranking on that first page for the winning ASIN, then obviously we would undo that parent-child relationship. So we just started that test literally, I think two weeks ago. So we're waiting to see if it follows that hypothesis. So, Kevin, we'll have to do another episode. We'll have to treat people up to speed.
Kevin King:
That's right. So when you say design, what does that mean? Does that mean the design of a product like creating some new product, or does that mean some sort of artwork or graphic design that's on the product? What does design mean?
Josh:
Yeah, most of it's like artwork on the actual product itself. And so that's the unique aspect to our businesses. I think one of the best competitors I think we could kind of relate to would be Rifle Paper Co which is actually doing a horrendous job on Amazon, by the way. Somebody needs to go in there and focus on that, but they do a good job of like their whole distribution model is wholesale, right? And you'll find them in a lot of boutique stores, but essentially what they do is they take any product and even products that you wouldn't even think needed a design put on them, such as they just had. They just came out with a line of wallpaper. They just came out with like a line of shoes. Obviously, they do journals and things like that but they just put their design on top of it. And so we don't have the kind of the same vibe that Rifle Paper Co has. We have a different kind of like niche and my wife, I would say like gears much more towards like children's oriented products and things like that, whereas Rifle Paper Co much more like floral, women-oriented products.
Kevin King:
Are you focusing mostly on paper products? Like is this like planners and design and books and art posters and artwork, things like that? Or is it taking, like you said, shoes and putting some sort of cool design and selling the shoes, or what is the main type of product you're putting this stuff on?
Josh:
Yeah, so we, the way the business originally started is that we were designing, we were custom designing wedding invitations for people, right? So my wife, you know, was a great graphic designer. Friends of hers would come to her, "Hey, can you design a wedding invitation?" Well, that worked for two years. And then we just got so busy to where it was like, Hey, this is not scalable, especially if we want to have a family. You're just soaking all of your time into meeting with these brides and their moms, you know, working with brides. Always a fun, fun thing to navigate. But anyway, one of the first products that we came out with was like, just kind of like generic party invitations. Were like, "Hey, these could be generic," like literally fill-in-the-blank style invitations. And I was like, is this even a thing on Amazon?
Josh:
Right? And you know, sure enough, like we did generate some sales and then from there, like my mind like opened up to like, oh, wow, like what other stationary related products could we get into? So that's how we started amassing a lot of different products. And then we got into stickers. We've got into magnets recently. Covid happened and obviously, that was not a friendly event for the event space, and that's primarily like if you would talk to me, pre-Covid would've been like, oh yeah, we do a lot of like event stationery, right? Like, that would be like our brand that I would tell you about. And then Covid literally overnight, decimated that business. And what's interesting is I've talked to a lot of other sellers that were in the same space. Like literally overnight we went down 90% in our sales overnight, and it was like, oh my goodness.
Josh:
Like, we've built this thing up over the last four years just to like, watch it all, like crumble over the next little bit. Fortunately, it took two or three months for sales to start coming back, not by any means close to where they were prior to that, but at least gave us a little bit of life and hope and we're able to navigate that. But that's when we started pivoting more into like, now let's do magnets. Okay, let's do some stickers. And so now as we look to the future, we are looking at that competitor that I mentioned, Rifle Paper Co it's gonna be all about like, how do we go acquire other brands or businesses that already have established relationships with manufacturers of those types of products, right? Could be shoes, I think is a more challenging one. We probably won't do that one very soon, but getting into like Tumblers right, is an easy one. Getting into, the pencil-carrying bags or backpacks, that's kind of the next phase of where we see Hadley designs. We see ourselves being in, let's say an aggregator of design-based product brands.
Kevin King:
So why do this? Why do all this yourself? Why not actually if your wife is like you said, she's a really talented designer, why don't she create designs, copyright them, and then license it out and let other people and really expand it out so you don't have to cash it that you, where you can just say, look, this is an amazing design. Go find someone that makes Tumbler's license it to them and take a 7%, 10% royalty, and then go find someone that does shoes and someone that find does stationary and someone that does playing card and someone that does scrapbooking album stickers or whatever, and just license it. Instead, you have to foot the bill and manage 1300, and 1500 SKUs. Why not you just cherry-pick the ones that are the best for you, cash flow wise and the easiest to manage instead of managing 1300 SKUs and having, I don't know how many employees you have to mess with that? I'm guessing it's more than one and then license that and build an IP empire and let everybody else that's already in the business do it that already has the distribution, not just Amazon. Cuz you guys, you know what you're doing on Amazon, I think you're doing eight figures plus on Amazon, so you know what you're doing there, but these people that already have all this distribution out there, has that thought come through.
Josh:
Yeah, I think there definitely is a play there and your point is very valid, right? And I think especially as we try to navigate cash flow as we continue to grow, I'd say the reason we haven't been as aggressive in pursuing that strategy of licensing artwork well is the number one margin, right? Is because, well, we know we could get a healthy margin. We could do this ourselves, right? We know the game on Amazon now, it's much easier said than done, right? Because now I've got cash flow, I've got overhead with employees and team building and all of that stuff. That is a lot of work in and of itself for sure. I think think it's because Becca and I, my wife, have a very clear vision of where we want to go with our brand. What we're eying for is a strategic exit in the future. And our ideal, you know, kind of acquirer so to speak, is going to be a Hallmark brand, right? Or is going to be higher?
Kevin King:
But will they, because your wife is the brand? The brand without your wife, if there's, who else is creating this artwork? Your wife is a super talented designer and correct to sell that you could sell your existing inventory existing channels, but without her, that's like saying you know, the guy that created peanuts, you know, someone's gonna buy peanuts and somebody else is gonna draw it and create it. It's just not gonna be the same. It's, it's Apple without Steve Jobs. It's just not the same. So how would you handle it, how are you seeing that happening where you're just as a strategic exit without your wife?
Josh:
Yeah, I think obviously there's gonna be a component that my wife is involved in that, right? I think one of the things that they're going to want is her design ability, right? And my wife just loves to design, right? And I think the reason why a strategic exit sounds interesting to us in the future. Now again, you know, I'm projecting here five years in the future, not knowing what any type of working relationship would look like with some of those brands. But obviously, there's going to be a component where they're going to want Becca to continue to design products for them. I think what interests Becca in that is that, hey, you know, we no longer have to worry about the business side of it, so to speak. Here's a bunch of different products that you get to design, and maybe some of these are products that you've never had the chance to design in the past.
Josh:
And then being able to have more of an established footprint. You know, for example, Hallmark, they're everywhere, right? They're in a lot of retail stores. So like, just being able to see our products and even some of her designs that she does, whether it's for that new brand or not, just coming to fruition and seeing that, that's the ultimate vision. Like that's my wife's goal is like, I wanna walk into Target and I wanna see my stuff all over the place, right? I wanna walk in and, you know, whether it's greeting cards or party invitations, you know, there's a whole dedicated space to that in Target. So that's kind of the long-term vision for us.
Kevin King:
So you're not doing any of that now? Right now it's, you probably have your own website, but I'm assuming it's primarily Amazon-focused right now? Is that correct?
Josh:
Yeah, yeah. We've doubled down on Amazon, right? Because we've seen, you know, our best return is just launching new products, new product after new product, after new product. An IP has been very important to us. We work closely with Rich Goldstein who I know we have a mutual connection there, and Rich has helped us. We have, you know, when all is said and done, by this time next year, we should have over a hundred different design paths. Not only has that been helpful in being able to kick off people, but they also take a look at our design and get inspired by our design, so to speak, especially a lot of the overseas competitors. They'll literally mimic our design and we will not, you know, first of all, we have copyrights for all of our products, so we're able to issue, those copyright infringements, and those have been successful in getting people booted off pretty quickly.
Josh:
But then the design patents are kind of like your silver bullet, right? If you can get somebody down with, because of a patent, like there's no way for them to get back on unless they take you to court. It has to be resolved through court, right? And then have to provide legal documents to Amazon to say, "Hey, no, this ASIN, the court has decided that this is not infringing this design patents." That's a lot, that's a big tall task. So like design pans are, are kind of bread and butter right now. And so, that's why we, we kind of welcome the competition. It's like, all right, yeah, go be inspired by our design. And then Rich does such a good job creating those design patents. You know, we can go take down other people that try to replicate or, you know, create designs inspired by our designs. You know, just because my wife's so creative, I'd love to say I'm an amazing guru and have been able to get stuff ranked amazingly well, and we do a good job. We understand the ranking algorithm, but at the end of the day, like, my wife's products just speak for themself.
Kevin King:
So when that must be hundreds of thousands of dollars in design patent stuff.
Josh:
We do. Yeah. Well, with Rich, we've worked out an agreement. He's, he's given us a good deal. We'll say that, but yeah, you'd be looking at, I mean, we've spent well over six figures in IP for sure.
Kevin King:
And why a lot of people skimp out on that? That's not something they're willing to spend money on. It scares them. Why is that so important for sellers? And at what point should they actually be considering that? What if they go spend all this money and design or the idea just doesn't fly? Should they wait till a certain point? Or what's your philosophy on that?
Josh:
Yeah, that's a great question cuz it's been some that we've had to navigate over the last few years. So prior to it, we really started, you know, getting into the design paths and the copyrights about two years ago. And so what we saw happening is that, again, we would launch a product, and then it would be a few months later, some overseas competitors or even us competitors would start to just literally replicate our designs. And it's like, guys that's not a cool business. That's so non-creative, right? And it was very frustrating. It's like, how do we do this? Like, honestly, you know,I was inexperienced and also kind of hesitant back then to say, Hey, how do we, how do we bring these people down or like get 'em kicked off or whatever, right? Because I know as an Amazon seller, you're always worried about suspensions, especially back in the day, right?
Josh:
I'm not as worried about suspensions now, but back in the day, it was like, you could wake up the next morning and your account's gone, right? And so that was always like the fear in the back of people's minds. And I was like, well, I don't wanna like be the one that does that to somebody, blah, blah, blah. Anyways, I met Rich Goldstein at a War Room mastermind event and got to talking to him, sharing with him the different products that we have. And I was like, here's our challenge of why we've never pursued IP is because with thousands of products like we're coming out with like 30 to 40 new products every single month, right? And so typical design patents gonna cost you at least five grand, right? So imagine spending five grand on 40 different SKUs every single month. Like that's just not realistic, right? You're not gonna make that money back that quickly. So the approach that we've started taking is the very first thing that we do. As soon as we've got the product design finalized, even before we start printing it, we go and get the copyrights done and those copyrights will come back, you know within about three to six months. Six months at the latest typically. But typically three months. And so that copyright is live as soon as we're kind of going live with our product as well.
Kevin King:
That's only like $65 or something like that, right?
Josh:
Yeah. And then we pay Rich to do, you know, some of that, the upfront work. But yes, filing the copyright with the government is like, I think we pay 85 bucks because we have 'em, like multiple sheets in there. But yeah, it's relatively cheap for that, right? But we pay the legal fees to have Rich, you know, write it up correctly. Yeah. And they all go through and, and that's been good. So then what we do is we wait for another six to nine months, right? Because with the design patent, you only have a year to file for protection for that. Like as soon as a year and one day has passed since it's been publicly disclosed, like, sorry, you're out of luck. You can no longer apply for protection with a design pan or a utility pan for a product, right?
Josh:
So at six months to nine months, obviously we've launched the product, we're already generating sales from it, we know which ASINs are winning. And so again, the ones that are loser ASINs, right? Or just never get the traction that we had hoped for. We don't apply for design patents on those, the ones that are winning, we can move forward. And we, you know, with Rich, we kind of have a, like, just a bundle package that he created custom for us. And it's just an experiment for him, honestly. He's like, I've never done, you know, hundreds to even a thousand different, copyrights plus design patents on products, but I'm willing to pursue this journey with you. And so I appreciate Rich, you know. It's been a dance for us, but it's been fun. And then, you know, those 69, 9 months paths we filed design pants for the winning ASINs.
Josh:
So that, that way, at least like from a business decision, like it's making sense financially, and then, you still have to wait another 12 to 18 months for that to even come through and come to fruition. But that's the process that we use. And again, I would encourage, especially even new sellers, like in the lease bit, would at least go and get copyrights. I wish we would've done that upfront. And then with your copyrights, if you can prove to Amazon and it's very clear, I love that Amazon has like, here's the launch date. Basically when this listing was started, if you can prove to Amazon and show 'em, like, here's when our product was launched, here's our product design, and here's our copyright number. And by the way, here is a list of competitors. You can see they've all launched after us and they've all kind of either replicated or mimicked or they've been inspired by our design, and they might have changed one or two pieces of artwork, but besides that, it's all about the same. We go and we file, you know, take down notices for those. And we have literally, I think it's a 95% success rate thus far by initiating those. And we're just trying to tell people like, Hey, we want you to go compete, but be original with your ideas. Like, don't just copy us. So I think anybody in like the design space, like go get your copyrights first and foremost and then to protect them.
Kevin King:
Copyright can also protect your listing. And a lot of people complain about people copying their bullet points. You can actually copyright your listing on Amazon too and actually go after people for copying. And you can, you know, you can use an attorney like Josh is doing, and I recommend that if you're at that level. But if you're brand new, you could file your own copyrights and at least get that basic protection. If you're just on a shoestring budget, you can do it directly with copyright.gov and have, have some ammunition that you can go after people hijackers and all kinds of stuff. And people that are just copying your bullet points, copying your listing, copying your images. I had that problem before where I had people, I have an ab roller and we did a big expensive photo shoot and people would with models and they would take our pictures with our models and just Photoshop in their, ab roller in place of ours and use those pictures. And we were able to get 'em all, we copyrighted the pictures. I mean, technically in the US they're copyrighted at the moment, they're created, but you need for legal purposes, you need that document. And so we copyrighted 'em and went after 'em all and got 'em all taken down. And we were having problems with our Chinese suppliers using 'em over on 1686. And all those other websites over there Alibaba, we got 'em all taken down everywhere.
Josh:
Oh, did you really? Yeah. You even got 'em down on the Chinese sites? That's great.
Kevin King:
We haven't gone down. I mean, but some of those, we, it was our, our manufacturer that was doing it and we caught 'em. They wanted our business. So I mean, I'm sure some of them through, but the vast majority got taken down. So is your wife on the artwork that she's creating, is she a pencil and paper and creating and scanning in, or is she a digital artist using illustrator and creating these designs? What type of artist is she specifically?
Josh:
Yeah, she does a little bit of both. But more on the digital side. So she's really good. I mean, she has a tablet, I'm looking at it over here. She has a tablet that she can like draw on that connects to Adobe Illustrator. So like when she needs to draw flowers or a pumpkin or whatever it is, she can do that by hand. But she's also like extremely talented when it comes to just utilizing Adobe Illustrator. In fact, you can go find her on TikTok. She does like graphic design tutorials. She has like 100K followers there. But you can follow her. It's @becca_a_hadley if you're interested in all of our graphic design patents.
Kevin King:
Hadley is H A D L E Y. Look, so that's another question. So if she's got a hundred thousand followers on TikTok where she's, she's not actually really pushing her products, but she's pushing her methodology and teaching people, I would think you'd be able to leverage that in a very nice cool way to actually get those people to then buy products when you launch a new product. And are you doing any of that?
Josh:
So we had just let's say it was three weeks ago. So my wife, let's say she started on TikTok about, I wanna say a year ago. And she's built up a fan base pretty quickly, obviously. And we just, again, about a month ago or so, put in a survey form there. That's the only link on her bio. It's like, Hey, come, like tell us why you're following her, Becca what it is that you're interested in. Hey, you know, we have some fun surprises and we'll, we'll do some giveaways in the future. Enter your email address in your phone number. Well, we don't even ask for their phone number in that we ask for their email address, and then we tell them to text us and we give them a, a, you are short, you know, code or whatever to text our text code that we have, that we have on our product packaging as well. And anyway, so that way they're going into our text list as well. And so yes, we're building that. So we haven't necessarily directly reached out to Becca's followers quite yet to say, what does this look like if we run a promotion to them? But yeah, that's part of our plans that we're doing annual planning here in a couple of weeks for 2023 and focusing on, like, monetizing our list, because we have a large list. I think we have 30,000 people just on our text list alone.
Kevin King:
How was that generated?
Josh:
From product inserts.
Kevin King:
So like QR codes on product inserts and what are you doing to get, motivate them to actually get onto this list or give up their phone number?
Josh:
Yeah, so on the back of each of our products. So we have like our product label right at the front of the product, and then behind it printed on the back sheet of that is, "Hey, thanks so much for your purchase. You know, it's a little bio, like this is a family-run business, it's a picture of our family." And then we say, "Hey, text us within the next 24 hours." It says like, "Hey, congratulations, you qualify for a free gift." Text us within the next 24 hours for a free gift. And we leave it kind of open-ended. And I think, you know, you were on my podcast just a couple of weeks ago, Kevin, and I got a lot of great ideas from you that I have in my mind of ways that we can refine ours and make it even better.
Josh:
But that's what we're currently doing. It's just this open-ended, like, what is this free gift? And yeah, it's just a QR code as soon as somebody scans it. And we, we specifically say on that product packaging that hey, like, join our text list, and then we have like our little disclaimer there that you have to for, you know, text message marketing and all that. So anyways, they scan the QR code, it automatically pulls up there, you know their message there, and then they just have to hit the send button, and then we have a whole flow that it walks 'em through. And so I think we even have a sequence that goes out I think it goes out for 90 days, like a sequence where we start like introducing them to other products that we sell. And then we send–, what's cool about, we're using simple texting and with simple texting.
Josh:
I've tried looking at like attentive and some of these other bigger ones. One thing that they lack is like being able to schedule messages, based on certain events. And so what I have scheduled is people enter their birthday as like a free–, like, "hey, enter your birthday for a free birthday gift." So every year they get sent, "Hey, a happy birthday message from us." And then they get, you know, a little promo code to go buy whatever from our shop and various promotions. And then we do like an annual, like from the day that they've joined our list, we do like an anniversary message that we send to them that's like, Hey, congratulations, it's been, it's your one year anniversary since you were first, a new subscriber of Hadley designed. So here's a promo code. And so that just, that's on repeat for everybody.
Kevin King:
Are you using this list to launch the next these 30, 40 products, or whatever a month, or that would seem like you're hitting them quite a bit, or I mean, that would be a lot of, of marketing and overwhelming and spammy almost, or how are you launching these new products?
Josh:
So they only get, right now they only get one text per month. Okay? So and this is more of like our give right look at Gary Vee, jab, jab right hook, right? So our jab, where we are essentially giving them value is at the beginning of each month, we give them a free digital wallpaper, right? It's, Hey, download this month's digital wallpaper. It's something that Becca's designed that meets the theme of the season, right? So like this month, it's like a pumpkin-themed wallpaper, something like that, right? So they get that at the beginning of each month, and then, one of the things that we do is like maybe once or twice a month, we will ask them for feedback. So instead of going to PickFu, yeah, I don't know why that slipped my mind. We use it so often, instead of going to PickFu we'll go to our list and say, Hey, out of these product designs or out of these first images, which one do you like best?
Josh:
And then what's interesting is that we will have people that say, oh, that's amazing. I would really love a new calendar, right? Oh, this would be an amazing calendar design. And so we have as part of that, that says, Hey, give us your feedback and then if this is something you're interested in, join this other kind of like list. We say, Hey, reply back with the word calendar, if this is something that you'd be interested in being notified of when we launch it. So then we're not broadcasting out when we do launch calendars or whatever for each year, we're not broadcasting that out to all 30,000. We're broadcasting it to the people that have already raised their hands. And so we're not off people and, but there are actually more engaged that way. So that's kind of like the flows that we've been working through
Kevin King:
Still, that's like 360, 400, and 500 products a year. That's still a lot. That's major management. Do you have special software that you've created or is it VAs or that's a lot to manage that whole, that many products with that many systems? Who wants the calendar? Who wants this one? Who wants that one? And then when that comes out to actually say, Hey, there's 200 people on this list that want this calendar, go, it's available now go buy it. Which instance, launch you? And if they do that, are you using any special URLs, or do you use it just straight links to search, find, buy what are you doing?
Josh:
Yeah. Yeah. All great questions. Lots to unpack there. So we just have it real right now. It's just my executive assistant that helps me coordinate some of those messages. Now, let's avoid mistakes like, you know, we launched 40 new SKUs a month. We're not peppering all 40 of those skews into the messages per month, like per month. Like we're very selective, and typically what we do is we'll say, Hey, this particular product should have mass appeal, right? Kind of like calendars, like, ah, everybody could use a calendar, right? Whereas if we do something like, Hey, we are doing virtual party invitations, like virtual baby shower invitations, for example, right? It's like, well, the number of people that need a virtual party, like a baby shower invitation is a very like, unique subset, right? You could find them on Amazon, but like of our 30,000, like, you'd be lucky if there's maybe one or two of those, right?
Josh:
So it's those instances where we, we have to distinguish in that typically comes from myself that's like, Hey, yeah, this, this is a good product with a lot of mass appeals, so let's follow the sequence where we invite people to kind of like join us in this product design experience, and giving their feedback. In terms of management, the way that we have it set up is that as soon as somebody texts back a keyword, simple texting automatically adds them to that list. And so it's not like we have to have somebody manually going through and like, oh, move this what person over here? Like, everything just gets sorted automatically based on people texting the correct keywords, and then it just moves 'em to different lists there. And then I have a copywriter that will create some, you know, copy messages that we'll schedule on those, but it's relatively simple, not overly complex.
Josh:
And the link that we give 'em, we just give them our brand referral link, right? So just the attribution link and it's going directly to our store landing page. So that way, again, because we'll come out with like, let's say 20 new designs for a calendar or something like that, instead of taking 'em to what we think is the best design. We just say, Hey, here's all of our calendars, you know, browse through, pick which one you like best. So that's what we've been doing. We've never done any of the rebate stuff. So that wasn't a big change. Really it's just PPC and then sending to our list is, is the way that we've always launched. We have never other than when we first, first, first got started, that was back in the day where you could give out free products and you could get reviews and stuff. We did that very briefly, but I think like, it was like literally three months after we launched, Amazon changed their TOS for that. So that was the only time where we were like giving away products.
Kevin King:
So how do you do it on a PPC basis? Like if, so your design is your distinguishing factors, your USP so if I'm targeting baby shower invitations, let's just say you have a baby shower, a cool design for baby shower invitations, and so are you just targeting baby shower invitations, and then you're hoping that your design stands out among everybody else and looks the coolest in what people want? Or are you doing something based on her name? Or are you doing something niche down a little bit further? I mean baby shower invitations with flowers because your design has flowers. How are you doing that?
Josh:
Yeah, so PPC has been something that we've been working on a lot over the past year and like, how do we really focus on getting good performance? Because initially, it was just kind of like we just threw a bunch at the wall and just saw what stuck and we'd get bad performance and we'd just kind of life with it. We're a lot smarter now, and I think this has been a good launch strategy for us. So what we'll do is we will first look at all the keywords, and we will get the keywords where our competitors that we are launching against, where they're ranking, right? And then what I have my team do that I think is unique is we categorize our keywords into four different categories. Shop, a semi-shop keyword, a browse-specific keyword, and then a browse keyword.
Josh:
So what's the difference between those? A shop keyword means that the product that, and the type of design that we came out with, we are seeing other competitors ranked in the top, like let's say top 10 search results for that particular keyword. Then a semi-shop keyword will mean, yeah, our competitors are on the first page, but they're not at the top, right? Browse specific is, hey, yeah, it looks like a couple of competitors are getting onto page number one, but it's not all of our competitors that we're targeting. And then more of like the browse keyword. This would be something like baby shower ideas, right? It's like, okay, that's a super browse keyword. Maybe one of our competitors has stumbled onto that first page. But it's a rarity, right? This is like you're kind of shooting for the moon. Obviously, there's more search volume for those.
Josh:
So where do we start? We start specifically just with the shop keywords to begin with. And so what we'll do is we'll take, let's say we come out with 10 new SKUs for those invitations. What we'll do is we'll put, we find all of those keywords that we deem to be shop keywords, and then we will associate all of those 10 SKUs to each of those keywords. Unless, as you mentioned, there's a keyword that specifically references. And typically these are your longer tail keywords, like a specific design. So baby shower imitations with flowers, right? Well, in that case, we only take any SKUs, if any, that have flowers on them, right? And then it's promoting just that one or two ASINs for that particular keyword and then we're creating exact match campaigns. So this is like, Hey, Amazon, either take it or leave it.
Josh:
Like we're not doing phrase, we're not doing broad or auto here, like take it or leave it. This is the exact match keyword that we wanna target for each of these products. And we've had a lot better success with that. To begin with, we've already done so much keyword research. I think in the past, so many people would say, Hey, start with a broad campaign. Start with the auto campaign, and see what's working. Then move that over into an exact campaign. Once you see what's working, it's like, well, to be honest with you, like we've done so much keyword research and like I have a whole team that's just dedicated to doing in-depth keyword research that when we launch, like I already know the keywords that we should be winning on, and if they aren't performing well then we have some concerns for the product in general. And so we're able to launch out of the gate with exact match campaigns. I feel like we get ranked a lot faster and better that way because we're targeting shop keywords, which means our conversion rate is also going to be higher than if we just turn on an auto campaign and it's kind of a mixed bag as everybody knows. So that's kind of been our approach. Does that answer that question?
Kevin King:
I think that's good. Why not? Any merch? Are you doing any merch? Our designs or popular putting, why don't you let Amazon throw 'em on t-shirts and stuff in the merch program?
Josh:
Yeah, we do have a merch by Amazon division that we do. My wife doesn't spend a whole lot of time on that. But we are like, we stay very current on all of that. So we do have a couple of designers that do work for us that create more designs for merch because we wanna stay attuned to what merch can potentially grow into. And so yeah, we're doing, you know, six plus figures on merch in and of itself. So it is an extra revenue stream that we enjoy.
Kevin King:
Now speaking of extra revenue streams, this is probably an extra time stream instead of an extra revenue stream. You recently launched a podcast. So I think you're in partnership with Rise 25 or something or they have some aspect cuz I know I was on your podcast in October and had a great time. And I got a little email from like Rise 25 in conjunction with you, which for those of you who don't know, well you tell 'em what Rise 25 is and tell 'em about the podcast as well.
Josh:
Yeah, yeah. So I recently launched a podcast just this month in October. And it's called Ecomm Breakthrough, that's Ecomm with two m's. And it's available on all the typical podcasting channels. But yeah rich Goldstein, again, the name comes up here. He recommended me. I was telling him at another mastermind event that I was at, I was like, Hey, I've always been wanting to create a podcast just because I wanted to start rubbing shoulders with other sellers who are doing amazing things, learning from them. But also, you know, with our vision of being an aggregator for, for design-based product brands, obviously I need to establish more of a network and see what some of the best people are doing and then return the favor for other sellers that, like myself, when I started, you know, back seven years ago with our business, I wish I would've had a mentor to kind of help guide me along the way.
Josh:
And so the podcast is sharing a lot of the failures that I've made in the business following our journey and then interviewing, I think experts in the space such as you, Kevin, that's why you were one of the first guests on there. And Roland Fraser, we'll have Brandon Young, Bradley Sutton, we've had Stephen Pope on. And the intention for this podcast is for businesses that have got to seven figures, right? And I think my wife and I got to seven figures on Amazon in our first year. It was just me and her and another assistant, right? And I hear that time and time again where a lot of people can build established businesses really quickly. But then the challenge is like, wait, now how do I turn this into a real business and go from seven to eight figures and beyond?
Josh:
And so that's the intention of this podcast, is interviewing experienced sellers and people in the e-commerce space and sharing actionable strategies to help you grow and overcome the plateaus and the challenges that you'll face moving from seven to eight figures and beyond. And so Rise 25 is kind of the agency that I'm working with that has helped me kind of like formulate this strategy. And they've done such a good job. Like just the mindset shift of like how I approach the podcast. What's interesting is, like the very first call I jumped on with Jeremy, he's one of the co-owners there he's like, now tell me why do you wanna launch this podcast? And I was like, oh, well I think it would be fun. I think it would be nice to interview people and get to know him. Like, he's like, you have to have a better reason than that because if you don't, what we see is after 20 episodes, people just give up and he is like, we will not work with you unless you have a better plan as to like, what is the meaning behind this podcast.
Josh:
And I love that. Like he invited me to kind of like do a little more pondering in terms of like, what is the purpose of this? Is this just like a pet project? If so, like your hobbies will change over time and he'll just be like, "ah, that's too much work." I'm out. Because it is a lot of work as you know, Kevin. And really it came down to like the ultimate vision for the brand and getting ourselves out there. And I think for me, one thing that drives me is giving back just to the entire e-commerce industry. Because I know when I was in college, I received a scholarship. I could've worked my way through school and paid for school, but instead, I was very fortunate to be a recipient of a very generous donor who had an impact on my life that changed it forever.
Josh:
He literally paid for my entire schooling. And it allowed me to really double down in college, I got involved in the Utah Entrepreneur series there, which is a series of competitions for all college students throughout the state of Utah. And I ran their entire competition there for two years. And being able to do that and get real-life practical experience rubbing shoulders with entrepreneurs I wanted, wouldn't have experienced that had I had to be going to school, coming home working and trying to make ends meet that way. And so anyways, that's a big passion of mine is like just giving back to people. And I believe that what goes around comes around for sure. And then in the future, hopefully, we're able to exit our brand and we've been able to acquire other brands along the way. So that's the intention of all of this.
Kevin King:
Well, we've been going here for a while. I think we could probably keep going for another hour or two. But I wanna say thanks Josh for coming on and sharing some great insight and some great information. And we'll have to do this again because I know there's a lot more we could dive into and talk about that I think would be of benefit to the audience. But I appreciate your time today and be sure to go out and check out my episode on, on his podcast, what gives him the name again of how to find that?
Josh:
So it's Ecomm Breakthrough, so Ecomm with two mss. And Kevin's podcast just came out on October 25th, 2022, so you can go search that up by the day. And it starts with the title episode is Kevin King's wicked Smart, you know, and blah blah, blah.
Kevin King:
I appreciate it, Josh. Well, it's great seeing you again and I'm sure I'll be seeing you again, hopefully maybe at a scalable event or maybe at the next Billion Dollar Seller Summit or who knows where. But take it easy, man. Thanks again for your time
Josh:
Planning on it. Thanks again, Kevin.
Kevin King:
Josh and I could have kept talking for quite some time there, but I think you got a lot of great little nuggets and little words of wisdom out of that podcast. I hope you really enjoyed it. I know I did speak with Josh and don't forget to check out his podcast that he just launched Ecomm Breakthrough, ecommbreakthrough.com. I was featured back in October on one of the episodes. You can check that one out. I shared a few cool things that I've done with some of my businesses on that episode, so go and check that out. And also, you can check out Josh's episode on Serious Sellers Podcast. Bradley interviewed him back in October. So if you go back and look at the October episodes of the Serious Sellers Podcast, you'll be able to catch a whole different podcast where he talks about a lot of different stuff, completely different than what we just talked about on the Serious Sellers Podcast. I hope to see you again next week. I hope quarter four is off to a good start for you and that sales are really picking up. And just before I leave, I'd like to leave you with this week's words of wisdom. Remember, life is not a dress rehearsal, so live it to the fullest. Life is not a dress rehearsal. Live it to the fullest. See you again next week.
---
Enjoy this episode? Be sure to check out our previous episodes for even more content to propel you to Amazon FBA Seller success! And don't forget to "Like" our Facebook page and subscribe to the podcast on iTunes, Spotify, or wherever you listen to our podcast.

Want to absolutely start crushing it on eCommerce and make more money? Follow these steps for helpful resources to get started: