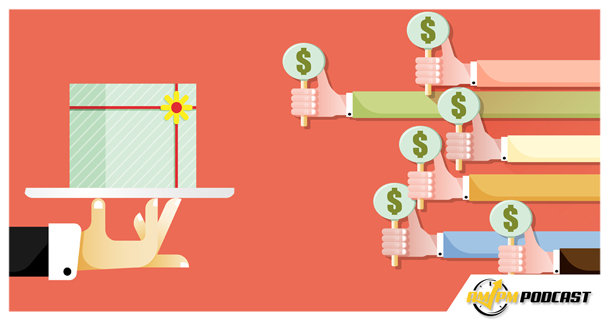 Adding Perceived Value Can Dramatically Improve Your Amazon FBA Product Sales – EP140
How can perceived value dramatically improve your Amazon FBA sales margins? Putting in the extra effort to make your product's presentation to customers can go a long way when they are deciding between your products and those of competitors. Perceived value can be something as obvious as the outer packaging or as subtle as including a handwritten note inside to thank customers for their purchase.
In this episode of the AM/PM Podcast, host Manny Coats interviews 7-figure Amazon seller and long-time serial entrepreneur Norman Farrar. Since starting his first e-commerce site in 1993, Norman has gained a few decades of experience in choosing and sourcing profitable products before beginning his Amazon seller career in mid-2014. Before becoming a private label seller, Norman was the former president of the first publically traded Canadian company that offered premium incentives and operated a tech incubator in Tampa, FL. After leaving the corporate world, Norman purchased 2 Taiwanese factories with family for contract manufacturing and helped other 9-figure companies grow.
Today, Norman dabbles in many entrepreneurial ventures, but maintains his various Amazon FBA brands that offer hundreds of ASINs and makes roughly $750K – $1.2 million per month in revenue. Norman is also a big believer in SOPs.
In this episode, Norman answers many questions that may be on your mind, including:
00:45 Introduction to Norman Farrar
02:47 How Did You Get Into SOP's?
05:11 Norman's Amazon Experience
06:39 How Does Bundling Products Optimize Your Product Listings?
09:00 How Do You Find a Good Sourcing Agent?
11:29 What Do You Look For When You Do Product Research?
13:08 How Do You Create Perceived Value for Your Products?
17:25 The Value of Including Hand-Written Notes with Products
19:39 What Do You Do with Pricing to Out-Perform Your Competitors?
22:25 How Do You Find the Packaging Accessories for Your Products?
25:12 What is Your Process For Determining Price When Launching a Product?
27:11 How Many People Are On Your Team to Help You?
29:03 Final Advice from Norman Farrar on Perceived Value
30:09 If You Could Go Back in Time, What Advice Would You Give to Yourself?
31:00 Norman's Story on Selling Cheap Boats
To watch the video version of this episode of the AM/PM Podcast, check out our YouTube channel below:

Enjoy the episode? If you found this episode helpful, be sure to check out our previous episodes for more insight into being a successful Amazon FBA Seller! Don't forget to Like us and join the conversation with over 22,000 prominent Sellers on Facebook and subscribe to our podcast!
Be sure to check out our latest content on our Instagram!
Ready to get serious about your Amazon FBA game? The Illuminati Mastermind offers monthly training for intermediate to advanced level sellers (not recommended for those new to Amazon) for advanced tips and tricks to help your sales climb higher. This program is designed for six, seven, and eight-figure sellers, so only serious sellers should apply! Reserve your seat today so you don't miss out on this helpful webinar! CLICK HERE TO FIND OUT HOW TO JOIN
Spend less & make more with the ultimate software tool suite for Amazon Sellers! Helium 10 offers 10+ tools that help you to optimize your listings better and increase sales with an easy-to-use system for one monthly membership price. CLICK HERE TO SIGN UP TODAY