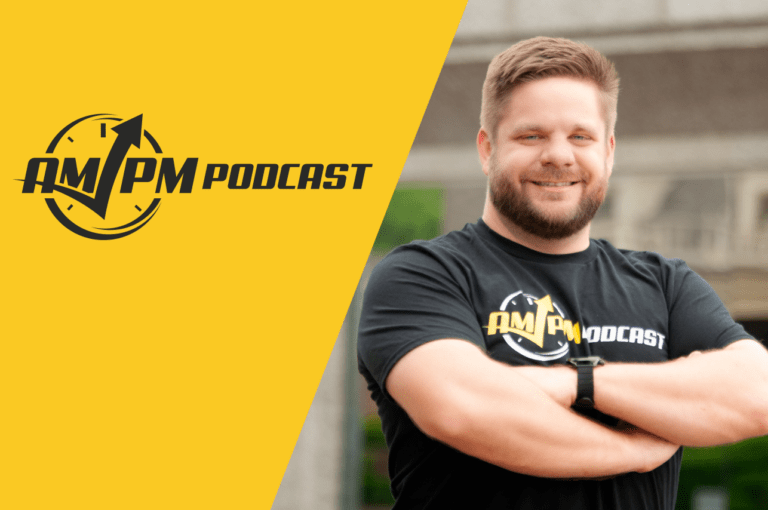 To Partner, Or Not To Partner? Tim's Advice For Startup Entrepreneurs – 282
In episode 282 of the AM/PM Podcast, Tim talks about:
02:30 – The Truth About Entrepreneurship
05:00 – Being Intrigued By The Concept Of Business Partnerships
08:00 – 9 Questions To Ask Yourself Before Getting A Business Partner
12:00 – Having A Shared Vision
14:15 – Have Hard Talks About Money And Assets
16:30 – Decide Who The Leader Is – The Visionary And The Executor
21:30 – Understand Each Other's Commitments
23:00 – Compatible Different Skills And Same Styles
26:30 – How Do You Fill Positions?
28:15 – Have A Plan For An Easy Partnership Exit
32:00 – Business Partnerships Are Exceptionally Valuable
Transcript
Tim Jordan:
When I think back to some of the best decisions that I've made in business, as well as some of the worst decisions I've made in business, many of them relate to business partnerships. It's a topic that not a lot of people talk about sometimes because it brings back a little PTSD, so to speak. But it's something that we're gonna talk about in this episode today, I'm gonna be giving some really good advice, as well as talking about some past experiences. Maybe give you some advice in current partnerships or things to think about if you're actually looking at business partnerships yourself, it's gonna be a great episode. Listen to the end. Here we go. Hi, I'm Tim Jordan, and in every corner of the world, entrepreneurship is growing. So join me as I explore the stories of successes and failures. Listen in as I chat with the risk takers, the adventurous, and the entrepreneurial veterans. We all have a dream of living a life, fulfilling our passions, and we want a business that doesn't make us punch a time clock, but instead runs around the clock in the AM and the PM. So get motivated, get inspired. You're listening to the AM/PM Podcast.
Tim Jordan:
Hey, everybody, welcome to another episode AM/PM Podcast. I'm your host, Tim Jordan. And in this episode, I do not have a guest. I want to talk about out maybe a topic that is a little bit tough, like maybe for me to talk about maybe tough for you to hear about, but it's one that needs to be discussed. And I've probably got enough to talk about that. I don't need a guest because this is something that I have lost a lot of sleepovers. And I've also had a lot of joy in doing and that's business partnerships. One thing about small businesses, right? Entrepreneurs is we have this mentality that we can take on everything, which is great. It gives us motivation. It gives us ambition. It gives us confidence. But the truth is most of us don't have a ton of experience. When I think of great entrepreneurs I think of. Especially in the world that I run around in this e-commerce world. I think of very young entrepreneurs.
Tim Jordan:
Like they haven't had a lot of wisdom gained, right? I think of people that come from different industries like me, I come from firefighting. I didn't know much about business when I jumped into this. And that's great, but by not having some of these skills or experience or wisdom or resources, we limit ourselves. Sometimes there are a lot of things that we do poorly. There are a lot of things that we'll never even think about. And as I was getting into business, I was consistently thinking about, Hey, if I could partner with somebody, if I could partner with somebody, like instead of me being able to accomplish one unit of work and another person being able to accomplish one unit of work, what if we combined forces and became a force multiplier and me and this other person created five units of work, right?
Tim Jordan:
Like what if we were able to amplify things and there's a lot of examples of that, right? You look at Disney, Walt Disney, you would never know his name if it wasn't for his brother, right? This is a very consistent theme in the book rocket fuel that I've talked about a lot, the integrators and the visionaries like Walt Disney was the visionary. His brother was the one that actually built it. If you look at Henry Ford, Ford motor company, he had an integrator that was in the background, a co-founder you look at Steve Jobs and Steve Wozniak like they needed each other. Right? These co-founders. Also look in like the current e-commerce Amazon space. I have some good friends over at PickFu, right? It's a split testing, digital marketing kind of software service. I love the way the two co-founders work together.
Tim Jordan:
It's exceptional. And I don't think there's any question as to whether or not they could have built this company individually. I think they had to be together. And if you look at the original host and founder of this podcast, Manny Coats. Everybody knew that Manny Coats created the AM/PM Podcast and Helium 10 and the Elite mastermind, but it was Gui, Guillermo on the back end doing a lot of the work. Like they could not have built what they built without Manny and Gui. So when I look at examples like that, and I look at my weaknesses and I look at the things that I wish I knew or wish I could do better or additional investments, whatever it is. I've always been intrigued by this kind of concept of business partnerships. And I'm kind of a giver, right? Like maybe I'm too open. Maybe I'm too honest and I've always trusted everybody, right?
Tim Jordan:
And I just, Hey, let's partner up. Let's partner up. Let's partner up. Now. I've had a lot of bad, bad experiences doing that too. I've had a lot of sleepless nights. I've had a lot of sleepless months. I've had some really big personal struggles because of business partnerships that did not work correctly. Right. Not saying it was anybody's particular fault. I'm just saying they did not work correctly and it caused me a lot of stress. A lot of loss and probably really shaved off about 15 years from my lifespan. Right. I've also had some great partnerships. Right now, I'm partnered with multiple people on multiple things and they're going excellently, right? I've also had partnerships that never got off the ground, like handshake deals, Hey, let's partner on this. This is great. This is great. And after a month that fizzles out and we never actually form a business entity or we never actually get started on anything.
Tim Jordan:
So when I look back to the really bad partnerships that I had, like the things that absolutely crushed me, and then when I look at the things that are going exceptionally well, and I'm really enjoying and having fun with, and we're able to grow together and multiply those forces and do a lot of good. And when I look at the business partnerships that never actually took off, I start to realize maybe some of the key components to make them good, or some of the things that made them bad, or some of the things that you need to avoid, or some of the things that I just frankly, should have done differently. Like if I could go back in time and do some of the things that I'm about to suggest to you, I think a lot of things would've been different for me right now.
Tim Jordan:
I'm not complaining. I've got pretty cool life. My job is cool. My income's great. But if I could go back and do some things differently, which I'm gonna discuss in this episode, I definitely would. Right? Because I would've had more success. I would've had more success earlier. And frankly, I wouldn't have cried myself to sleep some nights to be completely honest with you. So I started researching this whole concept, cause this was an episode that I wanted to do. And I wanted to talk about business partnerships, cuz this comes up all the time. Like in this world of solopreneurs and you know, small business owners, it is often considered, right. Do I partner, do I not partner? I've been talking to somebody recently who I think she definitively needs a business partner. Right. But I don't know if she's ready to take on a business partner.
Tim Jordan:
And I've been trying to, you know, help understand that. I look at examples like clients of mine or students of mine in my coaching business that became great partners five years ago and are still operating now. But they literally met like at a restaurant. Right. And because they inherently knew the things that I'm gonna share, they took these steps and they did exceptionally well. So anyway, enough of an intro, I want to get into some of these things. And I'll tell you a little bit of my experiences as I'm going through these things, these nine steps, actually, maybe not nine steps, nine questions you need to ask yourself, right? So if you're listening to this and you have a business partner, see if you are–, well analyze, like really self-assess, if you are considering all of these things, if you are, that's great.
Tim Jordan:
If you're not, maybe you can implement them now. If you're considering partnership, make sure that you write this list down and that you go through this and you really think about this and you have these conversations with your potential business partner. And if you are of the mindset that you will never have a business partner, I'll never have a business partner. Again, I will never do this. I got burned once, never again. Let me at least ask you to consider these nine things because there was a period in my life when I said I'll never have a business partner again. And like looking at this list things, I realized that what burned me wasn't necessarily the concept of having a business partner. It's just that we did it wrong. We didn't take the steps we needed to, we didn't understand each other. We didn't set goals and limits and restrictions and responsibilities and accountabilities and all of those things.
Tim Jordan:
So if you think that having business partnership is a terrible idea, maybe cuz you've been burned. As we go through this episode, assess your past situation and think was it really the partnership that was the problem or the way we executed it, that was the problem. All right. So let's get to this list. The first thing that I think you need to have before you form a partnership and jump into business with somebody is a shared history. Okay? You have to have some experience together. Now, this absolutely does not mean you have to go and start a business together to figure out if you could start a business together that doesn't make sense. It doesn't mean that you had to be corporate employees for a company together and work together. Although I have seen that before, what it means is you have to be able to prove on a small scale that you work well together and you can get stuff done.
Tim Jordan:
And that typically comes in the form of small projects, do something together, do a project together. It does not have to be a separate business entity. You don't have to share financials. None of that stuff. I am currently working on some projects right now with people that are joint ventures and we do a small project together. And if it works really, really well, great, if it doesn't great, we haven't lost anything. But I wouldn't call it like a pressure test or a stress test. I wouldn't necessarily say it's even a, a trial, but I would say that before you go into business with somebody, make sure that you've at least gotten through a project or at least through something to make sure that you have shared history together. Maybe it is a pressure test. Maybe I'm putting a stigma on that word.
Tim Jordan:
I shouldn't say that, but there are so many opportunities to do a small project, to do a small activity together. If you don't have an independent project, look at maybe the two businesses or the two things that you're doing currently, if you're an e-commerce seller. And you're thinking about partnering with someone who is a great marketer and you're a great operations person, lend some of your operations experience to them like, Hey, let me work on a project for you. Let me clean up your operations, let me do something operational with your business in exchange, you help market with my business. So you're not muddying the waters. You're basically just working with each other on each other's projects, which is very, very simple. You can literally do that with zero paperwork signed and I mean, just make it very, very simple. And if you create some success there, you can analyze, why did we wear work well together?
Tim Jordan:
Why did we accomplish this? Like what do we like about each other? So make sure there's history together that don't just–, and I've done this folks. I have gone and created corporations with people that I've never signed a project with or never had any history with. So I literally went and formed a corporation and a couple times it worked out okay. But I actually think have two corporations that I still need to dissolve because we never did a thing. It just never happened. So don't be like, Tim, make sure you have some history together. The next thing that you have to do is share a vision and agree on a vision. Okay. Shared vision is easy. Agreeing is not. And here's a difference having a shared vision is when you're sitting around drinking coffee and you're like, yeah, be great. And this would be great.
Tim Jordan:
And you're spinning ideas and you're doing this and this a that's fine. You can share the same vision, but agreeing on a vision is a little bit tougher because that vision is usually more long term, right? What are we gonna be doing in three years? What do you want your role to be in two years? What are we gonna do for growth? We're gonna stay small. Are we gonna go into hyper-growth stage? What is this gonna be? I had a business partnership once that had this tremendous battle really between focus. And at the time we were selling and generating brands and products, we were also running a shipping and sourcing and warehousing company, right? Well, where do we spend our time? We had multiple owners of the company and I think that all of us had a different vision. Some of us wanted to focus on our brands and build those to sell them.
Tim Jordan:
Some of us wanted to build the warehousing and sourcing company. So every day when we woke up, we were conflicting with each other, right? We were literally battling against cross purposes. Now that doesn't mean you can't do multiple things in a business, but we should have been able to sit down and say, this is priority, this is secondary priority, right? Not saying one gets worked on less than the other, but like the vision is to do this so that this happens. And this happens when instead just kind of doing a shotgun approach, like, Hey, let's kind of work on everything and see what happens. And the further we got in this business partnership, the more and more we realized, like we were fighting against each other. And then we were getting bitter because one thing that was important to me, wouldn't be important to the other person.
Tim Jordan:
So if they weren't working on that, I would feel like they're leaving me to dry and then vice versa. Well, why isn't Tim working on this when this is the most important thing we have going on, right? We didn't agree on a vision. So don't just share a vision and share a dream, actually agree like on paper to a vision. Now that vision can change. But every time it changes that needs to be done in tandem, right. Needs to be done together. The third thing that I have always been terrible about, oh gosh, this one like crushes me, that I have never been good at this cuz it's caused so many headaches is you have to have the hard talks about money. You do. I hate opening bills. I hate even opening my online bank account because I do not wanna see how much money I've spent this week.
Tim Jordan:
I avoid it like the plague and it's not just money. It's actual assets. So it's stakes company. It's ownership, percentages, it's salaries you're gonna pay yourselves. It's disbursements. It's how much money are we gonna invest in the company? See, it's really easy to sit down with someone and say, Hey, let's partner on this. Here's the marketing plan. Here's the operations plan. Here's this, this, this we're gonna hire this many people. That's gonna be great. But then we actually talk about like, well what about stakes in the company? What if I want to sell my stakes? Is that part possible? What about options? Are we 50-50 owners? Cause 50-50 ownership is tough because there's not a ruling factor, right? Like if there's a head-to-head disagreement and no one backs down, then nothing happens. Salaries, how much we gonna pay yourself? I've been in situations where I did not need income and maybe another partner did.
Tim Jordan:
Right? Like I had other forms of income. So it was easy for me to say, well, let's just keep investing in this company and not pull salaries out. And another partner's like, but I need a salary. Like I need to have money coming out. And that caused a lot of stress. Not that one person needed money and didn't, but like those conversations, cuz we didn't have those early on. So we were always retroactively trying to address these things, address them in the past and figure out how do we fix this instead of actually talking about it. So one thing that I've learned is like you have to have multiple people looking in the books in the bank account, everybody has to have transparency. Even if you have one person who's like the treasurer, which should not be me in any company that I own.
Tim Jordan:
I need to at least be able to jump in and see everything that's gone. That way. We don't necessarily have to have these long conversations. Like I can keep up with it, but then we need to have regular money talks. Right? And in that agreed vision that I talked about point number two a second ago, make sure that you're talking about like how much money do we wanna make? When do we start paying ourselves? What are we gonna do for owner draws? Those things are very, very important. The next thing that you have to do that I have not done well, is I'm getting better at is you have to decide who the leader of the company is. You've got a partner. Maybe that partner is 50-50 owners with you or maybe it's three thirds, right? There's three owners. You have to decide who the leader is.
Tim Jordan:
And this is tough, right? This is really tough. And some of the points that I'm gonna admit to in a minute are gonna talk about this, but you cannot have too many cooks in the kitchen. It doesn't work. If we look at some of the best partnerships out there, we look at, you know, the Steve Jobs and Steve Wozniak, and Walt Disney and his brother. You have a visionary and executor. And what has worked well for me is not necessarily given someone full reign, right? Like you can't just let somebody that has weaknesses fully run the company, right? So it's worked well for me. And I don't know if this is good advice or not, but give it is to pick expertise and let individuals be leaders of those categories. So for example, if I'm a great visionary, but I'm not a good treasurer, I'm going to actually give the final decision making on money spent how much we can pay for salaries.
Tim Jordan:
When we're gonna hire when we're gonna invest to my treasurer right? Now, there's a caveat there just a second and I'm going to have the humility say, they probably know best. Now I'm gonna fight. If I think, Hey, you're wrong here and here's why like, I'm gonna present my argument. I'm gonna say, no, we really need to over-invest here. Or we need to invest more here because this is important and try to at least pitch my cause. Cuz it does take balance, right? You can't have someone that's super conservative and that's someone that's super, super aggressive. You know, operating individually. You have to kind of like meet in the middle somewhere. But even though, and I'll tell you and a great example right now is me and Norm. Norm Farrar and I have multiple businesses together and some businesses he's the president and some I'm the president.
Tim Jordan:
Some you know, he's in charge of marketing and some I'm in charge of marketing. It's interesting like how we assign different roles. But the truth is you have to have the one person that will always be allowed to make the final decision. So even if it is money-related and I'm not the treasurer, I'm gonna let that person win as, as often as I can. But they also need to understand that like you have to have one person in charge of the business that will absolutely make the decision. So when there is just head-to-head complete disagreement, you have to let someone lead. And if that person makes a mistake, you figure out what the mistake was later. They learn from it and you move on. But if you especially have two partners that are always disagreeing and no one ever says, okay, I'm gonna let you run with this.
Tim Jordan:
Then you just get stuck in a quagmire. And the truth is, if both of you are invested in the company and you want the company to succeed, no one's trying to sabotage it, right? Maybe you just have different ideas of how to do it. Let one person lead for a while and see what happens. I've had to do that before and sometimes it was the best thing ever did. Even if I completely disagreed. I just said, okay, look, you're in charge of this thing. You're the primary leader of this company let's see what happens. And I ended up being wrong because what they were suggesting is right. And if I was right, I didn't say I told you so. It was never like truly detrimental. There was nothing that ever just like completely crushed a business like that. Right. So I didn't have a whole lot to lose by letting them lead, but you have to decide who that leader is.
Tim Jordan:
Really. The best example I have right now is with me and Norm where we change leadership roles based on what the company is. And he, and I will have to continue to mature in that way and continue to experiment and figure out how to make that best work. I have other people that have offered to partner with me before. And when I dove in, I realized I had more experience. I had more, I don't know, time behind the wheels, so to speak, right? Like I had done this a little bit more and maybe they were like the true visionary of the company. Maybe they were the ones with the crazy idea of the crazy skillset that we could use in making a company or the crazy brand idea. But I knew that with my experience, I should be making the tough decisions and we ended up not partnering because when we had that tough talk of like, who is the leader, we both wanted to be the leader.
Tim Jordan:
We both said, no, I get final decision-making authority. And the other person said, no, I want final decision making. And I realized, whew, this isn't gonna work now. I'm not saying you always have to put your foot down and say that you get that authority. But before you get into a business partnership, decide like, do I want that authority or not? And again, I've been in businesses where I decided I don't care. I don't need final decision making, but I've been in businesses where I absolutely did need it for it to work and I knew beyond a doubt. And if you and your potential business partner can't decide who that actual leader is, you're gonna have a lot of heartaches. Next thing you need to do is you need to understand each other's commitments. Make sure you understand each other's commitments, commitments to time for the business.
Tim Jordan:
When is family time? How much time do they need for their family? How much money are you going to invest? How many other projects are they working on? Are they working on other gigs? Are they working on their full-time job, still their 9 to 5 job that brings them income? I'm not saying that every business partnership has to have the same level of commitment that everybody can commit the same number of hours per week or the same timeframe or any of that stuff. But there does at least have to be openness. There has to be transparency because one of the worst things that happens is business partners start something up together. And then one person feels like they're carrying all the weight and they didn't expect that one person feels like, gosh, I'm working every weekend and you're not. Or my goodness, I'm up at eight in the morning talking to these clients and you roll outta bed at 1:00 AM.
Tim Jordan:
You know, because you just wake up early and you've worked in the middle of the night and now you're asleep at eight and I can't get ahold of you, right? Like make sure that you understand the commitment. Also investment. If I have a little money and maybe my potential part doesn't, that's fine. I can invest cash, but make sure that they understand that their commitments are gonna come elsewhere. It's gonna come in the form of labor. It's come, come in the form of connections or expertise. Just make sure that you understand that .some of the biggest struggles I had with business partnerships that either succeeded or didn't succeed was just understanding level of commitment. Hey, I'm working on this full-time, but this is like your third side gig, right? That doesn't seem fair. And there's a problem with that. And honestly, if we'd had that conversation before, we would've been able to at least address it and we would've been able to manage expectations and set expectations that didn't lead to bitterness and resentment.
Tim Jordan:
Another thing you have to have, you absolutely have to have is compatible skills. Compatible is not same skills. If you have the same skills you're gonna need outside help. So here's what I mean. If I'm really good at marketing and somebody else is really good at operations and finance, those are compatible skills. They work well together and you need to have that. But if, and I'm not saying you have to have different skills to have a business partnership, but if you do, you have to find outside help. So if me and another guy are great at marketing and sales and we team up together, we need to know immediately that if we don't have compatible skills, we need to outsource those compatible skills. We're gonna have to hire an operations manager immediately, a finance manager immediately, an HR manager immediately, right? Because if we have the same skills and we don't have the skills that we need, we need to offset those by compatibility.
Tim Jordan:
So make sure that different skills are covered in the business. Not necessarily in the partnership. Again, you can have the same skills you're partnered with, but make sure you're at least considering those other skills that you're gonna need and make sure you have a solution and a resource for those. Now when it comes to skills, you need to be able to have multiple skills covered. When it comes to styles, you need to have the same style. And this was hard for me to understand different skills, but same style having the same style makes it possible to work together. You have to get along. So even if your skills are different, you need to be able to have the same communication style, the same work ethic, probably the same idea of what fun and same idea of what vacation and what off time is.
Tim Jordan:
All of those things are massively important. Cuz you get sometimes closer to a business partner than you do your own family, right? And if you don't get along together, if you don't have the same styles, you're going to really butt heads a lot. So different skills, same styles, very, very important. I remember business partnerships I've had where–, and I'm not even saying you have to be best friends. I'm not saying that, but the same styles, but where I had one partner that just loved working the weekends like work weekends were just when he would just rock and roll. And he was just, he never wanted to turn off. And that was his time were for me, the weekends, I need to recharge my brain. I need to spend time with the family. Like we had different work styles, right? Not different work ethics.
Tim Jordan:
We worked the same amount. It's just a different time. Also. I love, especially like in my consulting business. I love traveling. I love going to events. I love going to masterminds. I love meeting people. I love having in-person meetings. And for me getting on a plane and fostering those relationships is important where other business partners didn't have that same style. Their style was to, you know, stay and do everything remotely and not travel. And those stylistic differences made it hard for us to really grow at the speed that we wanted to because not compatible skills, but the styles, the way we did business were so different, right? The way we thought about business and the way that things that we thought were important in business and building relationships were so different that it created some animosity, so compatible but different skills, similar styles.
Tim Jordan:
Oh, I almost forgot communication styles. Communication styles are massively important, right? In those compatible styles, how do you talk? How do you communicate? How do you voice something? How do you explain something? Make sure that those are very compatible because communication is one of the most important things with partnerships. The next thing you have to do is you have to decide how you're gonna fill positions, right? As you grow, you're gonna have to hire people. If you start off and you do have those compatible skill or those similar skills, or you need to outsource immediately, you're gonna have to hire immediately as well. So how you're gonna fill those positions, you have to agree on how much you're gonna pay people who to recruit. Are we hiring family and friends? That gets difficult. What if my partner wants to hire their brother-in-law?
Tim Jordan:
Well, that's gonna be a problem. Cuz if brother-in-law sucks, it's gonna be hard to fire him because it's my partner's brother-in-law right. So make sure that you decide quickly how to fill positions. The other thing with filling positions that has a lot to do with money, it's that finance talk. Talk about money. If we want to scale up quickly and hire a lot of people, that's a very different way of doing business than staying exceptionally lean and trying to save every penny you can. It's just very, very different that. Question of how we're gonna fill these positions, a speeder and fill these positions affects money. It affects lifestyle. It affects skills. It affects vision. It affects timeframes. It affects scalability speed of the bit like everything. So you have to have a discussion of how you fill positions. I say, put an org chart out, like build just a little org chart and say, these are positions we eventually need to fill.
Tim Jordan:
Do we agree that like, this is how we wanna build the company. Of course, you can change that as you go along, make sure you change together. Yes. This is how we wanna do it. Okay. Well right now, Tim, you have these seven roles and me co-founder has these seven roles. Let's figure out when we're gonna start replacing ourselves in those roles. Have that tough conversation. Cause if you don't do, it's gonna come back and bite you later. The last thing that, and there's a lot of other things I could talk about. But the last thing that I want to share in this podcast is maybe the most important for me. And maybe it's cuz I've had so many bad partnerships that this one sticks out to me, but you have to have a plan for an easy exit. Now I don't mean exiting the company by selling it.
Tim Jordan:
I mean exiting the partnership. Here's the truth. Most small businesses do not make it. They don't even make it past the first year, like 85%. I don't remember the exact number. Don't make it past the first year. It is very rare for a business partnership to end up with a happily ever after. It's just not likely. Now, I'm not tying to discourage you just telling you the truth. And one of the most frustrating things for me in business partnerships has been that separation. It's been not knowing how we're gonna exit or it's like feeling like we can exit like I'm trapped in this thing now and I'm gonna hold a grudge and I'm gonna be bitter and I'm gonna perform very poorly for the next year or two years until this thing finally just blows itself up. And you know, I end up weeping in the fetal position on the floor because it was so traumatic, right?
Tim Jordan:
The moment you even consider starting a business with a business partner, you have to figure out if this doesn't work, what do we do? Right? If two people are investing assets, well we'll just pull our assets back out, separate 'em back out. What if there's IP involved? How are we gonna share that IP? Is someone gonna the IP and someone gets something else? What if someone just quits working and the other person needs to be able to come and say, Hey, you just gave up on this thing, but I wanna keep running with it. Here's the plan for me going, running with it. What about buying shares back from each other? What about buying you each other out? Do you get evaluation of the company every six months or every year and decide, Hey, you can buy me out for a 20%. Basically reduced rate of the current valuation and the shares that you hold.
Tim Jordan:
What if you wanna sell your shares? Hey, we're gonna get a partnership together. What if in five years I wanna sell the business and you don't do I have a plan for sharing? I'm sorry for selling my shares so that I can make an easy exit? You have to be able to get out of this if it doesn't work. And man, when you start sharing bank accounts and responsibilities and notoriety and relationships, it gets tough. Always have that plan. And what I've noticed is some people think that having an exit plan, it's almost like a bad Oman. Like, Ooh, I would, I have an exit plan. It just shows that I want to exit. No. Having an exit plan actually, reduces the stress and lets you work well better together, right? Because you know, you're not stuck in this thing. Like you can be more excited about it.
Tim Jordan:
You know that this isn't a lifelong commitment. If it doesn't work out or if it's bad. You can pull out without fear of unexpected consequences because you had the plan you'd already discussed it. You put this together, you agreed on this exit strategy. Right? Massively important. When I look back at some of the biggest regrets I have in my businesses, it was not necessarily getting into business with people I shouldn't have that wasn't a huge regret cuz sometimes you just gotta try stuff. It wasn't necessarily some of the internal mistakes that made with the business, it was literally how the business blew up. It was sometimes the nastiness, sometimes the heartache, sometimes the blame game, whether it's you blame yourself or blaming others, it's the relationships that were burned. And every single one of those times I can look back and I can look to this list and I can say, man, if I had just followed these pieces of advice, things would've ended up much differently.
Tim Jordan:
And one of the strongest on that list for me is having an easy exit strategy. Make sure you have an easy exit strategy. You don't feel like you're stuck. Your partner. Doesn't feel like they're stuck. And if you do separate the whole world, doesn't come crashing down around you. So let me reiterate this again. Business partnerships are scary, right? I'm going through this list and you're like, holy crap, this sounds awful. It's traumatic. But I will also say that business partnerships can be exceptionally valuable. I have never had more fun in business than with partners. I've also never had more heartache than with partners, but the good news is those problems I think can largely be eliminated or fixed by well, frankly, by having some experience, right? Like you may just have to go through a couple hard time times, but by following advice, by listening to others, by going through the steps and putting your business plan together, putting your vision board together, and all of that good stuff.
Tim Jordan:
But I still encourage people. If you are struggling in your business to get some footing if you're struggling to get off the ground if you've got an idea and you've been sitting on this idea for two years, but you haven't started it, maybe think about finding a co-founder literally the most successful businesses that I know personally and that we all know are partnerships. Look at Jack Ma and Alibaba, you know, read, read his biography about how Alibaba got started. He literally sat in an apartment with, I don't remember the number 16 or 20 or 25 co-founders, and said, guys, I don't have anything to give you. I don't have a dime to my name essentially. But I got an idea and I'll give you all equity in this company. Like pretty much all of 'em turn into billionaires, right? That's a lot of partners. So hopefully this has been helpful.
Tim Jordan:
Hopefully, this is, I was gonna say, hopefully, it's timely, but I know it's timely. I know this is something that comes up all the time in this small business, entrepreneurial startup realm because I see it all the time. Like I see business partnerships break up. I see ones get together. I see them work. I see them don't work. And based on my experience, as well as a lot of research I did, I had to go through and research a lot of this before this episode, these are some of the nine things or these are the nine top things. Make sure you have history together, agree on a vision, have the hard talks about money, decide immediately who the leader is, ensure that you understand each other's commitments to the business, have compatible skills but have similar styles, decide how you're gonna fill positions in growing the company and have a plan for an easy exit.
Tim Jordan:
I hope this is a good episode. I hope you guys enjoyed this. Please make sure that you give us a positive review on whatever podcast platform if you're listening, please. And if you're watching this on YouTube, give us a thumbs up, subscribe and share this podcast around. If you know anybody, that's like, man, they need to hear this, share it, send 'em the link. Let 'em listen to it. Also, when you leave a review, let us know what topics you like and don't like, I'll get those reviews and I'll take that into consideration when figuring out what content or guests we have. I appreciate all of you love y'all. Thanks for supporting the podcast. We'll talk to you next.
---
Enjoy this episode? Be sure to check out our previous episodes for even more content to propel you to Amazon FBA Seller success! And don't forget to "Like" our Facebook page and subscribe to the podcast on iTunes, Spotify, or wherever you listen to our podcast.

Want to absolutely start crushing it on eCommerce and make more money? Follow these steps for helpful resources to get started: