How To Be An Amazon FBA Best Seller With A Day Job – EP137
Are you one of those people that still have one foot into Amazon FBA, but the other foot still in your day job? Well, you are not alone, as there are many other Amazon FBA sellers like you that are making the transition slowly. Fortunately, it is possible to make your Amazon business thrive even if you are dedicating your full attention to it. What's the secret to living two lives—one in the Amazon business, and one in a day job? Good strategies, the right tools, and plenty of help.
In this episode of the AM/PM Podcast, host Manny Coats interviews 7-figure Amazon seller Ryan Rigney. Besides making over $90K a month, Ryan is a corporate attorney in Fresno, CA by day and an Amazon ninja by night. He started selling in 2015 when he was a full-time law student and is set to make over $1.5 million in revenue this year. Ryan also found interest in e-commerce from a young age, beginning his career as an affiliate marketer at 17 years of age.
Additionally, Ryan speaks about the importance of utilizing all the tools and resources open to you as a seller in order to succeed. These resources include hiring virtual assistants, taking advantage of Amazon's loan system, and using social media channels to maximize your advertising efforts.
In this episode, Ryan answers many questions that may be on your mind, including:
00:42 Introduction to Ryan Rigney
01:32 How Much Revenue Are You Bringing In?
02:21 What Is Your Day Job?
02:49 Running An Amazon FBA Business with Multiple Virtual Assistants (VAs)
05:23 How Many ASINs Do You Have?
06:43 What Made You Decide to Get Into This Business?
08:05 When Would You Transition to Make Amazon FBA Your Full-Time Job?
08:46 How Many Hours a Week Do You Work On Your Amazon Business?
10:08 How Much Money Did You Start Out With? Why Use a Partner?
11:16 Does Your Revenue Stream Come From Abroad or Just in the USA?
12:38 What Are Your Goals For Your Amazon FBA Business?
13:34 What Percentage of Your Sales Come From Amazon?
15:04 How Important is Social Media For Your Amazon FBA Sales?
16:19 Using Instagram As a Major Marketing Tool
19:11 Additional Services to Find Influencers
21:44 Using Email Funnels to Drive Results
26:30 Getting Outside Help
28:10 Paying Vas and Employees
29:35 What's Been Your Biggest Challenge?
31:18 What's Been One of Your Biggest Mistakes?
32:33 What's Been Your Biggest Triumph?
33:45 A Word On Advertising
To watch the video version of this episode of the AM/PM Podcast, check out our YouTube channel below: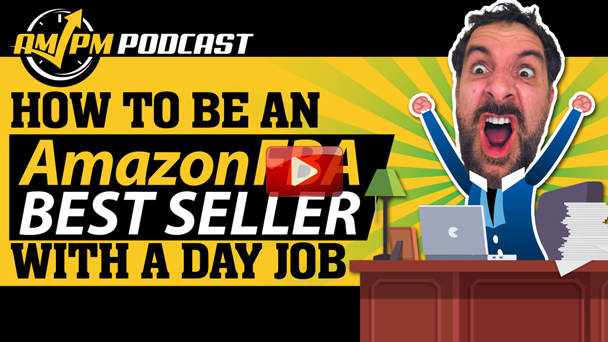 Enjoy the episode? If you found this episode helpful, be sure to check out our previous episodes for more insight into being a successful Amazon FBA Seller! Don't forget to Like us and join the conversation with over 22,000 prominent Sellers on Facebook and subscribe to our podcast!
Be sure to check out our latest content on our Instagram!
Ready to get serious about your Amazon FBA game? The Illuminati Mastermind offers monthly training for intermediate to advanced level sellers (not recommended for those new to Amazon) for advanced tips and tricks to help your sales climb higher. This program is designed for six, seven, and eight-figure sellers, so only serious sellers should apply! Reserve your seat today so you don't miss out on this helpful webinar! CLICK HERE TO FIND OUT HOW TO JOIN
Spend less & make more with the ultimate software tool suite for Amazon Sellers! Helium 10 offers 10+ tools that help you to better optimize your listings and increase sales with an easy-to-use system for one monthly membership price. CLICK HERE TO SIGN UP TODAY