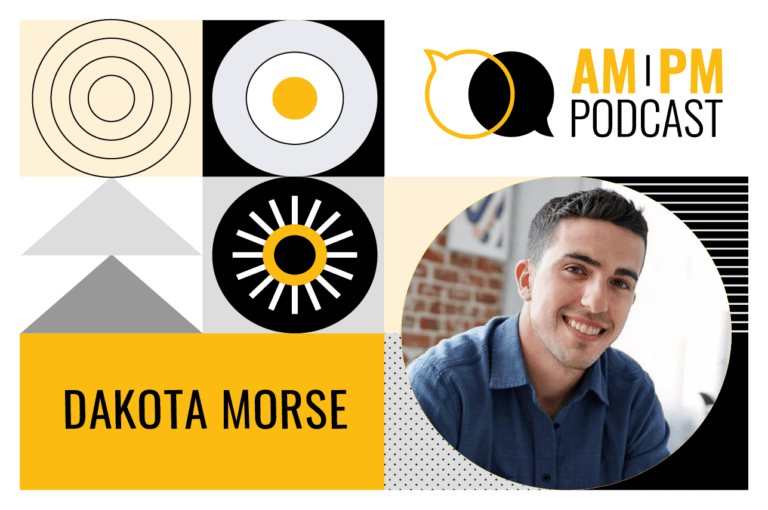 #346 – Amazon + Shopify: How Dakota Morse Built An 8-Figure Omnichannel E-com Empire
In episode 346 of the AM/PM Podcast, Kevin and Dakota discuss:
01:23 – An 8-Figure Seller Learning From Freedom Ticket?
04:20 – Working For Amazon Before Becoming A Seller
05:33 – Talking About Dakota's Agency
08:02 – Mistakes Sellers Make On Their Video Ads
11:36 – Go For UGCs Or Professionally Made Videos?
13:33 – How Much Does Video Ads Cost?
16:00 – What's The Ideal Length For Amazon Video Ads?
19:30 – When Is The Right Time To Start Building An Omnichannel Brand?
23:13 – The Buy With Prime Button Inside Shopify
26:53 – What Does It Take To Scale A Shopify Store?
28:48 – Re-marketing To Your Own Customers
35:52 – Payment Methods And Buy Now, Pay Later
37:20 – SEO & Blog Tactics
41:55 – Building An 8-Figure Business In Just Over 1 Year
44:38 – How Dakota Uses AI In His Business
45:27 – An AI Feature To Look Forward To
48:47 – How To Reach Dakota Morse Online
49:47 – This Week's Golden Nugget Tip
Transcript
Kevin King:
Welcome to episode 346 of the AM/PM Podcast. My guest this week is Dakota Morse. Dakota built an eight figure business in just over a year. It's got some great tips about creating videos and video marketing, as well as a bunch of other great stuff in this episode. Hope you enjoy it. And don't forget this summer, I'm debuting the Bllion Dollar Sellers Newsletter. It's 100% free for listeners of this podcast. So be sure to go to billiondollarsellers.com and put in your email address and name to get on the beta list so you can be one of the first to get this brand new newsletter. It's gonna be chock full of advice and tips and strategies and hacks for e-com and Amazon sellers, billiondollarsellers.com. Dakota Morse, welcome to the AM/PM Podcast. I'm super stoked to have you here with us today.
Dakota:
Really appreciate you having me on the podcast. I've been listening to it for a while. I'm a big fan of Helium 10 and the course that you have on there. I actually just took it super recently, really amazing and yeah, excited to be connecting finally.
Kevin King:
Now wait a second. You're an experienced seller. You run like a seven or eight figure brand? Why are you taking a course made for beginners on called Freedom Ticket? That's included with any Helium 10 subscription. You're not the first one to say that, but I just want people to understand there's a lot of people that go into Helium 10 and they're like, ah, I don't need some beginner course. I already know what I'm doing. And they don't, they don't click on that. But why should they reconsider?
Dakota:
Yeah, so I'm an eight figure seller between Amazon and Shopify put together. But Helium 10 obviously is most would say the best tool when it comes to Amazon. But with it being such a robust tool, they're always adding new features and functions. And when I first launched my initial product, I did it kind of the manual way, wasn't really using a tool that helps me kind of automate the process. And now I have about 35 products under my main brand, Wallaby Goods. And the last, I'd say 15 products that I've launched have all come through Helium 10. And it largely came from the training that I got within your course. So I've had a lot more home runs recently than I've had my initial spat. And I could have probably saved you know, probably about a hundred thousand dollars being completely honest. You know, if I had been a little bit smarter about how I chose products, analyzed competition and made sure, you know, I was launching smart rather than just hoping I had something, which I sometimes didn't.
Kevin King:
So Freedom Ticket, what you're saying is it's good for experience and new sellers because it might fill in a gap that you don't know that even if you've been successful or give you a different way of thinking about something or approaching something.
Dakota:
Yeah, the modules are set up super well. That's one thing that I really like is the ability to go into modules where I feel like I was weak. So obviously like the first couple modules are great for new Amazon sellers, but then as you start to get into the more advanced Amazon sellers or even looking up how you've set up your business within the different modules about like virtual assistance or whatever, you know, it gave me a lot of ideas about how I could you know, improve what I was doing and actually has allowed me a lot more freedom in a lot of ways to travel more. And then as I looked into, I wasn't really using advertising through Helium 10 at all, or like informing our keyword strategy through Helium. So yeah, that really changed kind of fundamental even within our agency, how we approach ads. So I think it's definitely something that everyone who's advanced and beginners obviously should check out, but advanced people like obviously need to be looking at some of the more advanced tools within the modules that you speak through.
Kevin King:
Now before you were a seller, you actually worked for Amazon, right? You in in corporate, right?
Dakota:
Yeah, that's exactly right. So I worked for Amazon for five years. I worked in the advertising division called Amazon Advertising. It was called Amazon Media Group when I first joined. I was my first job right outta college, which was pretty crazy. And actually at my first client meeting I couldn't even have a drink of alcohol. I was 20 years old. So it's pretty funny. I'm sitting at a table with a CMO of a public headphone company and he owns a Louis the 13th, which is like a very expensive cognac, which is like, it's like a three or $400 glass of cognac and I couldn't even have a sip of it. So he got to have two glasses, which he was happy about and expensive back to the company. But yeah, it was really awesome. Basically my job at Amazon was working with rapidly growing brands in consulting them on their advertising. So everything from sponsored product ads, sponsored brand ads, and then Amazon DSP, like the display ads. So,
Kevin King:
So your knowledge and the connections that you made by working in Amazon for those five years, you were able to leverage that into starting an agency. So your agency does ads or do you do everything for 'em? Do you manage the entire account and the inventory and all that stuff? Or is it just a hyper-focused on a certain aspect of things?
Dakota:
Yeah, so my agency's called ALT Group, and basically it was, we wanted to take an alternative approach to advertising. And when we first launched, it was right when the sponsored brand video advertising unit got released on Amazon. And for those who don't know, that's when you're on typically on mobile and you type in a specific keyword like dog jacket and you scroll down and then you'll see a video playing that's about halfway down the page and they'll be like a really compelling ad. And at the time those ads were going crazy. Everyone was trying to buy into those ads cause it gets you right on the front page of search results. And that's the holy grail of Amazon is probably everyone who's watching this or listening to this knows is first page is where you need to be. 70% of people don't click past the first page.
Dakota:
So the thing was is that everyone wanted this video ad and I was at Amazon and I was like, all my clients were wanting to spend money on this and I was commissioned at the time. So I'm like, how do I sell more of these video ads? But there really was no good provider of these videos. So I kind of like had that itch of like, here's a product market fit situation where there's these companies that I had been working with at Amazon that have thousands of products or hundreds of products, even 10 products. And the videos have a direct return on investment. So if they spend, you know, $2,000 on a video, that video is actually gonna generate them $10,000. So the video has a five to one return and no one was able to actually give them the videos in the constant supply.
Dakota:
And I said, okay, I'm gonna leave Amazon and kind of take like a jump of leap of faith. And I worked with one of my buddies who had a basically a camera and was kind of doing a side hustle of video production. And we thought, okay, if we can get a hundred videos made, you know, at $2,000 a pop, you know, we're basically making, you know, more money than we're making at Amazon and it's kind of a no-brainer. And it ended up being really successful and we make a lot of videos now for Amazon aggregators like Perch and we work with companies like Varidesk, Sabra Hummus. So it went from us just kind of having this like pie in the sky idea related to video content. And with the success of that the clients have now come back and said, Hey, we love how quickly you guys do video for us, how efficient it is. The returns that we get from the videos and the content that you produce with a plus content detail pages, whatever it might be. We want you to do ads, Shopify, Facebook, Google so you just kind of tacked on responsibilities and it's grown a lot.
Kevin King:
So what's a mistake that you see a lot of sellers make when they're creating videos for video ads or something they should be doing that they're not doing? What's the difference maker there?
Dakota:
Yeah, that's a great question. I would say one of the biggest things that I see consistently is I guess two things. One is they don't articulate benefits of products in the videos. And they don't grab the attention right away within the videos. So lemme break those down a little bit more. So when a video starts, you need to capture that eyeball right away. A customer's on Amazon, it's a hyper-efficient shopping experience. Most people only spend like two minutes on Amazon, you know, they need toilet paper and then they're gone, right? And they might realize they need something else, but if your video's not grabbing their attention right away, you know, and like you're kind of showing it in like an engaging way or a dynamic way right at the beginning of the video, then you're, they're gonna keep scrolling and not not click through to that detail page.
Dakota:
So a way, a good way to do that is to like show a person like dancing right in the beginning of the video or show them like holding the product or doing something a little like crazy. I've seen some really cool videos recently where people kind of emulate the search result page and will make it look like as they're scrolling down, it's just a normal search result and then the product starts like bouncing across the screen. It like really grabs your attention. And then what you need to do is articulate a level of benefit. So you don't just wanna show the product because that's just like, okay, this product's cool, but if someone continues to watch that product, you wanna explain why they should click on yours versus, you know, the other search results on that page. You know, so for toilet paper, again, as an example you know, you could say it's thicker, more absorbent, just articulating like why the customer should click versus just saying, you know, this is a fancy video and you know, you might not have that, you know conversion or that clickthrough because you haven't really helped the consumer understand why you're offering is better than the competitors that are on the same page that might be cheaper than you're offering.
Dakota:
I think one of the last things too is a lot of sellers make the mistake of not analyzing metrics when it comes to video content. So just making sure that you're understanding like obviously the performance of your video ads and running multiple different types of video ads to understand which ones are obviously getting the highest return on investment. And then optimizing future video assets like videos that you make as your brand and the direction that's most effective for you. So if you just launch one video and it gets like a 1x RoAS, you're kind of like, okay, this video is terrible, like video doesn't work for us. And I see that all the time. Like people are like, oh, we tried video, it didn't work, or we tried influencer and it didn't work. And it's like, okay, but like did you try split testing or did you try like one with a person and one with like a dog or you know, did you try different like approaches to the intro? And the answer is almost always no. And if you run, obviously the videos that have different tests, you know, and you'll start to see, oh my god, the one with the dancing dog or the one with the the woman or the one that even just showed the product and didn't show any people and it actually performed best. And then you start to optimize in that direction and that leads to the greatest performance over time for any video asset, not just on Amazon.
Kevin King:
How important is, I mean, I know most people are are scrolling without the sound, so a lot of people don't wor you gotta make sure the message comes across without any sound. Well what about the quality? There's some people that say more user generated content more rough around the edges does better than, you know, something professionally shot by a 4K camera crew in a studio or something. What's your opinion on that?
Dakota:
Yeah, it's a great question. We've historically seen, we've created thousands of videos at this point. I've probably, I've probably recorded within our agency seven or 8,000 videos and most of 'em are sponsor brand video assets and those are for some of the biggest aggregators. Some of the names I can't disclose, but the most successful for Amazon has typically been for us more professional looking content that makes the brand look like very clean and modern and has models in it or shows the product with professional lighting and text overlay. And that's just for Amazon. So that's what we're seeing in terms of like sounds and noises and things like that. Not critical to be honest. Most people, as you said are shopping on mobile don't necessarily unmute while they're scrolling on Amazon. Cause like you might be on the bus or whatever, you know, coming home from work you realize, you know, you need whatever.
Dakota:
So we've seen the videos that are professional looking and then have that text overlay that captures the attention and shows the benefits. Text overlay is basically just like if you show a model with toilet paper, it's like you know, shows the benefits like super thick and then it goes into the next screen and then it just shows like a bunch of benefits while keeping engaging and then we'll put music over that. But there's no like narration in pretty much in any of our videos. And I think that's an extra cost that's not necessary for most of the content. But if we're talking Facebook Instagram, TikTok, Twitter ads, the UGC, the user generated content that feels more natural is made by like an influencer is much, much more successful than running anything that looks remotely professional. And the remote, the professional stuff is like basically totally ineffective at this point.
Kevin King:
So what's it cost to create a video like that? I mean is it a pack of package deal? Is 10 grand for three of 'em or something? Or what, what's at that level, what is a client typically paying or is it like a just an ongoing contract where you'll do so many per month for or how's that work?
Dakota:
Yeah, it's a great question. So when I started my agency, I wanted to offer really efficient pricing. I think that's like a, one of the biggest hurdles that a lot of brands cross and they don't wanna get video content is I was at Amazon and I was like, what are you guys paying for video content to one of the larger companies I was working with? And they were like, oh, we pay like 10 grand per video. And I was like, 10 grand, you guys must have blown like over a million dollars with your like video agency this year. And they're like, oh, easily a million. Yeah, a million. Oh, way more than a million. I was like, that's crazy. Like, cause I'm obviously like I'm still not making crazy money at Amazon, you know, six figures. And I was like, okay.
Dakota:
Like if I can, you know, make more videos and a better quality, will you guys start to like give me, you know, some of that video production budget? And they're like, yeah, that's a no-brainer, especially if your videos perform better. You know? And I just started getting those like rumblings of people like overspending in my opinion, for a piece of video content that was compelling. So our videos are typically about $2,000 like anywhere from like 1850 to $2,000 per video. And the reason for that, and some people will say like, oh, that's really expensive, you know, I could just like shoot something in my garage, which is entirely true, you know, and if you're capable of doing that, you know, I encourage it. But like on average, most of our videos are getting about a 6X return on ad spend.
Dakota:
So that's like our, our benchmarked average that we report to our partners. And you know, our clients keep coming back for more and more video content because like, yeah, even if it's $2,000, it's essentially an asset that you implement into the Amazon ads ecosystem and then it's just multiplying dollars for your brand at that point. You know, as you start to get more reach. And then you can also use the same video on your detail page you know, which in most cases is enhancing the conversion rate of the product page. You know, if it's doing a good job of explaining the product. And most customers will say, I think there's a statistic like not that long ago that about 80% of customers would rather watch a video about a product than read about the product. Like I pretty much never read bullet points anymore. I look at the title, I look at the images and then I look at the video, you know, when I buy something on Amazon and if a brand doesn't have a piece of video content, I'm kind of like, okay, well like I might buy from the brand that does have video content. Cause I can actually see the thing like in how it'll fit in my space and what it looks like and how it's gonna be used in my environment.
Kevin King:
Is there a certain length of videos should be, is there like, have you tested like a, you need to make 'em 22 seconds or 44 seconds or, I know Amazon has a an upper limit, but have you found anything to be, you know, how long, where does people stop watching and make sure your message is in this anything like that?
Dakota:
Yeah, we'll typically do like two cuts depending. So like, obviously Amazon has a bunch of different places that videos can go nowadays. Which is another thing like I think a lot of people are like, oh, not investing in video content, but then you're also seeing Amazon put video content in like so many different places on their website, you know, so obviously you have like sponsored brand video, you've got the video that's in the detail page, you have videos related to this product now, which you can actually even implement your own videos there as a brand. You have the video and the premium a plus content, you have video in the brand store. And when you look at Amazon's pages, which is like another tactic which I think is really funny that people don't really use is like actually going to Amazon's detail pages for their Alexa products or their ring products because Amazon obviously has access to way more metrics than we do, you know, about the performance of their detail pages and what's impacting their detail pages and the heat maps of where people are scrolling and blah blah blah, blah.
Dakota:
So I copy a lot of Amazon's detail pages, you know, and how they set them up and their best practices, you know, for the minute lengths of their videos and how they even run their own video ads with sponsor brand video. And not saying it's always best practice, but I think directionally it's helpful, you know, to understand what they're doing. But what we've seen typically work best, and this is again similar to Amazon's best practices that they're running on their pages, is we're seeing the videos for sponsored brand video that are under 25 seconds typically work best. Just so they're super quick, super compelling. We have videos that are only 15 seconds for sponsor brand video that work super well, but I would say no matter what, keep it under 30 seconds cause any longer than that, it's just too long, you know, and you're gonna lose people a lot of content on YouTube now. They say if you don't capture the customer in the first two seconds, then you're losing the customer. And then for detail page videos we're typically more in like a 45 second range for those because a lot of customers on the detail page will like do the scroll bar, you know, so you can scroll to like the part of the video that like articulates what you're interested in seeing.
Kevin King:
Besides doing the agency and doing all this video stuff, you also are selling and like you said, it's eight figures between Amazon and and off Amazon. How important is it for people to actually be off Amazon out? How important is this new? You're hearing this omnichannel all the time now and the guy at Amazing Seller Con are talking about it? Everybody's talking about it and people are always, when they come on Amazon, it's like, don't put all your eggs in one basket. You know, when should someone, Amazon's such a good place cuz they already have the eyeballs, they already have the traffic, they already have systems in place, Shopify's a whole different animal or WooCommerce or whatever you might be using. But when, when should someone actually start focusing on Shopify? Is it from the beginning if, or is it only the bigger guys that have money to spend should do it? Or should you wait till you get established on Amazon and then go, maybe you have a basic Shopify site that's just there for credibility but you don't really put much focus on it. When's the right time for a seller to actually truly start looking at omnichannel?
Dakota:
Yeah, that's a great question and I think omnichannel is gonna become an increasingly important topic over the next even like year, but it's gonna become really big in the next five years because Amazon's obviously a great marketplace, you know, and we do about 40% of our revenue from Amazon. So about 60% of our revenue is coming from Shopify right now. And I actually just launched my brand while it'd be good on Amazon initially. So I'd had no true intention of really going the Shopify route initially. But I had seen brands while I was at Amazon do massive revenue through their Shopify stores and it was typically more like 25% or 20% of their total revenue. But these were brands that were doing like multi hundred million in revenue and I realized that a lot of the growth that had occurred for them on Amazon was actually coming from an omnichannel experience that they were offering to customers and their ability to grow a brand off of Amazon.
Dakota:
And I know that that can sound like very like fufu and like hypothetical, but the idea is basically that you need to grow your brand off of Amazon so that when people come to Amazon, they're more familiar with the brand benefits that you offer. So it's basically like when people go, and I like to say, use this as my example, when people go to buy a pair of shoes, they're not like typing in shoes to Amazon typically, right? They're typing in like Nike, Puma, Adidas, right? And like the reason for that is like what's called like brand affinity. And if you can establish like that brand identity off of Amazon and really help people understand the benefits of the products, it's that much more likely that when they come to Amazon, they're not typing in for me, for example, they're not typing in long-term food storage bags.
Dakota:
They're typing in Wallaby long-term food storage bags, just Wallaby goods bags, you know, and like our branded searches are insane for our product because as we started to focus more and more attention on our Shopify store where we also have higher margin because we're not paying marketplace fees, you know, we just started seeing like an increased level of sales that we never really expected, you know, and it went from like 5%, 10%, 15% of our revenue all the way up to now to about 60% of our revenue. And customers love buying from our site because we offer more value on our site as well through bundling and discounts and deals and couponing through our email list that you can't get on Amazon. And then we do a lot of education on social media. And then what I really like about Omnichannel compared to Amazon is with Shopify email, all these things, when I launch a product now, it's like I can email out to 200,000 people that I have on my email list that I got for free.
Dakota:
You know, I didn't have to like incentivize these people to join the email list or whatever. I give 'em 10% off in some cases, but, you know, 200,000 people on the email list, 40,000 Instagram followers, you know, we have 50,000 text phone numbers that are opted into SMS through attentive. And when I launch new product, I can catapult new products on Amazon to you know, top 10 almost instantly, you know, just because of the demand and the built-in audience I have there. And Amazon's not giving you access to that audience. You know, so both in parallel, you know, the long-winded answer I'd say is the best strategy, but I think you should start from the beginning if you're gonna get going. Cause it's like why not.
Kevin King:
Shopify now? Especially with the Buy with Prime what's it ship Shop with Prime or what's it called?
Dakota:
Yeah, Buy with Prime.
Kevin King:
Yeah, the Buy with Prime, where you can actually have Amazon you could always have Amazon fulfilled, but you can now seamlessly do it. And so in the past a lot of people might find you on Shopify because you drove them there from your Facebook ads or your socials, but then like, I don't know this site, I don't trust it, I don't want to enter my, I don't have my credit card with me, I'm sitting on the bus or whatever but I got it stored over at Amazon, let me go check over on Amazon and see if it's there. And that's where like, like you said, if you're a brand and you're there, you can often launch just on Amazon by doing nothing just by throwing it up there, not having, having to even run any PPC if you don't want to or any kind of launch campaigns.
Kevin King:
And I know like Matt Clark was on this on the podcast a couple months ago and he was talking about their coffee company where they can just take a SKU and just throw it up on Amazon and it starts doing a hundred thousand dollars a month without them doing anything because they have all this brand awareness. And I always say like on Amazon, you're not really a brand until you have at least 3000 searches per month. So that's just my rule of thumb. I mean that's not some hard set fats, but if you can get to where people are typing your brand name, you know, Nike, Adidas, whatever it is, three with something qualifier after it, that's fine. At least three times, 3000 times a month. That's when to me, in my mind, okay, you've made it.
Kevin King:
When I'm looking on some, one of my businesses, we license products and the brands come to they say we're we're body glove or, or whatever, do you wanna license and create, you know, some dog products for surfers? We're like, okay, let's take a look at it. Let's, let's see actually how big of a I know who you are, you've been around for years, but let's see on Amazon, does it matter? Are people actually go in there and search? And if I go and I see yeah, there's like 360 searches for that brand name and the past year I'm like, this is not gonna be a good licensing deal cuz I'm gonna have to do all the work. I can't paying them 7% to use their name and their name is really not worth much in this space. So it's important.
Kevin King:
So what's the difference though? A lot of people don't understand, these are two completely different business models in a lot of ways. Amazon, the traffic is already there, you're trying to figure out exactly how to get in front of it and beat out the competition on Shopify. You're having to drive that traffic and create that traffic, whether it's on social or from email lister. What's the big difference there, even though the benefits, like you said, or you get the customer name and email address and all that. What do you have to do to make a Shopify site successful?
Dakota:
I would say the biggest things have been well I just guess going back to what you just said, I think and buy with Prime obviously is it's a really interesting play for Amazon, you know, and I don't know like exactly, you know, the Amazon's long-term play with Buy With Prime, but Amazon's obviously recognizing that there's this huge opportunity that doesn't exist on Amazon, right? There's this huge buyer pool of people that, well, maybe a lot love Amazon a lot, don't love Amazon or see that there's like increased value from other, you know, Shopify stores. So I think that gets to the root of like, why people should start Shopify is like, Amazon's always like looking for where the money is, you know? And if there's money to be found, Bezos has like a little, you know, tactic to explore and find it, you know, so they've activated this payment gateway, which we've actually had a lot of success with.
Dakota:
And we're like in a, a private like beta group with the Buy with Prime team. So we're getting like a lot of new features that are rolled out there and we've seen really good success with it. Honestly, I was hesitant to add it to my site initially cuz I was like, I don't really want to give Amazon like more data, you know, about who is coming to buy on my site. But customers like Amazon at the end of the day, you know, and we're offering better incentives on our site and obviously we're not paying the marketplace fee and it works out pretty well for us. So I would say as far as getting started and scaling a Shopify store, it's not as hard as a lot of people make it out to be, but it does take effort and you need to kind of pull like the right strings to do that.
Dakota:
I would say the best way to go about it is having both Amazon and Shopify in tandem. If you're gonna be selling on Amazon, doing them both at the same time, you can't also just do Shopify, you know, obviously as people that grow drop shipping stores and all that, but just by having an Amazon presence, people are naturally gonna go to Google and Google your brand and then you want your website to obviously pop up there and like look legit. And it's actually gonna help your Amazon conversion to have a really well built out Shopify because it makes you look like a more established brand. So I always recommend that, just have at least a landing page or just even point back to Amazon on your store if you wanna do that. And you can actually even put a special Amazon link on your store so that Amazon pays you commissions for any traffic that you drive back to Amazon. But as far as scaling the brand off of Amazon, the most effective tactics for us have been social media influencers. So what we do with–
Kevin King:
Is that TikTok or Instagram or Pinterest, which ones typically work best?
Dakota:
Yeah, we've seen for our niche, which is long-term food storage that Instagram has been the most effective. And for other brands that we work with, it just depends. Like, it just depends like where their audience like truly lives. I work with a large air purifier company that crushes it on TikTok. So the content is just like really demonstrative and like, it's just been gotten viral a lot. So we've been really focusing on that area. But as far as like working with influencers, the best strategy when you're starting out is to give influencers, like choose 10 influencers who are within your niche on Instagram.
Kevin King:
So another advantage like having a Shopify store though, is, is you can remarket to these people. I mean, on Amazon you're pretty much, it's a one and done unless you run another ad or you're on subscribe and save or you figure out some method with your inserts to get 'em back. But on Shopify you have all that data, you can collect their phone numbers or email addresses. And then a lot of people though, unfortunately, that's the end of it, they just sit on those and they're like I don't wanna send an email to my customers that they might think that's spam and may may not like me. But if you're doing things right, anywhere from 20 to 50% of your sales should be coming from remarketing to those existing customers. Even if it's not a subscribe and saver a monthly, you know, it's not an a supplement or something that they need every month. What is your, what are your thoughts around that and are there any good things that, are you seeing like SMS is working really good, always get that phone number? Or are you seeing that email's working better? Or what are you seeing on that on, on remarketing? What kind of tips or strategies could you share on that?
Dakota:
Yeah, I think that's, so they always say like on Amazon you're just like renting your space, you're just renting your customers and on Shopify, you know, you own your customers. And that's exactly right. And that's like why omnichannel is so important is because you can have so many touchpoints with your customers and the more touchpoints that you can have with customers, the more likely it is that they're gonna be educated about your product and then convert on your product. So Amazon's like, we'll handle all that for you, like, trust us, you know, but on your site, you know, you're just able to completely own that process and an experience. And what we've seen works super well for us is email SMS and affiliate have really been like what I would say are our core growth pillars as far as like owning the customer and having those multiple touchpoints.
Dakota:
So I would say with email, you know, you're exactly right. We're seeing probably about 30% of our revenue right now come through email. And that's like attributed to email, you know, technically, but like it's hard to know, pinpoint it exactly, but email ROI is insane. Most brands that we work with are doing about a 20 x on their email investment. Most of our brands are working with Clavio. What's cool about Clavio is you know, you're collecting those emails and you basically set up what's called flow, which basically automates the process of sending those emails. If someone adds something to their cart, doesn't end up checking out, it shoots them an email and says, Hey, we sabi, you added this to your cart, you know, you should go ahead and buy this item. And a lot of customers do, you know, and it's not annoying.
Dakota:
And if it is annoying for the customer, they can opt out. So you're not being annoying as the brand, it's just part of the natural sales process that customers are used to. But with email, I would say it's critical and any site that doesn't have email or Amazon brand that doesn't have email isn't collecting that customer data is completely losing out. You know, you launch a new product, you can email out with a campaign via Clavio, you can offer deals if you get overstocked on a product, you know, on Amazon, which unfortunately happens to most of us, you know, every now and then you know, you can say, okay, you know, we're doing a flash sale on this product, 40% off, whatever it might be. But what I like about SMS is I believe SMS is gonna be the next frontier of communication.
Dakota:
Because the open rates on emails for us actually are very high for my brand. We're hovering right around 35% open rates, which is crazy, but a lot of brands, open rates are only about like 10 to 12%, you know, just because like people aren't as interested or engaged maybe with the brand, whereas SMS open rate is like 75% for most brands. And some brands have almost a hundred percent open rate of text messages and those are people that have opted in to receive those text messages. And what's really cool is you can update customers on where their order's at. So you can say like, Hey, your order's on your way, like, you know, pick it up, blah, blah, blah. And then you can also say like, Hey, like happy birthday, like here's a 20% off thing. It just keeps people engaged, interested, you know, and we just see Crazy Revenue. We did about 500k through Attentive just last year. Which is insane. You know, never would've, never would've
Kevin King:
Expected is a plugin for Shopify that that does sms, right?
Dakota:
Yeah, exactly. So Attentive, attentive, I love because it's just very automated. Clavio is like, can be a Ferrari, but like you gotta get it up and running, you know, it's like you gotta build out the, the flows, which are like those automations of how the emails go out and you really gotta perfect them. And like most brands need about 40 something flows to like be fully optimized with Clavio, whereas with attentive, pretty much anyone can open attentive the and pay for a monthly plan and then click like go and it just starts, you know, doing the right types of text messages, you know, that you need to be doing, which I think Clavio should do a better job of. But Clavio, you can hire a freelancer, you know, or hire an agency, you know, if you wanna be running super effectively, it's hard to really learn Master I'd say Clavio without having someone you know on your team that's potentially handling that for you. And then, and that's cause
Kevin King:
That's why is it hard to master flow. Cause you, you're talking about flow. So explain flow is, is a sequence of emails based on actions that they took, right? So mm-hmm. <Affirmative> and you're saying that's difficult to set up on Clavos or it's just difficult to warm up the audience on Clavio because coming off a new I s p or, or what, what is it that, can you be more specific?
Dakota:
Yeah, yeah, yeah. So I would say with Clavio to have like a truly effective email strategy, like you're gonna need your emails to be like visually dynamic and interested and compelling to obviously click on. So not every brand has the capability of like doing that in-house designing, like those really visual emails. And then within, you know, your given brand or you're given niche, there's different strategies that work most effectively for email. So for us, you know, we typically see within like my brand that we, our customers are like hottest within the first like three days. So we have like really dynamic flows set up that we've optimized over time to say like, okay, customer clicks on the email, our clicks on a product, you know, doesn't purchase. They get this exact email. Okay, if this customer like didn't purchase, you know, 90 days ago, or this customer purchased 90 days ago, you know, we're gonna send them a different type of email, you know, than if they haven't purchased you know, for 90 days.
Dakota:
So we try to like keep customers like within our pool of shoppers by like keeping them engaged. So we're willing to offer like those discounts within certain periods of time. And we've just perfected this, you know, and I have email people now that are kind of like setting this up and paying attention to this, like constantly, but that's like why, part of why our open rates are so high is because like we have people like paying like deep attention there, whereas like attentive for the most part, like I, I pretty much check on that myself, you know, and it like printed like 500 k you know, like right off the bat. Whereas like I think Clavio could be a little bit more automated. And I'm not saying at like the lower level Clavio is not like set it and forget it, which I think it can be. And I think a lot of brands do it that way. But I think to turn Clavio into like the Ferrari that, you know, generates like 25 to 50% of your revenue, you kind of have to like pay a little bit more attention to it to, to have it fully reach that potential.
Kevin King:
And you said earlier that it's important to have payment methods that people like, like PayPal or pay with Amazon or whatever, so they don't wanna enter their credit card. What about, have you done any testing with like these buy now, pay later kind of things? That, that's been a hot thing. And conversion rates for a lot of people that were using 'em were going way up, but then there was a really high default rate on 'em. A lot of those companies were like upside down. What's your experience been with, with using that Or, and, and should you only use that for high ticket items or does it work for a $20 food storage thing too?
Dakota:
Yeah, we, we don't do like huge volume, honestly, through a firm. So we use a firm which is kind of like the leader in the space. Amazon also has a partnership with a firm and we, we pe there are people that use it, you know, so we do wanna offer it. I I always say like, you want your website to be at least with, at parody with Amazon. So like, you don't wanna have like less functionality on your website than Amazon offers. And we've been very intentional with the offerings on the site, you know, to have them be there. Cause I don't want someone to be like, oh, I'm buying on Amazon because they don't have, you know, pay over time. So we offer that. But I would say for us, it's not crazy redemptions, but in for our partners, like clients that I have that sell like higher ticket price point items, you know, like a hundred dollars, then we're seeing crazy claims, you know, for a firm where people are like, yeah, like doing it pretty, pretty constantly and like a large sum of revenue is coming from pay over time.
Kevin King:
Are you doing anything when it comes to SEO or, you know, blog posts or SEO or anything like that? That that, that you're seeing results on?
Dakota:
Yeah, we pay a lot of attention to seo. I'd say that's been one of our, like, also biggest tactics is SEO's a little bit different. Cause it's like a long-term strategy. It's been like a one to two year strategy for us. And I really don't even think it's, I think it's gonna be more of a five year strategy. It's just not, it's one of those things that a lot of people don't do because it doesn't have that like immediate payoff like working with influencers or Facebook does. But I saw brands like I, I have some friends that work for like a very large soap company and they started really heavily leaning a D two C soap company and they started leaning in very heavily to seo and it like blew them up, like really crazily, like when you type in best soap for men, like they come up right away and I was like, like I should be coming up right away for, you know, long-term food storage bags or like, my brands should be coming up for these keywords, but you're not.
Dakota:
And I'm like, why are these brand, my brands not coming up for the right keywords? Because like I always click on the first thing on Google, that's not an ad typically. And I think most people shop that way cuz it's like we're, we're now like trained to not click on the Google ads, you know? Cause we're like, they're like seen as spam in some cases, you know? So you have to build, you know, your authority obviously to like start ranking for those. And you have to get indexed within Google and Goo I started really diving in, I'd say about a year ago into Google Search Console and we built out an internal SEO team that focuses pretty aggressively on SEO because it is such a crazy tactic. So if you look up like best Mylar bags now, which is a pretty heavily searched keyword, you know, you'll see wall the goods in typically either like the number one or number two position, you know, because the other brand's also fighting for seo.
Dakota:
But the idea is that by getting that position, you know, you're writing essentially blog articles and indexing, you know, all the like content on your site correctly in order to have Google be able to scrape that content and offer it to its searchers, you know, anyone that's doing a search on Google so that they find the right content and then get to your website and then don't go to another website. And just to like, for anyone that's like, I didn't really understand that premise, but Google basically awards web authority by you being like the last place that someone went for like a given search. So someone types in best miler bags, they get to our site and they like stay, they just stay on our site and they're like done with their searches. Google's saying like, we did our job, we helped connect, you know, people to the right place they were looking, we helped connect the information to the person.
Dakota:
You know, and that's Google's like, accomplishment. So if you can be that source of information for, you know, common searches, like on your blog, you know, for us, like a blog post might be like 10 critical foods for prepared for long-term preparedness or like the best foods to bring for like a 10 day hiking trip. You know, that's like a very common search. So we can have that blog article and then tie it in with, you know, the offerings that we have. We start to index higher and higher and higher for that search and the relevant keywords within that article. And that's really, I don't know the exact revenue tied to it, but obviously getting to, you know, an eight figure business, you know, in a year. I think I attribute a lot of it to that SEO strategy. And I, if anyone out there has a better mechanism for tracking revenue, you know, tied to that, I'd be interested in that as well.
Kevin King:
Yeah, I, there's a good site called answer the public.com where you can actually get a lot of these questions that people are asking. And another, another thing on the SEO that you can do is if you can, you can find things that people are typing, like what's the best Mylar storage bag? And if you look at the results on Google and there's not a video on page one and you go and create a video on YouTube that has that exact title oftentimes you'll actually get ranked on, you'll, you'll Amazon, I mean Google likes to actually show a video on page one. You can actually get ranked on that video. That's a good idea. Then you actually have links and stuff in, in there. So there, there's lots of ways you can play the SEO game. That's, you know, there's good tools I guess em Rush and a whole bunch of those that are really good for, for figuring that stuff out. But I gue I guess the moral of the story here is you need to be hitting on all cylinders because if you're just focusing on Amazon, just focusing within the Amazon ecosystem, you're leaving a lot of money and opportunity on the table. And, and as you said, you, you said, did you, did I hear you correctly, you grew it to an eight figure brand in less than a year?
Dakota:
Yeah, just, just over a year. So about a year and like two months is,
Kevin King:
You did this with figures, you did this self-funded, right? You didn't have any outside money or anything? Yep.
Dakota:
Correct. So I, I worked at Amazon for five years, so I had some savings from that. And then we put in initially when we started the business about $50,000 into Wallaby Goods. And then, you know, we've, we've bootstrapped it since then. I don't know if we have technically taken out lines of credit from Amazon. So we've used I forgot the exact, I think it's like Amazon lending we've used, yeah, it's like a program where you take a loan out from Goldman Sachs, they like a partnership and it's like the Marcus lending program and they'll extend you lines of credit based on like your sales. So we've, we've had a lot of success with that program with Amazon lending and the terms have been awesome. You know, comparatively we've looked at other providers in the market for getting funds.
Dakota:
I don't love the payment schedules of some of the partners that are out there right now. So by just taking out that money, being smart, launching, you know, better products, you know, that are making us money getting more intelligent using tools like Helium 10, you know, to inform our decisions, you know, and then you know, just double doubling down. And now we're launching three more brands this year which we're really excited about. So we're continuing to scale that and we're continuing to scale our partner brands. You know, we apply basically all the best practices to our partners as well, you know, so I think that's what really helps us as an agency is like, we're really in the trenches. We have our own brand, we're launching more brands and we're able to really just be in the weeds. Whereas a lot of agencies I've found, and I think, I think you would agree, like they don't really necessarily, like they talk the talk, but they don't walk the walk. They don't know what it's like to, you know, spend their own money and make the mistakes. So where we're actually doing that in real time and I have teams, you know, managing that. I'm more focused on the agency side. It's, it's been something that like, I think has benefited our partners greatly.
Kevin King:
How is AI affecting what you're doing on, on your businesses? Or is it yet
Dakota:
<Laugh>? It's, it's made writing the blog posts a lot faster. <Laugh> <laugh>. But yeah, I mean we've, I'm, I've been, we've been using chat G P T a lot. I know it's like a hot topic right now and I was actually pretty hesitant to get into chat. G P T and I, I hate to admit that I'm like old even though I'm 27. But the like some of my younger teammates really heavily lean into chat G P T and we use it now to inform like content direction for Instagram reels. So it'll help us come up with like really creative ideas for reels on Instagram, which is like tough cuz we're publishing like four to five reels you know, a week now if, if possible, sometimes it's tight with the deadlines for blog articles, you know, we're obviously like able to pump out blog articles pretty quickly, but the blog articles need to be good content.
Dakota:
You can't just like copy and paste an article from ChatGPT, you do need to like edit the article, make sure it's good. But directionally I think it's very helpful. And then I haven't yet seen like a really good way to apply it to like, discovering products, but I thought that would be kinda a cool way to go about it or like looking for different niches. And then we write like the Instagram like what is it called? Like the descriptions of the videos with ChatGPT now. So like, we used to spend a lot of time like writing like what we would call like SEO packed Instagram descriptions. Cause Instagram you know, similarly to Amazon uses the keywords within the description of the videos to try to like figure out who to show the videos to. So we use ChatGPT to like write, you know, SEO embedded descriptions for Instagram. Do you have any other ways that people are using it though right now?
Kevin King:
Yeah, they're using it to analyze reviews, using it for PPC, using it to look at opportunities. There, there's, we've had several guests on the MPM podcast talk about it. I, a couple months ago I went to a big AI conference in Vegas where they're showing all kinds of really cool stuff to use it across the board. It's, it's gonna revolutionize a lot of stuff. And what's, what's really cool, like you're talking about all the video stuff is the next version, I don't know if it's gonna be 4.5 or five, it's supposed to come out in December. You know, that could change, but in December of this year, it's gonna have video in it. So where you can actually, it will analyze videos deeply and, you know, to tell you this, this video has three people in it and a dog or, or whatever.
Kevin King:
And we'll also create videos just like you're creating now with, with Mid Journey or Dolly or some of those where you're, you can create images, it's gonna be able to create videos on the fly, and that's gonna be, I think that's gonna be the next level of things that's gonna influence a lot of stuff. So yeah, the AI stuff is is something, you know, even at the, at the billion dollar seller summit that's happening next, next week in Puerto Rico, a couple people are actually talking about it because it's like you said, it's the hot thing right now. And I think we're just barely touching the surface. A lot of software tools have been in integrating some of, to help you write titles or bullet points or whatever, but there's so much you can do way, way, way beyond that. I, I know someone at Parsim, you know, they have s o p box and it's actually, you can go into into this and say, write me an s o p on how to do brand analytics on Amazon, for example.
Kevin King:
And it will, it will create the entire SOP, so you don't have to have a human that's like clicking and following. It will, it will go out there with this database and stuff. And I don't know how it does it, it will create the entires o p So you can do things, you can do things like that. You can do things with like your products, like probably with you know, with your storage containers. Like here's have ChatGPT, right? 10 ways to better preserve peaches or, or, I don't know, I'm just making something up. And it, it will create, here's the 10 ways. And, you know, you can, you can provide people with that kind of stuff and then segment 'em into audiences. You could actually have 'em scan a QR code off the insert. I'm just brainstorming here off the top.
Kevin King:
And then, then do you like? What are you storing in your containers? Oh, I'm storing apples or peaches or cookies or whatever it may be. And then, you know, okay, these guys are all storing cookies. Let's create a target. You know, 80% of the people say they're storing cookies. Let's change some of our marketing to actually have a cookie long-term storage container instead of just long-term storage container that all that, you know, in cookies is just listed. Make it hyper-focused on cookies. So people are like looking at a hundred different storage containers. Which one's for me? I'm the store cookie. Oh, this one's four cookies specifically. And then and you know, then have the benefits. You can do so much.
Dakota:
There's so much opportunity. I'm just, I'm keeping my ear to like the, what's coming out and I'm hoping that like someone really leans in on the Amazon side with a best practice, you know, document there when it's like a little bit further along.
Kevin King:
Awesome. Well, Dakota, we've been talking for a while here and I know we could probably keep talking and geeking out on on Cool stuff for but I, I wanna say thanks again for, for coming on. If people wanted to reach out to you, find out more about what you do or your agency or anything how, what's the best way to go about doing that?
Dakota:
Yeah, my email's [email protected], and I'm launching my YouTube channel, so just be my name, Dakota Morse. You can Google me and I'm on LinkedIn, so look forward to connecting with the community. Appreciate everything you've done for the Amazon and e-commerce community as well. I've learned a ton from you via your content with Helium 10. So really excited. Appreciate everything and you know, hope we can connect again soon.
Kevin King:
Awesome. Thanks Dakota.
Dakota:
Thank you.
Kevin King:
Lot of great information in this episode with Dakota. Hope you enjoyed that. And we're taking notes and got some good stuff that you can implement from that. Don't forget, the past episodes of the AM PMM podcast are also available. If you miss something, you can check your feed where you're listening to this now, or you can go to am pm podcast.com and always remember to subscribe to this podcast so you don't miss a single episode. We'll be back again next week with another awesome guest. But before we go, we've got some words of wisdom for you. In order for your business to survive and to actually thrive and to be able to scale it, you've gotta accomplish at least one of these two tasks. Let's either develop an advantage or add value above the value added by your competitors. You either have to have an advantage that you develop or you have to add value above the value of your competitors. Do one or two of those or better yet both of them, you'll have a much better chance of success. See you again next week.
---
Enjoy this episode? Be sure to check out our previous episodes for even more content to propel you to Amazon FBA Seller success! And don't forget to "Like" our Facebook page and subscribe to the podcast on iTunes, Spotify, or wherever you listen to our podcast.

Want to absolutely start crushing it on eCommerce and make more money? Follow these steps for helpful resources to get started: