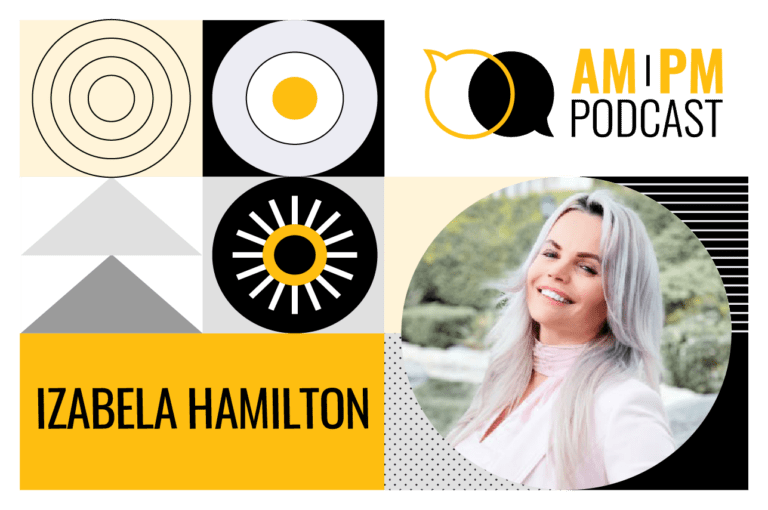 #298 – Are NFTs, Communities, And Web 3.0 Tech The Future Of Amazon Launches?
In episode 298 of the AM/PM Podcast, Kevin and Izabela discuss:
02:00 – Izabela Shares Her Story And How She Met Kevin
03:15 – How Izabela Started Helping Amazon Sellers Through Rankbell
04:00 – How Rankbell Evolved After Search Find Buy And Amazon TOS Changes
06:01 – What Happens When You Value What A Customer Says
08:00 – Balance Between Amazon Language And What The Customer Gets
09:00 – What Makes Rankbell Different?
12:00 – Kevin's Portable Make-Up Mirror Story
13:25 – "Sometimes You Got To Outside Your World, To See Inside Your World"
14:30 – Being A Little Bit Obsessed With NFTs
15:40 – How Izabela Got Started On The Amazon Space
19:00 – A Quick History On Ranking Your Products And Amazon TOS Changes
21:40 – How Are We Supposed To Launch And Rank Products Now?
22:40 – NFTs And The Web 3.0 Is The Future
24:30 – What Amazon Sellers Can Learn About NFTs
25:45 – Knowing Who Is Paying Attention To The Space Is Key
28:15 – Launching Products On Amazon Through Building "NFT Communities"
29:30 – How Izabela Views The NFT Space
33:30 – Catch Izabela And Kevin On The Sell And Scale Summit
36:00 – This Is The Time To Study About This Industry
37:10 – Izabela's New Project – NFTomic
39:40 – Why Not Just Create A Facebook Group?
41:30 – Tapping Into Existing NFT Communities For An Amazon Opportunity
47:30 – Izabela's Experience With The Cool Cats NFT Projects
49:15 – Kevin Finally Let's The Cat Out Of The Bag
52:00 – The NFT Space Is Virgin Territory
55:17 – This Week's Golden Nugget Tip
Transcript
Kevin King:
Welcome to episode 298 of the AM/PM Podcast. This week, my guest is Izabela Hamilton. Isabella is a specialist at helping to launch and rank products on Amazon. We talk about how things have changed over the last five or six years. And then we geek out on a new way to build communities and launch to the top of page one. You're gonna really enjoy this episode. Izabela, it's so good to have you here on the AM/PM Podcast. How are you doing?
Izabela:
If you guys could see me, my smile is as big as ever, because one I'm honored to be here with you Kevin, an old friend. I'm so happy to hear that you're getting into the podcasting world. Welcome to the dark side. It's amazing. I mean, you have created such a culture really within Amazon. I mean, people say your name and they know who you are. So I'm honored to be here with you. I'm honored to have this opportunity to talk to you about some great things. What can I say? I love you, Kevin, who doesn't.
Kevin King:
I appreciate that. I feel like we need, we should be smoking a cigar right now. I think every event that we meet up with, it's always me and you and Norm or something we sneak off and try to get a cigar in whether it's at Prosper and running off to the Caesar's lounge, or it's standing out in a parking garage, balcony in Seattle, whatever it is, we've done it.
Izabela:
We've done it all.
Kevin King:
So for the people that don't know, you, we just real briefly talk about you know, you originally came from Romania, you came over to the US, you got into the Amazon space. What about 2017, 2016?
Izabela:
2014, 2015. Yeah, that was when I was incognito. My picture online was I love my life. That's all it had no name. It had nothing. And then you met me, I think two years in when I was already kind of–
Kevin King:
I think you were just coming out at that point closet. Yeah, you're just coming outta the closet. At that point, I think I was at a grant card event, I think in Miami. And I think Brandon Young or something had a little meet up at top golf as he always does everywhere. And you showed up with, I think it was a Sean. And I'm like, who's this girl. And you're like, "well, I kind of do Amazon stuff's", like, "what do you do on Amazon?" You're like, "well, I help people with promotions and different things." I'm like, you do what? Who are you?" And so then I think that's, then we, we started seeing each other at other conventions and you started like getting your name out there and then we've done, you know, some of my companies have used you for different things and with good success. And so we're gonna talk about what you're up to now and some, some cool stuff and some things that are gonna be, I think, changing this industry, how you're involved in that, but just to let people know. So you had a service that did promotional stuff and help Amazon sellers get the word out about their products and stuff. Can you talk a little bit about that?
Izabela:
Absolutely. So RankBell, as I said, was created many years ago, many moons ago, and I really loved being part of this Amazon community. One, I got to, you know, make friends with so many people, but two, just having that experience, seeing it in front of your eyes, where you can help somebody go from like this place to this place, whether it's on Amazon, whether it's some helping somebody, you know, with their mental health, whatever it is, it's always feels good inside. So of course, money is always a question, but having the ability to help others succeed has always been one of my purposes in life, which is why I'm always curious about any new technology and everything that comes out, but with RankBell. Yeah. So we were doing what people now know as search find by. And we know that was kind of culture canceled last year.
Izabela:
And since then we have switched our service to match the ToS because we would never want to put any of our clients in jeopardy. And now what we do, we do customer data report where we retrieve raw data from shoppers on the specific product or niche that we're trying to get information from. Imagine having a product and getting a full report on what's good about your product, what sucks about your product, what needs to be changed? And it's kind of tough on a lot of sellers to hear because we all have this image in our mind, what the perfect product should look like, and then you put it in front of people and they're like, I hate that color. I hate that material, this doesn't work. And then you kind of take a hit emotionally if you're not ready for it. And this is what we've been doing for the past six months or so, we've been trying to capture that data from the shoppers to be able to help Amazon sellers create that perfect brand. Then now we'll be able to rank organically and get organic reviews, cuz I mean, that's what we're all trying to do, create brands. So that's what RankBell does now.
Kevin King:
So it's like an advanced focus group type of thing.
Izabela:
Correct. I would even go as far as calling a secret shopper you know, taking that ideology from like real world shopping to online. And I don't know of any other services that have done that or at least perfected that and taking it from, you know, going and doing that to best buy or Chick-fil-A or McDonald's, but moving it onto Amazon has been a very interesting transition, but very well accepted, not only by sellers, by the shoppers as well, because now the shoppers where they do Kevin they're like, oh my God, like the actual seller cares about what I think about their product. It's all about community and emotions, Kevin, and you know this more than anyone else. When you show your shopper that you value what they have to say, they will become your shopper for life. And that's what I noticed by doing this.
Kevin King:
Like you said, a lot of sellers are really close to their product and they like kind of in their own little bubble. And so when they put it out there for, for your group to analyze and make suggestions and say what they like, and don't like, what are some common things that are just really shocking or some, a couple examples of something that's just the seller's like, oh my gosh, I didn't realize that they saw the product that way or what, what's something that's really stunning to the sellers a lot of times.
Izabela:
I think the first shocking thing is them not believing that the product is all that, you know, because they all have a vision and who knows some of these people, Kevin have worked on their products for a year or two or more and they think they got it. Perfect. So imagine having it perfect, right. Quotation and then having somebody come and really crush your dreams. But a lot of the things were kinda small things like, you know, maybe the packaging wasn't as great as they thought they were, which was good actually, because they were able to go back to the factory and redo the whole thing, because this is what happens. You put your product on Amazon, the shoppers buy it or not. And then, you know the best thing that can happen to you is you get a bad review where they actually criticizes and you can change based on that, but that doesn't happen too often because most people, if they hate your product, they'll just say, I hate it and they'll give you a one star.
Izabela:
And a lot of the times they don't like your product, but they just say, forget it. They're not gonna contact you and tell you how to change your product. So I think you know, the packaging was a serious thing for a lot of the sellers. Sometimes the color, but a lot of the times actually the product not matching what it said in the listing to what it actually does, a lot of confusion. And I think that is because a lot of Amazon sellers, they follow courses, they follow, you know, instructures and people like this. And they have kind of a specific criteria where they're like, I need to do this, this, this, this, this, I need to add all these keywords in. And then it end up not making sense for the shopper because what we're doing as Amazon sellers, we're trying to perfect this for the Amazon side, but we forget that we're not selling to Amazon.
Izabela:
We're selling to our shoppers and the shoppers don't read Amazon language. So it has to be a balance between what you show that's in the listing and actually what you get in your hand. But all these were very small changes that actually converted to a little bit more sales we've noticed in the short period of time that we've been doing this, you know this transition, but the biggest one was having to pull all the merchandise because, 5 out of 10 products that they received were somehow damaged or not usable, that that's painful because that's when you need to pull everything back, you might even have to have your supplier redo everything. That doesn't happen that often. But again, small changes that actually help a lot. You know,
Kevin King:
Some people might use the Helium 10 audience tool or PickFu or something. So how is this different than that? Do you get like a big report or what do you get?
Izabela:
Correct. So PickFu, I love PickFu shout out to them. They're amazing. Think of RankBell as being PickFu on crack right now. Like if, if I can even say that, cause you know, with PFL you have like just a small idea of what the shopper actually thinks. You know, they get choices between this and this, and sometimes they can go a little bit more advanced, but what we do, we actually have the shoppers go through the whole process. Again, whether it's on Amazon, whether it's on Walmart, or whether is seller actually sending the product at home to the buyer. Again, that's your choice. But if they were to do it on Amazon, they have to report back everything. Let's say if I'm looking for these headphones, where did I find the headphones? Where were the other headphones that you saw and why would you choose theirs over ours or ours over theirs?
Izabela:
So you have all these little questions that kind of give you an idea of how you can create your product better just from those few questions. But then once they receive the product in their hand at home, then they're able to actually pick it apart and say, I like this. I don't like this. I don't like this. I like this. I would've loved to see this. Or in some cases they can be like, oh, this product, I usually order from this other competitor. And this is why I like there's better. So where you do, when you compile this information, it can take you some time to go through all of that and be like, wow, okay, I need to change this, this, this, obviously you're not gonna do it from the response of one person. But imagine if you had a focus group, like you called it of like 50, a 100 people that 30 or 50 of them, they all tell, you need to change the color. Then you gonna kind of have to do it because you want to serve your audience without what you thought the product should be.
Kevin King:
So am I doing this before I put the product out? Or is this there going to Amazon or Walmart or Shopify or whatever, and buying it there and going through the entire process or how does it, how does it actually work?
Izabela:
So you can do, you can do it many different ways. You can do it before you launch a product. You can do it. Even when you're in the search process of it, let's say you found three suppliers that they all have the headphones, what you can do. You can have our team and our shoppers get those products at home. Let's say from the three suppliers and they can choose which one they would prefer to have. A little bit more expensive.
Kevin King:
So I buy like 10 or 15 or just a small amounts from the three suppliers and send 'em to your group. And they evaluate 'em and give feedback on why they like certain ones over the other one?
Izabela:
All right. Imagine how much that will save. Imagine the process that it takes for you to keep going back and forth. Imagine if you had the option of having all these products, have the actual shoppers, test them and tell you, this is exactly what you want, how much easier it would be. Obviously, you as the expert, you always have the say and you always have the knowledge of what works and what doesn't. But if you have all this majority of people telling you, this is what they're looking for, it's a slam dunk. Like you can't do better than this.
Kevin King:
I wish this service like this existed a few years ago, cuz I launched a line of makeup mirrors for women. And I'm a dude. I don't look in the mirror. I don't care, but I wanted a little portable makeup mirror. So I got, like you said, I got like six different ones from several different suppliers. And I went and sat at a bar with my buddy. And for like six hours, you know, as people came in, you know, I'd ask any, any woman that came in, you know, which one of these do you like and why, you know, and they would hold 'em and touch 'em and it's just different.
Izabela:
What was the response?
Kevin King:
It was good. I mean, there's, there was one clear winner and it wasn't the one I thought.
Izabela:
See. That's what I'm saying.
Kevin King:
I'd asked, you know, like a friend of mine asked I think it as my fiance at the time, which one? And I think she actually picked the winning one, but I was like leaning towards another one cuz it was a little bit cheaper and it was a little bit, I thought it was cooler looking as a dude. But all the women virtually said no, this one. And they, they gave me some reasons why that I hadn't actually thought about I got the literature from the supplier and said, these are the features, you know? But they made some points like, no, I like it because of this, this and this. I'm like, wow, I need to make sure that's in my bullet points and that's a differentiating factor. So it's huge. And a lot of people, when they're developing their products, they don't, they don't do this. You know, they might run a little test of their little circle of friends or they use their own judgment. And a lot of times you gotta get outside your own world to actually see inside your world.
Izabela:
I love that you did that. And you know, just to be clear for those listening and I always say this and I'm sure not everybody agrees with this. You don't have to use the service. You guys I'm telling you right now, you don't have to use RankBell to do this. However, if you use RankBell, we'll do it for you. It's not going to take you six months or a year to figure out we'll figure it out for you. Cause a lot of people, you know, would say, why would I spend money on something like this? Well, one, you know, we are experts. I believe at this point we're experts and two we're saving you time. Like always use your genius where your genius service best, like in your case, you really cared about your product. So what did you do? You actually did a thing. I wanna see how many people and actually encourage those listening. Send us a message both and be like, I did this with my product. I would love to send you something. Maybe I'll even give you a free NFT. How about that?
Kevin King:
There you go. You do a little airdrop, right there on the spot.
Izabela:
A little airdrop, boom, boom, Izabella NFT. So actually, you know what? Okay guys, can I just tell you something really funny? So me and Kevin are kind of obsessed with NFT. Would you say that's a little bit accurate at this stage in our life? A little bit tiny,
Kevin King:
Just a tiny bit.
Izabela:
Just a little bit. So me and Kevin, we do the Bulls and Apes. We're so pumped up and I'm on a call with Kevin and we're chopping it up and I'm like, "oh my God, Kevin, you need to get on this gobbling town, Queens or whatever"
Kevin King:
Goblin something.
Izabela:
And were both like, I spent all my ETH. I think I had like one and a half ETH, which is, you know, for those listenings, like, I don't know, two grand or something at this point. And I was like, Kevin, I'm going hard. You're like, oh my God, me too. I hung up the phone. Needless to say guys, we both bunked. Like, it's a show. If I can say this, I think I have like, I don't know, a hundred of those things. So a gold queen? I will Airdrop if you want. And who knows? Maybe a few years is gonna be worth millions of dollars. However, you know, with NFT you' gonna win big and sometimes you're not gonna win big, I thought that were funny.
Kevin King:
That was. You're like "Kevin, get in, get in, get in. You got the last ones," but yeah, we'll talk about that in just a little bit. I wanna go back to–, were you an Amazon seller originally or did you immediately get into the service side or how did, how did that evolve? How did you get into RankBell? How did that come to be?
Izabela:
I didn't even know RankBell was RankBell. Be first of all, we, I didn't have a name again for, I don't know how many years I didn't have a website for, I don't know how many years I didn't have a CRM. All we did was like Google sheets and Facebook messenger. We were a mess, but for me it was like perfect because I'm not, I've always been an entrepreneur at heart, but I've never had like business acumen, you know where you need to have this, this in place. I just jumped in. I was like, this is cool. So the way I found out about it, it was a friend that was overseas. Him and his dad had like a small factory where they were making light bulbs and they were trying to sell it on Amazon. Same thing. They heard Amazon was cool, Izabela you're in the west.
Izabela:
Can you help us figure it out? I always say yes. And then I figure it out later. And what he did, he sent me some light bulbs to be at home just to check him out somewhere like disaster. They came crashed. They were just a mess. Right. And he's like, I give them like a full report on what I thought it was. He's he's like, can you help me create a listing? I'm like, sure. I've never seen a listing before, but what I did, was I went to another competitor and I saw kind of how they did their listing. I took their I don't know, light bulbs have like different numbers. I don't know. I'm not an expert in that, but I basically switched it to what they're, what they were offering. Made it a little nicer, a little better put it on.
Izabela:
They started killing it. He's like, Isabella, do you think you can do that for my friend? Like, absolutely. And he's like, oh, and he's gonna pay you. I don't know. It was like, I don't know, 60 bucks or a hundred bucks. I was like, "oh my God, internet money." I'm like, "this is great." So next thing you know what he did, he's like, do you have other friends that can help us test these products? I'm like, sure. So I had to go out and find some friends and then those friends found other friends. And then this thing became kind of, it started growing a little bit where I started getting paid for people to test products. And now we're back at testing products funny all this years later. But what we noticed Kevin is what they started doing, they were ordering the products on Amazon with a link or, you know, with a keyword at that time, we didn't know.
Izabela:
But we noticed every time these people purchased the products to test them, their ranking shot up like all the way to the top. So it was almost by mistake that I fell into this. I didn't even know it was a business. I was just helping some random dudes in Europe, put their listing up. I had no idea how much money this people were making zero. I was clueless. I was just happy people were paying me. Next, next thing you know, he kind of started growing a little bit more, a little bit more. I started being a little smarter like, oh, I should be doing this. If I do this, then this is the you know, the result. And then I started hiring. Then at one point we had, I think like 10 employees, but yeah, that's how really RankBell came and ring bell stayed. And then, you know, we met at conferences. I started speaking here and there got on the podcast and next thing you know, I'm an influence. I'm like, how does that happen? I didn't sign up to be an influencer, but you know, when you put in so much passion and you know, for, for those at home, listening to this, you can tell, I have a lot of that. And just, you know, that with my personality and everything else, you know, RankBell was just, was just there and we're not going anywhere.
Kevin King:
So just to explain to those that maybe listening, that don't understand what used to be when I first started on Amazon in 2015, you could actually give away products for reviews. So you could actually do something where you would give out a coupon, code that maybe a hundred percent off originally, then Amazon took that away and you could do like dining or 99% off. And there were actually websites where you could go and you list your product and people would go buy it and redeem it and get it for 99% off. And they had to leave a review. And so they would actually go onto Amazon and they would actually post a review and they had to put Amazon made you put a disclaimer that said, I, something to the effect of, I received this product in exchange for my honest review or something like that
Izabela:
Exactly that. Exactly that.
Kevin King:
Yeah. And so there were services that popped up like a whole bunch of 'em that specialized in helping you do this. And not only like Izabela just said that you would get the ranking boost because people would go and buy the product. And they were really even searching on keywords. Initially, that came later where people would two step URLs where you would rank you on keywords and they're just shooting to the top. And then people were allowed to leave reviews. And then I still remember the date. It was October 3rd, 2016. It was the date that Amazon said, this is absolutely not allowed anymore. We are removing all the reviews that say this, you cannot do this. I remember if you go back and look here on the AM/PM Podcast, Manny rushed out a podcast like that evening about, oh my God, Armageddon.
Kevin King:
And the sky is falling. And people were like, how are we supposed to rank products now? How are we supposed to launch products on Amazon? What are we supposed to do? And so what evolved out of that was what's is, is rebates or search find buy is what some SFB is what they're called sometimes. So sites like rebate key came up where they said, Hey, you know, it's been legal for all these years. Hundreds of years business have been giving rebates. You buy the product, there's a coupon inside says, you know, send this off to get your $10 visa gift card or, or whatever. So they ran it by a bunch of lawyers, is some of the guys from the million dollar seller group that actually branched off and started that some of those guys invested in it and that became a thing.
Kevin King:
And then other services popped up like that. And then companies like RankBell came around and said, Hey, we'll help you, you know, get feedback on your product. And there's no reviews tied to it. You're not allowed to leave reviews, right? It's just to help you launch the product. And so they would do search, find, buy where you would actually, they would give a rebate. So you would buy the product for, let's say it's a $20 product. And then once you proved that you bought the product either with an order number or with some other methodology, you would actually get that $20 back and services popped up that charged a fee to manage this for you and to help you. And that would help you rank, well then last year Amazon said, Uhuh, this is no longer allowed either. And so everybody's had to pivot now and like, what do we do to launch our products?
Kevin King:
How do we get reviews? How do we get to the top of the page? There's still some people doing search, find, buy, under the table. And I don't recommend that if you found out could be trouble for your account or your product listing. So there's been a pivot and that's what, what Izabela, with RankBell, and now they're doing it, which it's focus groups. It's helped you really refine the product. That's not so much a launching service. There, there, maybe it's a little bit of a benefit, you know, when people go and buy it, but it's, it's for an honest, you know, it's focus group type of stuff. And so people are now like, how are we supposed to launch a product on Amazon? You know, I can use the earlier the vine program maybe to get, you know, a handful of reviews.
Kevin King:
If my, but even that's not guaranteed, you could say I'll give away 30 products or 60 products. And you might not have takers. You might only have, if you have a product that everybody else has, you might get three takers or so that's not always guaranteed. And so people are like, what do you do? And a lot of people are like, well, you gotta run a heavy PPC. You gotta do this. You gotta lower the price. And there there's some strategies, but something that Isabella and I are both hot on right now, and that she alluded to this a minute ago is the NFTs. And we both are firm believers that this is the future web. It's called Web3. You know, we had Web1, which was the old, you know, AAL dial up basic internet, you know, very flat.
Kevin King:
You had Web2, which is the dynamic, that's the social medias. It's the Facebooks, it's the YouTubes and web three is the next generation of what's happening. And it's blockchain technology, you know, what's behind Bitcoin and Ethereum and some of this other stuff and NFTs stands for Non-Fungible Token is part of that. And I believe that, you know, several years from now probably no one won't even know the word NFT it's gonna evolve into just become every day kind of thing. But right now it's got a big misconception out there because like everything that's new in the space, you know, just like the internet in the 1990s, it's the wild, wild west. And there's a lot of people that are panning for gold and trying to get rich by putting out these Goblin things and hoping that they go to some crazy number.
Kevin King:
You see the Bored Ape Yacht Club where people got into this for, you know, a hundred bucks in April of 2021. Now these things are selling for 200,000, 300,000 400,000. In some cases, you know, over a million dollars, Eminem and Snoop Dogg just came out just recently with a video where they actually did a collaboration together and their faces are substituted with their Bored Ape Yacht Club faces in, in the video. It's crazy. And, and there's a lot of speculation. A lot of people that don't know what they're doing in the space. If you go back and listen to about four or five episodes ago, where I talked to Manny, I think it's AMPM podcast, number 294, he talks about what he's doing in it. But a lot of people think that NFTs are just JPGs and just photos, but there's a lot more to it.
Kevin King:
And there's a lot more to the technology in which the cool stuff that you can do. And one of the big things around NFT is community. And that's one of the big things that a lot of Amazon sellers are having trouble with is developing communities. And, you know, you can go and develop a Facebook group, or you can go and develop a following here, but it takes a lot of time and effort. And you're not sure that all these people are even interested are buyers and there's no buyers, or there's no really way to trace them and to create this whole circle. So Izabela and I are both, as she said earlier, we both have been studying this space and going to conferences. I mean, you've been to, was it the one in Minnesota?
Izabela:
Yeah, VeeCon. So I've done part of you the year, kind of in silence. And now a lot of conferences are, keep getting bigger. The one me and you, we both went to last week. Supposedly there were 15,000 people there. I mean, everywhere in New York, I mean, they literally branded New York city at least times square. I've never seen anything like this. I mean, billboards, millions of dollars have been spent in the marketing of this thing. So they're catching a lot more attention. And just like you said, Kevin, I mean big people like Eminem and Snoop Dogg, and, you know, Randy Zuckerberg. And I mean, there's just so many people Evva Longoria. I could go on and on. I mean, a lot of influential people are getting the space and that is what's interesting because look at the big brands Gucci's dropping some NFTs right now. I saw yesterday. You people need to start paying attention when big people and big money come into that space, whether you believe in NFTs or not, whether NFTs will be here or , paying attention, who is paying attention. I think that's key. Let's start there. I think that's crucial.
Kevin King:
And as an Amazon seller, this is an entrepreneurial community. They'd like to be on the cutting edge. They're the go getters. They're the risk takers and this is an industry that's, it's the wild wild west right now. It's the internet in the 1990s, you know, and there's gonna be a shakeout. There's gonna be, there's a lot of scams. There's a lot of issues. But if you really look at the fundamentals of it and you have a business background, you have a great chance of success. And I believe this is gonna be the next way to actually launch products on Amazon is through building NFT communities. And the more I've gotten into it, the more I'm convinced. And I'm gonna be speaking about it at the Billion Dollar Seller Summits in August, as well as the Sell and Scale. And you gonna be speaking about what you're doing. You're doing a little bit, we're both taking a slightly different approach, I think to it, but you're gonna be talking about you're working on something right now that you're gonna be speaking at the Billion Dollar Seller Summit in August and peeling back the curtains. We won't wanna tell everybody everything just yet.
Izabela:
Absolutely we won't. But I think it's so important to mention a few things. So you, when you guys think of NFTs, I mean, you know, the Non-Fungible Tokens and the JPEGs and all this rush around it, that's cool. I love that. You know, it's like a little like curiosity for me and gambling, which is why I spend so much money on stupid Goblins that were worth nothing, but it's this it's one is something new and two, it opens up portals to communities that I've never seen an Amazon seller do before. And I think that's one thing that we should mention on this podcast, the ability of these people to create large communities, some of these people you saw in New York, some of them are kids. Some of them are adults, but they have no business background ever. They don't know how to run a business.
Izabela:
They don't know how to run money. Some of these people have sold out projects. I met somebody recently that sold out three projects. I don't know how many millions of dollars. He's never had a business in his life that excites me, Kevin, in a way, because now there's so much opportunity out there for entrepreneurs to come in, dive in and look at the service aspect of NFTs. You know, if you're interested in being an investor, a collector, all that, that's fun. But look a little bit above that. And this is where I come in. I wanna see how I can create this bridge between the Amazon sellers and this massive, massive communities. This kids can drive Kevin for free organic. Some of these discords that we're both in, they have upwards of 10,000, 50,000 people sometimes, and some smaller 5,000, 2000, but very concentrated. So in my head, I'm like, oh my God, an Amazon seller would die to have a community like that. What are the NFT projects doing that we're not doing? This is what I'm trying to figure out. Where is the disconnect? Because a lot of Amazon sellers, you know, PPC spend, Google ads, Facebook ads, you name it yet. All these people are driving thousands of people with absolutely, sometimes zero ad spend and they have massive communities. So now how do we merge those two together? I guess that's my quest right now,
Kevin King:
And these communities are spending money. I mean, there's passionate communities around a subject and maybe they're collectors. Maybe they're passionate about a subject matter. Maybe they're passionate about, but they're spending in most cases, Ethereum, there's other network salon and there's others, but most cases it's Ethereum and they're spending real money.
Izabela:
I think I know. Why can I give you my take on that? Yeah. So remember we spoke earlier in the interview about, you know, how the shopper values, you know, they value you needing them. So I feel like with NFT project, you have a project like Bulls and Apes, right? 10,000 images. And now each person wants to be part of it because of the community. Just like you said, the Bored Ape, you'll see people wearing their hoodies because they're proud. So what they do, they buy a small, tiny share basically into your company, which makes them their company. Now they're emotionally invested. So yeah, they put in money. I bought plenty NFTs that do nothing for me. They don't have that real life utility. They're just there that picture, right? But people are proud. Oh, I'm part of the Bored Ape Club. Let me put on this sweater. Everybody knows you are the Bored Ape Yacht Club. So it's emotion, Kevin emotion, emotion, emotion. Now, they're part of your company. Now they have this small thing that people are like, oh, that, why do you think Eminem did it and Snoop Dogg? Because now they're in this even more exclusive club that they pay 400, 500 grand for a picture, again is our passion and our emotion that drives the money and drives everything.
Kevin King:
I mean, someone told me at NFT, New York there's a guy on stage. One of the things I was listening to and he said, look, I bought a Bored Ape Yacht Club NFT because I don't know. I don't know nothing about anything. I don't know anything about business, but that opens the doors on any idea I have, if I say I'm a member of this immediately, I have access to this huge network of stuff. And so, as Amazon says, you and I see this, we're like, holy cow, we can execute we're business people. We're not some of the young kids that are doing this. And just trying to, you know, hopefully make a fortune overnight by putting out some sort of goblin project or something. We see the fundamental business and the fundamental fundamentals behind it.
Kevin King:
And like, holy cow, if you marry this, this technology in this passion that people have for this, with products, Web3 to Web2, you can do some amazing, amazing stuff and build these communities that can instantly launch products overnight on Amazon people that will be passionate. And just like you said, they'll be, feel like they're part of it. They'll wanna make contributions to what you're doing, but the beauty about us creating career real. Exactly. And why does Gucci get into this? Why are big brands? It's not Anheiser Bush was at another presentation that I saw. They're getting into this big time
Izabela:
Disney.
Kevin King:
Disney's getting into it. You know, it's, it's gonna rev because the technology behind it is incredible. You can have one to one relationships that you can't have. If you have an NFT community and you get, you know, right now, everybody has their product inserts. That's saying, Hey, go and sign up for my warranty. Gimme your email, get 'em my list. If you give them some sort of the other value that these NFT communities create, say, come join our community. Then not only are they feel part of something and they feel proud about that, but they also, you can track them because it's all fully transparent on the blockchain. So, you know, everything you can have, you can tie NFT codes to your physical products and as your product is sold. So they say, you sell electronics product and that product, you know, someone uses it.
Kevin King:
Then they sell it in the garage sale or they sell it. They, they resell it or passing along, you know, exactly the next person that has it is they have to transfer it through the NFT, through the blockchain technology, the rights to that, you know exactly who they are. You maintain that relationship. It may be even sharing that resell. There's so much stuff that you can do around this, that it's, it's incredible. And it's still in sympathy. There's still a lot of work to be done. There's gonna be mistakes made, but that's where Izabela and I are huge on this. And you know, our friend Manny is doing this and we're both part of his project and looking at what they're doing. They're, they're not really tying it to, to Amazon, but they are coming out with a card game that will probably be available on Amazon at some point and, and licensing deals.
Kevin King:
And it's just incredible what you can do here. So I, I encourage everybody to if you're coming to Sell and Scale in September, make sure you do not miss Izabela's talk or my talk. We're both gonna be talking about this in with examples in more detail. And then, you know, look, who's talking at sale and scale. Gary Vanderchuck is one of the keynote speakers. Who's like, he's probably the most influential person in the entire NFT space. So I know I went to a presentation of Women with Weapons, NFT here in Austin at consensus a couple weeks ago a few weeks ago. And they, they said that you, they put out their NFT and they had, you know, it just wasn't going anywhere. And then somehow Gary found out about it. He tweeted about it and it blew him up. That's the influence he has. He's speaking. And who knows what he is gonna be talking about at Sell and Scale.
Izabela:
Oh, we know. NFT.
Kevin King:
And I think he's gonna be talking about probably some NFTs. And this is something that as an Amazon seller, a product seller I think you'll be missing the boat. You'll be kicking yourself. If you don't actually try to get your head around is, you know, I was on the elevator at NFT, New York. And there's an, an elderly lady that was in the elevator with a bunch of people wearing their badges, said, oh, this, this is crazy. This like the hotel, like you're saying, it was all decked out with all these graphics and everything. She's like, what is an NFT? And people started to explain it to her and you could just see her eyes glaze over. Like, it's just a bunch of photos, right? Why would I pay for a photo when, you know? Yeah.
Kevin King:
I could just right. Click and save it. And it's like, you know, the elevator ride, wasn't long enough to explain to her. And then I remember another person came on that wasn't in the space. And he is like, looked at us, saw the badge and said, ah, that's the perfect time for a show like this. Isn't it. With the crypto markets crashing. And I thought NFTs were so 2021 that that's dead. Right. And we just all looked at him like, dude, you have no clue. You have no clue. This is one of the best times to get in when it's down.
Izabela:
And that's the thing. I think people are very fearful. They don't understand it. And first thing to do when you don't understand something, really try to understand it. Like whether you do something with it or not, it cannot be ignored. Okay. There's so much talk around it. I mean, 15,000 people flew into New York and spent a lot of money to be there, to learn and connect with other people. So it cannot be ignored guys. Again, you know, none of my friends do one of these zero. Like, that's why I'm excited. Like when I heard that you are into it, when Manny's into it, I'm like, yes, I got friends. Now we can talk about this, but you know, in a year or two, I think it's going to be a little bit more prevalent. And I think a lot more people are gonna know about it. So why not get it now? I know it sounds like we're selling something. We're not selling anything, guys. We're literally telling you study. This is the time.
Kevin King:
No, it's exact, that's what I'm saying is I'm saying Amazon is changing your, your Amazon sellers. Most of you that are listening to this, or you're about to be, or you already are. And think just like we said, the way to rank on Amazon is evolved. And you know, the stories I gave earlier about how that process has changed. It's a constantly changing dynamic, and this is a way that you can put a motor around yourself and establish yourself and tie your Amazon business. Or whether it's Amazon it's goes to Walmart or Shopify, everything else, but you can tie this and you can actually leverage Amazon. The audience of Amazon will come over to this project and you can create this entire flywheel. That will just take off if you do this right. So just give us a little hint about what you're doing in it. You're starting a new company. I don't know how much you wanna give away just yet that's around this to, to help Amazon sellers. But tell us a little bit about what, what you're doing to help the Amazon community as it relates to NFT and blockchain and everything.
Izabela:
Thank you for asking. So the new company is called NFTOMIC. So OMIC stands for Our Mission Is Community because it just fits in with how my purpose in this world and what I'm doing with Amazon sellers, it really fits in everything that I do. So one of the things that we will be doing is form collaborations between brands and communities that already have a sustainable community that already in love with the project and try to mash them perfectly. Again, because the space is so new. You might not have enough projects for as many brands as we have or visa versa. So in that case, we could help you get your own brand that you already have, try to form an NFT around it. That's gonna be a little bit more detailed than it's going to take a lot more work.
Izabela:
And I'm not really sure how that's gonna work yet. To be completely honest, because you may create a product and an NFT for your product, but if you don't have enough people interested, it's going to die. And then on the other side that I'm doing for NFT project help them create their own products. You know, if we don't have the matching brand to go with it, and I'm already working with three actually NFT projects that they're creating their own product. And you know, for me, it's cool, cuz I already have all this e-com experience. I have connections with suppliers. So I'm helping them on that side. But my love keeps coming back to how do I help our sellers? And again, that's something I'm working on and it's not perfect yet. And I, you know, who knows if it'll ever be perfect, but it excites me the idea that I can help other sellers create their own community.
Izabela:
I mean, this will be a dream if I can help a brand like create a community of 10,000 people, imagine launching brands with already communities standing there for you, any product you want, you can do what I do with RankBell, right? Can be like, Hey 1000 of you, I'm gonna send you this product. Right? Tell me exactly what you take, what you think? What do you think my next product should be? I mean, you can see where this is going. Like they can literally create the brand for you. You can even have them chip in where they're now they're investors into your company and you grow together. I mean, again, limitless opportunities.
Kevin King:
So why do people are–, I'm gonna play the devil's advocate though. Why not just go create a Facebook group? That's been the mantra from a lot of gurus in the space and stuff. It's like, go build your audience, build a Facebook group. You know, here's the process to do it, to help you launch your product. Why not just do that? Why do you need to mess with this NFTs? What's the advantage?
Izabela:
I feel like we live in a world at least now of "and", not "or" you don't say Facebook or NFT, why not do all of it, but if we don't know people talk about it, but they never do it otherwise they wouldn't have to use our services, right? So yes, you can create a Facebook group. However, this new generation, again, this "new generation of NFT people", they're different. They're so different. Again, they connect emotionally to this project that offers them a picture. Like to me, it still blows my mind, how that's even possible. So they have this, they basically put this picture on a pedestal and now they all bow down to it. I mean, if we got to the details of it. So if, why not tap into those communities who already passionate, they already love what you are trying to put out.
Izabela:
Why not go from Amazon into that instead of going to the route of Facebook and Instagram and all that again, do those still. But if I were to focus on one thing, it would be, how do I get myself involved into an NFT community and what you can do in the beginning, you can start adding yourself to some discord groups, check Twitter, Twitter, and discord is crucial when it comes to NFT people. So yeah. Can you do Facebook? I think you should. But I think we're moving towards again, new times, new technology, a lot of more people are interested and a lot of people come in with a lot of money. So if people, I own, by the way, Women and Weapons, I have one of their NFTs. They don't really give any utility out. I mean, yeah, they donate to the Malala Fund and it's cool.
Izabela:
And it's like women's project. But other than that, you just own the picture. It's on my phone. Okay, cool. But they have thousands and thousands and thousands of people and I'm gonna reach out to them and I'll be like, let me create a product for you. I will do that. But for those listening, why don't you, why don't you go to Twitter? Find out some coolest projects that have thousands of people talk to that owner and be like, Hey, let me help you. I'm an Amazon seller. Let's do some type of trade. How do I connect with your community? How do I support you? Don't ask first first offer value.
Kevin King:
So you're saying, I'm just gonna make a hypothetical example here. So you're saying there might be an NFT project out there that's 10,000 pictures of cats in different poses and wearing sunglasses and holding your umbrella and all kinds of crazy stuff. If you went to that community of these are obviously cat lovers who are proud to have a cat and have a cat as their PFP, their profile picture on Instagram. You know, Instagram just allowed you to put NFTs as your profile picture or Twitter and Instagram, both, you know, they're moving into this, you go to that community. These are people that who knows what they spent. But if you look there's something called the floor price, which is the minimum that these NFTs are selling for. So people that get in on the first round might have gotten it cheaper, but one of these communities might have a floor price right now of 4 ETH let's say, and 4 ETH, and depends on when you're listening to this, the value of ETH.
Kevin King:
But right now it's, it's somewhere around 1300 at the time of this recording. So 4 ETH is four times 1300, $5,200 is the minimum to get into actually have and say, that picture is mine to own one of these. And that's a badge of honor. Do you think that someone and people are banging that, you know, there's sites out there like NFT and open season and other ones where you can see exactly it's fully transparent. Who's buying what I can see, what Isabel, I know exactly what she owns. I can go right now on, onto the internet and I can look and see exactly every NFT she owns. Every transaction she's done is fully transparent, but I could go to these people and say, look, I have a cat scratching stand or a new cat treat or whatever. These are cat passionate people that are spending money.
Kevin King:
They're not just 10,000 people in a Facebook group talking about cats. There's a big difference between spending money to show that you're a cat person and just loving cats. And especially when you're spending that kind of money, if you tie those two together, just imagine what you can do and whether that's using someone else's community, or if it's your own community that you build, that's passionate around your brand. It's gonna be huge. So I hope that you either come to the Billion Dollar Seller Summit or Sell and Scale or both and listen to it, we're both gonna be talking about this in more detail at both of those, with examples. And it'll make more sense to somebody there just scratching your head right now going I just don't get it. This is just sounds like a bunch of hype to me.
Izabela:
I wanna mention something a little bit. So there is a cats project and maybe this is what you're referring to. Cool Cats.
Kevin King:
Yeah, I think so. Yeah.
Izabela:
Okay. So Cool Cats right now, by the way, guys, go to opensea.io and type in Cool Cats NFT. And just so you know what we're talking about. So right now the floor price is–
Kevin King:
I think it's opensea.io.
Izabela:
Oh, sorry. opensea.io. The floor price is 4 ETH just like you said, 4.05, meaning, you know, again, 2, 4, 6, 8, 8 grand right now. Right? If it's no, it's not 2008. It's what, 1.2 now.
Kevin King:
Yeah. It's around 12, 1300 right now. Yeah.
Izabela:
Yeah. So like 4,500. But if you look at what it has been treated 109,000 ETH. So times that by, you know, 1.2, but anyway, this, I mean probably when they mint it out, it was, it was a lot more, I mean, all of these in two bad, we, we're not doing this on video cuz I would show you, but they're like amazing. I mean, they're going for such high prices and they don't really offer that much, you know, besides being cool that you own it. But imagine going to somebody like that, like you said, and say, look, I got this cat product. I wanna offer to your top tier to the whales, right? The holders. I wanna offer them. I don't know, six months supply of free cat food. Imagine when those people start telling everyone, now everybody's else is gonna one in, but now not only that, but your product, your brand is tied in with this Cool Cats project, right? This NFT project that has thousands and thousands of people that you already know, they spend hundreds of thousands of dollars at this point, if not millions, and now your product is seen just as good or part of that community, your product is gonna sell out. Like you're not gonna have enough.
Kevin King:
In some of these projects, they're looking for reasons to get people in. So you, a lot of you have heard of subscription boxes where you get something every month, but a lot of these projects as part of their utility, they're, it's called IRL in real life is the abbreviation. They need something to give people in real life, not just digital. So a lot of times maybe this cat project, you know, they'll say if you hit a certain tier or you mint out and you, you, you know, some projects you can actually combine NFTs together to make another one. Like Manny's project Manny's project. Actually, you buy in, there's 10,000Bulls originally. And after the, after the 30th day, you're actually able to take those Bulls. And if you have matching Bulls from a certain guilds, you can actually pair those together and create a teenager Bull out of thin air, which could be, you basically get it for free, which could be who knows, worth what kind of money.
Kevin King:
And these projects could say, you know, when you make a, for example, if you make a teenager cat in this other cat thing, you automatically get this as part of that, you get this, this package in the mail of all these cat treats and your, your product could be one of those cat treats, you know, are in that box where people are either getting it free or they're paying for it, or it's sampling. Get you out there. There's so much you can do with this. And these are passionate communities that are, it's just we could talk for hours on this. Just we get excited about,
Izabela:
I know, I love it. I could literally for hours, I, I love this, but you see Kevin, we see the opportunity. It's like this cool cats project. They don't have any products by the way, they had a, a pop up what do you call it? Like installation? I don't know if you got to go. I went, so they gave me a bracelet. As I walked in, everything branded you walk in, they give you the name. You go through this like little, not obstacles, but little games for you to acquire points. And then you go through all the games and then those points they gave you swag for. So instead of just giving you the free swag at the door, and then you rush out, you need at least an hour or two to spend there. What does that mean? Social media, boom, pictures, videos. They created this whole thing. They wanted you to go through the course, have some fun, but also win those points for you to get the swag back, which was so clever. But I don't think they have an actual product themselves. They had all this like free swag, like bottles and hats, and you know, your regular merch, but imagine a cool cat project creating an actual brand where instead of going to Disney store, you go to the cool cat store. This is what you can create in this space. And people are creating it.
Kevin King:
And these are collectors my background. You may not know this Izabela, but from 1991, until 2000 early two thousand, I was big into selling collectibles, like baseball cards and collectibles. All the comic books shops. We were dealing with diamond comics and capital distribution. And we were like everywhere in all the comic books. So I understand this collector mentality, and that's what you have a lot here. But one of the things that we're looking at doing, you know, people are going in there doing like the Goblins when some of those were free, you get 'em for free into your account. And then there's others where you actually have to pay for 'em. But one of the things that we're gonna be doing, and I may let the cat outta the bag here a little bit is where we're gonna say, if you go buy our product on let's take this cat example.
Kevin King:
You go buy our, I don't know our cat scratching pad on Amazon. Yeah. When you buy it on Amazon, there's gonna be an NFC code, not a QR code, but an NFC code. That's that's tied to it's unique on each one of these products, almost like a transparency code. You scan that and you're taking notes. Aren't you? I'm just kidding. She is, she's writing down notes right now. She's got, can't see it. She's gotta out. She's like Kevin saying something. I gotta write this down as a note. So I don't forget.
Izabela:
Listen, Kevin, I don't waste time. I'm like "NFC code." "What's a NFC code?" Listen, I'm very humble. Kevin, if I don't know any, if I don't know something, I'll be the first to know. I definitely took notes and I hope you guys–
Kevin King:
But I didn't finish yet. So we're gonna put an NFC code on there and we're gonna tell people, instead of going to, to our website to actually mint out or whatever and pay, you know, whatever, a hundred dollars on ETH or something like that, go buy this product on go search for this keyword and buy it on Amazon or go search, find this on Amazon and buy the product. When you get the product scan, this NFC code, which is almost like a unique serial number. So we know exactly what product they have and that's gonna automatically airdrop NFT into their wallet for free. That's the only way to get the NFT and it's gonna airdrop it into their wallet for free. And then we're gonna do some stuff who knows where that'll go, but those NFTs may become value and they may be worth like you just said, this cat one's 4 ETH.
Kevin King:
So just by buying our product on Amazon, who knows where it could go, it may be nothing. But that may turn into, if there's a limited number of these, you know, if we only sell 5,000 of our product, you know, not everybody's gonna do this, but only a certain number of 'em like 400, 500, a thousand people do it. Let's say because there is a technical hurdle right now with NFTs that a lot of people may have trouble getting over. This's gonna become easier and easier, but there is a technical hurdle and that becomes other people that want that product will maybe pay you 1, 2, 3 ETH, and may. It may be worth just because you bought our product. You might just made five grand when you sell that. Who knows where it could go. There's so much you can do with this. That's just one little tiny example of what you can do.
Izabela:
Now it's brilliant. I mean, what can I say? That's insane. That's brilliant. I love it.
Kevin King:
Yeah. So there's so much, and this is some of what I'm maybe sharing. That's just one little, when you see the whole presentation, I think people are gonna be like "holy cow". But the way I see it is this community is a, there's a lot of strong business people in this community. A lot of entrepreneurs, they know how to execute. They know how to launch products. They know how to juggle 10 different things in the air and learn how to do supply chain, how to do, launching, how to do product research, how to do all this stuff. The NFT space is Virgin territory right now. There's a lot of people getting into it. There's a lot of hype, but there's a lot of people that, that just don't have that background that, you know, I just saw it at this 15,000 people at the NFT, New York, a lot of people that just don't know. And what they don't know is our advantage. And as sellers and as product sellers, why not have increase your revenue strings and have this flywheel that can just be a rocket ship it's it's gonna be incredible.
Izabela:
And who knows? Maybe they'll get ideas for something else, you know? And that's what I love being around other people like artists, like I've never been around artists. I'm like, they ask me all the time, are you an artist? I'm like, "yes, I'm an artist." It's something. But you get to meet all kinds of different people. I mean, people through, from all over the world who attend this, you, you meet bankers, you meet VC people, you meet musicians, rappers, you see it's like the whole world is combined and they all came to this place for one thing. And one thing only, and another thing, then I'll finish with this. I noticed Kevin people don't ask you, what do you do outside of NFT space? I've never ever been in a community or any type of work or anywhere in my life where people didn't ask me what I do, because they know I'm there for NFT.
Kevin King:
Yeah. That's true.
Izabela:
Like it's so crazy. Very, very different than anything I've experienced in any e-commerce conferences or business seminars, whatever it was. I've never had anybody not ask me what I do.
Kevin King:
That's true. I didn't have that either. That's interesting.
Izabela:
Right. It's like, okay, cool.
Kevin King:
Well, I know we've talked about this for a while and it's pretty exciting. We both get pretty passionate about it. And I hope that this is opened a few eyes, a few people there may be some people rolling their eyes like, oh my gosh, this just sounds like some crazy stuff, but there's gonna be an ups and downs in this. There's gonna be some things that don't work and some things that do, but I'm a firm believer. I've done my homework as has Izabela we've, we've gone out there. We've talked to the people. We've, we've made our mistakes in it we've we've learned. And we just see the marriage between Amazon and this, this new Web3.0 as something that could be revolutionary and could change a lot of your lives and just blow your businesses up, like crazy. So hopefully you've gotten something from this episode, Izabela, I wanna say, thanks for coming on and, and sharing it's been, it's been awesome.
Izabela:
Thank you so much. And for those listening, you know, you can always reach out to me or Kevin or anybody else. You can find me on Facebook, Izabela Hamilton, you can email me, at [email protected], RankBell.com and nftomic.io. I don't know. You can find me anywhere.
Kevin King:
We'll see you next in August, and I'll see you again in September.
Izabela:
Let's go, baby.
Kevin King:
Let's do it. Let's go. As you can tell Izabela and I are both pretty passionate about this new way to build communities and launch products on Amazon. We can't wait to share more with you in detail, whether you're coming to the Billion Dollar Seller Summit in August, sponsored by Helium 10, or to Helium 10's Sell and Scale event in Las Vegas in September, you can go to sellandscalesummit.com and find out more about that. We're super excited to be sharing stuff there with you. So hopefully you'll be able to make one or both of those events. And this week, I just wanna leave you with the final words of wisdom. The final golden nugget, "procrastination is the assassination of your destination." "Procrastination is the assassination of your destination." Looking forward to talking with you again next week, take care.
---
Enjoy this episode? Be sure to check out our previous episodes for even more content to propel you to Amazon FBA Seller success! And don't forget to "Like" our Facebook page and subscribe to the podcast on iTunes, Spotify, or wherever you listen to our podcast.

Want to absolutely start crushing it on eCommerce and make more money? Follow these steps for helpful resources to get started: