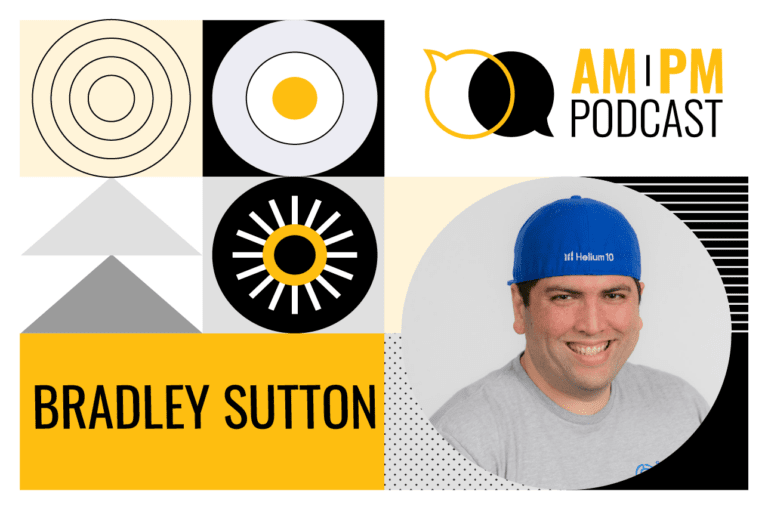 #323 – Fireside Chat With Bradley Sutton: Software, Health, & How To Crush It In 2023
In episode 323 of the AM/PM Podcast, Kevin and Bradley discuss:
02:00 – How Bradley Sutton Got Started In Helium 10
04:50 – Those Were The Glory Days Of Launching Amazon Products
06:50 – Bradley's Biggest Pet Peeves And Meeting Manny Coats
08:30 – How Was It Like Working In Helium 10 In The Early Days
10:40 – Growing From 10-15 People To 300 Employees
11:20 – Where Is The E-commerce Software Industry Headed?
14:00 – Why Was Helium 10 Developed In The First Place
16:40 – A Huge Controversy In The Amazon Software Space
19:20 – Developing Cutting-Edge Tools From Amazon Sellers
21:15 – The Perks Of Being A Helium 10 Elite Member
23:25 – The Power Of Helium 10 Sales Heat Maps Tool
25:20 – Bradley's Helium 10 Basketball Court
26:20 – How The Serious Sellers Podcast Got Started
29:10 – How Kevin Got Called To Host This Podcast
31:40 – Bradley's Health Scare And Focusing On Physical Health This 2023
38:40 – Talking About Bradley's Travel Hacks
45:30 – The "Freedom Ticket" Shirt At The World Cup Finals
47:10 – Freedom Ticket, Mexican Food, And Covid Story By Kevin
50:20 – Talking About Kevin's Recent Trip To Qatar And Dubai
51:40 – Bradley's Experiments And Passion To Understand The Game
53:40 – How Do Amazon's New Data Points Affect Helium 10?
55:20 – What Is Helium 10 Up To This 2023?
58:50 – Using Artificial Intelligence In The E-commerce Industry
1:02:00 – Make Sure To Listen To The Serious Sellers Podcast
1:02:30 – This Week's Golden Nugget Tip
Transcript
Kevin King:
Welcome to episode 323 of the AM/PM Podcast. In this episode, my guest is none other than Bradley Sutton. Bradley and I talk about his origin story with Helium 10, where Helium ten's going, what we think the industry's going as far as software and sellers, plus a lot of other cool little stories and tidbits. Hope you enjoy this episode.
Kevin King:
Welcome to the first episode of the AM/PM Podcastt for 2023. I wanted to make this first episode epic. So I have a legend in the Amazon space here today. This is someone who doesn't let anything get in his way. Doesn't matter that there's only 24 hours in a day that ain't gonna stop him. Doesn't matter what seller support says, that ain't gonna stop him. Even the grim reaper can't stop him. I mean, this guy is a legend. He's number 10 in your playbook, but number one in your hearts, Bradley Sutton, welcome to the AM/PM Podcast. All right, what an intro. Thanks for having me here. Tables are turned. Now you don't do too many podcasts, do you? You're more the the guy doing the interrogations rather than the guy being interrogated.
Bradley Sutton:
Right. As Michael Scott from the office would say, how the turn tables.
Kevin King:
How the turn tables. So, I mean, a lot of people know you from the Serious Sellers Podcast as the face of Helium 10. You do a lot of the webinars, you're the guy that's constantly out there, you're like the symbol. You're like Mobile, the oil company had the Pegasus, you're like the Pegasus of Helium 10. But a lot of people don't know the backstory about how you actually got involved with Helium 10. I remember back around 2017, 2018, somewhere around in there Manny was, he was doing the the AM/PM Podcast, this exact podcast. He was doing all the webinars. He was out there and, and they were growing so fast. They said, "Hey I gotta step back because if I'm the guy, as the owner that's tied is the face of this, it's gonna make it harder to sell."
Kevin King:
So I remember him saying, Hey, we need to find a guy that can take over some of my role and kind of be the face. And we need a guy and we need a girl. And the girl took a little bit longer to find. It was a little bit harder. But you became that guy and you were pretty instrumental actually in actually helping Helium 10. A lot of people don't realize this, some people think you're the owner of Helium 10. If you go to Pakistan I remember, in some of the Facebook groups over there, they're like, who's Bradley? Said, oh, he's the owner, owner of Helium 10. some people think you might but that's not the case. You were just doing your own thing. And then I think Manny met you at Orlando at a Seller Con or something like that. Tell us that story about how you actually got involved with Helium 10.
Bradley Sutton:
Well, how I got started actually using even Helium 10, like when I first got into the Amazon world, I hadn't even heard of Helium 10. I wasn't using tools in the beginning. I didn't even know about Jungle Scout or any of that stuff. And, and then I started using some random tools that are now defunct. I forgot what it was called, but I remember it was a tool I would use for keyword tracking. The reason I liked them is because they had this feature where you could like, find influencers on YouTube or something weird and unique like that. So I was like, oh, this is pretty cool. But then it just really suck. Like, like it was the worst software in history. So I actually just recently traced my Helium 10 journey. I found a post-it was by a guy, you might know him.
Bradley Sutton:
I think he might have been an elite member at one time. Mitul Patel. It was previously called like ZonBlast, or Zon Squad, what was the name of it. And I had put a post up saying, Hey, I'm looking for some new software because like, this one I'm using is crap. And then he replied to me, Hey, you should check out Helium 10. It is actually funny cuz I didn't even realize it was him. And now he's been on the Serious Sellers podcast a couple times. I've known him for years now. But I traced my Helium 10 journey back to that very post where I was like, okay.
Kevin King:
About 2016 or so?
Bradley Sutton:
Yeah, it was about 2016, or maybe early 2017, around there. And so, yeah, after that I was just like a regular user. I was somebody who was working as a consultant for Amazon Sellers. I wasn't doing my own. I didn't have my own products, but, but I was launching like 20, 30 products a week at one time. Just, I was just going crazy with ZonBlast. Back in those days, that was my specialty. Like wasn't PC or product research, it was just all about launching in keyword research and
Kevin King:
Explain what ZonBlast is for those that haven't been selling as old school as we are.
Bradley Sutton:
Yeah. So ZonBlast was this service where you used like two step URLs and different kinds of URLs to kind of like mimic searches. And then you would pay them say, "Hey, I need like X number of orders per day for this many days for this keyword." And it just brooked you to page one. And in those days it was not against Amazon terms of service. And so at one point I was like one of their biggest customers or one of their biggest clients. So yeah it was a great service
Kevin King:
And that it was ZonBlast and what was it? Viral Launch. That's how they originally started. They wanted software. They were doing that. I think I left a review and there was a whole bunch of them. And that's how you actually like 20 15, 20 16. That's how you launched a product, is you just went to them and they would charge like 500 to a thousand bucks, basically. And they had a list of people on a Facebook group or on a mailing list and they would go out to 'em and say, Hey, we got this new spatula know we need go buy it. And you could do like 99% off or even free in a lot of cases. And then they could actually write reviews come back and write a review off of this free item. As long as I put a little disclaimer in there.
Bradley Sutton:
Yep, yep. So it was great those were the glory days like for launching where it was just so easy you could do it. I could just do it in my sleep almost. I just became an expert at it. And then that was what I kind of started getting known for in the Facebook groups because nowadays people in Facebook groups, it's funny, like, I don't know what you would call it, but it's like not really subtweets cuz it's not Twitter, but people who post in Facebook groups now, like you can complete, like they have a hidden agenda. They're just trying to get clients or get you to reply so they can slide into your DMs and offer their services. But in those days, I was just like so passionate about it.
Bradley Sutton:
Like, I would do posts where I would just tell people what's going on. And I was not looking for clients at all. Like my client, I never once signed up somebody from Facebook, but I was in the Helium 10 members' Facebook group and the FBA High Rollers. And then I would love to argue like when people are wrong, like that kind of stuff has always bothered me even since before I worked at Helium 10, where, where people are misleading other people. That's just one of my pet peeves. Like, like if you're gonna do something wrong, keep it to yourself. like why are you trying to like, promote wrong tactics or say that things are working and they don't, or the opposite, you know? So when I would see that, I would go, when I would reply and I would put all these graphs and like write these log novels and like, why is this person was an idiot?
Bradley Sutton:
And stuff like that, what they were doing. And, and I guess after, after a while Manny and Gui founders of Helium 10, they are like, who is this guy? Who's this guy who keeps like defending Helium 10 and starting these long arguments and stuff. He seems like interesting. And so yeah, like I had met Manny. He didn't know that was me. it was funny actually, the first time I saw Manny in person was he was with you just walking around there. I won't remember I won't forget it in that Seller Con convention and then you guys were like recording a mobile podcast or something. I was like, well this is so cool. Look at these celebrities here. This is so cool.
Bradley Sutton:
And I just met him because he was from the same. He at one time I found out he had lived in the same city that I lived in, which is some random city San Marcos like nobody has ever heard of San Marcos. They don't of San Diego, you know. And so I just said, "oh, hi, I live in San Marcos." But then later on he actually DMed me. He's like, Hey I'd like to to talk to you, me, and the team, just because I think it's cool what you're doing in the Facebook groups. And yeah, I went up there and I didn't realize it was an interview for a job <laugh>. Cause I wasn't looking for a job. And yeah, they hired me then and there.
Kevin King:
So what were you employed, like number 12 or 15 or something like that? Or do you remember?
Bradley Sutton:
Something like that. Yeah, like there was only like 10 of us when I got there in the little WeWork. You remember that place? Yeah.
Kevin King:
They had one and they outgrew it really quick and they upgraded to another one and then outgrew that. But yeah, I remember it's crowded in there.
Bradley Sutton:
Yeah. Yeah. It was so cool. Like when I remember my first day I was like, whoa, this is like working at Google or something. They had these two virtual reality machines of those racecar games. And there's like a beer on tap and I was like, a ping pong table. I'm like, what in the world? This is so cool.
Kevin King:
I mean, that, that was, that was the old days. I mean, helium 10 has changed a lot since then.
Bradley Sutton:
Yeah, it has. I remember the old days, we, we would look at, at kind of like how many people in the Chrome extension the, nobody publishes like how many subscribers even Helium 10 doesn't really publish, publish that kind of information, like how many subscribers we have. Everybody keeps that proprietary, right?
Kevin King:
You mean paying subscribers?
Bradley Sutton:
Yeah. Yeah. But in Google Chrome Store, you can actually see like, like, hey I think the way it works is like how many people have actually used the Chrome extension in the last 60 days or whatever their formula is. The number that you see in the Chrome extension in the Google Chrome store is how many active members are, whether they're paying or not for a certain tool that has a Chrome extension. And so I remember when I first got to the company, it was like, number one was Jungle Scout. It was like 120,000 or something like that. And then number two was Viral Launch. They had like 70,000. And then we were just kind, kind of coming up, it was like 50,000 when I started. And then we were like, when we passed viral Launch, we were like, oh man, this is, so, like, it's a big milestone, and then we caught Jungle Scout was like a momentous occasion since they were on the scene way, way before us. And then now it's crazy. It's like we're 900,000 and the second place is still I think at like 400,000 or something like that.
Kevin King:
Yeah. And Viral Launch basically doesn't even exist anymore.
Bradley Sutton:
Yeah. Like I used to use Viral Launch too. For those launching things, like I would use ZonBlast for US, and then I would use Viral Launch for like Canada and Europe because ZonBlast didn't, didn't do that. And I remember meeting Casey at like a conference when he was just starting. Then I guess he knew about me because of, you know ZonBlast was their main competitor. And then he was like, trying to get me to come over there and I was like, nah, I'm happy with where I'm at. But then it's like, to see all that he achieved was kind of cool later on.
Kevin King:
So Helium 10, but when you joined, it was about 12-15 people and now it's what, somewhere near 400 people now when you count all the VAs and programmers and everything?
Bradley Sutton:
Yeah, I, I think like we, we kind of consider since our company Assembly, like we, we just kind of look at it overall, like all of our different companies, and I forgot what the number is like 600 or something like that, or 700. But if you were just to like separate out Helium 10, it's about like 300 I would say.
Kevin King:
That's good. What do you think this space is going on? I mean, with the software companies, there's so back in 2016, like you said, or even before that, there's just a handful of tools now it seems like every day there's some new tool either specialize in something or tries to copy somebody else. There are so many tools. Helium tends the dominant tool out there. And there's still Jungle Scout, but you don't hear a whole lot from Jungle Scout anymore. I mean, I'm on their email list and it's crickets a lot of times. I mean, Helium 10's still extremely active. But where do you think you got Assembly that's buying companies they bought Helium 10, that was their first one they assembly was formed to buy Helium 10 and then they've bought PPC and several others. Where do you think this software industry is going? You had these, all these aggregators that were buying up Amazon business, and now you got a few people in the software space trying to buy it up. Where do you think it's going from a software point of view for the Amazon space rather than a seller's point of view?
Bradley Sutton:
It's kind of hard to say because like, things are not for, for a while. Like, nobody was doing anything in this space like outside of Helium 10. Like then that's why we were able to overtake everybody pretty fast. Like nobody was adding tools or adding features. It was kind of dormant. It was almost as if we didn't have competition. And I kind of from a business standpoint, it's kind of cool, like, oh wow we can dominate the market. But from I remember the early days, it was like the space race like everybody be watching each other. Like, oh man, jungle Scout just launched this. And like, oh man, we gotta catch up to this.
Bradley Sutton:
And then I would hear them say like, oh man, look at Helum 10 just launched. We gotta do it. It was like, it was kinda like the, the '60s space race us versus Russia where everybody's trying to one up each other. And then for the longest time, like, like nobody really has been doing too much innovation. on a big scale. Like it was always gonna be smaller tools that, that kind of do cool stuff. I was looking at one the other day that was pretty cool about Brand Analytics that uses Brand Analytics and things, and, and those are always cool. But a lot of the bigger companies that are they've been kind of dormant for a while. So like, I wanna, I, I'm assuming I never like to assume, but in 2023, we're gonna see where this direction is.
Bradley Sutton:
You know, a lot of the smaller companies were bought up by bigger companies. And then maybe I'm just assuming that this year is we're gonna start seeing the direction that they're gonna go. Like, are they gonna be innovating on, on a certain level and what will that be? And then who knows the fun days of before when we're trying to race to the top may maybe those days will be back, but, but yeah, I think it's great to see smaller companies just start up with like one or two or three people, kind of like Helium 10 did and, and see what they do. And it'll just be interesting to watch where the space goes.
Kevin King:
I mean, Manny started Helium 10 and Gui was his partner in gaming business, and that's how they, they knew each other and he brought him over. But it was really Manny who decided to actually sell on Amazon. And he developed some, because he had a software background and some guys that could do that for him. He started developing like Scribbles and Frankenstein and some stuff for himself. And then he decided, Hey, we can actually take this and maybe actually put this out there and actually sell it. Because I remember Manny, I was with him in like 2015-2016. I remember when he hit a million dollars in sales as a seller. And we sell, he was selling little air diffusers and like, he had one of the top selling like diffusers out there.
Kevin King:
He had some socks that were like with wine sayings on, on it if you can see this feed me wine or whatever those little things were. And a few other products that he was doing well. But I remember when he hit a million dollars in sales as a seller, but as a seller, he was developing Helium 10 for what he needed as a seller. He was like the guy that was in there, and he's like, man, if I only had this kind of tool, I could do my keyword research better, or I could save me time on this. And that's where a lot of these smaller software companies, like you said, they're a lot of times failed sellers. They're sellers that either started out and they, they just couldn't cut it because of either cashflow issues or whatever, and they, they pivot to the software, or they're successful sellers that actually say, Hey, we need a tool that does this.
Kevin King:
Let's develop it. But Helium 10 had that in the beginning when it was a small company. But now as a big company, not too many people actually in Helium 10 actually sell. I mean, you do Carrie does with Walmart and on Amazon. Yeah. And there's a few other people that have dabbled in it, and I know everybody has to go through the freedom ticket that starts there and to learn the basics. But how do you maintain that edge? Because to be innovative, like you said, and to be different, you need to be selling not just a programmer or corporate person. So how does Helium 10 maintain that? Is it, this is just mostly you coming up with the ideas and like, Hey, I need this tool, we need this tool, let's develop this. Or how does that process work?
Bradley Sutton:
Well, that's actually funny. you mentioned that because I was just thinking the other day about this and the industry has kind of changed. Like in the early days, it was actually kind of taboo to have a software company and be a seller. Manny even, like, once he started really getting to Helium 10, like he even transferred everything to, to his brother because there was this–,
Kevin King:
People think they are looking in on other accounts and he's stealing ideas.
Bradley Sutton:
There was this like conception out there that these software companies who, who were started by Amazon sellers, oh, they're just using this as a way to get our data. And there, there actually was, there's like one guy out there who was like doing something crazy, I forgot what the name of that software was, but where he was actually like trying to spy on his, his users and see when they had a coupon and something didn't buy all their inventory up. I don't know if you remember that story.
Kevin King:
Oh, yeah. It was a very rudimentary software. I mean, this guy, the GUI, the graphical user interface sucked. It was like trolley programmer type of software. And yeah, I exactly remember. He's basically, it was a good, it was good from a programming point of view, but he got a little greedy. And what he did, actually, for those of you that may not know the story, is people would set a coupon code to actually do a promotion back when we you're doing the Zonblast or you're doing the Viral Launch, or back in the days when you could sell things for like 99% off or free to get something launched. And he, and some people would forget to set a limit of one per customer. And he put into his software to how to figure that out when people did that.
Kevin King:
And he would go in and wipe them out. So someone would set up a launch and they'd send a thousand units in, they're gonna do a launch of 300 or whatever the number is to get it going. He would find that they forgot to set the max limit for person, and he would just go take all one. When they put the coupon out, he would just go take all 1000 of their units at like 99% off and then go back on the listing and sell 'em. And it was a huge controversy.
Bradley Sutton:
And so he kind of messed it up for everybody else, because now there's this thought out there that, okay, that's what, that's what these companies are doing. They're just gonna try and launch their own products and stuff. And so it was actually like just that we didn't hire like Amazon sellers and things like that. And I was one of the only ones. And basically, cuz I was just starting Project X and things, but now I think it's the opposite. Now people, it's like, wait, if they're not Amazon sellers, like, can we even trust this company that they know what they're doing? And so at Helium 10, we have like a mixture there. There's like actually a lot of us even we have some product managers who sell on Amazon, people on our customer success team and, and a lot of a lot of, we have a tons of Amazon sellers, and then we also formed kind of like advisory boards from all kinds of different cohorts.
Bradley Sutton:
Like, like, hey, we've got a seven figure seller, a eight figure seller, a brand new seller. We've got somebody who does merch by Amazon. We got we got this and we got that. Somebody who sells in Japan and somebody who sells in Germany and different things that we can like hit up in order to try and make sure that we're meeting what the needs of each of these cohorts are. And then especially, we also work very closely with our Helium 10 Elite members that you're one of the main figures on, but we have a lot of touch points with elite members trying to make sure that we're that we're delivering what they need as far as solutions go.
Kevin King:
So when someone has an idea I mean, some of your be the best things have come from other sellers. Like it was Tomer that actually developed the Cerebro tool. I remember Bojan was in Amsterdam, I think 2018, there was an event over in Amsterdam, and Bojan had heard about what tome was doing with spreadsheets in analyzing things. And he sat down with him and said, Hey, we could, we could automate this in entire thing. And that became Cerebro. And so how many other things like that that's now an integral part of Helium 10 that you can recall that came from something like that?
Bradley Sutton:
I mean, almost every single thing we have, you could probably trace it back to some kind of Amazon seller who's using something, whether it's me or whether it's one of our users like Tomer actually has a couple of one the, the Enlisting analyzer, how you, the media comparison button, how you just can like hit a button and then you have a list of 10 ASINs and you immediately see a layout of all of their images. There was another Tomer original right there. But yeah, like we don't just come up like it'd be a waste of money if we were just coming up with stuff that nobody really wanted or cared about. So almost every single thing, maybe it doesn't always go to a, an expert or it doesn't tie back to an expert or influencer like Tomer, but it goes directly to one of our users. Like we have this button on our website where it's like, Hey, suggest your ideas. And, and people give hundreds of those a week and we have a team who are collating those and then compiling to see what are the most things that are wanted. And that's kind of like how we started our Bigger, Better Launch series that we started last year in May, where every month we're just launching different things. Almost all of those come from our users.
Kevin King:
I mean, it's interesting you say that. I mean just last week we were doing a Helium 10 Elite Roundtable. So if you're a Helium 10 Elite member once a month I do a training where we bring on three different experts in different fields. And then I do something called the Seven Ninja Hacks. And that's like a three hour training that we do every, every month. But then we also do weekly round tables where the Helium 10 Elite members, they get on a Zoom call and they just, there's no agenda, there's no training. It's just share ideas and help each other out. And once a month I go on those calls and host one, and we just did one last week actually. And on that call, there's a fellow Rolando Rosas.
Bradley Sutton:
I heard about that. Carrie told me about that.
Kevin King:
He's gonna be on the podcast in a couple of weeks. But he was talking about how he's doing Heat Maps, and it was a very interesting thing with, with his, he sells like office products. And he's like on the weekends after about six o'clock or so on a Friday, nobody's buying our product on the weekends, just the sales go basically to zero, almost. And he said, what's the point of advertising on the weekends? And he actually went back and they analyzed their last year's worth of orders. So they took they did it manually with like, pivot tables and stuff in a spreadsheet. They downloaded the last year's worth of orders. And they, they tracked them and they could see that, okay, these are the days and the times when all of our orders are coming in.
Kevin King:
It was very distinctive. And he is like, we changed our PPC to do dayparting to match exactly when this is, and we've dramatically increased our bottom line, our TACoS, everything as so much better. And when, and then he showed us a little demonstration, shared a screen, and I was like, Carrie was on that call, Carrie Miller. And I was like, this needs to be a, this needs to be incorporated into Helium 10. I asked him, I said, Hey, would you be willing to work? He said, hell yeah, I'll be willing to work with him and put this in there. And I was like, this is like a perfect thing for Elite members. So that's the type of stuff that I think is critical for Helium 10 or any other software company. You need the kind of people that are in the weeds doing this and have come up with an innovative solution. And then you guys being able to do it at scale and like, use all of the data and the systems that you have to just blow the thing up.
Bradley Sutton:
Yeah. Yeah. I heard about that. I wanted to take a look at that. But the Heat Maps that we have originally come from Amazon sellers too. how we have the Sale, the Inventory Heat Maps. Yeah. like when I was doing the launching before a lot that was kind of critical because like you didn't wanna like launch or turn your products active until you had a little bit better distribution across the country. It's kind of convoluted to download the Amazon report to figure out where your inventory's at unless you've memorized all of those DC codes and stuff. And then that was how inventory heat maps were made. So like we can see exactly where our products are.
Bradley Sutton:
Like when a warehouse is on strike or, or burns down or something, which literally these things happen you wanna know how many units did you have at that place? And so that's why we had the Inventory Heat Maps, and then people were like, Hey, it'd be kind of cool to map out our sales, you know like do we have hot pockets in, in the country or by the county where, where people are selling, or cold zones where like, we can't seem to get a sale. So, so the cool thing about a lot of this stuff is that there's not one way to use information. You could take this exact same bit of information, and two people could do completely opposite things. Like if somebody sees that they're heavily selling in a certain city or something, maybe they want to double down and hit that area with Google ads or Facebook ads or something.
Bradley Sutton:
Somebody sees a completely cold area instead of ignoring it, maybe the other person takes that same exact information, say, you know what, I gotta go try and push them ads to this place where I'm not selling anything. So that's one thing I think that's really cool about that we've always done is we, we don't try and tell people, like necessarily, Hey, this is, there's only one way to use this information. It's like, here's information you go do with it what you want. It's really cool to see how people have completely opposite strategies, and both are totally fine.
Kevin King:
Now, you're a Helium 10 die-hard through and through, I mean at your house there and in the San Diego area, you built a basketball court. And tell me about this basketball court and how it relates to Helium 10.
Bradley Sutton:
Yeah, well, it was a lifelong dream for me to always have my own basketball court at my house. Like, I never thought it would happen before, but circumstances came up where I was like, Hey, I can afford this. And so I made a basketball court, but instead of just being a plain one, I put a big old Helium 10 logo right there at Center Court there. So that was I was like cuz it's kind of thanks to Helium 10 that I could afford to do something like that. So I'm like, Hey, I'm gonna give back and show my love. And then whenever people come to play basketball, they're, they're like, Hey, what is this? It gives me a chance to evangelize about what Helium does.
Kevin King:
And you having to pay licensing fees to Helium 10 for use of that logo?
Bradley Sutton:
No, it should be opposite. They should be paying me for like, like crypto.com pays this company or this arena to put their logo at Center Court. But I never charged Helium 10 for that.
Kevin King:
Yeah, I know when Manny and Gui, developed Helium 10 in really early 2016, Manny started selling in 2015, started the podcast as AM/PM Podcast to document his journey. And then when Helium 10 started taking off, he just basically had no time to do the podcast anymore. It was a great to lead generator, great publicity thing, and it stopped. And then for about a year, nobody did the AM/PM Podcast. You came to them and you said, Hey let's bring the podcast back, or, or, how did that, how did that work? And instead of you bringing back AM/PM, you decided let's change it and call it Serious Sellers. Walk me through how that all got started.
Bradley Sutton:
Yeah, so I had never done a podcast before. Like my first ever even being a guest like this on the podcast was right here on just like AM/PM Podcast, I think was the first podcast that you were ever a guest on right? That was also the first time that I was ever a guest.I forgot what number it was since it was like in the one seventies or something. You definitely beat me there. But but they're like, Hey like podcast is that that was what started Helium 10 was the AM/PM Podcast. So we're like, Hey, we wanna, we wanna bring this back. But at the same time, it was kind of like, Manny and Gui were like, we we do want it to be a little bit more Helium 10 related.
Bradley Sutton:
Of course AM/PM Podcast had Helium 10 in it, but it was kind of consider it was more neutral like it wasn't just meant to be pushing Helium 10, and we didn't wanna make a podcast that was just some kind of Helium 10 homer. But at the same time, we, we didn't, we wanted a format where we could make an episode about Helium 10 strategy or something, and people wouldn't be like, ah, this is just a homer why is AM/PM Podcast changing? So we're like let's still sit on AM/PM Podcast for a little bit, but let's start from scratch a brand new one. And then I forgot who it was. It might have been Manny, might have been Gui, but they're thinking of different names and they're like, Hey, let's kind of like make the format of this.
Bradley Sutton:
This is just how it is. And harder hitting and all, all about strategies and, and then hey, like, like you can call people out if you want to. And instead of just trying to be fluffing people up. And then, so let's call it the Serious Sellers Podcast. And then, so it's like, Hey, I'm down with that format. sometimes it's harder for me, I'm a lover, not a fighter so like, I don't wanna always call out people, but sometimes I do. I'm like, somebody, somebody says something strange, and if I catch, I'm like, whoa, whoa, whoa. Wait a minute, buddy. hold on here, let's talk about this for a second. Cause that doesn't sound right. And so that was just kind of how the concept was, was made. It took me a little while to get into a groove or to really get into the theme of it like the first few episodes was I was just kind of feeling out how it was gonna go. But, but I think we're in a good place now.
Kevin King:
So when Bojan came to me and said, Hey, Kevin this was the summer of 2022. What do you think about taking over the AM/PM Podcast? We wanna make it more Amazon-focused it's, it's been more entrepreneurial-focused prior. And we wanna make it more Amazon-focused. we've had quite a few people here in the office submit proposals and stuff to actually host it. But I think you might be good to host it. And I was a little hesitant at first, and I remember I contacted you, I said, this is gonna be competing against Bradley in, in a way you're gonna have two things. And I remember what you said. You said no actually this could be a good thing because look at Jimmy Fallon and Jimmy Kimmel two late night host or Lin and Letterman or whatever, they can have the same guest on, but it's not the same material. And I was like that, that actually makes sense because you're gonna have a different approach and different questions than what I would have. And it's turned out to be true. We've had I think Josh Hadley and Tomer, and it's a couple of others that we've had had Leo and the episodes are completely different. It's interesting to see how that's all worked out.
Bradley Sutton:
Yeah. I really like that. And originally it's very true. Like when we had another host we kind of went in that direction. We're like, Hey, let's not have them be about both about Amazon and, and Walmart. So let, let's keep Serious Sellers Podcast about Amazon, and then let's make the AM/PM Podcast more general entrepreneurship and mental health and, and things like that about non-Amazon subjects so that they're not competing. But then when we had the chance to kind of reboot it, we're like, no, we don't need to do that at all. Like, like the questions that you would ask are gonna be completely different than mine. And you're gonna be able to get different aspects. And our bread and butter is Amazon and Walmart sellers. And so, like, it just makes sense to be able to serve that, that community more by having somebody like yourself do it. And so it's been been great. you've been doing record numbers like almost every month on it. And so, like, it's kind of good that we're like, we don't know how things work out, but then to see it like it work out really well, like. It's kind of like validates our original hypothesis there.
Kevin King:
It's a lot of fun. It's a lot of fun doing it. I enjoy doing it. And it's, it's it seems to be getting a good reaction from a lot of people. Yeah. I like to try to get inside things a little bit differently and ask it questions a little bit differently than what, what normal, like, I don't sugarcoat. It's like, let's get straight to it. Speaking of straight to it, some people don't know, but 2023 you just recently said on a Serious Sellers episode that this is gonna be a year where you're gonna be really focusing on your health. And it's something that a lot of sellers out there tend to neglect. we're, we're busy working. I work out with a trainer three times a week that comes to my house.
Kevin King:
I have a nutritionist that I have a weekly phone call with. She lives in Miami. I get weekly massages. I do a lot of things that really take that stress level off. And you are someone that I remember. You're always working, I mean, you love to travel, so you're always like flying somewhere. I mean, I know you just, for Christmas, you just flew out on the 24th to see your college team, San Jose State play in the Hawaii Bowl, and you flew back on a red eye or something the next morning. I mean, you're always doing these, crazy things. And I remember like at one of the Billion Dollar Seller Summits, you we were at lunch, and here's Bradley over in the corner, curled up taking a power nap because he's just going, going, going, going. But that caught up to you in 2022. And you had a little bit of a scare. A lot of people may not know about that and know about how serious now you're getting regarding your health and stuff. You said you hadn't been to the doctor in like 15 years. Your family has a history of a heart issues and it kind of caught up to you. Can you talk about that a little bit?
Bradley Sutton:
Yeah, so it's like I was one of those guys who it is kind of like you think, oh, this is never gonna happen to me, and I would always stay active. Like I always had kinda like bad eating habits and stuff, but before, like, it didn't matter. I would always say pretty skinny and stuff, because I was also in my spare time, like a Zumba fitness instructor. So I was, I was teaching like 10 classes a week and burning 3000 calories a day teaching those classes. And so I could just like, pretty much eat and drink whatever I wanted and stay pretty, pretty fit. But then I ruptured my Achilles tendon a few years ago playing basketball. And then ever since, it never healed completely. And so I never went back to Zumba.
Bradley Sutton:
That was around the time I started working at Helium 10. And I just was so busy. And so, yeah, I was I haven't been doing the best eating habits. And then I was playing basketball one day with my son. I was like, man, I felt, I felt bad. I was like, all right, let's I need to go to the urgent care. I didn't, it wasn't even like an emergency room. I was just like, this feels weird as something doesn't feel right. And I was like, no, I'm feeling a little bit better. Let me just go take a shower before we go to urgent care. And then I just, I, I don't remember any of this by the way. Like, like it, the whole couple days was a blur.
Bradley Sutton:
And so people just recounted this to me. So I guess I was step into the shower and then I just called for my wife out there like, Hey something's wrong. And then I just collapsed and I was out I was in the shower the Yeah, yeah, yeah. On the, on the ground. I made it out of the shower and the whole thing, like you see in the movies where I start convulsing and foam coming outta my mouth because I stopped breathing completely. And so she did CPR in me for 10 minutes.
Kevin King:
She knew CPR?
Bradley Sutton:
Yeah. She was CPR certified.
Kevin King:
Oh, you're lucky there.
Bradley Sutton:
Yeah. So that pretty much saved, saved me. Cuz you don't have an ambulance right next door so it takes some time to come. And so they continued the CPR, but that whole time I wasn't breathing. I was out they continued CPR, still didn't, I didn't respond, but then when the first defibrillator, they, they hit me, didn't respond. And the second time they hit me with the paddles, that was when I finally like responded and, and started breathing again. And so at the time they didn't know what my state was gonna be after being your, your liver is, is gone, your kidney e everything is dead pretty much when that happens and, or my brain obviously too. So they're like, we're kind of worried what would happen. But yeah, like, it's amazing. I came back and I was mainly myself my memory was a little bit even worse than it was before, but that day I did a webinar. It is so crazy that day. I don't know if it was Bigger, Better launch or something.
Kevin King:
After this happened?
Bradley Sutton:
It was after that.
Kevin King:
From the hospital bed?
Bradley Sutton:
No, no, no, no. I did the webinar before the heart attack. But then I remember like one of the first things like two days later, I was like, oh no, I like, what did they do? like, I was supposed to do a Bigger, Better launch. I was supposed to do this webinar. Like I, I let the company down. Like I wonder if my team like had to redo it for me. But I did it. I had said I had zero memory of it. And like, it was so surreal watching the, I was looking on YouTube to go see who did the webinar. I was in my hospital bed. I was like, who did this web? Who did this webinar? instead of me, was it carrier or was it Shali? And I'm like, it was me. I'm like, holy crap, I don't remember doing this. But yeah, that whole time was, is pretty scary so.
Kevin King:
When you were out, did you see the light or did you see–
Bradley Sutton:
No, I don't remember anything
Kevin King:
Floating above your body. some of the stories that people tell.
Bradley Sutton:
I mean, if I did see anything, like, I don't remember it because like, everything that I know was from what people tell me. And then I just recapped, like looking at my ring video like to see like different things of me coming out.
Kevin King:
Go into the ambulance and stuff
Bradley Sutton:
On the ambulance on the basketball court, like what was happening. So like, I was just like recapping and then, and then I could hear I couldn't see it I don't have ring video in my house, but then I could hear like my family yelling and stuff when I was out from the ring video it is really surreal. And so, like, if that, my message to people out there, it's like, don't wait for that to happen to you because I mean, I don't know what the odds are about surviving something like that extreme, you know? But it's not very good.
Kevin King:
In your heart, right?
Bradley Sutton:
Yeah. Yeah. I have stents now, but you don't want to wait until something like this happens, just like start making healthier choices. So that's why like I was like, you know what 2023 is, is gonna be time to get back into–, it's not like I've been waiting I've still been changing things little here and there like, well, it's difficult.
Kevin King:
It's difficult to change.
Bradley Sutton:
It's difficult. Cause I'm a foodie too you know about me, like I'm kinda like you, when I go to new countries, I look up Michelin restaurants and Yelp Top 100 and try different street foods. I've never been like an alcoholic or something, but I love trying new drinks and stuff like that. And so it's hard when, when you're like that to try and take different steps. But I'm gonna be pushing that more in, in my podcast. I'm gonna be asking like, all the guests. I've already started I had Brandon like last week, and I was asking him like, Hey, what are you guys doing for like, your mental health and your physical health and just recreation? Cause I think those are things that you don't hear too much about on podcasts and webinars and things. You hear about strategies. And we're always gonna have that. But then, like, I want people to understand that, hey, you need to enjoy life as well as entrepreneurs, and you need to take care of your health. And let's talk to what's working for the other people out there.
Kevin King:
So, I mean, as far as travel is one of your big things. You take trips, I mean, you've been to Pakistan a couple of times to talk to the Helium 10 guys and helium 10 audience over there. You are known now for this Maldives strategy. That started with what, like episode 300? Was that the first one in 200?
Bradley Sutton:
200
Kevin King:
And then every 50 or a hundred or something like that, you go back to the Maldive and then you like do some update or some new kind of thing. And you've been there I think four episodes?
Bradley Sutton:
Like four or five. Yeah.
Kevin King:
I mean, Helium 10, you said it's not paying for you to go there. And I got engaged in the Maldives, and the Maldives is beautiful. It's far, I mean, for those of you who don't know, it's in Indian Ocean. And so to get there, you gotta go to like Dubai or Singapore or somewhere like that and then, then head over. But it's a beautiful place. And it's when you land at the airport there, you either take a boat or a sea plane, and all the resorts are out on like their own little remote motus or their own little remote islands. It's a beautiful place, but how are you doing that? I mean, that's not a cheap trip and you're staying in some of the, the best places there, and you're probably actually flying business class. You're a taller guy and you're not gonna be stuck in the back with your knees in your chin. So how, how, how are you doing that? Is that coming from credit card miles that you're earning from the PPC you're running for the businesses that you that you sell? Or how's that, how's that happening?
Bradley Sutton:
Yeah, it's a combination of a lot of things. I love like travel hacking and, and doing things like that. I've been traveling. I haven't been to the number of countries you have. I'm only at like, like something like 40 or 41 or something like that. But I think my, I took my first trip when I was like two months old or something. My parents were, were into traveling, so I've always been in traveling too. And, then, so the, like the last five, 10 years I've really gotten into like travel hacking like points. And so almost all of what I still pay, have to pay for a lot of it, but, but for like upgrading to business class and, and stayed in fancy hotels and stuff, like, almost that's all like a hundred percent free based on using the PPC and then just spending it, like, I would do wholesale a lot too. Not necessarily for the profit, but just for the cash flow to be able to use credit cards to be getting like 20, 30, 40, 50,000 dollars a month worth of credit card points.
Kevin King:
So you're doing wholesale, not so much for the margin. You can, the small margin you can make off of doing the wholesale, but it's more to earn credit cards. Yeah. Miles. And that's basically how you're seeing your profit is through that versus actual dollars?
Bradley Sutton:
Yeah. And then it gives me more sandboxes to play in because I think we sometimes people think Amazon's only about private, but there are tons of really successful wholesale sellers out there. And so I've been able to come up with some, like, different stretches of things that Helium 10 can do based on what I was doing at the wholesale level. Like there's one little tiny tool that almost nobody knows is strictly for wholesale numbers. We developed in partnership with, what was his name? I forgot his name, but he's been on the podcast a few times and it's kind of like–
Kevin King:
The wholesale formula guy?
Bradley Sutton:
Yeah, yeah. Wholesale formula guy. Yeah. If you have a listing and, and there's like three existing people battling for the buy box or they're within 2% of the buy box, it's like estimates your sales if you were to become the next seller on there cuz you can't just say, oh, I'm gonna take over all the sales, you know? You always just kind of match the buy box. And so, because because because I was, I was doing that kind of stuff, I was able to put in practice. So, yeah. But the main point of do of doing wholesale was to keep my credit cards in the tens of thousands of dollars every month so I can get those points.
Kevin King:
So you can continue doing that.
Bradley Sutton:
I kind of stopped it now and so now it's harder.
Kevin King:
What about the Maldives?
Bradley Sutton:
Oh, Maldives. Yeah. Yeah. Like for sure, like, I just did that a few weeks ago. Like, my family really doesn't like going there. They've only gone with me like a couple of times. So usually when I go, it's just by myself.
Kevin King:
They don't like going to the Maldives?
Bradley Sutton:
They don't like flying. Oh, they don't like flying. And then, like you said, that, that's like a 28 hours it's like, it's like 14 hours to Dubai, then you gotta layover for like five hours and it's another 10 hours. And so they, they hate flying and so it's like pulling teeth. And then plus it's expensive. Like, to use points for me it's easy, but then to come up with enough points to cover a family of four, to go, yeah, it's a little bit harder, you know? But, but yeah, like that is my favorite place in the whole wide world, like is the Maldives and, and like, yeah, I don't see myself ever stopping going there.
Kevin King:
If you typically pass through Dubai on the way there, do you stop in Dubai? I know one time you did like a little meetup or something at the airport, but had you actually spent any time in Dubai? I was just there a few weeks ago. I've been there a few times and it's nice. It's a really cool place.
Bradley Sutton:
It is. Like, it's super hot like most times of the year, but I was able to do, I went to the, what was it called? The World Fair whatever that was just in Dubai or international or something or other. So like I went there on my way to the Maldives and I took like a day or two over there. I actually did an Amazon meetup as well. That's actually one of the I know you get recognized at different places. That's one of the few times where I went to something that had nothing to do with Amazon. Like, like if there's a big Amazon conference, of course, I'll run into like Amazon sellers at, at the airport or something cuz they're, they're just all over the place. But that was the first time where I was just in the middle of nowhere and I necessarily didn't get recognized, but I was wearing a Helium 10 shirt and one of the TSA agents at the Dubai airport was like, oh, Helium 10. I just started that. Cuz I don't want to do this my whole life. I'm trying to like learn to, to sell. So that was kind of cool. But yeah, I love Dubai.
Kevin King:
I'm surprised you don't get recognized more. I get recognized outs, obviously, like you said at Amazon event in the airport and stuff around that, you would, but just randomly at the grocery store in San Diego or somewhere, you don't get recognized that much.
Bradley Sutton:
Well, well here's the thing. Like, a lot of people don't realize this about me because of my personality is kind of over the top and they think, think I'm this, this big extrovert and stuff. I'm like the most, one of the most anti-social introverts you ever or know, like, during the pandemic, like I would go weeks without even leaving my house. And so like, I don't, I don't go out, I don't go eat out. I don't really go to the movies like go to church and that's about it. And so like I don't really get out there that much. I'm just like a home, the de pure definition of a homebody. And so like, maybe if I would go out more and go out to eat and, and stuff like that it might happen more. But yeah, since I don't do that, like I guess it never comes up.
Kevin King:
Yeah, I've been recognized like five times just in Austin either at the airport or one time I was at HEB supermarket here and I was just checking out, putting my stuff in the bag and a girl comes and taps me on the shoulder and says, Hey, have you ever heard of Helium 10? I'm like yeah. And then she looks at me and she's like, I knew it. I knew it, I knew it. You're the guy that does the Freedom Ticket on Helium 10. I was like, yeah, that's me. She's like, so nice to meet you.
Bradley Sutton:
Speaking of which, didn't you wear the Freedom Ticket shirt to the World Cup final?
Kevin King:
I actually, yeah, they, when we went to the World Cup final, my wife and I, went over to Qatar and we were at that epic final game. Yeah. Live and in person. And we were trying to get Argentina shirts and cuz she's from Columbia, so she's gonna support the Latin American team. And I was like, no problem. I'll support Argentina too. But we found a she's tiny little girl, so hers is like extra small or small. And she got like the last one on the shelf. And then we spent a half a day going around like to the Adidas store and to like, everywhere in the little souks trying to find me something. And we couldn't find anything. it's just gone. And then I need a bigger size much bigger size. And so I was like, I don't know what I got. The closest thing to Blue that I have, I love it is the shirt I used in the Helium 10. Cuz I got like six of these shirts cuz we did the Helium 10 the Freedom Ticket training. So I was didn't wanna stink cuz we shot that over like five, five days or whatever. So I have all these different shirts.
Bradley Sutton:
If you wear that more often, like going out, I bet you'd get recognized even more because that is legendary.
Kevin King:
Another time I got recognized, I was at a Walmart in Buda, which is a suburb of Austin buying something. And come home and like an hour later I get a text like a Facebook Messenger text message and says Hey, you don't know me, but I think I just saw you at the Walmart in Buda, you're the Helium 10 guy. And I was like, geez man. It's like, can't go anywhere. I mean, if, I gotta be careful not to adjust my underwear or anything. You never know who's watching. But, but yeah speaking of the Freedom ticket too there's a cool little story around that. We've done three full versions of the Freedom Ticket and then we keep it updated.
Kevin King:
So in 2021 right after the Prosper Show was in July. And that was a show where everybody got covid basically. I remember they went to the nightclub. And pretty much everybody there ended up like 40-50 people ended up with Covid. Some, some pretty bad. But right after that, my wife and I came over to Irvine, cuz we were spending several days shooting some updates and stuff on the Freedom Ticket. And I remember you were in there and Shivali was in there. And we were just some, some really long days. And you had a little bit of a cough, maybe a little bit of a fever, and you're starting to get worried because I think you had a big trip to Pakistan or somewhere coming up. Yeah. And so you were like getting Covid tested every day. I had a little bit of sniffles and a little bit of things and, and I was like I think I'll be okay. And then at the end of this, on that Friday when we, we wrapped up, you're like, Hey everybody I wanna take everybody, the crew and everybody out to eat. There's this Mexican restaurant that's like my favorite. I've been going there since I was a child. It's awesome, it's incredible.
Bradley Sutton:
I just ate there yesterday.
Kevin King:
I'm gonna take everybody there. So we go, I don't know, it's 10 of us or something like that. And we're eating. And then after the dinner, I go and my wife and I get back in our car and I was like, baby, that was the worst Mexican food I've ever had in my life. I don't know what the heck Bradley was thinking. He says, this is his favorite place he's been going. This was horrible. And she's like, I was like, was it to you? And she's like I'm not a big fan of Mexican food, so it was okay. I was like, it had no taste. It was bland. She's like, baby, I think you need to go get a Covid test. So the next day I go and find a place and get a PCR test, and sure as heck, I had Covid and I, I lost my sense of smell and everything, so I have to go back to that place now so I can actually taste that. So I can see, there you go. See why you are so high on it. Because after that, that, that visit, I was like, I couldn't taste anything. In Qatar, yeah, I had to wear the, he, I represented Helium 10 in Qatar.
Bradley Sutton:
Well, Messi can thank you for that, for his victory.
Kevin King:
Exactly, exactly. I brought, I brought, I brought the luck. No, that was an amazing game. I don't really have any desire to ever go back to Qatar. I mean, we flew Qatar Airways which is the best business class I've probably been on. it's, well,
Bradley Sutton:
So you got those seats where the closes.
Kevin King:
You have a little door and it's, it's in, in that airline, the service. I mean, they met us at the sidewalk with our bags. They had a special security lane and special first class lounge that you just go straight to, you don't have to go through the regular security or anything. It was top level service. But Qatar is not really a place I have any desire to ever, ever go back to. But Dubai, on the other hand, we went there afterwards and Dubai is I've been there, it'd been about 10 years or so since I've been there, and it's changed a lot. And it's definitely on the list of, to go back to and hang out. I mean, we did a rooftop like the 50th floor rooftop 360 degree Infiniti pool overlooking the palms, which was really cool.
Kevin King:
We went to a butterfly garden which was really, really cool. We went out into the desert and did all the dunes. We did Shia lounge overlooking, they have a version of like the Las Vegas fountains that are in front of the Bellagio, but like 10 times the size. That's really nice. And you can sit there with shisha and smoke some grape or watermelon tobacco and, and watch these fountains. It's really cool. And did a bunch of other stuff. But yeah, Dubai is a definitely a good playground to go to. We had a meal there, I don't know if you saw my post on Facebook you talking about meals earlier, whereas a totally immersive experience it, this place is nine courses, but every course was a different theme and the entire restaurant changed. So there's like a, I think there's 10 of us in the restaurant, but they would completely change the scenes, the walls, the settings. They would grab you by the chair and move you to another part of the room and have something set up there. It was amazing, it was amazing. But yeah, so the next time you pass through going on the way to the Maldives, you guys spend three or four days in Dubai. All
Bradley Sutton:
Right, I'll do that for sure.
Kevin King:
So so you're still selling as well, right? Like you said, you have a little warehouse set up at your house and you're still selling it. And one of the things that you like to do is you like to experiment. And so you were just telling me earlier like you were staying up last night to the wee hours of the morning playing with Brand Analytics and with some of the other tools that Amazon has just doing experiments and like going and buying products on Amazon, seeing how it affects stuff. You really like to get in there under the hood and play around and figure stuff out, right?
Bradley Sutton:
Yeah, it's fun for me. Like, I think in my position, I have to be doing stuff like this. Like I can't stand you and I both can't stand, they, these people who try and come off as gurus or whatever, and they haven't even sold on Amazon in like a couple of years. They don't even know what they heck they're talking about. So like, I've always wanted to keep my knowledge fresh by doing experiments, but then like in the last couple of years, Amazon has come out with so much stuff that I think most of us sellers never would've dreamed Amazon would come out with like, like four years ago, I remember people would pay like $40,000 to get some special reports that Amazon had like that, that was only available sometimes to vendors or just really high level sellers.
Bradley Sutton:
And it would, it would cost 'em like $40,000 a year or something crazy like that. And nowadays, for free, better information is even out just Amazon is just putting it out. And my favorite has always still been Brand Analytics. Amazon's come out with a lot of other stuff like Search Query Performance and opportunity explorer. But Brand Analytics was the one that was like always rock solid. It was, whenever I could just clearly test it out and I could predict what was gonna happen in Brand Analytics, and sure enough, it did this other stuff. It's taken me a little bit more to try and figure out, like, because they're not talking about the same things or the same, it's not the same way to calculate search volume, and it's not the the same way to calculate sales and different things like that. So it's taken me a little bit longer to try and like really lock down what it's about. But this is the kind of stuff that people at Helium 10, they're not asking me to stay up half the night to do this. But I just get started and I can't stop because it's so fun. It's so fun for me to like, just dive, start diving into this stuff.
Kevin King:
How do you think all this, as Amazon's releasing more and more data as they say straight from the horse's mouth, how do you think that's gonna affect tools like Helium 10?
Bradley Sutton:
It's great. like I, I love it because first of all, you can validate more like it's not just, oh, helium 10 says this is the search volume, but it's like, oh, wait, wait a minute. Let me compare this to Brand Analytics. Oh, it's kind of in the same order. Oh, I'll be danged helium 10 had it right. Or so like other, other than that it's just like we believe in our algorithms, but a random person off the street, like how would they know that how, how can they validate that what we're saying is within the realm of possibility without, without this stuff. So the more that Amazon releases, number one, the more people can validate so they can trust the data more.
Bradley Sutton:
And then number two it gives us more things to integrate in the tools. finally, after two years, Amazon made Brand Analytics available in the API so that we can now have it inside of Helium 10. As long as we can detect the customer's brand registered for years we couldn't do that cause it was against Amazon terms of service. And so it not only allows us to validate our own things, but it allows us to give functionality to users that they never had. like my favorite thing is looking at who are the top three clicked or purchased in Brand Analytics, and then check out what their average rank was organic and sponsored for a month. So it's like overlaying Brand Analytics with Helium 10 data, because sometimes you, like, you look at just the organic rank of like one of our coffin shelves, and we're just kind of like shadow ban from Amazon for some strange reason.
Bradley Sutton:
Like, we cannot get past like position 10 or 15 on page one, but we are the number one clicked, or number two in Brand Analytics. And then if you're actually looking at it in Helium 10, with the one click, you can see why it's like, oh, they're the number one sponsored our coffin shelf is the number one sponsored position, but it's number 15. So on this one it's like, Hey, I don't have to be at the top of the page organically to be one of the top. I just gotta make sure I'm at the top sponsored. And so before Amazon made this data available, like you had no idea who was the one who was getting the most clicks or who was getting the most purchases. Even Helium 10 doesn't know that that that data, right? And so like now they just, I think the more Amazon releases it, it makes things better for tool companies like Helium 10 and at the end of the day, it's better for the sellers out there.
Kevin King:
We could probably sit here and talk for hours more. But just to wrap this up what do you think is gonna happen? What, what's coming down the pike in 2023 for both Helium 10? Maybe a sneak of some, some sort of, I know you can't spill all the beans, but a sneak of some cool tool that's coming out, or a couple cool things or direction that's gonna go plus the whole Amazon industry as a whole. What do you think about 2023 is gonna bring for sellers and software?
Bradley Sutton:
Well over Helium 10? one thing that I want to see us do more of and I make fun of sellers I'll say, oh yeah sellers are just so lazy out there. Like, like, like they'll pay 150 bucks for other software that just saves a couple of clicks and, and it's because they're lazy. But like part, part of that serious, part of that's just a jest, but at the end of the day, we're all busy people and we want we wanna save time. Like time is money. And so, like, I think I could see in Helium 10, we're gonna be trying to focus on things that not necessarily is gonna reinvent the wheel of how you look at analytics, but, but how we can, how we can save people time and maybe save people from having to, to hire VAs out there to do a whole bunch of manual stuff where, how can we, I don't want to use the word necessarily, automation I know that's a buzzword, but basically look out for Helium 10 to be coming out with different tools and functions that really just give Amazon sellers more time back without having to take a whole bunch of steps and knowing how to do 75 different filters and aggregate lists and download Excel files and stuff like that.
Bradley Sutton:
As far as Amazon goes, who knows like all of this stuff that they've been doing lately on the advertising side, a lot of it's just completely, nobody could have ever predicted that they would be launching all these different analytics and stuff. I see them doubling down even more, and especially on the advertising side like they're, they're, they're gonna have to keep validating, like making it worthwhile for sellers to put all the money into advertising. And so they're gonna have to give that value back somehow, whether that's through analytics or whether that's through cool other spots like, who knows like Amazon did the prime football and they've obviously got Twitch and all these things. I think you're gonna see more, it might be more commonplace, like outside of just maybe DSP, where, where even regular sellers are gonna have access to start advertising on platforms and mediums that they never had access to before. So I'll look forward to that.
Kevin King:
What do you think AI is, does say Helium 10 have any plans to integrate some of this AI for like list building and testing ChatGPT, next week's episode is all about that. My guest will be talking about how AI can be used in e-commerce. Does Helium 10 have anywhere you, some of this AI like ChatGPT, it can actually write many different versions of your listing, especially if you're not a non-native English speaker, can make a huge difference?
Bradley Sutton:
Yeah, I mean, we, we've been looking at that stuff for even before it was when it was cool. Like, and now, like, I don't think any of us would've predicted how advanced it would be. Like, it's just kind of scary, actually kind of runs with like Terminator or, or something like the, the world that we're moving to. But, but yeah, like where we can incorporate that into, into Helium 10 in the future. Like if it can help Amazon sellers. Absolutely. And just like you said non-native speaker, I mean, even native speakers sometimes we might not be the best with words we're not all natural writers, whether we're native speaker or not. And this like things like the chat G P T and these other things. Like, like they can just, you give them like keywords and they can just come up with something much more eloquent that than you could
Kevin King:
What can analyze, like, reviews you? I mean, I'm using it in conjunction with Xray, downloading all the four and five star reviews, and then doing another one of the one, two, and three star and grabbing those phrases, those most common phrases out. And I'm saying like, if it's the negative phrases, write, write me a description using these phrases, but make sure it's positive so it flips, it does the opposite. So some that's cool if one of the big negative phrases is the handle is hot to the touch and falls off or something. It'll flip that, and in the writing it will say this handle is super strong. You never have to worry about it coming off. You'll never even feel it. It's soft as a baby's bottom or whatever.
Kevin King:
I'm making that up. And then I'd use it for the positive ones too. But it's not perfect and there, there's still some issues with it. But I see that there could be a lot of good stuff around that. And, and that's next week's episode of the AM/PM Podcast is all about that. So make sure you tune in. I think it's gonna blow some people's minds and, and really enlighten them on some of the opportunities and the things that are it's coming down the pike. Regarding, and this is true AI, this there are a lot of software tools, PPC management tools that say they use AI to, to manage your bids. It's not AI, that's just algorithms. That's just marketing speak.
Kevin King:
So you gotta be careful thereon, on, on that. But the true AI is really, really cool. And not just for text, but even for images and doing like, testing on images and, and stuff. But hey, Bradley, I I really appreciate you taking the time today to come on make sure everybody out there, you, you listen to the Serious Sellers podcast, you can find that on your favorite podcasting platform. It comes out three times a week. That's Bradley hosting that. He's got some awesome guests on that. So be sure to check out that and make sure you also always sign up for the Bigger, Better Launch. That's what once a month where Bradley and the team come on. They show you all the latest tools and, and things in Helium 10 and helium 10 Elite as well.
Kevin King:
If you're not a member of Helium 10 Elite, it's closed right now, so you can't get in. But it may open up maybe in March or so, I think I heard you say for, for a short while where you can get in and just keep an eye on that because some of these advanced tools, they either come out first to Helium 10 members and let them play with it months before it goes to everybody who has a membership to Helium 10. Or sometimes there's exclusive tools as well that only Helium 10 members get. Plus you get the training, plus you get the weekly round table sometimes with Bradley, sometimes with Carrie, other members of the team. And then I do it once a month which is really, really valuable. So Bradley, I really appreciate it and best of luck in 2023, and I hope your health stays good and continues to even get better and look forward to seeing you either in Irvine or at the next event or who knows, maybe at another Bulls and Apes little get-together or something. Never know.
Bradley Sutton:
Sounds good. Sounds good. Same to you.
Kevin King:
I hope you enjoyed Bradley and i's little chat there, lots of insight. And look behind the curtain at Helium 10 a little bit. Next week we're gonna have a really cool episode talking about ai, artificial intelligence, and how it's gonna impact e-commerce. So don't miss next week's episode of the AM/PM Podcast. It's gonna be a really good one, hope to see you on that episode. So make sure you hit that subscribe button for both the Serious Sellers Podcast that comes out three times a week. And the AM/PM Podcast, which comes out every Thursday by subscribing. You can make sure you get notified or it can automatically download straight into your favorite podcast player. And before we leave this week, I guess want to leave you with some words of wisdom as Mark Twain once famously said, it's not what you don't know that gets you in trouble. It's what you know that just ain't so, it's not what you know that gets you in trouble. It's what you know that just ain't so. Have a great week and will see you next time on the AM/PM Podcast.
---
Enjoy this episode? Be sure to check out our previous episodes for even more content to propel you to Amazon FBA Seller success! And don't forget to "Like" our Facebook page and subscribe to the podcast on iTunes, Spotify, or wherever you listen to our podcast.

Want to absolutely start crushing it on eCommerce and make more money? Follow these steps for helpful resources to get started: