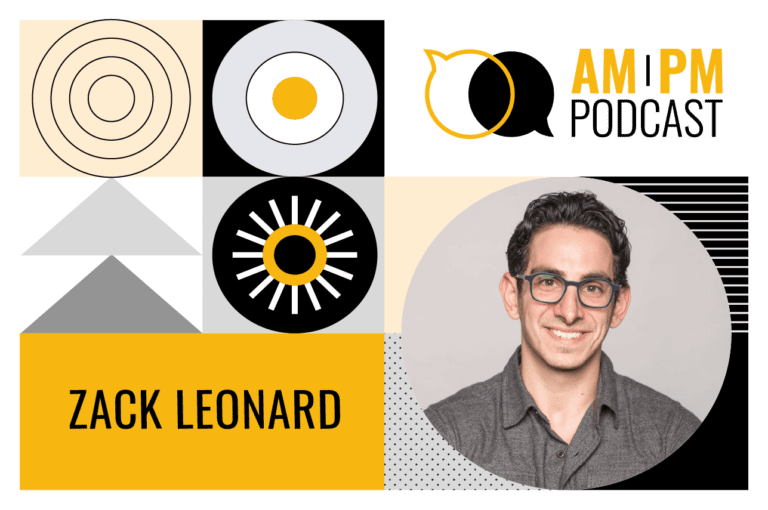 #360 – From Hip Product To Great Brands Zack Leonard's Formula For Better Product Development
In episode 360 of the AM/PM Podcast, Kevin and Zack discuss:
00:00 – Innovative Solutions for Sellers
01:58 – Zack Leonard's Backstory
06:00 – Talking About Austin, Texas
10:42 – What Is Gembah And How Did It Get Started?
13:26 – Instacart's Expansion And Partnerships in Texas
19:26 – Product Development And Manufacturing Partnership
25:03 – Launching Products In The Amazon Marketplace
31:55 – Developing A Premium Massage Gun Product
34:28 – Challenges And Process Of Product Development
43:30 – Streamlining The Product Development Process
46:54 – Patent Protection And Product Innovation
51:57 – Kevin King's Words Of Wisdom
52:16 – The Importance Of Brand Identity
Transcript
Kevin King
Welcome to episode 360 of the AM/PM Podcast. This week, my guest is Zack Leonard. Zack is one of the co-founders of a company called Gemba, and their specialty is helping Sellers bring new products to market, whether that's a brand new idea and complete innovation or Just making incremental innovation on existing products, which is one of the most important things you can be doing now as a third-party seller, especially on Amazon. The days of just going to Alibaba and finding something and sticking your name on it are pretty much over for the most parts, and so Gembah's got some pre innovative ways to actually help sellers do Differentiation, create new ideas, and they have a new marketplace as well. That's pretty cool. Welcome to the AM/PM Podcast is like how you doing man.
Zack
I'm doing good, doing well. It's good to good to be on the show.
Kevin King
It is. I used to see you all the time when you were living in Austin for a while and you recently headed up north to Minneapolis, and so I don't get to see you and go to all these cool restaurants and I don't get to pick your brain on what are the cool speakeasies and what's the latest code word to get into these Underground bars and all that stuff that we used to be able to do.
Zack
I know, I know you're gonna have to be the one who takes me around town next time. Next time I'm back down there so it'll be fun to catch up and in person and hit up all those speakeasies, but you're gonna have to show me which ones with cool ones, to go to this time.
Kevin King
So how did you always know the speakeasies? Like I know, you went to the University of Texas. I'm sorry for that, but I Apologize that someone forced you to to graduate from UT.
Zack
No right. Oh man, it's so hard going to the premier school in Texas. It's really really hard.
Kevin King
The reason I say that for you. Those of you don't know, we always give each other a hard time, because I'm an Aggie from Texas A&M and Texas A&M it's about an hour and a half from Austin, and the University of Texas is in Austin, the capital, and so they're. They're big, they've been big rivals for a long time in sports and in all aspects of life, but it's a. Ut is a good school. We Aggies call it TU, little T, little U. We reverse it. We've got jokes for each other and no it's a friendly rival rivalry but it's the two premier public schools in Texas.
Zack
Yeah, it's like having a little brother who thinks he's bigger than you, but he's not. That's what. That's what made him is.
Kevin King
At least we don't have a healthy rivalry. We don't have a long horn that poops everywhere. You know our dog, our mascots, well-trained.
Zack
Yeah, right, yeah.
Kevin King
Now, it's a big rivalry in football and it used to be on Thanksgiving every year and the two teams would play and it was a big deal like the whole state of Texas. Yeah, you're picking one side of the other and sometimes you have mixed families where the husband's an Aggie and the wife's a long horn and you know it's the shirts or split down the middle or something. It's a lot of fun.
Zack
I don't think I've been to a losing UT and end game though. So the years that I was there was, you know, we had Colt McCoy and went to national championship and stuff, so we didn't really lose. But now that we're back in the SEC, we may actually renew this rivalry that was. That's been missing for like the last, you know, almost decade now. Yeah, yes, 2012.
Kevin King
I went to that game, that very last game they play, played in 2012. I was there in the nosebleed seats, yeah, and you guys kicked a field goal in the last few seconds or something, to win that game. I was like Jesus Christ and so we have to live with that for the last 10 years. So we need it. We need that those matches rekindle and I think they will be with you.
Zack
The move to the SEC next year, in 2024.
Kevin King
So that should be. That should be good.
Zack
But back to your original question of how did I find the speakies.
I mean, yeah, go into UT there, and then I was there, you know, in my I went to Chicago for a couple years and then came back down to Austin just because I loved Austin. And you know, when you're in your early 20s, mid 20s, you kind of try and find the cool spots in town to go and I was, you know, young and and all that stuff so kind of grows on you and then if you, you know, I've always been, always liked, you know, the food seen as well. So you kind of get a mixture of both with the good food and some of the speakies. These are in the bottom or the basements of these good restaurants. So it makes it kind of a nice night. You know, entertain or or bring your girlfriend or fiance or whatever at the time when I was kind of learning this stuff, and then, yeah, just kept going to him and I would, I just really enjoyed it when the one, the sushi bar, the one that the guys that own Plus bar, what not originally in the back of a another Restaurant.
Kevin King
You had to know like the curtains to go through or something like that in the secret word to get back there.
Zack
Yeah, I can't remember which one that was, but there's that. There's one in the back of green light social. There's there's one in the basement of Buenos Aires cafe. There's one that you have to have an app with the password that they give out, you know, to reserve a spot. There's midnight cowboy.
Kevin King
There's a bunch of bunch of stuff down town company.
Zack
Yeah, floppy, just that's the one that you have to know the code, and they change the code every month. So yeah, it's you know. You just got to know the right people and have gone there for long enough to get on those lists and and all that. But yeah, it's, it's. Austin's has no shortage of fun bars and restaurants to go to, that's for sure.
Kevin King
You probably don't miss the traffic, but you probably. Austin has not kept up with its massive growth and popularity on the streets.
Zack
I know it was never meant to be a big city. Right, it was meant to be a train, you know, kind of a transient town where people just kind of drive through. And then all the sudden, you know, I think there was some, there's some studies that come out that like all these things kind of happened, which is why Austin became as big as it is. It's like you the capital there, and then you built the university there, and then the tech scene started to come there, and then it's like okay, it's really business-friendly. So all the big companies started to move there because it was a cool city and then you have yeah, that's all.
Kevin King
Yeah, all the tech. And then you, from entertainment or drawing the younger crowd is the real. MTV's the real world came here and that's right like 20 years ago or something and roughly somewhere around there, and that's kind of what set off this trend of this cool city and it just then X games were here and A whole bunch of other other stuff and just started getting featured everywhere Queer Eye for the straight guy most recently.
Zack
You know that's a popular show on Netflix and yeah, they built an F1, you know F1 and then track music yeah, so it's Southwest and ACL. So they've always kind of been entrenched in like the, the music scene. Like it's really cool because it started off, you know, like like as the music city kind of a little bit more party, but then you start layering on like this more sophistication of you know tech and big companies and analysis, like Such a booming city it's so exciting to be in, you know a place like that, or was excited to be in a place like that, and Definitely you know my business still being based, so I get to go back there, you know, every so often. So it's it's always a good time to go back.
Kevin King
I'm looking out I live downtown, I'm looking out my window right now and there's, like I think I counted a few weeks ago sitting on my balcony. I counted 30 something cranes, 32 cranes. It's the state bird. Yeah, it's a and now it's become a. You know, silicon Valley is the home of all the computers and IT and investment bankers. Austin has become this everything internet, basically I mean the internet marketing, not just Amazon, but the internet marketing scene here and Agency scene and digital marketers based here. You know, joe Grogan moved his whole, whole show here, several others that, Ryan, the Vest, the ask why guy, and there's tons of I mean I get the list goes on and on and on and on People that have moved and made Austin their base.
Zack
Yeah, and I think some of the big exits that have happened, like Trenkite, which you know is a ad tech or media or marketing tech Company, right, like they had a pretty sizable exit of you know, five, ten years ago and so again, I just think there's been a lot of, like you're saying, a lot of cool, cool things have happened and but I've kind of exacerbated the growth of Austin over the last 10 to 15 years.
King
And, like you said, the tax. Texas is very tax friendly and business friendly and I remember when a Manny and Guillermo who founded helium 10 when they did they built that to exit and Before they exited they were looking at they got to get out of California because they're based in California. The company is still based in California, but don't they personally need to get out out of California because the taxes were gonna kill them? And I remember many. It was Like February of 2019 or something and they knew that they're gonna sell at some point that year and there's like a six month window. You got to get out With it.
Yeah, you gotta be somewhere else for at least six months to actually not fall under California law. I don't, I don't know the specifics on it, but something like that. So it was like almost overnight. They're like we don't care about the lease, we'll just pay off the last five months of release and they moved, like within a week, yeah, to Austin and then when they exited in September 2019, it was a huge exit and they told me that it was a multi-million dollar move.
Zack
I said yeah, it was huge. Yeah, I mean, you're going from, you know, California state income tax, which I think is Pretty high actually for that tax bracket, and then you go, you know, to Texas where there's zero state income tax, right yeah. So yeah, that's, that's awesome and he's man, he's stayed right.
Kevin King
Yeah, many in Guillermo, still both here in Austin.
Zack
Yeah, they stay here to see them every week, hang out from time to time and yeah, We'll cut up with him a couple times too, since, since they exited and he seems to be having fun and he's doing that NFT thing the Bulls and apes project is one of the latest projects that's doing pretty well.
Kevin King
So you graduated from UT. What was your degree in?
Zack
finance, Finance. So how?
Kevin King
did you end up in this sourcing stuff? I mean because you, all you for those of you don't know, Zack is a co-founder of Gembah, and that's a company. What does that actually mean? What does Gembah mean?
Zack
Yeah, so it's a. It's a theory, and kaizen Manufacturing, which is Japanese, like they kind of made the whole Kaizen theory with Toyota and a lot of the stuff that they did. They're like pioneers in that space and some of the best in the world. But Gemba is the place on the manufacturing floor where value is created. So people talk about going on Gemba walks. They literally just sit on the manufacturing floor and just watch everything from an operational perspective and try and find ways that they could incrementally improve their operations on the assembly lines and machinery and all that stuff. So you talk a lot about Gemba walks or hear a lot about that and that's what the company is based on. And then in Chinese Gambe is kind of like bottoms up or cheers, so it's kind of a play on both of those words.
Kevin King
Did you come up with that name, or what's that?
Zack
I think it was I can't remember exactly who's me or Stephen but we kind of, you know, put some stuff on the board and Stephen's one of my co-founders and we, you know it's kind of. All those things are like I don't know if you've, you know if you've named your kids or you named something whatever, like kind of have to let it settle and see if it sticks or whatever. And then you know, when you keep coming back to it, you're like all right, there's some good energy here and you stick with it. But when we started the company, you know we were meeting like every month you sign those incorporation docs just to like make sure everything's official. And then we started meeting every week or every month and turns into week and it turns into every day and it's not, you know. Then you're like all right, something's really here.
But my route to get there was a little bit different. I went straight from school into the consulting world. I worked at KPMG for a few years doing credit risk operations as a consulting for banks and mortgage originators and you know, I think I learned a lot from KPMG and how to really organize chaos, like you kind of get thrown into projects as a 22 year old and learned a lot of like good Excel and VBA and modeling skills and all that, but it just didn't excite me enough Like it's. You know there was a path that I could take to go down there, but it didn't. And then so you know, my older brother was in the startup scene and you know he was early on at Groupon and they exited it. You know he was there from like early on until they exited. So I saw what, you know, getting in that space could do, just from an excitement level, but also from a personal wealth level, like I had no exposure to it. And so, you know, he got done telling me like you got to get, you got to try this out, you got to try this out. So I did, and I got lucky.
The first one I went to was Instacart, and so it was the same day logistics company, so kind of the last mile of logistics, but still, you know, getting into the starting into the supply chain. But it was just, you know, the last mile of it. And I got lucky because I was, you know, early on there too. I don't know why, but my brother and I seemed to pick the winners in terms of that space. But yeah, so you know I started off as a you know, managing the Austin market and you know we expanded into Dallas, san Antonio and Houston. While I was there, helped foster partnerships with Whole Foods, the whole build out that they have at the 6th street with the freezer outside, like we did. That we brought, you know, austin to profitability and then they started replicating that throughout the rest of you know some of the cities that they could function the same way that Austin did, like New York obviously has different challenges than Austin from a driver capacity perspective, and all that. So it's just the cities that looked similar and dynamic to Austin.
Kevin King
They could replicate those models with and so basically Instacart for those that don't know they make partnerships with local stores. A lot of times it's a grocery store. It doesn't have to be a grocery store, but a lot of times it's grocery stores and you basically the grocery stores mark everything up. So a bottle of ketchup, if you go to the store, it might be, I don't know, $2.69. But on Instacart it's $3.89 or something. And then there's a little bit of a service fee and they go and basically shop it for you. So you go online, you say this is what you want and then within there's different delivery parameters. Now it's like within a couple of hours Back then it might have been a little bit different and they actually go and they buy it from the local grocery store, the local target or whatever it may be, and they bring it to you.
That's basically what for those of you who don't know what Instacart is.
Zack
Yeah, definitely Funny enough. But some of the stores they don't mark up Like Whole Foods they didn't, but that was back in the day. I don't even know if Whole Foods is on their platform or anymore because Amazon bought Whole Foods. It's basically the foundation of what Instacart happened, yeah. So it's funny, all the buildup that we did ended in Amazon and to bind that out and Instacart kind of was like all right, well, whatever. But then after that worked for a company locally in Austin it was a national company but it was based in Austin called Drop Off. Same thing, same day, logistics, ran strategy for that company.
And then I met Steven, one of my co-founders. More personally, he was a roommate with one of my friends growing up at where he went to school at Kansas. That's what kind of loosely knew each other. But then when we moved to Austin or when I moved to Austin, moved back to Austin I met him. He had a product company that went on Shark Tank and they got a deal from, I think, Robert and Lori, and so he kind of opened my eyes into the manufacturing world. But he would always talk about the challenges of what it was like to be a small business in manufacturing and he would go over there so many times and he would visit a lot of factories and they weren't being transparent. And then he was also talking to our CEO, Henrik at the time, or other co-founder, about the same thing and Henrik was in the promo space, promotional product space, and he had the same issues. He was just like I always go to China and go to these factories and I would always ask where does this come from? And they were like they wouldn't have any answers. And so this was six years ago, five, six years ago and out of that, like I said, started meeting monthly, then weekly, then kind of every day, and the basis of what Gembah was was to help give transparency to supply chain. So giving you boots on the ground and having people show up at your factory, not in a QC perspective, more of your eyes and ears on the ground, so acting as if you were physically there, so taking pictures, videos, speaking to people, like building your team, just standing more shoulder to shoulder with you again with the factory, as opposed to going as a QC like check the box activity, fill out these things, say it's done and leave. So that's how it started.
And then we quickly were, we started to go into the Amazon FBA space getting a lot of customers there. I actually remember the first time I met you at Prosper. I just kind of tapped your shoulder and we started talking and I think you were awesome and I think the fact that I was in Austin maybe helped us out a little bit. I didn't tell you I went to UT yet, but shortly thereafter I think you figured that out. Even so, you had always been a great advocate for us and kind of helped us get our name out there and even became a customer of ours to prove out that we were for real.
But we started to find quickly that the same problems that people had with small businesses, the same challenges, same dynamic or same customer personas they were having challenges with launching and designing new products. And so we already had this marketplace ecosystem of people in China and India and a large factory network that we were building. And so we thought, well, hey look, we can serve these customers better, there's more that we can do, there's more value that we can have further up the chain than supply chain. So we started to tap in and go into the design aspect of it. We hired some really awesome people.
Our head of design comes from Dyson, which is one of the best design firms in the world best product companies in the world and he reported directly into James Dyson. He has like 80 to 100 patents under his name personally, some of the products that you probably have in your house he created or helped create. So really about and then building out a designer network that we vet and make sure similar in how we do with our manufacturing network, like there has to be a certain quality and a certain standard that fits the bill of working for Gemba, working within our ecosystem. The first part of it is like you have to have made a product before and it's had to be mass manufactured before, but also you have to have good customer. You have to have good chops with customers if you're going to manage your own product and product development cycles. So, along with some other things that we do, obviously, but loosely, that's like a lot of the criteria that we search better.
Kevin King
But basically someone has either they're they have an idea for a product and they can come to you and you guys will walk them through the whole design phase, the whole, you know, creating the STLs, the all the CAD stuff, whatever all the Manufacturing parts list, and then they can stop right there if they know how to have their own factories and have their own stuff, or you they can continue on the process with where you guys actually help them source the factory Right.
Zack
they can stop right there if they have their own 3p, or then, or you can bring them in and manage the whole thing from basically birth to graduation along Exactly, exactly, yeah, so there's multiple entry points in terms of if you have problems as a, you know, as a brand, right, like if you need help with your first product or your 10th product or a hundred product, we can help, and it doesn't have to be, you know, do it all or nothing.
It's like you said you can come in just for design, come just for research, you can come in just for sourcing, you can come in just for logistics. At the end of the day, we built up a, like I said, now it's over 3000 factories in eight different countries that we, you know, partner with and they all go through the same vetting process that we, that we have to make sure that they're legitimate. And I think you know where Ali Baba, I think, goes for quantity, we go for quality, like you can download. You know lists and tons of you know big lists of manufacturers think there's like over 150,000 factories in China alone. But we don't, you know they have to be real factories for us to work with them and they have to be making good products for us to work with them.
Kevin King
So, and I don't understand that, the products, developments, that's life cycle, or that, the stages and how, how complicated that actually can be, even for simple products. I mean, when I first started on FBA, I've been making products for 20 something years, you know, in the collectible space and another spaces in the printing space, printing overseas. But when I started doing creating my own products for Amazon in 2015. I launched five, five brands and two of those I built the products from scratch. You know what you guys didn't exist then, and so I was having to go out to Fiverr or up work I think back then it was called Elance and find people and I was able to find some pretty good people that could, could, do the work that I needed a pretty reasonable price, but I knew what I was doing.
I've been doing this for a while. I didn't know everything, but I you know this didn't scare me or anything, but a lot of people they don't have that experience. So that and so coming to someone like yourself that can hold their hand along the way, I think it is wise and it's not necessarily the cheapest. I mean, we've done stuff, like you said, we've done stuff with you too, with one of my, with one of my companies, and it wasn't definitely the cheapest, but it was actually. The quality that you get is because the designers and the people that you guys have is far superior. I mean just package design. You know you're like some of your full time people. Then you have freelance or people that I guess freelance to, that they're working for like some of the biggest design package design firms in the company in the world and these are like sharp people that are very, very creative and very, very good and if you want to create a true brand and get to that next level, sometimes you got to pay a little bit more. Yeah, totally.
Zack
I think, like you said, there's just a. I think there's almost like a fear that it's going to take a lot of time, a lot of money and a lot of energy to launch a product. And don't get me wrong, it should like it does, but it's not, as it's not as unapproachable as it used to be, I think, when you started doing yours, and even recently we've launched a new product, a marketplace that makes it even faster and cheaper to go down that path. We can talk about that, you know, whenever you want. But, yeah, like you said, I think, from our perspective, we've always been trying to help make, you know, manufacturing more accessible and more approachable, make design and product development more accessible and more approachable, and even our, our slogan or company values is democratizing product innovation. Right, it's about making it more accessible, making it easier, making it more affordable for people, because we want to know how to make it more affordable for people, because we want to know how to make it more accessible. We want to. We want to bring new, awesome products to the market.
Right, like that's how things, like you know, all the, all the AI stuff that happens now, I didn't, that didn't come overnight. Like that's been a buildup of data and machine learning over a long period of time. It's the same thing as like an iPhone right, the original iPhone that was launched was a buildup of all these other phones that came out and all of a sudden, you know Steve Jobs like I'm going to do this, and you know that doesn't happen overnight. But there's some really cool products that you know inventors and creators have these infinite capacity to think through, and we're there to help hold their hand and help, you know, inspire and keep that journey going. So it's really, it's really powerful for us, I think, as a company, to help, you know, get these products out the market as fast as possible and make sure that you know those mistakes and those things like you can, they can come up, but that you avoid as much of those risks as you can.
Kevin King
I go with people who have done it before you have a lot of the aggregators, and some of the bigger sellers have come to you to do whole product lines and whole brand lines and says this is not just Individual sellers that need to try and launch a product you have. You've done some pretty big projects for some pretty big companies.
Zack
Yeah, yeah, I went on your, your training course the other day and I kind of walked through, you know, the one of the projects that we did that was really successful for one of the early aggregators one on one commerce that got bought up by go to. You know, we kind of deep dove into what it took to launch a massage gun right and how to do it effectively. At the things that we're looking at with them and the process of, you know, short cutting some of the things that come up that you know maybe if you haven't done before or even if you have, that's gonna save you a ton of time and energy and things to think through like that. So the cool thing about developing a product is it's not a linear path necessarily right, like there's things that come up. There's things that you can do to shortcut the path right. It is from point A to point B.
But again, if you're like, think of it, if you're flying a plane, if you're flying a plane from New York to California, there's a preferred route. Like, let's say, there's turbulence that happens over here, you want to avoid that. There's a storm that pops up last minute, you want to avoid that. We know what the end destination is on both sides, that we know we're starting, we know we're ending. How we get there is really about what it is. It's the journey, and we try to make that as smooth as we can ride as possible.
Kevin King
When clients come to you. What are some of the big pain points or mistakes or something that you're seeing that they're making? What are some of the miss, maybe misconceptions or Some of the issues, the fires that you have to put out when someone comes to you, when they only have I idea for a product that maybe they just have the idea they've already started.
Zack
Yeah, it's a great question. I think it really depends on how far along in their brand they are, so let's just say that they're starting out. It's the issues that come up is like I've never done this before, I don't even know how to source a factory. I've never created a product before. Who do I hire right? That's kind of the journey for them is like I haven't set up my website before. I don't know how to do packaging. I don't know all these things. That's kind of like your first time or just launching my brand.
Kevin King
Those are the issues that typically come up but they're more of that, just the ideation people, or the inventor type of people, or someone that has a good idea and they just don't know how to execute on it.
Zack
Exactly that's. That's kind of that bucket. And then you go into the next one is like I have a product that's done well, now what do I do? Right, like I need to launch another. I'm trying to build it from a product into a brand. How do I extend my line of products so that it becomes a brand rather than just a single product? And so that's more of the product development looking into trends, market research, seeing what other SKUs are performing well that could be complimentary to the, to the hero SKU that you have. So that's like I want to develop a brand, that persona, and then you have like an aggregator whose I have a large skew. I have a large slate of brands. I need to have high velocity launches, meaning I need to get 50, 100 product launches out in a year. How do I do that with a limited team? So that's a totally different persona than the first two that I mentioned.
In fact, the matter is like, regardless of what you're doing, I think, as long as you have a product and you're in the e-com or DTC or retail or you're in the consumer goods space, we've been trained as consumers to have cyclical buying patterns. Right, like in fashion, I expect a line of clothing to come out by these brands every single quarter, lining with the seasons. I expect this fall line, the summer line, the spring line, winter line. If I'm buying a car, I expect that there's a new car coming out with better technology every single year. If I'm buying an iPhone, I expect a new iPhone every year. So we've been ingrained as consumers to have new products hit us on some cyclical measure.
What I think most people don't do is understand that just because you have a hit product doesn't mean you're gonna have a hit brand. And part of having a hit brand is that you're listening to your customers very intimately, to what they wanna do with your product or your brand. Right, it's up to you as a creator to action that right. Like, what is the best thing that I can do to add value to my brand? Ultimately add value to my customers. That's the CEO, creator, whatever inventor. That's their job to make sure that they're listening.
But if there's feedback specifically on your hit product like, someone's gonna listen to that feedback and try to compete against you or you have to leg up. It's your product. You know your customers. You know your product better than anyone else. You can start that process right, you can come up with a version too of your product that will potentially, most likely and hopefully, be better than the first version of your product.
And so that's, I think, where a lot of people you know get a little caught up or in their head as brands or inventors is they're unwilling or scared to take that step for some unknown reason, whether it's fear, whether it's capital, whatever it is. But if you really know your customers, you really know what your brand is trying to go, you can, you know, utilize tools out there, you can utilize research out there, you can utilize partners out there that can help you get to that next step, which is going from a hit product to a great brand and then going from a great brand to an aggravator, a big conglomerate of brands that can launch products at a high velocity.
Kevin King
Well then, back on that massage gun. That was a few years ago, but that category is super, super competitive even back then when you did it Right. So why? What did you guys do? What's one of the skills of Gembah to actually make sure that things got a good chance of success in a highly competitive market?
Zack
Yeah, I think we were fortunate enough to work with that company early on when it wasn't as crazy competitive. Like the pricing, like the things that we looked at were pricing pressure. We looked at, you know, review, the average review scores, total number of reviews to get to page one, top three of page one, like those are things that you want to do from a research perspective. So they kind of helped show that stuff to us. And you know, there was an opportunity to become a premium brand where everyone was going low. If you came premium brand, it took all the data that said, like here are the things that people care about, here's what the reviews are saying. So that's the qualitative side. The quantitative side is like where do we need to price this? How fast do we need to launch this? What's the velocity we need to sell? Like those are more the quantitative side of it. So you combine all those things. It came up with a premium massage gun.
Kevin King
This is from scratch. This is not taking something off the shelf and modifying this. Is built from scratch, right?
Zack
Well, this was no. It actually was incremental innovation. It was taking something that already existed and making some slight adjustments, which is why we were able to launch it so fast. But we I mean like the things that we looked at from a quantitative side, that we were getting feedback on is the battery power right? So going to four hours versus three hours? People complained that it would, you know, the juice would not last long enough. So getting a battery that lasted long enough, having different attachments for the pulsing, have different speeds for the pulse, and then visually looking at, like, what would that look like on the actual massage gun itself, right? So making sure that if we're gonna go for a premium, look like it has to look a certain way, and so getting feedback on that as well.
And I'm working with the other part that, again, I think most people need to understand about, you know, doing this type of development is making sure that the factory has the capacity and the ability to do this kind of stuff in-house. So you know you on Alibaba or you've sourced a factory before, like some factories don't have sampling in-house. They don't do that in-house, whether you're a trading company or you're a smaller factory, like sometimes they outsourced the sampling process. So you also wanna make sure that you know, if you're going down this route of innovation, that the factory understands what the DFM, or Design for Manufacturing process, is. Typically, that means that they have some sort of engineering capabilities in-house as well.
Kevin King
Yeah, remember when I launched by 2015? One of the products that I launched was an Apple Watch charging dock and Back then this right when the Apple Watch came out, the first one was about to come out and Everybody was doing like these little bamboo stands and like little, just junk stands and I was like, if someone's spinning, I don't remember what the watch cost back then four or five, six hundred dollars, whatever it was for a watch, they don't want a little 17 dollar piece of crap stand and they were selling like crazy. I was like I'm gonna develop a really nice stand that's made of aluminum, that looks like Look, looks really good. With the watch You'll charge the watch and an iPad and a phone at the same time. Has a Bluetooth speaker inside, hides all the cables in the base, so you don't have all these cables all over the table or all over the nightstand. So I developed that from scratch. But I was lucky, like you said, and I sketched out kind of what I wanted to look like and I found a factory on global sources and they said just pay us a thousand bucks and we'll do all the design work and we'll credit the thousand dollars to your first order. You got to do a three thousand MOQ and these things cost me like twenty four dollars a piece. I think, landed somewhere in that neighborhood at that MOQ and I was selling them for 89.95 and I was selling a Lot like fifteen, twenty thousand dollars a day when they launched, so much so that I had to air freight 6000 of them over for Christmas just to get them in time. But if you can find a factory that does that, but that whole process, you know we were going through 3d.
I was doing 3d printing where I had a guy here in Austin had a bunch of he's down in a Kyle he had in his, he had set up in his garage.
It was a separated building from his house but like 20 different 3d printers in there and he he would print, you know, different sizes, different materials and he would print these for me. I'd take it to the Apple store and actually Say, can I say it's a 3d printed version of it? Say can I, can you take all the watch bands out of the cabinet and so I can test them to make sure they all fit and hang right and to make some changes? I just check the channels for hiding the cords and then you go to you know another process where they actually make a I forget the name of it, but it's a. It's actually a Working copy. That's like a. It's actually like they make three of them and you test that and it's not the final polished version. And then you go to the final polish version and the packaging and it's a took like eight months to get this from Inception to yeah, to actually be in a live product.
Zack
Right, yeah, I mean, that's, that's, I think, typically how the the development cycle goes, and I think it's really hard to find the factories that are skilled enough to shortcut those steps so it doesn't take so long for you to Build that end product. A lot of things, a lot of times also, like I've seen it, common is where, especially in the FBA space, where people will go engage a factory with no blueprint or no design files and try and get them to you know, make slight tweaks with the factory and you know sometimes they're successful. But it's a lot of, you know, going through the sampling process to do that in the factories. They just don't like that necessarily right, like they want the purchase orders, they don't want to spend time and Sampling and they kind of know if you're gonna go through multiple rounds of sampling, like you're probably doing that with other factories as well, especially coming to them with no designs, you just don't look as professional going to them and engage you in that manner.
And some of the smaller factories may, you know, if they're need the cash, so they'll entertain it right.
But the bigger, like tier one, tier two factories like they, they will kind of suss you out pretty quickly If you don't have that stuff buttoned up, and the reason why is for that, exact like the reason you kind of talked through, which is like if you're going through the sampling process and having to do multiple iterations and all that stuff, like that's a waste of their time With no guaranteed PO.
I think again, when you started doing that, maybe to eight to ten years ago, like that wasn't as common. But now with all the tens of thousands of ambitons, sellers all try to do this, I'll try to do this and potentially not doing it the correct way or the way that the factories like that I think it's popped up a lot more that you know the smaller factories or some of the trading companies that take on low MOQs are going to be willing to do that. But again, if you're working with a good factory, you better have your stuff together, your design files, all that good stuff, or you better have a good relationship with them where they'll start sending you, you know, some of their new, new, latest and greatest ideas.
Kevin King
I mean, you see this on Kickstarter. I don't know if you'll work with any Kickstarter or Indiegogo type of stuff, but there's so many campaigns on there. People have a good idea and they may even have a good working prototype or some 3d imagery or Mockups that are done that look good, but I don't know what the number is. But a significant portion of Kickstarter things never actually make it to market.
And then the ones that a lot of the ones that do actually Take months, if not years. I'm waiting for something right now from 2017. That's a Kickstarter project that I did and I get updates from them and they show me here's bunch of things on the factory floor and we're doing testing around number three or whatever it is. But it seems to be a common problem people don't underestimate what it actually takes to do this.
Zack
Yeah, we worked with a couple Kickstarter's and their products actually launched, because that's our goal. We don't want to work with people who aren't good at Launch products. One of them was I don't know if you're familiar with the guy by the name of Eric Howard. He launched a brand called Cali weights and now I think they've done some stuff with QVC and they're on QVC. So he, you know it's, it's been cool to watch his company grow.
But yeah, I mean, I agree with you, like there's just there's so much noise out there In the manufacturing and product world that you know you just really have to have a good process in order to make sure you're working with the best people on the design side as well as the manufacturing side, to make sure you don't run into those issues of, you know, predatory behavior by the factories or getting working with the designer who just has never made a product in mass manufacturing before. Right, like those are killers of ideas. When you get, you get tired, you get burnt out. You know the entrepreneurial journey from your first time. If, like, it's taking forever and you aren't getting the results and you have a, you know you kind of lose momentum, you lose steam and you put, you know, 10 to 25 K Into a design process or production process and you, you know you get no results like that's. That's sad, that's hard you know.
Kevin King
I think my tooling cost on that watch stand were like 38,000 dollars just for the tooling cost on it. Yeah, it was stuff can be expensive, yeah so what do you think now?
I mean the old days what a lot of people are just going to Alibaba, finding some opportunity on Amazon that they could get on Alibaba and stick in their label and make it, maybe making a bundle or making some small change and putting it out there. That still happens from time to time. It's much more difficult now. Now you really need to actually, like you said, do incremental changes or innovate. I mean, all businesses comes down to two things is marketing and innovation. So how important do you think is it that? Are you seeing this actually? How important do you think of it is, and are you seeing this a shift in the mindset of a lot of Especially Amazon sellers that, hey, I can't just do that anymore. I've got to come up with original ideas. Or do these incremental Changes and actually get serious about this. And are you seeing seeing that and you think it's going to continue going in that direction?
Zack
Yeah, absolutely. I think the competitive pressure. If you go back to the Sahaja and I think when we launched it, like If they launched it, it was priced around like 200 bucks, and now I think you can get them for like About 30 to 40 bucks, right. So if you're just taking a white labeled product and launching that, you'll see what the pricing pressure will do over time. There's no barrier to entry there. Like we were talking about earlier, we're just so ingrained to have new products that solve problems faster. Now, with AI, I think it's going to get even more. The trend is moving into much faster iteration and much faster feedback across the board, not just in product, but just in life. Things are going to happen so fast and the economies of scale you're going to get from AI. We're going to continue to fuel this innovation and the cadence of innovation, meaning that it's just going to continue to speed up. So that's precisely why we launched the product that we did earlier in the spring.
Kevin King
That's the marketplace product right. Let's talk about that so that's pretty interesting.
I saw that when it first launched and it was something around a bunch of product. You've kind of partnered with some factories that had some ideas and had some some ways to change things, and then you vet them and put it on your site and it's like $500 or something and then you get the rights. You're the sole person that comes off the site, you're the sole person that can. Then you introduce them to the factory and they can run with it from there, right Basically, and you kind of pre-bet it.
So it's almost like a product in a box, ready to go and take those next steps.
Zack
Exactly so. I think what Alibaba has done for white label products, we're doing for private label products, right? So we're taking concepts that have not hit the market before and you get the exclusive rights to develop them with the factory, and so it's a combination of market research and data and AI, mixed with our design network, to come up with the concepts and then, as soon as we have those, so you're taking like AI like looking at reviews of top selling things and looking at patterns and trends, with Amazon down and say hey, if someone did a I don't know a water bottle that did this, this and this.
Kevin King
based on these reviews and the trends, it could probably do well. So let's put our people to work and make a prototype or a virtual prototype a concept and then have the factory.
What can you do this for? If we change this, this and this, can you do this and what would it be? Okay, here's the cost, here's the, we have the material list, we have everything. And then sellers can come to you and say let me validate that this water bottle looks pretty cool, might fit into something I could sell. Let me go do my own homework to actually validate that there's an opportunity here and I can afford to do this. And if so, it's like you're like here you go and you have a pretty strong differentiation, differentiating factor out of the gate and a leg up and a jump on everybody else.
Zack
Exactly.
So yeah, again, it's kind of like first right If you click that reserve button and you reserve the product, you're put directly in touch with the factory.
So you've kind of shortcut the development process and you shortcut the sourcing process because the marketplace has done that for you.
So you have the concept, you have the factory behind it and you have the unit economics that tell you here's the MOQ, here's the price and here's the sampling cost and here's the mold and tooling cost. So all that is accessible by a push of a button. And as soon as you press that button you're put in touch with the factory, into the sampling process for those fees that are set, that are stated on each reservation, and if you don't see something that you like, you can put in a form for us to get a custom product. So that's more of like your traditional design route, but we'll try and use the same process to make sure that we can launch something very quickly. So taking more of that incremental innovation approach that you know, working with factories that have that process, going through the AI engine, using our design network and still doing that is just it's not as fast as just clicking a button, it's more of a, you know, two to four week process versus an instant process.
Kevin King
Where's that marketplace at? At gembah.com, or is it marketplace.gembah.com? How do I find that marketplace?
0:45:00 – Zack
brand.gembah.com.
Kevin King
You know, I think that's a brilliant idea. What about people that say that either that they're buying one of these products off your marketplace or they have. They come to you with an idea. There's a lot of people listening right now. They're like I've got a great idea, or that's a great idea that you have, but how do I protect myself? Someone, how do I keep the factory from stealing this? Or how do I know that someone at GEMBAH is not going to? You know, send this out the back door and do their own version? That's a fear that a lot of people have. So what? What do you say to that? And how does people potentially protect themselves?
Zack
Yeah, I think you know there's a few things you know. Nothing would be invented if they're, if those fears weren't real right, but at the end of the day, we wouldn't have all this innovation. If people believe those fears wholeheartedly, there's things that you can definitely do to protect them. You know, putting the GEMBAH thing aside, like we do NDAs and NNNs with every you know person we work with, as well as with every factory that we work with.
Kevin King
For someone that doesn't know most people know an NDA is. Can you explain what those NNN and NDA, what the difference is for the somebody? That may not make it confused? An.
Zack
NDA is a non-disclosure agreement, right? So it's protecting any of the trade secrets and all that stuff Works in most countries. In China is the only place that that term is not really a thing. They have a what's called an NNN, which is a non-disclosure, non-circumvention and non-compete, so combines all three of those things into one agreement and that's for. You know, if you're working cross borders with China, that's typically what was is the most protectable of you know, working with a factory. So if you don't have that yet, I highly recommend, regardless, if you're launching a new product or if you have an existing product, that you have that agreement in place with your factory.
The second thing you can do is look down the route of design patents, right? So there's two different types of patents utility or design. Utility is more of the functionality. So if you're coming up with something that's truly novel and the world has never seen before from a functionality perspective, you can file a provisional patent and that gives you a year to file, like to move forward and file. You know, get that whole thing situated. I think you know Rich Gold seems a good friend of ours who can help you down that path If it's something that has already been launched in the world. But it looks different. So ornamentally looks different. Look, you know, the visual effect of it is different. It's potential that you could have a design patent.
So design patent will protect you in the country which it's issued. So if you're selling, wherever you're selling, the first thing you should be, you should think about, is how to protect the place where you're selling the product. So if you're selling in America, you can get design patent in America. If you're selling in the UK, get a patent in the UK, right? So wherever you're going to sell the product, start filing those patents. So that's going to protect you know as much as you can those different avenues you know with the factory or with where you're selling it specifically.
After that, it's about innovation, right? Like, if you're the first to market, don't be the last to innovate, be the first to innovate on your product, because then you're always going to have a leg up on your competition. So to me, those are the most defensible things you can do is, you know, make sure you have agreements with your factories that clearly stipulate what happens if they do that. You can do things like move your molds off site. You can have fees of all that and it's all protected first by that NNN agreement but then also with the contract at the factory, so that there are specific terms. If they compete with you, then it's getting design patents or utility patents, wherever you're going to sell the product.
Kevin King
What's next for Gembah? You guys did a big raise of millions of dollars funding around. Was it about a year, two years ago?
Zack
A couple of years ago.
Kevin King
To help really grow the company. So what's next for Gembah? What's happening over under the Gembah hood?
Zack
Yeah, the goal is to continue the trajectory. I think the launch of the marketplace has helped make this democratization of innovation approachable, and that's our goal Again. At the end of the day is to help create the world's best products, and so we're just going to continue doing that as much as we can. So, yeah, that's what's next Just keep trying to make this process more accessible, keep trying to launch more awesome products, keep working with great people like you.
Kevin King
I appreciate that. So if people want to reach out to you and find out more about Gembah, how would they do there? If they have some ideas for a brand new product or innovating on something that they're already selling? What's the best way to approach that with you guys and find out if it's a good match?
Zack
Yeah, If you're looking for more general information, go to gembah.com. That's gembah.com. If you want to check out these concepts, if you've done your research and you know exactly what you want to get and we have those concepts online you can go to brand.gembah.com and just reserve a product and start working with the factories. You can find us on LinkedIn and on our website. Those are the best ways to find us.
Kevin King
Awesome. Well, Zack, I really appreciate your time today and coming on, and once the Aggies and the Longhorns are in the SEC, we're going to have to go to a game together and see if we can stand at being next to each other doing a game.
Zack
I know, I know. Well, I think we'll be okay as long as there's some good food and some booze?
Kevin King
I think so too. We'll have to do that. Put that on the list.
Zack
Absolutely. It's always good to see you Appreciate you having me on Kevin.
Kevin King
No problem, man, We'll talk to you soon. The guys over at Gembah, including Zack and the whole team, are great. I've actually done business with them and they do an excellent job. So if you're ever looking for product innovation or development or ideation, they're a great resource for you to go to. And, as you can tell, just innovation is so key in today's world and that's really how you're going to build a true brand and set yourself apart. So I hope this talk has helped you and you've gotten some good information from it.
We'll be back again next week with another awesome episode. And, just as a quick little side, we talked a lot in this episode about patent and IP stuff. Just go back to the August 3rd episode with Rich Goldstein he's one of the top IP attorneys in the space and listen to that episode If you get some further questions on it. We go into a lot of detail on how to protect yourself on different on trademarks, patents, copyrights the whole nine yards and so it's a great episode with a lot of information. That may be a nice supplement to what Zack and I just talked about. So that's episode 354 from August 3rd.
Before we go this week, the words of wisdom kind of tie into what we just talked about with Zack. People buy identities, they don't buy products. Always remember that people buy identities, they don't buy products. So that's how you can truly differentiate, If you really grasp that concept when you're coming up with your ideas. Just like what Zack said. Dyson you know the one of the designers of Dyson is working for his team. He understands that. Apple understands that. A lot of the big brands understand that, and if you can get that into your branding and your products and understand that people are buying it for an identity rather than as a product and you could market off of that, it can make a huge difference in your success. We'll see you again next week.
---
Enjoy this episode? Be sure to check out our previous episodes for even more content to propel you to Amazon FBA Seller success! And don't forget to "Like" our Facebook page and subscribe to the podcast on iTunes, Spotify, or wherever you listen to our podcast.

Want to absolutely start crushing it on eCommerce and make more money? Follow these steps for helpful resources to get started: