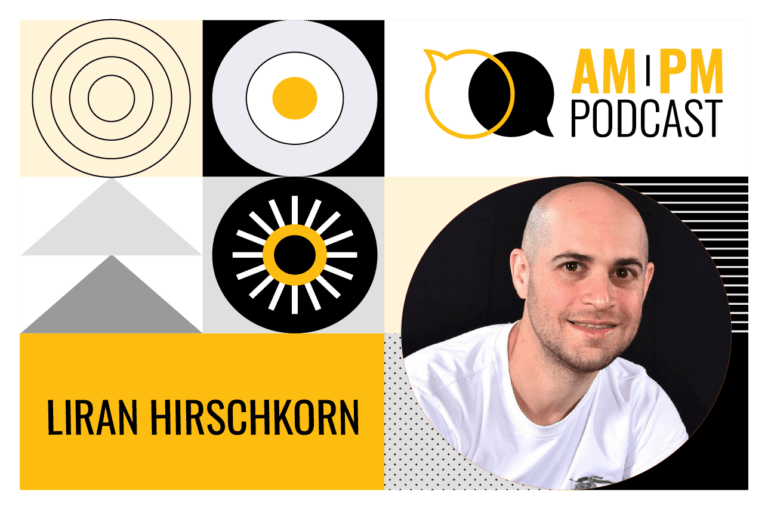 #326 – Inside the Mind of a PPC Pro: Navigating Entrepreneurship and Billion-Dollar Sales with Liran Hirschkorn
In episode 326 of the AM/PM Podcast, Kevin and Liran discuss:
01:45 – Talking About The Early Days And How They Met
04:45 – Liran's Philosophy And Why Kevin Said He's Like A Machine
05:50 – Being An Expert Witness For A Lawsuit
07:40 – Kevin's Company Got Sued By A Model
09:15 – His Career As A Consultant And Adviser
15:10 – Why Kevin Doesn't Like Taking Affiliate Commissions
20:30 – Always Motivated To Help Other People
22:20 – From FBA Seller To Service Provider
25:50 – How Liran's PPC Agency Got Started
28:20 – The Entrepreneur Operating System And Why Coaching Is Important
30:20 – Diving Deeper Into EOS And How It Helped Helium 10's Founders
36:30 – Liran's Clients Are Making Almost $1 Billion In Sales Collectively
37:50 – It's Not About The PPC Agency But With The Account Manager?
38:40 – Building A Team Of Competent PPC Account Managers
45:30 – Being Good At Networking & Relationships Goes A Long Way
49:40 – Talking About How Liran Gets Photos Inside The Airplane's Cockpit
52:45 – Listen To Liran's Hirschkorn's Podcast
53:30 – How To Get In Touch With Liran And Incrementum Digital
Transcript
Kevin King:
Welcome to episode 326 of the AM/PM Podcast. One of my goals with this podcast is to have it just feel like you're listening to two people talking. You know, we're talking about Amazon or e-commerce or just life experiences in general. And this week is no different, as my guest is Liran Hirschkorn, Liran, spend selling e-commerce for quite some time. Been doing this Amazon game since about 2015, and he and I talk about everything from growing your company and implementing EOS into your company, to running a PPC company. And how do you deal with the ins and outs and unpredictability there to justify all kinds of stuff about this space? I think you're gonna enjoy it. Liran Hirschkorn. Welcome to the AM/PM Podcast, man. It's great to have you on.
Liran:
Thank you. Super excited to be on. I think I was on the AM/PM Podcast, has to be like, I don't know, 2016. Was it live in 2016?
Kevin King:
Yeah, that's when I first went on was 2016. I think Manny started it in late 2015, right around the same time that he started his journey as a seller, and right, 2016, in the spring of 2016. I, I think it was March or April when I first went on, so, yeah, I'm sure you were on in 2016 as well then.
Liran:
Yeah. so I'm, I'm pretty sure, I'm pretty sure I was on back then and have not been on since. So it's kind of crazy. The podcast itself has had quite the journey of hosts, right? You're third.
Kevin King:
I'm the third. Yeah. But for me though, it's kind of back to my roots. You know, the reason I am even doing any kind of training or an influencer or being on stage anywhere, or being on podcasts like yours that I was just recently on a few weeks ago is because I came on AM/PM Podcast. Manny saw I probably did the same thing as you. We were active in the Facebook group. I think it was the High Rollers group was the big one back then. It's still around. But it was that they didn't have the Helium 10 group at that time. Right. And we would go in there and set people straight. There'd be someone posting about whatever it was this is how such works and other people would just start parent parenting if that is the truth. And it was usually me and you and I guess sometimes Brandon Young would go in there and just like, no, that's not how it works. And I'm sure Manny probably saw something that you posted and said, Hey, you wanna come on the AM/PM Podcast? That's cuz that's what he did for me.
Liran:
Right. And you know, I think also networking, right? Like I don't, I'm not sure when the first time I met Manny or anything, but there are events too, right? And if you go to events like Prosper and, and other ones in the space and you end up meeting people face-to-face and kinda form these relationships that I feel will lead to things. And outside of just let's say as somebody who is let's say a speaker or has a service business or whatever it is in the space, like even for sellers, you know I think they're partnerships and masterminds, right? And all these things that happen from developing these relationships, which a lot of 'em started like on Facebook and then became stronger when you meet the person face-to-face.
Kevin King:
Yeah. We met face-to-face, I think at an event in Atlanta from Seller Labs I think was doing an event. And I think that's the first time I remember meeting you at, one of their events that we were both attending.
Liran:
Yeah. Yeah. And that was I think also 2016 probably, or 2017 or something like that.
Kevin King:
Yeah. Been 2016 or 2017. One of those two. Yeah. yes. I think it actually might have been 2017, but yeah, I remember meeting you there and we talked about this on your podcast a little bit, but I it's like, who's this guy? You know, cuz we're just all sitting around talking and you, you had like, you knew too much. I was like, I gotta get to know who this guy is. He knows what he's talking about. And he knows quite a few people. So yeah, I remember that. And I remember too, and you're still this way, but you like, are always online. It seems like you are back, back in like 20 17, 20 18. So I was like, how does this guy even sell anything? How does he do anything?
Kevin King:
Because anytime someone posts something on one of the Facebook groups for Amazon sellers, he's responding to it and he responds to like every single message. I'm like, this guy is just like a machine. It doesn't matter what time of night it was or what time of day it was. And you recently told me that one of your philosophies is you try not to ignore anybody. Even if it's something you don't wanna deal with, you at least give them the courtesy of a response. And Yeah. That's, that's pretty honorable. I mean, in today's world and the number of messages and people reaching out to you that's, that's pretty honorable and a tough thing to do.
Liran:
Yeah. And look, I mean, there could be a point, I, I guess it's not there for me, but there could be a point where you just get too many messages, right? And, and you can't answer. So I don't blame anybody who doesn't do that. But you know, if I see somebody asking to question and can take me a minute or two to answer, then I will. And if it's longer then I might just tell them like here's kind of a quick thing. And this is kind of a longer answer. And you know, it's also kind of like an opportunity to give back a little bit. There was actually, I don't do many coaching calls anymore. I used to do them once in a while if somebody asked me.
Liran:
And I, I don't do them anymore. And I have a, I have lawyer that recently asked me to do some calls. Cause they have a case related to Amazon, and, and I'm gonna be, I'm sort of I think I'll end up being like an expert witness in this case for this lawyer. There's an interesting lawsuit between a model and the brand because the model signed an agreement that the brand was supposed to use damages only on their website. And it's been on Amazon for like, the last five years and the model is suing. And the lawyer reached out to me to try to understand what the sales are and all these things on Amazon.
Kevin King:
Lawyer for the model or the lawyer for the seller?
Liran:
Lawyer for the model and they don't know anything about Amazon. So they're trying to understand like, well, can we tell what estimated sales you know, what the, how much sales they've had? And like they're trying to gather all this kinda data and would somebody be more likely to click if it was just its clothing? So the model in the picture, if it was just the clothing without a model versus with. You know oh wow. And you know, the clothing model is also, there are different colors and he's also in the most popular color. So does that mean he should also be entitled to help drive sales on other variations where he is not the model because his variation ranks and you click on him? Right. And so maybe you buy different variations. So can you claim that he's helped be responsible for sales on other variations and it's pretty, pretty tricky stuff?
Kevin King:
So they're looking to assemble how much damage they can go after proof or try to get a cut of you. That case will come down to the release, whatever the release says. If there is a release, that'll, that's what'll dictate as we got sued by we do stuff with models and we got sued around 2014, 2013, 2014 by a model who we had on, on video saying that she loved the picture, she loved everything, that she signed a release, but then something happened with her family and they didn't know she was a model and she got embarrassed. And so she said, I don't know where that came from. They didn't have the right to do this. And so she hired a lawyer on spec who did it for free, basically for a cut of the earnings. And he came after us and we ended up winning. But it cost us like $75,000 to a hundred grand or something like that just to fight this thing. We had to hire someone lawyer out of California like $600 an hour back then. Yeah. So those are tough cases.
Liran:
Yeah, probably what they wanna either settle or fight for in court is some let's say they want 20 cents for every sale, right? Or whatever. I mean, there's been millions of dollars in sales, right? So they want something. And what's tricky is that the brand itself doesn't sell on Amazon, it's resellers who sell on Amazon, but the resellers could have only gotten the image from the brand. So the brand itself doesn't even have the estimate of the sales and they sell to a distributor, so they don't, don't know what goes from the distributor to Amazon versus whatever. So really we kind of have to just go based on estimates.
Kevin King:
That's gonna be an interesting case.
Liran:
So it should be a very interesting case. I don't know how long it's gonna go all to say that I charge them a pretty high rate probably more than the lawyer is charging the client is what I'm charging the lawyer, well the client really
Kevin King:
What's worth that? I mean, that's something that a lot of people, that's an interesting point you make that people come to us and say, Hey, I want to consult. And we're like, no, we don't have time for that. But sometimes we say, we throw out a number like, well if they'll pay me $5,000 for four hours or whatever, maybe I'll consider it. And the knowledge that we have as Amazon sellers and people like you and I that have been doing this so a while, and we know everybody in the industry, we know the ins and outs of the inner workings, that's worth a lot of money. I mean, there are lots of lawyers out there that can take this case and, and you know, you, if this model doesn't like the one lawyer he can switch to another lawyer who can probably do a similar job. But they can't do that for someone like us. And that brings me to a point that I noticed you do a lot of consulting, whether it's for aggregators for other people, you have a like a good little side business there of just advising people. And how, how does, do you go out and seek that? Is it just word of mouth? Do they find you on LinkedIn?
Liran:
This lawyer reached out to me on LinkedIn. I got a chance to also meet her, like she was in New York one time there. I met her at the White Label Expo and she's in California she came to Vegas during Sell and Scale and met her. So I sat and met her face-to-face, but she reached out to me on LinkedIn. Also, I'm connected to a couple of these kinds of consulting firms that also reached out to me that when somebody wants to investigate our space, they, they reach out to like a company like Bain or like they're working with these big consulting companies and they wanna learn, those companies wanna learn more about the space. So let's say you are going to say you, let's say you are a fund and you are going to look to invest into Helium 10, right?
Liran:
You wanna do a bunch of research on the space. So you're gonna pay a bunch of experts in this space and you're gonna go and say to them, I wanna interview you basically for like an hour or whatever. And I wanna say, what makes Helium 10 different? Why do people use it? Well, can you tell me a little bit about their top it seems like from where we see the competitor is Jungle Scout? What's the difference between Jungle Scout and Helium 10? Do people use both or do people use one? You know, who's the customer for this? Is it any set? Like, so they ask you all these questions, they try to understand the market. And it's interesting because, in 2020 and 2021, I did a bunch of these calls, but probably in the, in the last six months I haven't done any, right?
Liran:
Cause it's like no deals, right? Like you could cuz the market, you know? But 2020, 2021. And the interesting part is you don't know who'd be, who's actually what the deal is or what they're investing in or, or what's behind it. You just basically like the intermediate company that hires me for them. Then you get on a call that's recorded with them, you both dial into a number, and the intermediate company just tells me, Hey, are you knowledgeable on this, this, and this? And if I say yes, then you know, they'll say, okay, they wanna talk to you and we schedule it. Or if I say, no, I'm not qualified to talk about this, then you know, they won't schedule it. And then you just get on a call and it's like, Hey, this is John. And they just ask you a bunch of stuff you don't know, you don't know anything about them.
Liran:
Or who they're sometimes if they give you their full name, I can look on LinkedIn, I see them with Bain and Co or like some of these bigger companies that are like m and advisors or, or whatever it is. But it's been, it's been very interesting because when this let's say Covid time e-commerce was like really hot and the market was really hot for startups and a lot of money flowing in. I did I don't know, I probably did like six or seven of these calls, maybe 2021 or so. But each one is initially charged 500 bucks, right? They ask you like, what's, what's your rate? And actually, they have this meter, they're like, once you go past 300, it says like, it needs approval, right? So initially the first year I did it, like maybe 2019 or so, I set my rate of 500 bucks, right?
Liran:
Then I'm like, you know what, the next year I'm like, I'm gonna up it to a thousand, see if they still approve it upped it to a thousand, still approve it. Cause they're probably paying more than that to like the intermediary film was charging them something right? And then paying me a thousand dollars, but the intermediate firm's probably charging them 2,500, hundred bucks an hour. Yeah. Thousand or whatever. It's, I don't know how it works, but these are like big corporations and you can charge them more for those types of calls. But yeah, it's interesting also seeing those types of calls dry up really because like, the whole startup investment space right now is kind of down. So I get a lot less, I've still got inquiries, but not on things I'm, I consider myself an expert in.
Liran:
And like, I've turned them down. So recently you mentioned answering people, I met somebody at Sell and Scale who is like a newer seller, and they reach out to me after like, Hey, can they're two kinds of early to be, to be a client, but like, can I, can I do a consulting call with you? I'm like, kind of expensive like, I don't really like, it's not gonna make sense for you or whatever. And they're like, no, like, I want to pay whatever like these. He's like, well, he is like, look, the most I can pay you is like 350 bucks, right? And I'm like, tell you what, donate, donate 500 bucks to a charity. My choice. And I'll do the call with I'll do the call. and I ended up just doing it for charity and the guy made a donation so it was like, sometimes, I'll use these opportunities maybe to do something nice or like I'll donate affiliate money.
Liran:
I'll post something as an affiliate and then I'll just say like, I'm just the affiliate money would be donated. Like let's say I'm speaking at you know, Kevin Saunders, he does these like PPC summits and, and stuff like that and then I'll, I'll post, it's like a $7 sign up and then if you buy the recording, it's like a hundred or something. So I'll post an affiliate. I'm like you know, I'll donate to like some, I think it was last time I did it was like hunger or Me Feed America or some, some kind of charity that like,
Kevin King:
Well, in 2020 and 2021 when the aggregator space got real big, I know they were coming after people like me and you left and right for affiliate commissions because they're saying, Hey, if you bring us a deal, we'll give you X percent. And sometimes that x percent could be 40,000, 50,000, a hundred, $200,000.
Liran:
Yeah. Have you ever had, have you ever had a deal closed for a referral?
Kevin King:
No, I don't actually. You know, I turned them all down. I think I actually, there was like the one that I think I ended up saying, okay, I'll do it. But then I ba I never referred anything cuz I don't feel right doing that. Even when I was out speaking four or five years ago in 2018, I spoke about 30-odd events and I think I would always be mentioning Helium 10. And Manny and Gui used to get onto me and say, Kevin, you could be making so much money as an affiliate if you would just use your code. I was like, I just don't feel right doing that. I don't want to come across as if I'm talking about something because I'm getting an affiliate commission.
Kevin King:
So yeah, I never felt right actually taking an affiliate commission. And just recently I got a, a message from a quiet light and quiet light said, Hey, we, we have this really big deal, thanks to you we got this client and you know, we just let you know that that they're on board and we'll keep you advised. I'm like, what the heck are you talking about? I haven't referred to anybody and just happens in the conversation somewhere at one of these events I mentioned this to this, this particular seller. And he was, I can say, I guess kind enough to say, when they asked him, how'd you hear about us? He mentioned my name and quiet light without me being involved or having any relationship directly with an affiliate, reached out to me, and said, we're gonna pay you.
Kevin King:
And this could be a sizable amount, it could be a six-figure amount depending on what he sells. I'm like, that's cool. So that kind of thing. I don't mind, it's kind of a backdoor. Thank you. It's not me out there hustling it or pitching it. And, and, and I'm the same with software and the same with you know, I'm careful even on the, like, the freedom ticket. People will say, Hey Kevin, what's a good freight forwarder? I need a good freight forwarder. I'll tell 'em who I use. But if I haven't used them, I won't recommend them. I'll say, Hey, I know a couple of my friends that have used these. They say good things, but I can't vouch for them. So I try to be very careful in that regard.
Liran:
Yeah, I hear you. I would say I'm kind of very similar. I've had I think three deals that closed, like, over like, since 2019. And one of them kind of actually the first one was the quiet light too. And first of all, I felt better about referring to a broker versus just one aggregator, right? because you should try to go get multiple deals and the best offer. And also you know, the person's not paying anymore, et cetera for it. And I referred this guy to quiet light and didn't hear back for anything. Cause I didn't like if it happens, it happens. I'm not hounding down to find out if the business sold or, or whatever, you know?
Liran:
Yeah. kind of like you. And then they, yeah, they reached out to me like six months later, and like the business sold and it was an eight-figure sale. They ended up telling me that somebody else kind of claimed that they also recommend them whenever. So they said they were splitting it between me and the person, but it was sizable money. And then they reached out to me like a year or so later, like in 2020. And they said, by the way, now their earn out's been paid, and here's another check. Wow. Which also pretty, pretty good size check. So just shows you their honorable people, right? Because they could have been like, Hey we're not gonna, we're not gonna say anything to Kevin or me or whatever. And you don't know what happens.
Liran:
You're not entitled to that confidential information. But I did have some aggregators along the way that said, Hey, yeah, we want you to sign an agreement. One of them sent me the agreement to like refer to them and looks like sometimes people would ask me, and would I recommend them or whatever. And I said, look, I have like direct relationships with a few that I like. I'll make a personal introduction. You'll at least get heard right away or whatever. And like I kind of just saw it as I'm helping them, cuz I'm also getting them like maybe to the front of the line and the right person. Cuz sometimes the aggregators wouldn't call you back if you fill out the form on their site. And I'd refer 'em to a broker.
Liran:
I'd refer 'em to the aggregators, refer 'em all around, like, wherever you get the best deal, right? Like not, but one of them had in their contract that basically if I refer to them and I want to get paid, they could be the only ones I refer the person to, you know? And I said to them, Hey, it doesn't make sense. I'm not signing it. It doesn't make sense at all because number one if I only refer them to you, chances are the person is going to 10 other places. Right? So what are you preventing? And number two, like I don't think it's I mean, I don't think it's the right thing, so I'm not, I'm not signing this agreement. So they end up changing, they end up changing the agreement because doesn't make sense. Like, do you think that this guy who's sold millions on Amazon is only gonna talk to the one place I refer him to?
Liran:
And once he gets an offer, he is just gonna take it and he is not gonna talk to anybody else and try to get a better offer. Like it, it doesn't make any sense. So they did change it. So I guess, yeah, there are benefits, and look, some of these conversations for that come up even in these referral opportunities or, or whatever it is they come from just answering that DM too, right? Yeah. So it's not my motivation to do it. My motivation comes from a generally good place of like trying to help. But sometimes the universe rewards you back, for helping.
Kevin King:
That's true. You might be talking about we won't, we won't name names here, but one of the largest, if, if some people might consider them the largest aggregator in the space at one time, reached out to like I was told four different people you know, influencer types like myself and others, maybe even you, I don't know. And offered this contract, to refer people and to be like, on an advisory board and we'll give you some equity or some options. Wasn't equity to some options. And they were all excited to send this to me. And I read through it. I was like, no way in hell am I signing this thing. You own anything. I say anything I do you know and had all these clauses in it. And I was like, only a fool would sign this. And it turned me off on that particular aggregator. And I was like, I don't, I wouldn't recommend anybody to 'em based on this. So yeah, it got interesting there for a while.
Liran:
It wasn't one of the biggest for this particular one, it was one that's I think doing pretty well and still active it seems, which is good. But no, it wasn't at least one of the top two or three big biggest guys on this instance, but, yeah. Inter an interesting space. So yeah, I mean, you can say that there are benefits to getting into the space of services or whatever. It was never my intention at the beginning.
Kevin King:
Yeah. Nevermind either.
Liran:
You know, like how, how I got into it. I got into it because I took Andy Slamon's course in 2015. I took his course and because I was in this course, I became friendly with him. And then I went out to a bunch of other masterminds and learned, and then I would kind of come back and I would share some of the stuff I was learning, with Andy. You know, some of the things I was, I was learning. And at one point he was doing a retreat at the end of 2016 in Colorado, a private label retreat. He rented out a kind of like a mansion in Breckenridge. And he was teaching private labels all weekend, from Friday to Monday morning.
Kevin King:
Y'all did one in Orlando too after that or something, right? Yeah, I remember. Yeah.
Liran:
Yes. Yeah. So we did a few of them, and that was the first one. And he invited me to come for free. He said just, just come. And then leading up to that event I ended up helping also come up with some content. And I ended up doing some of the content at, the event itself, especially on, on the PPC side, something I was learning and, and getting into. And I, and it was cool cause it was like a $5,000 event, so just going free was kind of cool. Had a private chef. It was like 12, 13 people like good networking, et cetera. And at the end of the event, Andy hands me a $5,000 check and he says, Hey, I want you to, and was in this business with his nephew Nate.
Liran:
Now they're, they're continued. And, then they also have a brand together, a very successful brand together, and podcast and everything else. And he said to me, here's a check for five grand and I want you to be a partner with us, right? And again, like, don't kind of look for what people say, but look for what they do, you know? And like, that was a very generous move in my mind right from, from his end because he just, he was already being generous by inviting me to come free, learn, learn, teach, whatever, right? Enjoy, enjoy the house, and private chef. The experience was great. And then gives me a check and says, I wanna partner. And so then it was at the beginning of 2017 that started to create content together and have a Facebook group.
Liran:
And that's kind of how I started to get into the space of going from being like just a seller, which it's what I started at to also getting into the space and a lot of the stuff we did came from needs like helped, helped Andy like revamp his course. And then we had a guy, for example, who contacted us and said, Hey, can I post in your group like the graphic design work that I do, for people's images? And he said in the beginning, he said like, okay so he started posting, and then he came to us, look, it's going well. Like, I want to pay you a commission on every sale. So we're like, okay. Like, well, first, before the guy even, allowed him to post.
Liran:
I said to him, look, I'll give you one of my products, revamp my images for me. He was like, Photoshop, see if you do a good job, right? So he did a good job. He posted the group, then he started paying us some commissions and we're okay with that. He was doing good work. But then he started to kind of like harass and spam people, like, Hey, I did your images. And he would Facebook message him like, Hey, I wanna rewrite your listing. And he would like, to get aggressive marketing, right? So I said to Andy, like, Andy, like, screw it. Let's start our image service. And you know, this guy's like harassing people. There's demand for this. There's a need for this. Let's just start our service, right? And that was kind of the lead to starting copywriting and images.
Liran:
And 2017, I saw the ad space getting more and more complex. And I said to Andy, I'm like, we have to start a PPC agency. Like we have to start it because I see what, I see what's happening. Amazon's adding stuff. It's getting more complex. People can't manage it. And I didn't know exactly how we would do it by, by, but by 2018 we had started managing you know, managing ads for people. And so everything kind of feel like evolved very organically and, you know naturally it wasn't like a grand scheme to come into the space, post a bunch on Facebook make myself an influencer so that you can start like selling people stuff, you know?
Kevin King:
So you're not actively selling anymore, right? You're focusing on the Incrementum Digital
Liran:
Yeah. So I had, so I sold one brand to a competitor. It was in the whiskey decanter space. I had three design patents on it. I had one brand in apparel that just had like 200 plus SKUs. So I wound that down. I invested in 2020. I invested 50% into a brand in arts and crafts. It was one listing that did like 400,000 a year with three SKUs. It's my COO who in, in the agency and, and, and partner in the agency. And I'm like, let's scale it up. We, we, I invested in the brand. We had a good year, in 2020 and 2021. But basically, we were getting so busy with the agency that at the end of 2021, we just sold out of stock and Christmas and didn't continue to add on products. We thought maybe we would go to Shopify and like do more with it. But we also decided we didn't really wanna lose focus too much and decided to kind of just sell out of the products and be done with
Kevin King:
It. That's the same thing that happened with Helium 10. You know, with Manny. Manny was a seller first, right? And then when Helium 10 started taking off, he's like I'm doing a million or 2 million here. I think he's close to 2 million at that point on his, on his product. He just said, Mike, his brother said, you just take it, it's yours. You run it, take it and run with it. I gotta focus on my energy and time on hem 10, cuz I think this can blow up and make me a lot more money. And that was a wise decision because Right. He had a very nice exit because of that decision, right?
Liran:
Pay paid off. So I mean, it also shows you the power of focusing. Yeah. You know I mentioned to you before, before we got on that we implemented EOS probably, I would imagine a good, good amount of people who are listening have heard of it. It's called the Entrepreneur Operating System. It's from a bestselling book by Chino Wickman called Traction. And we hired an e os coach at the beginning of 2022 January. The reason why we hired that coach is some of the things we were talking about. We got together, a few of us from the agency got together in person last year in December, and we're like planning out our year. And one of the things we wanted to get better at was systems processes, like throughout the company, et cetera, and just level up. So we hired this coach and it helped put a lot of things into clarity.
Liran:
You know, when you're an agency or even a seller, you're thinking a lot about what should I do next. Kind .f a thing, right? How do I grow, et cetera? And we have a lot of ideas, different services we can offer and where we can add value, et cetera. And we were unsure like sometimes we're unsure if we have an idea for something, should we implement this? Should we just kind of be focused on what we're doing and try to get better and better at what we're doing versus adding a new service or whatever. And one of our, one of our like goals for the, for the agency, three-year goals for the agency was to get, get to 15 million in revenue. And we get on this on this call with our coach and we're like, we're thinking of doing this other service or whatever. And she just asked one question, she's like, do you need that service to get to your 15 million goals in three years? I'm like, no, heck no. It could do it just on PPC and she's like, then why are you doing it? You know, like staying focused on the goal. And it's that kind of like clarity that having a coach like that in your business is super helpful and kind of like Manny probably could not scale both his Amazon business and Helium 10 at the same time. No,
Kevin King:
It was, yeah. He did something similar. I mean, yeah, exactly. He couldn't scale 'em, he had to focus. So he dropped his Amazon business to his brother and then actually they went to a war room event and a war room for those of you don't know, it doesn't, it just wound down. They, kind of split off the guys that started and are doing their own thing right now, they have their masterminds, but the war room was $25,000 a year and they would meet six, eight times a year. They'd have a few big events and then it was private and there were a few hundred people in it, but not just Amazon people, but like from all different industries. And they would bring in people about mindset and setting up systems and setting up processes and all this kind of stuff.
Kevin King:
And they were a talk that he and Gui went to that completely changed their philosophy on everything. That completely changed the way they were doing it. You know, at one point, it's similar to what you just said Helium 10, back in 2016, 2017, and 2018 was doing affiliate deals where they would do webinars for a Kickstarter con guy, some guy that was doing a Kickstarter campaign would leverage the Amazon the Helium 10 audience and to actually do a webinar and he 10 would make a commission off of that. They did stuff try, they did one for Traian Turku when before you, he went with, with Ben Cummings. They did several of those and then they dropped all that stuff. And, it's like, just focus on the core thing. And like EOS it has like six principles, that kind of spin around a wheel. I mean, so it says, looks, focus on these six things. Like people I think is one of them. Vision is one of them. The data is one of them. The process traction and issues. So those are the six things like that, that form a wheel on e os. And those are the things to focus on. And how do each of these interplay and which ones can you do to move your business forward and, and hit that 15 million goals or whatever it may be that you have?
Liran:
Yeah, yeah. It shows you the power of focus and, also getting better at the system's benefits of hiring coaches. We now have, and EOS has something called a level 10 meeting. The reason why it's called a level 10 meeting is, you know at the end of the meeting everyone rates the meeting and your goal is to get a 10, right? But sometimes you might get, we typically don't rate our meetings a 10, but we might rate eight, eight and a half, nine, depending on how much we kind of follow the system and, and focus. But there's a very structured way to run a meeting. And, we do that now throughout every kind of department in the company. You have five minutes of going around, good news, personal, professional, whatever, kind of break some ice in the meeting.
Liran:
You then go over to a scorecard where you read off kind of some of the KPIs that you're following. If something is not, you kind of look and see if it's on track or off track. If it's on track, you don't do anything. If it's off track, you might add it to the issues for that meeting. You next go to headlines, which you cover anything, any employee issues, any big wins, something like that. For a few minutes you cover headlines and then you cover rocks. So your goals, your quarterly goals are rocks. So like a to-do is something you could do in like a week or two. Your rock is like, what is your main goal, for the next quarter? That's your rock. So everyone goes through their rocks and they just say on track, off track, that's it.
Liran:
If it's on track, you don't talk about it. If it's off track, you might add it to the issues list to cover wine. And then the next part of the meeting, the meat of the meeting is the issues. You can add issues. And we use a software developed by them too to kind of run it called 90. And so before meetings, we'll like I might add some things to the issue list I wanna discuss with the team they add. And some things come up in the, in going through rocks and scorecard, we'll add to the issues, and then we just go through those issues, talk about them. We might make some decisions or what the next step is and create some to-dos in there. Actually,y we've synced our to-dos from the software Zapier right to the click-up that we use.
Liran:
And now every, we first learned it and then we, you know Brian, my CEO kind of taught it to the rest of the company, and now everybody runs on that one system to run every single meeting in the company. So you go away from a meeting with some decisions made with action steps. And it's not like cause a lot of meetings are a waste of time and you kind of go away from these meetings with typically some actionable next steps for things. And also it's good accountability going into every week kinda are you on track and off track? So highly recommend it. You can read the book traction and try to implement it yourself. You can hire a coach. The coaches are not so cheap. So I would say probably if you have at least a few, I don't know, 5-10 employees in the business, maybe it becomes more worthwhile to implement.
Liran:
But you know it's made a difference you know, for us in terms of like how, how, how we're structured. And, then other things you do initially are like building the vision for the company. Three-year vision. You also create an accountability chart, which is kind of different from an org chart. So as an example, the way we build this chart is not who's your boss, but it's like, what role are you sitting in right now? Right? And then will you be sitting in that role forever or at some point will you need to hire that role? So for example, at Incrementum, I'm CEO, which is like the visionary. I have an integrator, which is my CEO, but I'm also sitting as like head of sales, right?
Liran:
At some point, I may replace that, but today I'm sitting ahead of sales and if there's a more junior salesperson, they're kind of reporting to me too, right? They're not reporting to the head of marketing or whatever. Cuz I'm in that role. I'm in that seat essentially. So you could have, you could be the CEO and sitting in customer service if you just started, right? So you're kind of like building up your three-year vision, but then who today is sitting in that seat? And, what roles will you need to get to that 15,000,00 3-year goal or whatever it is? So it's super interesting you'll probably get feedback on this from people telling you that they've implemented this in their business I imagine from this podcast.
Kevin King:
So 15 million in sales to the agency is what, about 750 million to a billion dollars or maybe a little bit more in actual sales for your clients?
Liran:
Our clients, I think our clients did close to like a billion dollars in sales this year or something like some crazy number. But we don't charge a percentage of sales. We charge more on, we charge more on ad spend, but we didn't do 50 million. We did, we did multiple millions of dollars, but we didn't get to 50 million yet. But yeah, collectively, our clients have sold a lot. Also, have one client that I think we have one client alone that's over a hundred million. So that kind of tip to scale. And another one that's like 45, we have, we have a few that are, that are pretty big, but yeah, I think collectively we got, I think close to a billion dollars or something crazy. Yeah,
Kevin King:
And a lot of people don't know this, but Manny Coats, the founder of Helium 10, his girlfriend at the time was an Amazon seller too, and she had her line and she was using you guys right when you first started, and she had really good things to say. She no longer sells. I mean, since they exited, there's no reason for her to continue that account. She just wound that thing down, said the heck with this, I don't need to mess with this anymore. So as an agency though, I think one of the challenges, is there are quite a few PPC agencies that popped up like you said it got, it's getting more and more complicated and a lot of people don't understand it and they want someone to manage it.
Kevin King:
But the problem is what I've found, I've tried a few different ones. I've not used you guys. I've heard good things, I just haven't used you guys yet. But it's, it is not about the agency, it's about the person that, that manages your account. And so, I mean, you can ha go to a highly decorated agency that's won all of the kinds of awards and has all kinds of great case studies, and if you get the wrong account manager, all bets are off. So how do you deal with, or if you get the right account manager, then you're like raving about this company. How do you handle that? How do you train your people? How do you deal with that issue when someone one of your clients comes to you and is like, this just ain't working, I'm switching to X, Y, Z agency? And you're like, hold on, hold on, hold on. How do you handle that?
Liran:
Yeah. so I would say in some sense you're, you're right, in some sense, no. Yeah, I would say the answer is yes and no to that question. Because yes, there are managers that you'll find are rock stars and can be amazing. And sometimes you'll hire somebody and they turn out not to be amazing, but we try to minimize it as much as possible in several ways. The first year that I ran the agency, I probably sat in on 250 or 300 interviews myself and I quickly learned that a great resume and even some questions maybe asked the person before do not mean they know how to manage PPC I had this experience both from interviewing people that were six-figure type people that worked for like big agencies in the US and or were us based and had big salaries and also somebody overseas.
Liran:
And we quickly learned that if we were gonna not waste, cuz you know, I remember sitting on this interview, it was a person from like a big, big agency let's say like wasn't a pattern, but let's say like a pattern type, right? Like a big company that hires, you know US people only. And, and you know, there were in the advertising space, and I interviewed this girl, she was six figures, and I asked her like, what do you do when you have a keyword that has high ACoS? She's like, I pause it, and like Brian, my CEO's on the call and like on Zoom, I'm like direct messaging him and I'm like, Brian, we need to end the interview. You know, like, we need to just like get off the call.
Liran:
Why am I gonna spend another 40 minutes asking her questions? Like, this person's not qualified because you wanna manage the bids, right? You don't wanna just kill a keyword completely. It depends kind of on the situation, but you wouldn't just pause the keyword, right? Especially if it's a broad match or phrase match. And it has underlying search terms, some that are good, some that are bad. You just killed the whole thing. So we realize we need to develop systems. So we developed first a test, okay? So today you don't interview with us until you first take a test. If you pass the test, we also need to test your communication.
Kevin King:
This is a test on what's an example of a question on this test?
Liran:
Go to this listing on Amazon and give me what are the top 20 most relevant keywords for this, for this, okay, for this listing, or what would you do in this situation? As you have a cost of 74%, the client's goal is to be at 30%. What are you doing, right? We wanna see how they're thinking about PPC how do you launch a product with ads, right? Like questions that get me into their mind about how they think about advertising. If they launch a like I'll tell you, I sat in so many interviews where somebody said to me, I said, how do you launch a product? Well, I put on the auto campaign, I let that run for two weeks, then I see the search rooms convert and I add them to like manual campaign.
Liran:
And like, that's not how we run launches. You know, we focus a lot on relevancy, exact match, getting taken advantage of the honeymoon period, and driving conversions top of search placements, right? Like we don't want auto campaigns with a bunch of irrelevant keywords at the beginning of a launch of a product, right? We don't manage that way. So as soon as somebody says that, like that's it, it's over. If they put that on the test as I want, there's no reason to talk to 'em, right? They don't know. This is something people did in 2014 or something, right? Like, so this is what would happen on interviews until I said like, we can't continue to interview like this. We need a different process. So we have a test pretty extensive. You pass the test so go the test results, go into click up, get reviewed by somebody you pass, we then send you an automated message that asks you to talk about something related to Amazon ads or whatever, right?
Liran:
We wanna see your communication, how you think about things, whatever you pass that, then you go to an interview. And if it's a more junior level ads role because we have, we have Amazon, we have ad analysts that are kind of like assistants to the managers, and then we have managers and we have senior managers and we have team leaders, right? If it's a more junior level role, the person interviewing Mansur, who was on, I believe did some content with right? For Helium 10, he'll interview, he's an expert, and he's got the go-ahead to hire. If it's a higher level role, senior manager, maybe Brian will sit in on it, for a second interview. Or maybe I'll sit in on it if it's kinda like a higher-level role. And so that's one way, one way to minimize garbage, first of all, is not to let it in right now.
Liran:
The second way you asked about the quality of the person. The second way is we do have internal training. So we expect people to have experience with ads, but we have a lot of very extensive training how, on how we do things, how we use our software tools, how we do our reporting, and how we set initial goals. So we have a lot of extensive training. We also start many people off as ads analysts where they're an assistant to a manager. And so we're not giving them the keys to a manage a bunch of money until they prove themselves as somebody who can help another manager or at least work with another manager for four weeks, let's say they, they're qualified to come in as a senior manager, they're gonna work with another manager for four or five weeks, learn the systems, et cetera, before they take on a client.
Liran:
And then we also have an audit team. And our audit team will also randomly do internal audits on accounts. So they'll randomly go in and, and look at the account, pull, search term report, pull a bunch of reports, see if it's being managed well, at the end of the day, there's, there is no full proof method. And I will say yes, like the best managers that are most experienced, and when I say best, most experienced, it means they have experience managing huge spends, a lot of SKUs, complicated things. But we also have incentives in the company where you know, some people are incentivized, like team leaders based on their team getting promoted and moving up. And they don't just get to say, Hey, you're promoted and we promote the person. They say you're promoted. And then that person goes on a three-month trial, they do some work that we supervise and see if they could become a senior manager or if they can go from analyst to manager.
Liran:
But we also have incentives for our best people to train people so that they can move up in the company and they also get rewarded for it. So try to do as much as possible to make sure the rockstar in the company is also training other people to be rock stars. And that you know, it's a win-win if that happens. And that we have audits and like systems in place to minimize and, and probably why we have a generally good reputation because not every agency has the capability and the number of people on the team, et cetera, to be able to, to be able to do that.
Kevin King:
And then one other thing that I've noticed with your position in the industry as well as from your agency and to just people who know you you seem to be tied tightly with a lot of guys at Amazon. You like to have like not, I don't know if inside information is the right way to say it, but you're like on a lot of the beta testing teams and you know, you know in advance, like, Hey, Amazon's working on this. They're gonna be releasing this. It could be something for ads or it could be something somewhere else. And you, you post a lot, on Facebook about that. How did you get tied into this kind of like you're like on a seller advisory board or something for Amazon?
Liran:
I would say also networking and going to a lot of events. You know, I was also, I was in Amazon exclusives as a seller, and so I built a relationship. Being in Amazon exclusives, you got some opportunities to go to headquarters, meet your rep, and meet some people there. I developed relationships after I went. I sent them a package with like my products and I spent focused on developing those relationships. And over time I'll give you an example, right? Seller Labs, we went to that conference, right? Well, Jeff Cohen, who ran seller labs now works at Amazon, right? So if you have some longevity in this space and you build relationships, and at my good friend Lisa Abel, who was a client, we helped her scale her brand. She exited her brand. Now she's on the Buy with Prime team at Amazon.
Liran:
So about three weeks ago I met with the top guy from Seattle who runs Buy with Prime because he was coming to New York. I'm friendly with Lisa. We've introduced clients to Buy with Prime, I've given feedback, et cetera on it, and I got a chance to meet with him. So I would say mostly through networking. We are also an Amazon advertising partner, so we're like officially approved by Amazon, which means we meet with Amazon every couple of weeks. They're not telling us all the secrets to everything and don't expect your rep to know the algorithms. But I can escalate things like there are some opportunities to like get someone to hear you out on stuff. And we had a blog post written on Amazon's blog and it's, and it's mostly relationships. And I guess I would say that I'm not great at everything but networking and relationships I guess is skillset.
Kevin King:
And you were featured in like one of their videos or one of their or some program or something at one point, weren't you? Was it your brand or your agency? You were, you were like highlighted by Amazon.
Liran:
Yeah. well actually my brand, which was in the apparel space was in an Amazon Prime commercial once again, I was in exclusives and so I got to like connect, but then, it was hard to see. It was like on a truck and, they had this commercial where they had a freight train, bringing products and for like each freight train, each section of the train had a different brand on it. My brand was, was there, but and you know, one time, like I re I connected with somebody at Amazon that was a very high level in ads, and I said, I would love to come to meet you. And they're like, sure, email my secretary. Right? So like I flew out to Seattle to meet them and build that relationship, right? But yeah, the agency, I think we, we had a blog post with, with Amazon on the agency and, and I think I was at an event and a photographer like took a picture of me and like if I was in Amazon event and another Amazon event, they had like video, video filming people, like, whatever.
Liran:
So I went up, I'm like, what are you guys filming? Well, we're asking some people questions about the event and we might feature it tomorrow on the screen. Well, I filmed some stuff for it. And then the next day I was super disappointed because like Vanessa will what be it? The tennis player? Venus Williams, right? Yeah. And I felt, I asked the question, the film asked me some questions, it was supposed to be on screen asking her a question, and mine didn't make it. So I'm like, oh, it didn't make it. And then turns out they used part of that footage for like a YouTube video or whatever, a recap of the event or something. So part of it is just being wise about kind of le leveraging opportunities like networking, reaching out to people, and flying out to Seattle to meet an Amazonian if they're high up. And it's worthwhile to build that relationship cuz they know me, I can then email them on something or whatever. Right.
Kevin King:
So I know when you took that flight out to Seattle to meet them, I know you made a stop in the cockpit because every time, every time you're, you're traveling on a plane, I see a post of you, you like in the pilot smiling. How do you pull that off every time? Do they, they look at you weird, like how do, when you're getting on the plane, do you like, wait for a second, can I talk to the pilot for a minute? Or how, how do you, well what's your little line? What's the line that you use to get those pictures? With, pilots all the time in the. So
Liran:
I did it once, and I think it was in 2018. In 2018, and 2019, I probably was traveling over, over a hundred days. Like, I think in 2019 it was like 150 days that I was traveling, to different events and stuff and including China multiple times for the Canton Fair, et cetera. And one time I got on the plane and I made, and I was flying so much that I made like Delta Diamond, which means whether you have a business class seat or not, you get on the plane first. So I got on the plane and I said, Hey, can I take a selfie in the cockpit? I don't even know why I did it, but I did it and I posted it and it got like all these comments and everything so I'm like, oh, this is pretty cool. So the next time I went on, I did it again and then I just made it a thing and I just, like, every time I went on the plane,
Kevin King:
It's like your trademark now.
Liran:
Yeah, yeah, exactly. So generally, if it's like with Delta, I get on the plane first because I don't know if I'll continue to maintain that status, but they extended it multiple years because of Covid. So I like 2020, they're like, no we're not gonna cancel people. There's no flight. So, I think mine will end this year, but I think I'll still be able to do it. But I get on the plane and I see the flight attendant, they're like, Hey can I take a selfie in the cockpit? In, the cockpit? And usually, they're like, sure, let me ask the pilot or whatever, you know. And they're like, Hey, somebody wants to take a selfie with you. They're like, sure, come on in. And then I'll go in and like, the pilot will be like, why don't you sit down and they'll take a picture of you, you know?
Liran:
Cause like I never ask to like to sit in their seat, but sometimes you'll see me holding onto the noise or whatever, right? And it's cuz the pilot says like, Hey, sit down. And I feel like first of all, it's kind of like customer service in a sense. And also I think there's somebody who thinks her job is cool if you want if they want a picture in the cockpit, right? So one time there was a woman in the cockpit, happened to be with my daughter and I brought her in to see like a, a woman pilot, and she was talking to my daughter about like, look, anybody could be even women could be pilots too, right? Because you don't see women pilots that often. And yeah, just kind of, you just come and ask. One time, I went on a plane recently and I said to the flight attendant, can I go take a picture in the? She's like, no, you can't do that. I'm like, are you, are you, are you a new flight attendant? You know, like, maybe you don't know this, but I have like 200 of these pictures, you know? So she's like, okay, let me, let me check. And she's like, oh yeah, it's okay. You can go and do it. I educated her.
Kevin King:
That's awesome, man. That's awesome. Well, Liran, man, I appreciate you taking the time to come on today. We could sit here and talk about anything and everything for quite some time and it's been great to have you back on the AMPM Podcast after what, six, seven years, or whatever it was.
Liran:
Yes, thank you.
Kevin King:
And everybody out there and Liran has a podcast as well. And I was on it about three or four weeks ago. Make sure you go check that one out. I think he said it's the longest podcast he's ever done.
Liran:
Yeah, it's over an hour.
Kevin King:
We talk about you know, the NFT space and a whole bunch of other cool stuff. So, how did they find that? Later on, if they wanna go check that out.
Liran:
It's an e-commerce mindset podcast. So it's Apple, Spotify, whatever, Google podcast. So it's called E-commerce Mindset. Just find it. And also we have a really good newsletter we've been putting out weekly on LinkedIn, which just updates in the Amazon space. There's not even an email opt-in or anything. You just like to go to Incrementum Digital, our page.
Kevin King:
How do you spell Incrementum for the people that don't know how to spell that, how do you spell that?
Liran:
Incrementum Digital or just search for me on LinkedIn. Liran. Find the page Incrementum Digital. There's also an Australian Increment Digital, so find the right one and then you'll see on the page, you can subscribe to our newsletter, and then you, you'll get an email notification when it's out. We're gonna put a sign up on our, on our website too shortly. But it's good. It's just valued. We don't like to pitch anything. You'll find it valuable. You should follow Mansour also on our team, he puts out a lot of really good PPC content. Again, we, we don't, we don't pitch at all like, on social media. So everything should, if you're an Amazon seller, should be valuable.
Kevin King:
Awesome. Thanks again, Liran, man I'm sure I'll see you at an event sometime around the corner.
Liran:
Yeah, sounds good. See you. In event soon.
Kevin King:
Leon's always a pleasure to speak with. A sharp guy knows a lot about everything to do with Amazon. Definitely. check out his podcast. As we mentioned. He's got some great guests on there. He does it every week. And don't forget coming up, actually, in about 12 days now, on February 7th, the Bulls and Apes project is releasing the Apes, and they did a permit back in January and it went bonkers. And there's a limited number available on this February 7th minting date. And if you don't know, bulls and apes project.com, you can check that out. It was started by the founders of Helium 10, Manny Coates and Guillermo. And along with Anthony and one other person, they are running one of the most incredible projects in the NFT space. They're, they're a lot of projects in the NFT space have tanked that's run by people that don't know what they're doing.
Kevin King:
But I'm personally invested in it. My wife's personally invested. A lot of people in Amazon's space are personally invested and we've seen our investments in a market, in a bear market when everybody's losing their shirts. We've gone up I think we're up about four and a half to five X right now. And with this new release of the Apes to complete the project, which is synergistic with the original Bulls, it's gonna be I think we're gonna see most likely some huge gains. You never know what's gonna happen, but I think we're gonna see a big multiplier on our investments. If you want to get on the allow list, which is like a private special list, actually be able to mint some apes, look me up on Facebook and just send me a direct message and say, I like to be on the allow list.
Kevin King:
Here's my email address and I can get you on the allowed list. So you heard this on the podcast, so I make sure I put you to the top because if you're not on the allowed list, you're probably not gonna be able to participate in this. Apes Meant, and when New Ones meant when you want to be, be in on it. And so if you're interested in getting on the allow list, which is kinda like the VIP secret advanced list for this February 7th minting, just look me up on Facebook and you'll, you'll be able to find me and send me a direct, a DM there and say, you heard this on the podcast, please add me to the allow list. Here's my name and email address, and I'll do my best to get you on there. I hope to see you again next week on the next episode of the AM/PM Podcast. But before we go, as always, I've got the little nuggets of wisdom for you. And here it is. You know, most advice sucks. Advice is always well-intentioned, usually but it can be dangerous to use someone else's map of reality to navigate yours. Winners, develop filters and selectively implement the advice. Take the signal, but skip the noise. We'll see you again next week.
---
Enjoy this episode? Be sure to check out our previous episodes for even more content to propel you to Amazon FBA Seller success! And don't forget to "Like" our Facebook page and subscribe to the podcast on iTunes, Spotify, or wherever you listen to our podcast.

Want to absolutely start crushing it on eCommerce and make more money? Follow these steps for helpful resources to get started: