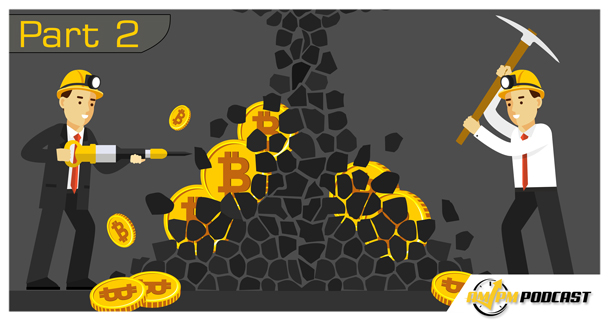 How to Invest in Bitcoin and Cryptocurrency for Beginners – AMPM PODCAST – EP144 Part. 2
Hopefully, Part 1 of episode 144 provided a glimpse into the basics of what cryptocurrency is and how Bitcoin might bring about a new means of conducting monetary transactions. The implications are still being studied, but for a growing number of investors, a decentralized digital currency will shape how we do business in the near future. Now that the introduction is done, it's time to get in-depth about Bitcoin and the cryptocurrency phenomenon.
In this special two-part episode of the AMPM Podcast, host Manny Coats continues his interview with cryptocurrency expert and Bitcoin enthusiast Brad Mills, a technologist-turned-entrepreneur who has transformed a few thousand dollars into millions through smart investment. Part 2 of episode 144 picks up with Brad discussing the more detailed nuances of Bitcoin and the cryptocurrency system. He explains how Bitcoins are much more secure than any credit, debit, and or cash monetary system and how new owners can protect what is theirs to add value continuously.
Additionally, Brad explains how the trading of cryptocurrencies work, the best means of storing your Bitcoins, and what the future of cryptocurrencies as a whole may look like. For a recap on the Bitcoin basics as well as Brad's story, watch Part 1.
In this episode, Brad discusses many interesting topics, including the following:
00:47 Recap with Brad Mills
02:18 Coinbase Comments on the Sedgewick 2X Situtaion
03:15 Coinbase is Safe to Keep Cryptocurrency
04:27 Losing Bitcoins Due to an Unsecured Storage Platform
05:25 How Much Value Will Cryptocurrency Gain in the Next Few Years?
06:01 What Cryptocurrency Terms Should People Be Familiar With?
08:38 What Is The Current Value Of Bitcoin and When Do You Expect It to Correct?
09:54 What Is the Value of Investing Into Cryptocurrencies Like Bitcoin?
12:36 At What Point Will Bitcoin Stabilize In It's Value?
14:21 What Is the Best Strategy When Managing Your Cryptocurrency Account?
17:14 How Do People New to Cryptocurrency Find an Expert to Help Manage Their Account?
18:39 Which Cryptocurrency Should I Invest In?
22:09 When Are All There Cryptocurrencies Expected to Come to Market?
24:17 What Does Putting Your Bitcoins Into "Cold Storage" Mean?
28:01 How Reliable Are "Cold Storage" Devices to Store Your Cryptocurrency?
31:11 How Do You Secure Your Bitcoin "Hard Wallet?"
33:45 Should New Investors Install Security Programs (Anti-virus, Malware, etc.) on Their Devices?
35:17 How Many Bitcoins Can You Sell All At Once?
37:15 Should I Put My Bitcoin on a Hard Wallet Right After Buying It?
38:25 What Are the Top Hard Wallets You Would Recommend?
40:29 What Is Going to Be Happening with Bitcoin 10 Years From Now?
40:58 What Are The Current Biggest Risks to Cryptocurrency Right Now?
45:27 What is "Bitcoin Mining?"
49:02 What Are Reputable Places to Find Good Information on Cryptocurrency?
51:08 Is There a Risk of a Cryptocurrency Bubble Forming?
To watch the video version of this episode of the AM/PM Podcast, check out our YouTube channel below: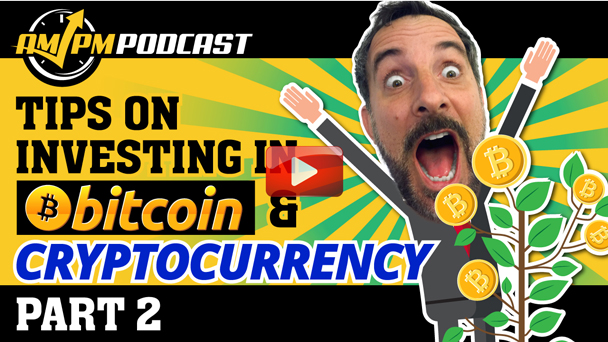 Enjoy the episode? If you found this episode helpful, be sure to check out our previous episodes for more insight into being a successful Amazon FBA Seller! Don't forget to Like us and join the conversation with over 22,000 prominent Sellers on Facebook and subscribe to our podcast!
Be sure to check out our latest content on our Instagram!
Ready to get serious about your Amazon FBA game? The Illuminati Mastermind offers monthly training for intermediate to advanced level sellers (not recommended for those new to Amazon) for advanced tips and tricks to help your sales climb higher. This program is designed for six, seven, and eight-figure sellers, so only serious sellers should apply! Reserve your seat today so you don't miss out on this helpful webinar! CLICK HERE TO FIND OUT HOW TO JOIN
Spend less & make more with the ultimate software tool suite for Amazon Sellers! Helium 10 offers 10+ tools that help you to optimize your listings better and increase sales with an easy-to-use system for one monthly membership price. CLICK HERE TO SIGN UP TODAY