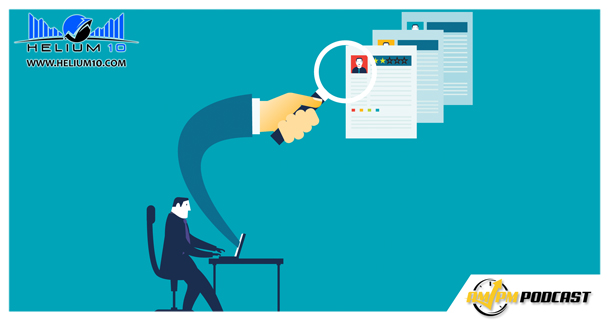 How to Match a Product Review With An Order Using Review Revealer from Helium 10 – AMPM Podcast with Manny Coats
In this bonus episode of the AM/PM Podcast, host Manny Coats reveals a ninja tactic to match product reviews with the customers that ordered your product and left a poor review. When customers leave a bad review, sometimes it is due to the product being delivered damaged or does not work as expected. The Helium 10 Chrome Extension offers an opportunity for members not to seek redemption with the customer who left the scathing review, but also find out who they are so members can address them directly.
When used correctly (coercion or bribery for better reviews is not permitted), Review Revealer allows you to offer an olive branch in the form of a replacement product as a means of compensating a dissatisfied customer if his or her order came broken or defunct. In turn, a customer will see that you take your customer service seriously and may inspire them to retract or change their review of your product in the end.
Review Revealer is just one of over a dozen other helpful tools included in the Helium 10 Chrome Extension that is available to download for FREE. Also, if you are Helium 10 member, you should receive a notification to download the extension as well.
To watch the our other AM/PM Podcast videos, check out our YouTube channel:
Enjoy the episode? If you found this episode helpful, be sure to check out our previous episodes for more insight into being a successful Amazon FBA Seller! Don't forget to Like us and join the conversation with over 22,000 prominent Sellers on Facebook and subscribe to our podcast!
Be sure to check out our latest content on our Instagram!
Ready to get serious about your Amazon FBA game? The Illuminati Mastermind offers monthly training for intermediate to advanced level sellers (not recommended for those new to Amazon) for advanced tips and tricks to help your sales climb higher. This program is designed for six, seven, and eight-figure sellers, so only serious sellers should apply! Reserve your seat today so you don't miss out on this helpful webinar! CLICK HERE TO FIND OUT HOW TO JOIN
Spend less & make more with the ultimate software tool suite for Amazon Sellers! Helium 10 offers 10+ tools that help you to optimize your listings better and increase sales with an easy-to-use system for one monthly membership price. CLICK HERE TO SIGN UP TODAY