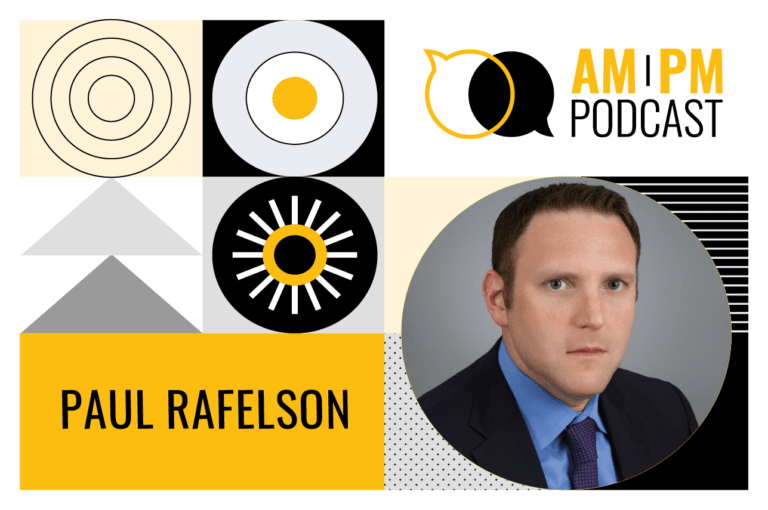 #342 – Meet The Man Who Helped Make Sure Amazon Sellers Don't Have To Collect Sales Tax – Paul Rafelson
In episode 342 of the AM/PM Podcast, Kevin and Paul from Seller Basics discuss:
01:50 – Paul's Amazon Backstory
05:00 – Amazon and State Sales Tax Issues
07:50 – How Paul Helped Change The Rules
14:10 – New Laws That Affect Amazon Sellers
16:15 – What Do Sellers Need To Worry About Today?
22:40 – Beware of Prop 65 Issues!
29:00 – Having an Amazon Specialist Lawyer on Speed Dial
30:44 – Any Pending Legislation That Would Affect Sellers?
36:00 – How Helium 10 Data Helps Sellers
38:50 – How to Contact Paul
40:15 – The Golden Nugget Tip Of The Week
Transcript
Kevin King:
Welcome to episode 342 of the AM/PM Podcast. My guest this week is Paul Rafelson. Paul is an attorney who loves to help Amazon and e-comm sellers solve their problems. He's been instrumental in helping make major changes in the Amazon seller ecosystem. Whether that be from sales tax to how often and how long they have to wait to actually shut down your account to a lot of other things. We're gonna be talking about that as well as some of the issues that are facing Amazon's sellers today from the legal side of things and what you can do about it. Don't forget, also, the Billion Dollar Seller Summit is coming up June 11th to the 15th in Port Rico, San Juan, Bradley Sutton from Helium 10 will be speaking at that event, plus a lot of other great speakers that I've hand selected. Get all the information at billiondollarsellersummit.com. Hopefully you can join us. It's one of the top level, if not the top level event in the entire Amazon selling ecosystem. Hopefully we'll see you there. But in the meantime, enjoy this episode with Paul. What's up Paul? Glad to have you here on the AM/PM Podcast. It's about time, isn't it? Feels
Paul:
Like it. I'm so excited to be here. This is so cool. Thank you so much.
Kevin King:
Yeah, I mean, you're someone that's kind of you know, you take a lot of people don't know the name Paul Rson, but they should because you've been instrumental in a lot of the changes and a lot of what's happened for sellers. I mean, you're an attorney by trade. You've been doing this in the e-commerce space for helping e-commerce sellers for how long now?
Paul:
I've been helping e-commerce sellers for, since 2017. It was when that tax amnesty issue hit, it was a blog post. I wrote a blog post that snowballed into a private law practice. So that was 2017. So before that I was just a lawyer. I was working for Microsoft, I worked for Walmart or for General Electric. It was actually a General Electric, was the last big corporate job I had. And then just sort of by happenstance, wrote a blog post. And I'm like, oh, okay. There's this whole market here. I need to be in it.
Kevin King:
If I'm not mistaken, you were dabbling and selling on Amazon or something on the side, right? As when you were a lawyer, you dabbled about it. You like dabbled a little bit. Yeah.
Paul:
On the side. And even when I was in law school, I was actually funding good chunk of my school on Amazon. Actually, Amazon wasn't my primary channel. I was so long ago. It was like half.com. Do you remember half.com of like a single system and it was Craigslist, but I was flipping DVDs and this was 2002-2003. I mean, this, this was, you know, we would print up. I mean, it was, it was very manual back then. And during the holidays, I would have to go to the post office with like a hundred media mail DVDs a day, and I would just create these, you know, traffic jams at the Philadelphia post office. And I would sit on the floor of the post office reading my law books while they scanned through a hundred DVDs in like two and a half hours or something. It took forever. People hated me. Like I was actually starting to realize I should have feared for my life. I was too young to realize that then. But like, looking back, I should have feared, people probably wanted to kill me during the Christmas season.
Kevin King:
I was probably right there with you back in the late nineties and early two thousands. This is before you could actually buy postage on the internet before indicia.com or stamps.com. You had to have like a, a big physical meter, like a big heavy box kind of thing. And every time you wanted to put money on it, you had to lug that thing down to the post office and say, here, put $500 on it, and they have a special key. And they would put $500 on it. And that became such a pain in the. Sometimes I would just go with like you with a hundred packages or sometimes more and just stand there in line and off everybody behind me. And one guy would've to devote to me, and it'd take him like an hour to sit there, put each one on the scale put the little sticker on it. But you did what you had to do to strap by back then.
Paul:
You can't just go.
Kevin King:
That was the hustle. Go into the UPS store and standing in line there, and you had little forms. You couldn't do anything online or on a computer. You had like a form and you could put up to four packages on, on a single form, and you would write, write in the address by hand. And they'd have to stamp it and all this, you'd be in the UPS line for an hour and a half every night just shipping your stuff. It was crazy. People today have no idea how easy they have it. So you wrote this blog post around 2016, 2017 or so back then, for those of you that maybe weren't selling back then. There was a big issue with sales tax with what's called Nexus.
Kevin King:
And Amazon was for a long time, was just basically ignoring this. And then the states, as Amazon started growing, the states started recognizing that, hey, we're losing out a lot of revenue here. And the, the way Nexus works is if I'm based in Texas and I sell you something into, let's say California, if I don't have a physical presence in California, I don't have an office, I don't have a warehouse, I don't have some sort of physical presence. Then there's a law that the Supreme Court passed called the Quill Act back. I forget in the, maybe in the seventies or something.
Kevin King:
Yeah, yeah. That I don't have to actually collect sales tax in California since I'm based in Texas, only for people that live in Texas. Do I have to collect and remit sales tax? Well, when Amazon started getting so big, the state started realizing, Hey, there's a lot of revenue here on the table that we're missing out on. Cuz people were ordering stuff online. So they went after Amazon initially said, Amazon, you should collect this. And Amazon said, leave us alone. Get fly, get away. Yeah. Get away, mosquito. We're not gonna do that. And so the state said, well, if we don't want really cause a stir with Amazon. Let's, let's go after the individual sellers. So they started going after individual sellers and targeting like bigger sellers and saying, Hey, you're based in Texas. You're selling in California.
Kevin King:
We believe that you're doing 3 million worth of supplement sales into California every year. You owe us 240 grand in taxes because you didn't file, you owe us some extra fees and penalties and interest and blah, blah, blah. And it became a huge deal. And you're one of the people that actually got involved. I'm assuming that's what that blog post was about, something along those lines. And you got involved and actually helped change this whole thing to where now Amazon basically in almost, I think there's a couple states maybe left, but Nope. Virtually every,
Paul:
I think it's everyone now.
Kevin King:
It's everyone now. Okay. Yeah. I thought there was like two or something that were dangling
Paul:
Yeah, Kansas and I think it was Missouri. I think they were both like the kind of last holds at hold up. But I think we're all in now. I think we're done.
Kevin King:
Okay. Awesome. So, so you came in and as an attorney started saying, Hey this is wrong. Amazon should be collecting this. You shouldn't, the owners shouldn't be on the sellers. This is just too much work. And you helped get that changed and make life a lot easier for a lot of people. And unfortunately, some people got caught up in the web around 20 8, 2019, had to pay a lot of money.
Paul:
Yeah, yeah. No, that sucked.
Kevin King:
So you were, you were like going, you were, tell us about the, the short version of, of the story, about how you had to fight that and how that worked. Yeah,
Paul:
So, so yeah. So my background is I did a lot of corporate and tax law. So the, for the big companies that I worked for for most of my career prior to kind of pivoting to this e-comm law you know, I was doing complex corporate tax transactions, corporate tax litigation and defense. And part of that, and what actually drew, drew me to that is the constitutional law elements. So when you're dealing with, especially with state and local tax laws and the interaction of how tax laws affect our economy, it invokes certain constitutional issues. And that's why you have Supreme Court cases around this stuff. And so when I heard the states were kind of putting the blame for this on the Amazon seller, so, well that's, that seems really wrong to me because as an Amazon seller myself, I said, you know, I don't really feel like we're the store in this transaction.
Paul:
I don't feel like it's our cash register. I don't feel like we're a retailer. And I felt like the states were really stretching the argument to say that, you know, an Amazon's, you know, platform, you know, we're the store not Amazon. And that they were, again, like you said, they were kind of avoiding maybe because of the fact, cuz it's based on some of the documents we found in one of our cases that having to do somewhat with all the Amazon distribution centers Amazon was trying to build out. States were kind of going a little easy on Amazon, we'll just leave it at that. So there were sort of two issues. There were states trying to get the back taxes and then this need to just get the law changed and be like, come on, this is stupid. Like you know, across the board, whether it's eBay, Amazon, whoever, like we need make it clear Amazon is the tax collector.
Paul:
And so we targeted California because if in, in the world of state and local tax, California is like the influencer state. So when sort of, so however California goes, so typically goes the rest of the nation in terms of state and local tax policy. So we really heavily targeted California you know, Washington and Pennsylvania had already pivoted to this model. But we really need California to go. So we went to Sacramento and basically started out kind of by threatening a lawsuit actually. And then that led to sort of a last minute scramble to sort of introduce legislation and then we lobbied for that legislation. So I spent quite a lot of time in 2019 flying to and from Sacramento to kind of push that law change and sort of send the message across the nation that that's what we need. The marketplace facilitator law.
Kevin King:
And then around 2019-20 20 that started happening, right? Slowly, Amazon started saying, okay, we're not collecting the tax in this state, in this state. Exactly. Whereas, what about the people that had paid all those back taxes? Do, were they just stuck by being an honest person and out the money? Or did any of that get refunded?
Paul:
I mean, our position was with our clients who were in that situation. We told 'em to stay out of it. We said, don't register, don't listen to this. These either constitutionally. And we just got this case confirmed in Pennsylvania this fall, finally after years and years of trying to get a case in court. And we're still fighting one in California. But, but our position was, you know, look under the Constitution, your use of Amazon's fulfillment center is not physical presence in the sense of the Quill case that you were talking about. That's not enough physical presence. That's really not, you're not, you're not the one putting your stuff in these specific states that's really Amazon doing it. So there's this concept in the law of like purposeful availment. Like you have to you can't just like throw your, cuz if everywhere you could possibly sell something or put inventory into commerce would trigger Nexus, you'd have nexus in all 50 states.
Paul:
That's culture to the stream of commerce, right? You're just throwing it into the stream. It ends up everywhere, right? You have to be more deliberate. So you'd have to be more like, I'm opening up, you know, I'm renting a 3PL space here in this state and I'm putting my inventory in that state. It's a little more d Amazon had an almost national network or building out an almost national network. And just by utilizing that, you know, you could have, when I used to do a little bit of FBA, you know, I could send a box of stuff. I could send, you know 20 widgets to Amazon and, and you know, by Monday it would be in, in Florida. And by the end of the week, I'd have ne you know, if if you were to go by the state's interpretation, I'd have Nexus in seven states and it'd be like seven widgets.
Paul:
It doesn't make sense. That's not how the law works. So we really, you know, position our clients to say, you know, look, you're not a retailer. Two, you don't have Nexus stay out of it. But a lot of people, you know, they got scared and they got these scary letters and the states were even threatened jail time, and so I could understand why people felt like that was scary. There was really no risk of jail time, but people were afraid. And so they'd register, and you also had some tax software companies at the time sort of say, you know, the safest thing you can do is register, but you're like, well, it's 2019 and they're about to change the law, and why is registering gonna help you? Because it's not about the perspective.
Paul:
It was, and in fact, if our clients wanted to register perspectively, we would help them restructure their businesses so that they were like registering to new co, but not under their old co because here's the problem, if you registered in 2018, the second you registered, then they got you. Then California was like, okay, aha, now we have you we're gonna go back to 2012. And that's what was killing people. So they thought they were listening to like these tax software companies and going, you know, Hey, okay, I'm trying to be compliant here, let me register, start collecting going forward, but not realizing that this was all a trap by the states to basically go and get you for all the way back to 2012. So it, it sucks. And we still have some ongoing cases. We're still fighting. We've got one case right now that's at the footsteps of the United States Supreme Court that we're trying to, we're actually have a call with NFIB today to assess it and see if we wanna push it. I kind of want to, you know, it's a good case. I like it.
Kevin King:
So, so when this finally basically took, took care of itself, and you don't have to register, you don't have to get sales tax permits in all these different states. Now, what other changes did you see come out of that? I mean, you also were instrumental, like as, as you're going through this process, sellers were saying, Hey, we also have this issue and we have this issue and we have this issue. And, and I think the 72 hour rule is one that you actually were played a role in helping as well, right? Yeah.
Paul:
So shortly after we finished the, the work on the tax laws, we started working on sort of the first, there was this sort of EU push to sort of create what seller bill of rights style law. And, and there was some interest by some California legislatures, Buffy Wicks being the main one who wanted to basically create a law that would be similar to what the EU was sort of contemplating about sort of, you know, transparency. And, you know people are, you know, we deal with a lot of suspended accounts and suspended actually not as many accounts these days as ASINs, but you know, there's a lot more transparency in why you get suspended today than there was, you know, years ago. You just get shut off. You have no idea, right? Like, they wouldn't tell you anything. So we sort of lobbied for these changes and, and basically invoke the law in California.
Paul:
And the co you know, the good and the bad of California is that when California passes law, it sort of becomes national law, right? They're like the biggest economy, right? So in the United States, right? So when they're, when they pass a law, and companies like massive companies pretty much just have to adapt to it on a nationwide scale, right? And there's actually Supreme Port case right now called the National Pork Products Pork Producers Case or something like that where they're actually challenging it because they're saying, you know, there's a California proposition that requires cruelty-free pork, and there's, and that's affecting mostly out-of-state producers. And they're like, we can't do this. And so it is just, that's how powerful California is. So when that happened, Amazon sort of just repositioned their, how they deal with suspensions. We started getting 72 hour notices and things like that, which is what was required under the law. So yeah, we really did you know, we were able to pivot out that and get a little extra bonus outside the tax world for the Amazon sellers. And it was sort of the first time we were able to like, use the law to kind of, you know, get some fairness from Amazon, you know? And, and I think that was important.
Kevin King:
And you said that one of the things that you're seeing now that, that your, your firm and some of the services you're involved with help Amazon sellers that have issues. And maybe in the past it was more about the accounts coming completely down, and now some of that's changed. It's more of individual ance coming down. What are you seeing as the big issues right now? I know Amazon's doing a big compliance sweep right now to make sure you have all kinds of you know, going back in time documents, they're doing stuff with you know, verifying old sellers, you know, to make sure you're actually who you say you are. They're doing a bunch of stuff. Finally ki and in some ways they're getting their house in order. There's a lot of things that have just been, they've been ignoring on compliance they're trying to, to implement now. But it, it's, what are you seeing out there that you're having to constantly fight with and help sellers right now? What's, what's the big topics?
Paul:
So on the so we serve, you know, sort of, you can say it's two or three markets, I guess it depends how you wanna divide it, right? I mean, I always look at Amazon as sort of like, there's three pillars. There's arbitrage, there's sort of wholesale, and then there's brand ownership, private label, whatever, you know, however you wanna refer to it. You know, Amazon, if you look at the history, right? Same with sort of sales tax. When Amazon said, you know, we're not a store, we're not responsible for sales tax, they also said, we're not a store and we're not responsible for the safety of our products. Right? And that had been the way for a long time. They sort of said, you know, the marketplace is a flea market, right? It's like going to a flea market.
Paul:
We're not responsible for what you buy. If you buy something from China and it blows up and burns your house down, that's on you and you can sue the China company. But, you know, as you know, good luck doing that. You'll never do that. The courts over the last few years have sort of wisened up to that argument and said, you know, really looking at the transaction, Amazon, you really do look just like every other store in this transaction. This is, this is your shopping card. It's your cash registers, you're in charge of the customer service. You, you own the customer. It's, you know, and so it's really like the courts are having a hard time seeing Amazon's point of view and saying how, like they can just pass on liability. So just to kinda give the audience, you know, in case you don't know, right?
Paul:
Like when you buy a product in a store, if I buy something at Walmart, if I buy a bottle of Coke and that Coke bottle explodes and I, and it cuts me and I lose my eyesight, it's like true case. I don't know if I happened at Walmart, but it's a real case. I can sue the store, right? I don't have to sue Coke. I could technically just sue the store under what's called a strict liability theory, right? And the idea is it's supposed, you know, when things like that happen, it's supposed to be easy for the person who's injured to recover. And then obviously the store can then go through and go upstream to the suppliers and the distributors and figure out who's responsible. But as the consumer, I have a direct cause of action against the store. And in the context of Amazon, it's really important when you have a lot of suppliers in China, when Amazon wasn't requiring insurance, it was a policy, but they never enforced it.
Kevin King:
That was a policy for, what was it, three months. If you're selling for three months and over 10,000 per month, technically you're supposed to have it a million.
Paul:
Yeah. But they never, until a couple years ago, they never —
Kevin King:
But that was just general liability. That wasn't product liability.
Paul:
Right. Now you have that product. Now you have to actually have, you have to have product liability. So if you absolutely do. Cause if they find out you don't, they will shut you down. Cuz we deal with that a lot. We deal with clients who get sued a lot and have to kinda like, I mean, there's not much we can do in that case. We just kind of help them deal with Amazon. So the Amazon doesn't shut 'em down. Just like, okay, give us a moment to, cuz we don't want to admit fault to Amazon and, and, and admit liability until we get the insurance company's green light. Cause we don't want, we don't want to, you know, cause that can affect your coverage. So we just wanna make sure we do it all by the book.
Paul:
But you have to have that insurance. So since the laws, since the courts have kind of said, you know, Amazon can be at fault here, Amazon is 100% cracking down compliance. So we're seeing it on all ends. We're seeing it with FDA, we're seeing it with consumer product safety. I mean it's a compliance smorgasboard on Amazon. So anyone in the private label space, it's like, I've got clients who have sold products for years, didn't have a clue that they were subject to FDA rules. They get shut down, they need to get FDA clearance. They might have class two. I mean, sometimes it sucks because sometimes that, that what they need can take a year, or more right? But that's the world we're in right now with Amazon. So we're seeing a lot of, a lot of issues in the private label space.
Paul:
Like you said, compliance is, compliance is so important. In the arbitrage space, we're still dealing with these pesky IP claims where the brands are constantly in a battle with resellers. Brands don't like the resellers but the resellers are reselling and you know, the resellers are saying, we have the right to sell 'em to the first sale doctrine. The brands are saying, no, you don't. And they're using Amazon's intellectual property tools like brand registry to take them down. That's where we come in. Cuz we, what we did in the last year is we helped a lot of resellers sort of, you know, reclaim their right to, I mean, the law is still very murky on this issue, but what is clear is Amazon's policy, Amazon's policies, you have the absolute right to resell if you have a new authentic product, if your documentation is good, if you can prove chain of custody, so let's say you're an arbitrator.
Paul:
Look, if you bought it from Walmart, you should be good, right? If you bought it from some random liquidator, you know, good luck. That's not gonna help. When you get these sort of inauthentic or counterfeit without a test bike type claims. But when you have good documentation, we can go to Amazon. And one of the things we've been really working hard is getting on, is getting Amazon to see that a lot of companies are abusing brand registry. That's not the way you're supposed to go about controlling who can sell your product. There are other ways to do it, but Amazon's brand registry tools aren't one, and Amazon's, you know intellectual property policy and their reseller code of conduct, both state that you cannot do that. Yet still plenty of these sort of like fly by night operators and brand managers don't know that. And they're filing these IP claims left and right. And what we actually started doing is we actually got confirmation from Amazon is that we're actually getting brand rich rights revoked for brands that do that, which is really cool.
Kevin King:
What else are you seeing out there? That's a big issue. The compliance, you said
Paul:
Compliance is kind of the biggest thing right now, and in my opinion, that's what I focus on because I mean, it forces me to learn a lot. Proposition 65, this is something that was like a nothing for a long time from majority of sellers
Kevin King:
He's referring to California Prop 65.
Paul:
California Prop 65. This is something that I'm really worried about this.
Kevin King:
Those that don't understand what that is, can you explain what that is?
Paul:
Exactly. So Proposition 65 is an old law in California that basically requires you to notify requires retailers and wholesalers and distributors and manufacturers to notify California customers of toxins that are potentially in the products that you're selling. And there's like a list of like, I don't know, 900 toxins or something. I mean, it's always changing. It's ridiculous. It goes on forever. And what ends up happening is like, basically what you're supposed to do is you're supposed to put like a little sticker on your product and it'll say, warning this product may contain chemicals that cause cancer or reproductive harm, and it may list the chemicals such as lead or pH and you're supposed to put that sticker on your product and give that warning to the consumer before they buy the product.
Paul:
But there was always some exceptions to those rules. And one of the major exceptions was that if you were less than 10 employees, you didn't have to deal with it. You were exempt from the law. The other exemption from the rule was that retailers, such as what you would assume Amazon would be were not liable for that law unless they were first, unless they were aware of the violation. So, and they only became liable five business days after they became aware. So, so approximately five case in like 2019 would go something like this. My client would get a prop 65 notice of violation. Somebody would file a 68 notice within the California Attorney General's office. This would be like an individual consumer. It could be any person. It could be any person at all.
Paul:
It's usually some people or organizations backed by lawyers. So the other side of this is very, very, very bounty hunter incentivized. Lawyers can make a lot of money doing these cases. They can basically just pick any product make a Proc 65 claim. And for the time that they spend fighting the case on behalf of the state of California, they're basically what they're called a private attorney's general. So they're basically stepping into the shoes of the California Attorney General and enforcing this law on behalf of the state, and they get to charge their hourly fees while they're doing it. So while you're fine, when you violate, this might only be $700, sometimes the settlement payments could be like 15 or 20 grand, right. You know, just enough to where it's not worth going to court, right? It has to be, they do it just right.
Paul:
But it's a very perverted incentive, right? Because you have attorneys all over the country that just, you know, Downey hunt and look for these products and go after people for this. But with a lot of my clients, as most of our clients are under 10 employees, you know, a lot of them a lot of them wouldn't be subject to this law because they're under 10 employees. And because Amazon was initially notified, and we'd have our warnings up before, you know, within five days, it simply would end the discussion at that point. But there were some changes in the case law over the summer that's creating some chaos and Amazon sort of saying, we're not really that retailer who gets the five day notice. And the courts are saying there's ways Amazon might be aware of these violations aside from these direct notices through the California system.
Paul:
And lawyers are getting creative and sort of making arguments that Amazon knows, and Amazon's basically telling me that they're throwing the white flag up. So now what happens is you sue Amazon, not necessarily the seller. You just sue Amazon. And what Amazon does is they say, and they'll say something and you maybe you make something more general. You say, all vinyl contains this. DEHP failing, all vinyl does. Amazon knows that all vinyl contains failing. Therefore, anything with the word vinyl in it is in violation. Amazon gimme a list of every seller who sold anything with vinyl. Amazon will give them that list, and then they'll say, then they'll send you a letter contact selling you that you sold something with vinyl in it, contact this lawyer and settle the case. And that settlement will be, you know, 15 grand.
Paul:
And it affects resellers too, because you could, you could be a reseller of a single product, right? Like, let's say you sold a paintbrush with vinyl rubber grip on it, and you sold one unit. Actually, let's say you never even sold that unit. Let's just say you, you listed it, Amazon says you're still responsible and, and you have to pay you know, 15 grand to the lawyer, maybe $700 to the state of California, $200 to the plaintiff who brought the case. And that's it. So like the stake gets 700 bucks, the plaintiff gets 200 bucks, the lawyers get like 15 grand.
Kevin King:
What do you do to protect yourself if you're a seller on this, if you're already selling, or if you're looking into something?
Paul:
Well, we may be actually initiating a new lobbying campaign over this, because I have some clients who are very concerned about this. But what you're supposed to do is you're supposed to put the warning up on Amazon. So when you go into Amazon's backend system, if you're the private label brand owner, you can go in, you can put the warning up, there's a Prop 65 section, and that'll make it so that the warning pops up only when somebody from California is buying your product. Or when a California zip code is used. So like if you put 90210 into the list, you know, into something you're looking at, that warning will pop up by the time you check out, and at the same time you're supposed to stick your product. You're supposed to label your product you should also test your product.
Paul:
They're wet labs like SGS, Eurofins. That'll will tell you whether your product has these things. But if you're a reseller, it sucks because there's nothing you can do. Because if you're selling one paintbrush, you got off a liquidation pallet, which probably shouldn't do anyway. You don't control the listing. You don't have contribution rates. You can't even put that warning up. And that's why that I think it's really scary for the resellers. That's why I'm really not happy with the way this law is going.
Kevin King:
So one of the things they can do, you offer a service actually for sellers. It's like a fixed amount per month or something, right? That covers some basic it's kinda like an emergency emergency legal or something, right? So that if can you talk about that a little bit? Yeah.
Paul:
So it's like preventative and emergency legal. I mean, it's not legal. It comes with the benefit of legal. Cause there's network law firms is my law firm and actually a host of another bunch of law firms that will help offer you advice. But it's called Seller Basics, sellerbasics.com. And what it is, it's a hundred bucks a month, and you get a couple things. One, you can run it by a lawyer. We find my career that I've found in my six years of helping Amazon sellers, a lot of the messy stuff that my clients get into is so preventable. Had they just run it by a lawyer, whatever issue it is, had you just asked a lawyer for 15 minutes, you probably would've saved yourself the headache that you're dealing with today, right? So the whole idea of that program is like, if you can talk to a lawyer for a hundred dollars a month, anytime you have a question, whether it's a scary letter, whether it's about something you're going to do, whether it's about your LLC, you know, tax question, you know, we're here to help you, give you that initial insight and then if you want to go from there.
Kevin King:
Just by you drop an email? Or is that you get on the phone?
Paul:
Go into the Seller Basics portal and schedule a call. It's all automated systems.
Kevin King:
It's a 15 minute, just a short, like short consultation call. So it's not like legal work. You're not gonna draw up contracts and all that finance it or something. It's just a general advice.
Paul:
General advice. And then if you want more than it's discounted, we'll flat rate it, it's a lot cheaper. Like the trademarks are much cheaper if you're a member of Seller Basics. And you know what, like typical law firms charge. And then the other benefit that people love is that if you're a counter, you're ASIN goes down or you get an IP claim, we cover it. We, we take care of that. We'll do everything in our power to fight that outside of litigation,
Kevin King:
What else are you seeing out there? As far as legal in the legal landscape and when it comes to e-commerce, any other big issues that are on the horizon or coming up or cases that are gonna be going through the Supreme Court in California or the US or anything? At one point there was this thing where Amazon, what was it a five? Was it like five different little cases that were brought up in the legislature about Amazon opening up and sharing more data? And you know, they started doing some of that, but I'm forgetting what the name of those were. It was about a year and a half ago, there was like five different proposals put through.
Paul:
Oh you're talking about those Senate bills during the antitrust? Oh, those antitrust bills that we were working on. So yeah, it's interesting. And I think that's right. I mean, you've got Lena Kahn, who's wrote this sort of very, you know, she's the head of the FTC and she was the Seattle law professor, wrote this sort of very anti Amazon sort of manifesto ish style law review paper. And, and so she's, you know, kind of has a, you know, you could argue she has it in for Amazon a little bit. You know, it seems like a lot of that legislation died. I mean we were.
Kevin King:
I haven't heard much about it.
Paul:
No, it didn't pan. And we didn't think it was very good. We actually, you know, we were very supportive of the antitrust investigation. In fact, the online Merchant Guild was a non-profit that I run. That's where we do a lot of our advocacy and volunteer like like our Supreme Court cases and stuff like that. We run through, this seller organization that's backed by sellers. We were the number one cited resource in the antitrust court. You go and read the antitrust investigation, you'll see online merchant skills cited more than anyone else. So we really did take the time to give Congress insight into what it's like to sell on Amazon as of 2020 or 2021. But you know, the legislation they were prosing, in my opinion, was garbage. It was just wasn't good.
Paul:
It wasn't going to solve any problems because they were basically trying to say, Amazon is this big platform and they're gonna break it up and, you know, we can't do this and that, you know, you can't be the FBM, you can't be the inventory. You can't, you can't have a provide these sort of services and be the platform at the same time. So you can't be FBA and the platform, you could be one or the other. And our point of view is, well, Amazon's obvious pivot here is just to say they're not a platform and that they're a store, that they're being miscategorized, that they're just a store like Walmart, like Target. And that's actually exactly what Amazon says. So if you look at Amazon's messaging in the last few years, you always see them often referred to the Amazon store. Now you go back to 2017 when sales tax is a big issue.
Paul:
They'd never say that. They'd never say they were stored because that would be a tax liability problem. And they would never say they were stored because that would be a personal injury liability problem. But since all these things are changing anyway, they're, they're sort of going in that they're a store and they're going in on this, they're a store because they're like, they have no reason not to. And because it affect, it's a great defense to any of this antitrust criticism. So for example, a lot of people like to criticize Amazon for competing against sellers, which we know did happen. I don't know if it happened at the scale that it's worth really making a big deal out of it, but it does make headlines. You know, people like, it's juicy. It sounds good. But if you look at the numbers as Amazon private label really much, probably not, right?
Paul:
Like, I don't think it makes a lot of money. I don't think it's material. I mean, I think, I think when you back up batteries, it's not even close to what the hundred, 200 odd billion dollars that Amazon sellers produce. But it is juicy. But I mean, Amazon's defense to that, if you read that, there are statements in the antitrust investigation is sort of saying like, Hey, look when you go to Costco and you see that, what's that stuff called? It's a snuggle that, that fabric softener, it's blue with the bear. What's right next to the snuggle when you go to Costco? Do you know, do you remember?
Kevin King:
I don't know
Paul:
It's the Kirkland version of that and it's also blue.
New Speaker:
Oh Kirkland, okay.
Paul:
Right. It's Kirkland Fabric softener. It's almost was just like a, and it's also in a blue bottle with almost the exact same looking knowledge, right? Like, looks almost identical, right? Clearly the message is right. And so what Amazon's saying is, like, the store brand concept is something that has been sanctioned in retail as good for the consumer. So what we do is perfectly sanctioned, if you look at it from the perspective that we're a store and not competing against our sellers, and we use the same data that Costco uses. So they're sort of post posturing that they're a store now. So that's really fascinating. So we're watching that. We saw Lena Khan take action against the FTC take action against, did you see this, the Nature's Bounty supplement company? Cuz they were using they were manipulating the bestseller batch, right? So they would launch new products and then they would basically borrow the best, they'd borrow the best seller badge. They basically put their old product, their new products on, you know, they treat their new products as a variation of older products so that it would get the benefit of the best seller badge. And this is a company that's like one of the biggest supple companies in the world owned by Nestle, and they got $600,000 fine. So, I mean, after all these years and all these posturing, I mean, the best we've seen so far is the fact that–
Kevin King:
Result of some of that legislation though, I think is one of the reasons that Amazon has opened up the data a little bit more.
Paul:
A hundred percent.
Kevin King:
You know, with some of the brand analytics and the search term. All these new reports that that you used to have to either try to get, through nefarious ways, or you couldn't get or guess. Now they're opening it up. And I think some of that legislation, even though it's kind of died, actually led to them doing that, right?
Paul:
Because if they open up the data, then they can't be accused of having special advantage, right? If everybody, which I always kind of thought, you know, with Helium 10, right? Like, I always thought, you know, really at the end of the day, I never really felt that Amazon had that much advantage. Cause we all had access to that similar kind of data through the tools like Helium, right? I mean, we had the ability to pretty good idea of what was selling, right? In the context of like retail and competition prior to that. I mean, I don't think any, like in the 1990s, I couldn't go to Walmart and like click on a product and say, oh wow, they've sold this many of these, you know what I mean? That just never happened. So, I mean, as far as the history of retail, I think Amazon's been, you know, we've, we've had these tools that have helped us get a pretty good sense of what sells and what doesn't sell.
Paul:
And that's intentional, right? That's to drive competition. Amazon wants people, they don't really necessarily, it's not for their own benefit. And I never really thought that it was Amazon in a big picture, you know, a highly matrix organization, you're gonna have people who do bad things. It's gonna happen, right? I've worked for some, right? It's just, there's just too big, right? So you're gonna have rogue people, but I don't think Amazon's intent was to do that. I think it is to say, I think for that from their perspective was to say, if a product starts trending and we make that data sort of available through tools like Helium that's gonna let the world know that these products are trending and that's gonna create competition. Cause they don't want monopolies, they don't want people coming in and just cornering a market unless they have a patent, right?
Paul:
Like, they want to create competition because competition will keep prices down. And, and, and my point of view is Amazon is always thinking about the value of the Prime member. And if the prime member sees value in lower prices, then that's good, right? So the more competition there is from China, from wherever that that's good for, for the consumer, that's good for the prime member. And so they always, that's why, that's why I think they've always made that information sort of publicly available to some extent. And they're just kind of improving on it. But yeah, I think the antitrust has had a lot of benefits. I mean, I think Amazon as a whole has changed. I mean, under chassis's, you know, we're seeing just more, it's getting better. I mean, they're better to deal with, like I said, we're seeing less account suspensions.
Paul:
We, we have more information now. We know why things are getting suspended. It's easier to deal with 'em. So I do think, I think it's, I think there are, I think Amazon is in a position now, and we definitely leverage this in our practice when we, when we deal with complex cases, we know, we look to government sometimes to get answers if we can't get 'em ourselves to get our client solutions. But Amazon is definitely responding because they don't wanna be broken up. So they're trying to make it better for the seller. They want the experience to change. I think they genuinely do want to do that. Cause I think think they, they don't, they want to change that narrative that was going around in 2021 that, you know, it's like talking to a brick wall.
Kevin King:
Yeah, I agree. Well, Paul, this has been a great discussion here and some great information. If people wanted to know more about what you do or reach out to you how would they, how would they do that?
Paul:
So, yeah, so they could my email address, you just email me. It's [email protected], that's [email protected]. So that literally is my email address. You can email me. I will likely respond, or somebody from my team will. You can go to our website, ecom.law. And if you're interested in our subscription in the subscription program that's separate from the law firm, that's Seller Basics. Check out sellerbasics.com and yeah, love to chat with you guys and, and, and meet you out there.
Kevin King:
Awesome. Thanks Paul. Appreciate your time today.
Paul:
Appreciate you. Thank you so much for having me on. This has been absolutely amazing. Thank you. Thank you.
Kevin King:
As my discussion with Paul highlights. It's an ever-changing world on Amazon. Always gonna be something changing out there. Always gotta be on your toes with those changes. Hope you enjoyed this episode with Paul. Don't forget the billion dollar seller summits coming up June 11th to the 15th in San Juan, Puerto Rico. Information's at billiondollarseller summit.com. Bradley Sutton will be speaking at the event as well as a couple other people from the Helium 10 team will be out there, I think Cassandra and Carrie Miller will also be out at the event. So hopefully you can join us in Puerto Rico in June. Before we leave for this week, I just wanna leave you with some words of wisdom. Here you go. Limitations drive you to figure out solutions. Your constraints inspire your creativity. Limitations drive you to figure out solutions. Your constraints inspire your creativity. Have a great week. We'll see you next Thursday.
---
Enjoy this episode? Be sure to check out our previous episodes for even more content to propel you to Amazon FBA Seller success! And don't forget to "Like" our Facebook page and subscribe to the podcast on iTunes, Spotify, or wherever you listen to our podcast.

Want to absolutely start crushing it on eCommerce and make more money? Follow these steps for helpful resources to get started: