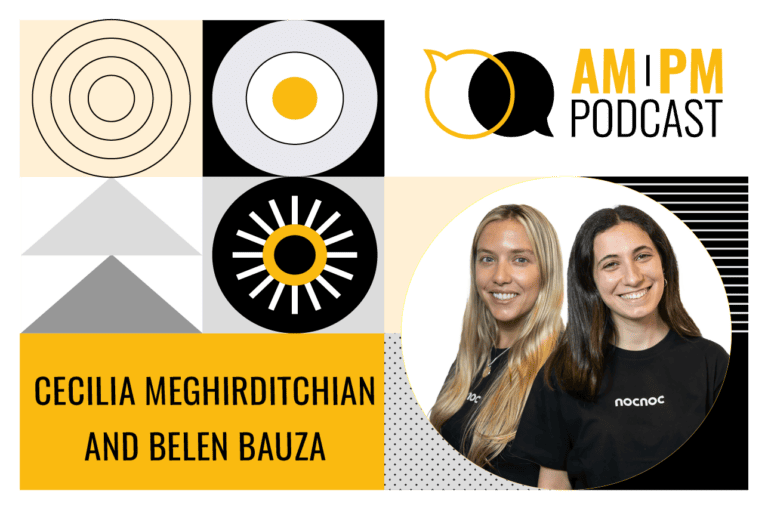 #350 – Navigating E-commerce in Latin America: Challenges and Opportunities
In episode 350 of the AM/PM Podcast, Kevin, Belen, and Cecilia discuss:
02:02– Where The Heck Is Uruguay?
02:59 – Helping Ecommerce Sellers Sell More Or Enter Latin America
07:74 – How Big Is The Latin America Market
08:06 – The Problems In Latin American E-commerce
13:24– How Does Nocnoc's Process Work?
19:19 – How Much Is Nocnoc's Cost Compared To Amazon?
22:49 – Is Opening Your Own Account
24:17 – How Does Returns And Cancellations Work?
26:10 – Can I Send Any Of My SKUs To Nocnoc?
28:49 – Are US Sellers Finding Success On Nocnoc?
30:10 – Do You Need To Change My Packaging?
31:17– Seller Costs When Selling Inside Nocnoc
35:25 – How Many SKUs Does Nocnoc Have Right Now?
35:49 – How Does A US Seller Get Paid?
36:43 – Any Big Brands Working With Nocnoc Right Now?
38:52 – How Nocnoc Helps Market Your Brand In Latam
41:09 – What Types Of Products Work And Don't Work In Latam Countries
43:02 – How Many Countries Is Nocnoc In And Their Expansion Plans
46:14 – Can Sellers From China, India, And Europe Try Nocnoc?
48:16 – How To Get Started Selling In Nocnoc?
49:58 – This Week's Words Of Wisdom From Kevin
Transcript
Kevin King:
Welcome to episode 350 of the AM/PM Podcast. This week's topic is expanding to Latin America. And no, I don't mean setting up in each of the marketplaces yourself and handling all that. I mean, making it super easy, just ship as things are ordered to Miami and it's all taken care of from there, whether that's going to Columbia, to Brazil, to Argentina, to Mexico, and a host of other countries. My guest today from Nocnoc, Cecilia and Belen will tell you all about how it can work, and you can possibly add up to 30% to your top line sales just by expanding to Latin America. And don't forget this summer, I'm debuting the billion dollar Sellers newsletter. It's 100% free for listeners of this podcast. So be sure to go to billiondollarsellers.com and put in your email address and name to get on the beta list so you can be one of the first to get this brand new newsletter. It's gonna be chock full of advice and tips, and strategies and hacks for e-comm and Amazon sellers, billiondollarsellers.com. Welcome to the AM/PM Podcast, Cecilia and Belen, right?
Belen:
Yes. Right.
Kevin King:
How are you girls doing?
Belen:
Fine, thank you. Thank you very much for inviting us. It's a pleasure for us being here, talking with you again.
Kevin King:
Yeah, I'm happy to have you here. Now you're, we're you're talking from Uruguay in South America, right?
Cecilia:
Yes, that's true. We're both in Uruguay right now, and yes, we're super excited to be here, so thank you very much for having us.
Kevin King:
Now, a lot of people, when you say Uruguay, they're like, where the heck is that? They have no idea where that is. I've actually been there. We were talking about that before. It's a small country basically in between Brazil and Argentina, right?
Cecilia:
Yes, that's true.
Kevin King:
So it's on the east side of the East Central, basically side of South America. And when I was in Uruguay, probably been how long has it been? I think in 2009 was the last time I was there. And then I remember touring all over and going to this really famous artist house, it's like a huge mansion on the side of a cliff, and everything was like all his art displayed in there. And I'm drawing a blank on the name, but it was really cool. The, the culture there, the, the meat was really, really good. It's like a cowboy culture in some ways a lot of of raising of beef, right?
Belen:
Yes.
Kevin King:
Now you guys are with a company called Nocnoc And what you guys specialize in is Latin America helping e-commerce sellers sell more or enter Latin America. You know, there's a lot of people that talk about as especially in our world of Amazon sellers, you should go to Europe. And establish on Amazon Europe, or right now, you know, a big one that someone's pushing is Japan, you should go to Japan. It's like the fourth biggest market. But what a lot of people forget about is the Latin American market just right here in our same hemisphere. That's really actually a lot of people. And it's really, really strong. Talk about that, a little bit about the Latin American market in general. Why it's actually a good market to consider.
Belen:
Yeah, and it's growing a lot. The market of e-commerce here in our town, for example, Brazil, Mexico, Colombia, are excellent countries. And for sellers, it is really difficult to expand in Latin America. And yes, what Nocnoc does is like, we connect sellers from all the world, especially right now from US and from China also. And our single platform, our seller center sellers only have to publish their their products. And in 24 hours we'll publish their products in all marketplaces in the town we have like special agreements with all marketplaces, and we'll take care about everything. The last mile, shipping, cancellations, refunds, translations, pay in dollars. So for a seller in US, for example, is the same like selling in US. They only have to ship the products to our warehouse in Miami and then forget about everything. We'll publish the products in, for example, in Amazon, in Mercado Libre, Brazil, Colombia, Mexico, and we'll notify them once they have a sale, and we'll ship it to Brazil to Mexico. And it's like really easy, the business model of Nocnoc. And yes, here in Latin, it's a, a very big market that for a seller is really difficult if they want to expand by themself. So this solution is like all in one solution, let's say. The countries that they're growing a lot since pandemic, e-commerce marketplaces start growing a lot here. So it's a really interesting place to expand and start selling if you already didn't do it.
Cecilia:
Yes, Latin America is one of the fastest growing e commerce markets in the world. A lot of people, as Ben said, are starting to buy online and to gain the trust and the confidence to buy products online. So marketplaces have get a boom of sales there. There is a boom of online sales lately because people are aware of that there are different options, differences, channels, and that they, it's so easy for them to buy online stuff. So the number of people using internet platforms has grown exponentially over the last two years. And in Brazil especially people tend to buy things through marketplaces. It's like the main channel for online shopping. Physical shopping is like also people are, are also transitioning from physical channels to online channels. I think that what has Latin America that other regions don't have is the variety of marketplaces of different channels that people can choose. And if you're only in Amazon, let's say in Amazon Brazil, you will only get at 10% of potential sales because there are different there are a lot of different options and people buying different channels. So it's great to visualize Latin America as a multi-market based region, and that sellers need to be present in more than just Amazon, more than just eBay in different platforms.
Kevin King:
Amazon's in Mexico, they have a presence in Brazil, and they're about to open up in Columbia. I believe, yes of course,
Belen:
Yes, you have a presence in that countries, but it's not like in US, for example, that you have your products in, in Amazon, you know, you're going to have very good sales, for example, in Brazil, maybe you have like more than 20 marketplaces. And it's important to be in most of these marketplaces to get sure you're going to have a good performance. For example any marketplace has more than 12% of the share maybe. So it's like in these countries you have multi marketplaces. No one is like the king, let's say. So yes.
Kevin King:
Mercado Libre is kind of the big one, in all Latin America, they're dominant in most countries, right?
Belen:
You know, it's important to be in most of marketplaces, but of course, Mercado Libre is really well known, but it's one more of all the markets you have here.
Kevin King:
And one of the big problems with Latin America and e-commerce is Latin America, predominantly with a few exceptions is a cash based society in most countries. And so that's been a hurdle where a lot of stuff is COD or cash on delivery. And I know, like even in Brazil, there's a new system where the Brazil government came out with something like some sort of digital payment system that's like making it like super easy to move money around. And that's made a huge difference. But that's just Brazil. A lot of the other countries don't have that. So I know like you know, my ex-wife is from Columbia, and I know there it's a cash society. You know, when you go into to pay my credit card, they ask you how many months do you want to pay the bill? You know, you go into the grocery store, it's Quinta it's like how, how you know, you pay a for a $20 toaster and they say how you want this over 10 months payments, you know, and they, hit a number on the credit card and you pay two bucks a month plus interest or whatever. You don't do that in the US so it's totally different way. So what kind of hurdles are there and how are those being overcome?
Cecilia:
Yes, that's true. I mean, like you said, people are used to pay in installments. They don't pay with international credit cards or debit cards. They want to use local cards that most sellers first don't have the, the payment methods available to process that, those payments with local cards and also digital wallets. For example, Mercado Libre has its own digital wallet called Mercado Pago, but other other marketplaces also have the, the possibility for you to pay I don't know, go to, to a place deposit the money and pay the seller using money. So, as you said,
Kevin King:
So, so if I wanna order on Mercado Libre, and I don't have most, like a lot of people in Latin America don't have credit cards. I mean the, the, yes, the upper middle class and the richer people do. But the vast majority don't. So they're having to go to the local super supermarket and, and pay, give $10 and say, put this on my Mecado Libre. Digital wallet or not $10, but 10 peso or whatever it is. And then they have like that account that they draw from whenever they order something. So it puts up if impulse buys or are less because of that probably.
Cecilia:
Here are multiple financial institutions where you can, as you said, put money on deposit money and they will put it online for you so you can pay things because people are not used to having credit cards or international credit cards also.
Kevin King:
Yeah. So how does that affect the average order? Does that mean that things that sell in Latin America are typically not as online, not as expensive as things that sell, like in the US? Do you have to think about that in those terms, if you're a seller?
Belen:
Yeah, of course. The payments is one of the barriers for a seller. If you want to expand the products by the mon to LATAM, because they have to take the money from here, and of course you have to have some taxes, duties, marketplaces, commissions, to mark up your costs. So products here are most much expensive than if you buy them in us. But what happens is that people here are used to pay much more money for a product that they won't find here in Latin America. They're in US. Maybe you have a lot of products or brands or, I dunno, you find them easily. But here we are recently starting to have more, more options. So for us, it's normal to pay more for a product that you are going to pay them less in US. So yes, that is is is normal here. We know that prices here are much more expensive than in US. And if it's a product, I won't fight here, I will pay for it.
Kevin King:
Yeah. Like even like things like the Apple store there, I don't even know if there's any Apple stores in South America. There's stores and they call 'em different, different names, and it's like Apple products, but everything in there is like I've been in those and like in Panama and in Columbia and a few other places, and they're, they're super expensive compared to here. So that's why a lot of people that, that have passports or visas that come to the us, you always see 'em stocking up. You go to Miami and there's, you know, on Avianca or Copa Airlines flight, or a Tam flight or something. There's tons of boxes of people bringing TVs and all kinds of stuff. Yeah. All the time.
Belen:
For example, in Mexico, it's a really good country to buy in marketplaces, in e-commerce, for example, computer cell phones and all tech products because yes, it's a really good country. I think that the best one maybe to buy these type of products
Kevin King:
It's Mexico. Yeah. And then have it shipped to like your country or what do you mean just in general to buy
Belen:
No for Mexican people to buy e-commerce.
Kevin King:
Oh, Uhhuh
Belen:
Is really normal to buy, like computer cell phones and all these type of products buy e-commerce.
Kevin King:
I know like, like Amazon,
Belen:
Its a really good option for technological sellers in US, for example, to expand to Mexico because maybe other countries like Brazil, you can have like some restrictions in prices or in weight, but maybe Mexico. No. So this is like something really good of Nocnoc that we have like special teams that we have the, the knowledge and the know-how that, which type of products and categories are the best ones to expand in which country, because it's not the same loss you have in Mexico, that in Colombia, that in Brazil. So depending in what are you selling, we perfectly know where we are going to expand you.
Kevin King:
So I know like Amazon US, I can order, I can be in Columbia or somewhere else in South America and I can order from Amazon US and have it one of two things. In some cases, if the seller in the US is marked there's an option in your settings where you allow export of your items, you can restrict that or you can allow it. And if it's one of the countries that Amazon will ship to, then you can actually order from the US and Amazon will actually ship it to that country. And it arrives in some cases in a day or two, some cases a couple weeks, or you can, a lot of people, what they do is they have a mailbox drop in like Miami and it's a forwarder. So they, they order all their stuff and then once a week they box it all up and they ship it down. I know a lot of expats that, that do that. So why, what, how is your system different? You said earlier, I'm shipping everything to, to Miami then are you then taking it to these individual countries? Are you keeping it in Miami and when someone orders it in Columbia or Peru or Ecuador or Uruguay, then you're shipping it from Miami warehouse to them? Or how does that process work?
Belen:
We have our warehouse in Miami and once the costumer buy a product, they have to ship it once they're notified to our row house in Miami. So for them, they only have to ship it to, to us to their own country. And then Nocnoc, we are going to make the shipping to Mexico or to Colombia or to Brazil. So for a seller in US, they don't have to ship it to Brazil or to Colombia. For them, it's like the same. They only have to give us like their full price, the amount of money they expect to get by any sale they have. And then they only ship it there in Miami. So for them, it's like, for sellers, it's not like expanding really to Latin. It's like selling in their own country.
Kevin King:
So you're basically, you're basically acting as the forwarder. So you're what basically make sure I understand if I'm selling a dog bowl and I I wanna sell this dog bowl into Latin America, you're gonna say, okay, these are the out of the 30 or however many countries there are in Latin America, you're gonna say, these are the best ones for dog bowl. I think the dog bowl go. You will, you will take my listing or my information, translate it to Spanish or Portuguese, depending on where it's going, and then, or French in some cases maybe. And then take that and list it in those different market, like you said, there's like 20 of 'em. You'll list it in as many of those as you can. And then when someone buys, they're paying to your account cuz you're set up with these marketplaces and then your system will then notify me, it says, Hey Kevin, we just sold two dog bowls to Columbia and three to Peru. So then I'm gonna package up five of mine and send a box of five to your warehouse in Miami where I'm sending an individual. Yeah. Once for each individual order,
Belen:
You can package it all together and send it once to our warehouse in Miami. Yes, of course. And also if we identify, for example, some of your products are really good sale and you have like some SKUs that are top selling, we also can make fulfillment in our warehouse so you don't have to ship one by one once you have a sale.
Kevin King:
So once you see that I'm work, once you see that, I've proven that, okay–
Belen:
Seller, and we see that some of the products are really good sale, we offer fulfillment, but, and we won't charge anything for the sellers. We'll keep your products and we ship one by one. So you seller don't have to ship one by one to us.
Kevin King:
Okay. So if my dog will start in the beginning, I'm gonna have to ship one by one or every day a ca a few of them depending on the orders. But if you see that, hey, we're selling a hundred of these a month in Columbia and 50 of them a month in Peru, I can ship you like five cases, you know, 200 units and you store it in your Miami warehouse. And then when those customers order, you guys are taking care of getting it to them at the final destination.
Belen:
In one or two days, if you, you are notified that you have sales, like five sales in Brazil, two in Colombia, one in Mexico, you'll pack it all together, you send it to us. But of course it's important to, when we start with a seller we prefer, like starting with the typical model. Like they ship us one by one or they, they put everything in a box and in the final of the day they ship it to us. And once we understand their sales, their shippings, the products they have, which of these products are like the best sellers, then yes, it's easier for us to offer a fulfillment because of course that the idea of this is make it when our product is very good sale and we know that they're going to have, I dunno, but we make fulfillment with 30 products of this SKU. So we, we ask for the seller if they can give us 30 products of, I don't know, alone, for example, we have a lot of choice sellers and maybe like we know some products are really good sell like loans or I dunno, a lot of brands and maybe when we get sure they're going to, they can make like 30 sales in this month, we'll make the fulfillment of that product.
Kevin King:
So this gets, can get it in the beginning. I'm probably not making any money as a seller cuz if my dog bowl is 1995 on Amazon, Amazon will ship that for me for let's say four bucks fulfillment fee and they're gonna take a 15% commission. So they're gonna take $7 outta my 19.95. If I am selling this bowl through you guys for 19.95 and I gotta send them one by one. I don't have the economies of scale of am even if I'm using Amazon to ship it to you. I'm still gonna be in six to $8 probably my cost just to ship it to you. And then what kind of fee do you take on the sale? What's your commission,
Belen:
First of all is not the same like selling to Amazon than to us because Amazon will charge you a commission that we won't charge that commission. You have to Amazon, I don't remember exactly what amount, but I think that selling with Amazon maybe is going to be like at 20% that you
Kevin King:
10% Amazon
Belen:
For publishing the products. So for us, you won't have that. And in the other hand, if you have your products with fulfillment with Amazon, yes. I think that Amazon charts you like, I dunno about $3 when you, when you ship a product for, for us for example, but a lot of sellers has their own warehouse, so they only have to pay shipping with all the products they sell in a day. And maybe for example, they have, you know, 30 sales in a day and they'll pay one shipping with the 30 products,
Kevin King:
You're mixing a bunch of different products in the same box to get yeah, that cost, that cost down of course. And so how as, as a seller, how, how fast do I have to ship to you? So if you get an order in Mexico Yeah. And in Colombia and it's just two units because I just started, how long do I have to, to get my fulfillment, my three pl or to ship that out to you?
Belen:
The idea is to make it like in three days
Kevin King:
Or to get to you in three days or to ship it for us?
Belen:
No, for us, of course. Okay. You should it to us in more or less in two, three days. And then you will forget about the rest. We'll ship it to Colombia to Mexico. People in Brazil, in Mexico, they are used to wait like one to three weeks for a product. That is normal time for us. But for sellers it's important to ship like quickly like in three days because we have like some restrictions of times with marketplaces. So the orders must be like shipped in three days to have like a good rate in, in the stores of the marketplaces. So that is like best for sellers because if you have a better reputation, it's going to be easier for you continue shipping and continue selling well with us.
Kevin King:
Do you have, do you have, when you're getting it from Miami down to these countries, you, if you're getting it there that fast, you're not sitting it by boat, you're sitting it by air, right? So everything is air, everything is, do you have your own like airplanes or you buying space on freighters or extra space on like commercial airlines or?
Belen:
No, we have like special agreements with some shipping companies. So yes, depending to which country and we type of products and we times we must ship it will depend with which co company will make it. But yes, of course that we have, we make like different partnerships with shipping companies.
Kevin King:
So it's not like, so in Latin America what you're saying, it's not like here where someone they order on e-commerce, they expect to have it in a day or two, maybe three days max. In Latin America, they're used to like waiting a week or two weeks. Kinda like if, if here in the US we order something from Ali Express or a drop shipper that was running Facebook ads, it says please allow three to four weeks for shipping cuz it's coming from China and everybody gets yeah, I'm only
Belen:
Four weeks. But yes, imagine that you are, for example, I know in Brazil you're in Amazonas and you are buying something from China, so you won't expect to get that product in two days. And if you are like buying something from e-commerce in China, you are buying it because you really want it. And maybe that product you can't buy it in your own country is really difficult for you to access to local markets. So you won't mind waiting two weeks maybe to get that product. Of course we are always improving timing shippings, but it's difficult because we have sellers, not all sellers are in Miami or I dunno, next to our warehouse in China. And not all, eh, costumes are like, I dunno, in Brazil, in Rio we have, Brazil for example, is really big and we have people buying products all over Brazil. So it really depends the arriving time. When are you located? Of course,
Kevin King:
How are returns in Latin America? In the US people return stuff for any reason and it's like crazy. But in Latin America, they're not, the culture is not so used to returning something for any reason. Yes. So are returns a little bit lower or how does, how does that work? How do you handle that?
Cecilia:
I mean people is, I think the culture here is like, if, if the bread is okay, I will keep it of course. But of course I think in some cases there are cancellations and returns. So when that happen, usually no knock takes the product to our warehouse in Brazil. So in that way the seller just doesn't have to, to pay for the reverse logistic needed to turn the product back to the warehouse in Miami. So in that way we keep the product in Brazil and we wait until a new sale appears. And in that way we, we we should be from here. Yeah, we should be from here in some cases. That is that, I mean usually that, that works very fine for us and for the sellers. We also try to, to reduce the cancellation rates a lot with our team, with our team providing the, the this support for all consumers inquiries.
Cecilia:
But yes, I think the, the culture here is less used to cancel. And I think in the US if you don't like something or if you don't, if not, if it's not what you expected, you will cancel here. I think once you get the product, you, unless it is broken or this doesn't work, you will keep it. And of course you will communicate with the seller if you, if you don't like something. But I think we are not so used to, okay, I need to return this because we, we know that it's not that we get it immediately, immediately in your hands. So we don't want to to wait for the product to return and we get to <inaudible>, we just keep it.
Kevin King:
If I'm a seller and I come to you and say, I wanna expand to Latin America and I've got 50 SKUs, yeah. Am I allowed to send all 50 or are you like, no Kevin these 10 here, you know, the quality's not so good. I look at your reviews on Amazon, we're not gonna take that or we don't think it's gonna work. Or how does that work? Do you actually have to agree to take the SKUs or pretty much anything? I want to send you a list. Yeah
Belen:
Of course we first before we upload a, a template or we make an integration with a seller. We have a team that is specialized in analyzing the catalog of the sellers. Of course we make it. And right now we are much more, much more focused in uploading products with, we know they are going to sell good. It's not like uploading a catalog of thousands of products. We are like studying and choosing like one by one the ones that we know you are going to sell really good. It's faster. We won't make you waste your time. We prefer to say like, eh, okay look you have like 30 products that are excellent, let's push these less, boost your sales. We can help you with marketing actions. We can make cashbacks, we have like banners and special places in marketplaces to promote your products.
Belen:
So let's start with these and of course then we'll, we'll continue with all your products, but it is better for the sellers that's identify those products that have like more possibilities here. Because maybe for example, I don't know, but you sell like, I don't know, we have sellers that sell a lot of categories, only one company. And we know that, for example, the prices of all your choice are really high. If you want to sell in Latin America, you have to make like a 40% of discount, but you only also have like, I don't know, cosmetics. And here you have excellent brands and really good prices because we, first of all, we compare with local prices and local brands and we'll say once you are starting, like let's start with this and this and these brands, and if you can make like this price, it is going to be excellent because you are going to be the cheapest in the marketplace. We can help help you to less your product. We always make that with sellers. We are like continue like talking every day and we are always looking. They can have good sales. So yes, brands, categories and prices are, are really important to have like a good performance.
Kevin King:
What's what's the, can you gimme an example of someone that just crushed it, someone that worked with you guys and all of a sudden they're selling like a hundred a day or something? Or is there an example of someone that's just like, like, just making so much money, it's ridiculous?
Belen:
Yes, of course we have sellers that I can tell who, but
Kevin King:
Of course, yeah. But
Belen:
Like really important companies in us for example, that today they are selling like the 30% of of themselves in us, their 30%. They are selling LATAM with Nocnoc only and they're excellent. For example, some categories like perfumes, cosmetics or toys. If you have like good prices, good brands, you gotta make a lot of money here. Yes, of course, because people here looks for brands for new products, unique products. And maybe in US you are used to buying, like you find every perfumes in Sephora or in, I don't know, in choice in Mattel in any place. And here it is really difficult to get some products and to get access for that. So people like buy a lot of e-commerce for some unique brands and they don't have problem to pay much more for them if they really want them.
Kevin King:
What about the packaging? Do I need to change everything to Spanish and Portuguese or do I can leave everything in English.
Cecilia:
We'll make sure that the product description, the product titles, everything in the market base is listed. Okay. And you don't need to change everything or translate anything, I mean, or we'll send the product just as you have it and then we'll make sure that yes, that the consumer understands everything and we can also translate the, the, the packaging in the description so people understand what are they getting.
Kevin King:
What about like instructions, instructions and stuff like that? You don't need to, I don't need to put my, no
Belen:
Here we are really used to buy products with instructions and descriptions in English. Yes, of course. Like says, you already mentioned in the marketplaces, we'll translate everything to local, local languages. But yes, the packaging, we don't have problem. And here also maybe you go to the per market or to I don't know, to the shopping to buy something and the instructions are in English and yes, we're used to that.
Kevin King:
Okay, what, so what kind of fees do you guys take? How, how does the process work? Do I set a wholesale price to you and then you mark it up, whatever you think you can get? Or is it a flat percentage off of every sale? Cause the marketplace, if, if you sell my dog bowl in Mercado Libre, Mercado Libre's taking a fee, and then you have, you have the cost of fulfilling it or someone does have the cost of, of fulfilling it cuz you're doing like kind of an FBM model with with Mercado Libre cuz you're shipping it from your warehouse. Yeah. Yes. So how, how does that whole, how does that process work? What am I looking at as far as like fees or costs that I need to, to bake in?
Belen:
The seller has to say us like, okay, this is my, these are my products. This is the fob price that the amount of money I need to get by any sale and this is my stock of each product. That is the only information sellers have to give us then to the fob price, of course, that we have to mark up some costs like the last minute shipping, costumes, marketplaces commission, like for example, it is not the same commission if you are selling in Amazon or in Mercado Libre or in Car or in Walmart. But yes, we have to mark up that and of course that in some products, if there is a space we'll make like an extra markup for Nocnoc because we invest a lot. For example, in marketing actions, we push your products in different spaces. In marketplaces we put discounts that we can help you with the discounts.
Belen:
So there is like a little commission a person that Nocnoc will add to your products, but everything is going to be paid by the final customer, not for the seller. The seller for them is like the same because they only have to give us like the, the fob price. And in that price we are going to mark up the the costs. So for them it's like the same if we add or we don't add any price for Nocnoc. But of course we won't mark up this commission in our products because what we're looking for is sellers can sell and if you are like very, just in your final price, we'll probably want at anything. And if there is another product, we see a fit that we can make up something, maybe we'll make it so it depends in some categories it's easier for us in someone's, maybe we won't add anything. It depends.
Kevin King:
So in my case, like, like back to this dog bowl example, if I have a dog, well, that I sell in the US for $20 on Amazon, my costs, my landing cost on that, let's say is, is $3 from the factory. And then I gotta put my market on. So I tell you my fob price is let's say $6. I'm a I'm gonna double it, so I'm gonna make $3 profit off of H one you sell, my $6 is f o b price, and then I gotta pay to ship it to you. So if I'm not shipping a lot of them to you, maybe in the beginning I'm not able to ship a bunch to you, I'm having to ship one at a time. Maybe it's costing me six or $7 for each one of those to get shipped. So I'm, it's costing me $13 for this item. And then, but my fob price to you was six, so I'm losing money on every single one of 'em. Or I tell you my f the fob price is $14, so I can make a dollar. And then you're selling this, you have to put your margin and you're spending, like you said, you're doing all the promotions. So you're selling this, this dog bowl in Latin America for $40, the equivalent of $40 or something like double. Does that work? Does that model work?
Belen:
Yes, it's normal. We are used to pay the double that you pay there.
Cecilia:
Yes. If you bring products by ourselves, importing individually, we'll pay sometimes double or triple because we as consumers also have to pay fees to get a product in in our hands from customs, the shipping. So for us using platforms like Nocnoc is better because for us, final consumer will be cheaper than if we bring the product by ourselves using another service or using a career or whatever
Kevin King:
You're saying. It's better for me if I'm in a Uruguay and I wanna order something and I see it on Amazon US, I could order it on Amazon US and probably have it shipped to me, but I'm gonna pay more than if I see that same product in Nocnoc because you're doing economies of scale. And so people for their therefore want to go to Nocnoc to actually, and, and they know they trust you guys and all that kind of stuff. That's what you're saying, the advantages.
Cecilia:
Yes, exactly.
Kevin King:
Okay. So how many different SKUs does knock-knock, have right now across Latin America? Is it thousands, tens of thousands?
Belen:
Thousands? Yes. We have hundreds and hundreds of sellers. So imagine the amount of esk use we have.
Kevin King:
So how, how, how does the seller get paid? So if I sell, is it once a month you send a reports and a payment? Is it every two weeks? How do is it we get paid when you get paid? How does that work?
Cecilia:
No
Belen:
When the order arrives in the country, the sellers has like an account in our sales center and they have their, like a balance and they can see all the orders and which statutes are the orders, and they can see like the payments and we'll pay, we'll pay twice a month every first and every 15th we'll pay the centers in dollars. All the orders, they already they already been been arrived.
Kevin King:
You keep so you're basically, you're getting, you're the conduit, but you're getting everything on consignment. So you guys don't have to go out and buy a whole bunch of Nocnoc doesn't have to buy the inventory. You, you just provide the means to actually get it there. So, so you're able to expand with less cashflow instead of being a, a market, a Walmart or something where you're actually having to buy all this stuff, you're just buying what basically sells and then marketing it up and making Yeah. Your businesses in the logistics of getting it there. So do you have big brands doing this or they're like well known, you know, like you don't have to name the brands, but like the Nikes and Adidas and the, the, the Chanel perfumes, or is it mostly private label people that are working with you, that are doing their own stuff?
Belen:
Yes, we have a lot. We have like really good known brands of course, and we only also have like brands that maybe they are only selling in US and in Latin they're new and we have them expanding. But of course that there, we have like to make a brand awareness not the same to start selling perfume of a really known brand maybe in two days will make you start selling. But if it's a new brand in these countries, we have to make like a job, first of all. Yes,
Cecilia:
We have to push sales by doing marketing efforts, by doing competitive price analysis. And we do that because we are committed to helping sellers. Yeah, expanding Latin America. So yes, if there is a seller that only all other, their, the lives sold produce in us they target our US customers and they never sold their personals in America. So the brand is new. We'll help them make an impact in the marketplaces to with local localized marketing activities and campaigns so that consumers in Latin America start looking at their produce and surveying for them. And we have got impressive results doing that. Yes, a lot of brands that were new and started to, to get sales.
Kevin King:
Are you, are you spending all the, the money on the Adverti? So the off of your side is all any kind of advertising and promotional stuff, right? So I'm not sharing in that cost. If you're gonna run some sort of PPC or ads that's comes outta your, your commission or your piece of, of the price, right?
Cecilia:
Yes. We have a, a wrong budget to promote products. So we also sometimes work with sellers and tell them, okay, we, we have this idea, we want to promote this product in this campaign. So it's not just us spending money <laugh> in, in promoting products. So it's sometimes we work together to determine the best efforts or we do like actions together. We give a cashback on the, we ask the seller to also make a discount on your end. So yes,
Belen:
Or also, for example, we have logs and we can publish new products there or we can make like campaigns with influ local influencers. So we are like really experts in helping new brands also expanding to Latin,
Kevin King:
Which which countries are the best in Latin America? What if you had to name these are the five best countries, what, where, where, what, which would those be?
Cecilia:
Brazil I think is on the top. Top three for sure.
Belen:
Yeah, but maybe it depends in the category, no. Yes, because it's not the same selling computers in Brazil, you can't, and in Mexico and Colombia are the best countries for this, but otherwise, if you're selling cosmetics, Brazil is the best country. But yes, I think that the top three let's says right now are like Mexico, Brazilian, Colombia. But of course it'll depend the marketplace, your products and your price. Because for example, in Brazil, if you have, if your products are more than, I don't know, 50 fob price, maybe you can't sell there and you have to go to Mexico. So what is the best? It, it really depends in your brands and your products. Also, maybe in Mexico there are some brands you can't sell, so you must be in Brazil. Yeah. So it is like once you start, we we'll start your products and we're going to say you, where are the best local markets for you?
Kevin King:
What type of products don't really work? Like you said, expensive pro that's more than $50. F o b, it's probably gonna be difficult.
Belen:
Yeah. In Brazil, in Mexico you can sell, I don't know, computers or $500.
Kevin King:
Okay. But in Brazil it's hard to sell a $500 computer by e-commerce.
Belen:
Yeah. But for example, difficult categories, I don't know. But maybe if you have like
Cecilia:
There's, there are some products that have restrictions. So yeah, for example, they put you an example in Mexico, you can't sell a human shaped do for kids, but you can sell them as action figures or collectibles. So there's certain products that you have to study the law and regulations or for example, in Brazil you can sell, I don't know a product that weighs more than three kilos, but in other countries you can, yeah. So I think I, I mean there are bits of products that you can import, but of course it, it also depends on the weight, on the size, on, on other aspects that you need to, to understand <laugh> how the, the law work and how custom will revise your product.
Kevin King:
So you guys handle all that, right? All the customs and duties and tariffs and everything. Yes. You, you guys handle, handle all that stuff. So as a seller, I don't have to worry about anything. Yes,
Cecilia:
As a seller, you only have to give us your ASINs, your SKUs, and we'll study everything and tell you, okay, these products are a great fit for these markets and that those, those other products, you can sell them. So maybe you need to, I don't know, it's instead of selling in this way, you can sell it that way or maybe you have to wait until a new law appears and you can sell them. So we will of course give you advice, professional advice on everything determine which products are the best for the market,
Kevin King:
How many different actual countries are, is Nocnoc in, how many actual, is it 17? Is it 20? Is it 10? How many different countries are you actually active in?
Belen:
We are in six countries,
Kevin King:
Yes. Oh, six right
Cecilia:
Now we're in six countries. Of course, always thinking of expanding to new ones. Yeah. So this year we hope to be informal, but it's something we are not yet, but we are working on that.
Kevin King:
Which, which six are those? Which six are those?
Cecilia:
Brazil, Argentina, Mexico, Colombia, Peru. And also we want to expand to Chile.
Kevin King:
Okay. I'm surprised you're not in Chile already. That, which I would think that would be a pretty good market.
Cecilia:
Yes. Yes. We know.
Kevin King:
Any plans to do any more of Central America, like Costa Rica or Panama or anything like that? Or is that not really on the radar right now?
Belen:
Yeah, we're looking to expand month by month. We are growing a lot, so we are always looking for new markets, new categories, new countries to expand and also new, new countries and new continues to bring products from. So yes, we are always looking for, for new markets. And this type of business, you may know that they are, we are growing day by day and every day are different things, new to, to understand. We are learning every day new things. So this, this game is like changing every day. Yeah. But this is like the, the happy thing of working here.
Kevin King:
When did Nocnoc begin?
Cecilia:
2018 was the company founded, and yes, since then we have been growing a lot and expanding in new markets. So yes, it was done in 2018.
Kevin King:
Yeah. So were the founders were they e-commerce people or were they logistics people or just had a good idea and decided to do this?
Belen:
We have like three founders. One of them is like in it 19.
Kevin King:
19 years old.
Belen:
Yeah.
Kevin King:
Okay.
Belen:
You know, the other one and the other two are like more like Commercial. One is like the CEO and the other that is in charge of expanding and looking for new markets. And the other one is like also commercial, but more in focus in new channels, new sellers, seeing like what is happening day by day here.
Kevin King:
And what if I'm a European, I'm listening to this and I'm, I'm based in Europe. I don't sell on the us. Do I still have to ship all my stuff to your warehouse in Miami? Or how does that work if I'm, I'm listening to this. Yeah. And I'm only selling in the UK and Germany right now, but this sounds interesting to me and I'd like to try it. How, how would I do that?
Belen:
Probably you will have to wait if you won't have to ship two Miami, because Europe is maybe our next step. So we are going forward it, but not right now.
Cecilia:
Yes. Right now we only have warehouses in China and in the US
Kevin King:
So in China. So explain that China, so you have a warehouse in China. So if I'm manufacturing in China, you have, I can send my stuff to your Chinese warehouse and then you'll take it from China all the way to Latin America?
Belen:
Yes. We expand products from US and from China to all Latin.
Kevin King:
Okay. So if I'm, if my dog will starts selling I can and I'm ordering 5,000 dog balls, I could have 500 of those shipped to your chin factory in China for you guys to, to get all the way over. And I'd ship the other 4,500 to me here in the US and I don't have to mess with shipping anything to Miami. You guys will take it from there.
Cecilia:
Yes, we can do that, yes.
Kevin King:
Okay. That's good. Okay. What else do I need to know about expanding to Latin America? Anything else that I should know or about?
Cecilia:
There are a lot of things.
Belen:
Must try it. I think that trying it and contacting us, for us, it's going to be a pleasure. Like see your products, your brand analyze you and help you to expand very quickly here. But yes,
Cecilia:
Yes, creating an account with Nocnoc is free. So you can try it. And if you are not happy with the results, if you don't think it will work with your brand, you, you can simply ask us to remove you to remove your account. But as, as be said, I think it's important to try because some sellers maybe are afraid to enter a new market or afraid about how it works, and then they get really surprised by all the sales they get. So I think it's a matter of try and see how it works. I think lot of sellers have the opportunity to expand to Latin America with us and to, to, to be present in more than 15 marketplaces and have their produce feature in those marketplaces to get the brand. No, but Latin American people is, yeah. So they have to try us.
Kevin King:
How would they do that if they wanted to try it? Where would they go to Nocnoc.com or what, what, where, how would we
Cecilia:
Have a website that is Nocnocstore.com and if they go there, they will have an option to, to get started to sign up, and as soon as they sign up, we will receive the registration. We will of course contact them in under 48 hours, in most cases is immediately. But in China, for example, we, with the, with the time difference, it's in less than 48 hours. And as soon as we revise their products and we see a potential, we'll create them an account and they, as soon as they upload their products in our platform, they will get published in our marketplaces. So, as I said before, they have to go to our website, which is nocnocstore.com.
Kevin King:
It's nocnocstore. And what's the last part?
Cecilia:
nocnocstore.com
Kevin King:
Store. Store. Store. S t o r e. Okay. Store.
Cecilia:
Yes.
Kevin King:
Okay. Awesome. Well, this has been great. I really appreciate thanks you coming on Belen and Cecilia, and this has, this has been awesome. Some good information and it's got me excited to give it a try.
Cecilia:
Yes, it was great to speak to you.
Belen:
Thank you very much. Yes,
Cecilia:
Thank you very much for your time.
Belen:
Yes. For inviting us here. It was a pleasure and really, really nice to talk with you. So yes, for any seller that is listening for us, don't hesitate in contacting us and it would be a pleasure to help you.
Kevin King:
Awesome. Thanks again ladies.
Belen:
Thank you very much.
Cecilia:
Thank you very much. Bye bye.
Kevin King:
As you can see, Latin America is a huge market that's eager to buy quality products from sellers like yourself and myself, and they're willing to pay a premium price and they're willing to wait for it. Surprisingly. It's a great, great opportunity to test the waters out. So if you're interested, be sure to go to Nocnocstore.com and get more information and see if this might be right for you. You never know, may add some serious dollars to your bottom line, and it sounds like it's pretty easy to try it out. We'll be back again next week with another great episode of the AM/PM Podcast. In the meantime, leaving you with some words of wisdom, you know, you only need to be a little bit better than the competition to secure all the reward. You only need to be a little bit better than the competition to secure all of the reward. See you again next week.
---
Enjoy this episode? Be sure to check out our previous episodes for even more content to propel you to Amazon FBA Seller success! And don't forget to "Like" our Facebook page and subscribe to the podcast on iTunes, Spotify, or wherever you listen to our podcast.

Want to absolutely start crushing it on eCommerce and make more money? Follow these steps for helpful resources to get started: