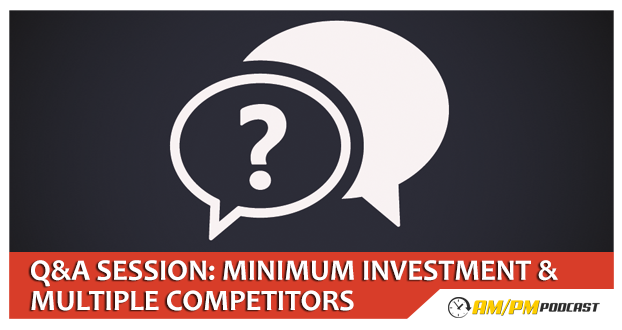 Q&A Session: What's the Minimum Investment to Start Private Labeling & Should I Private Label a Product With Multiple Competitors? – EP31
MANNY: We will discuss how to create recurring revenue streams, 24 hours per day, during the AM and the PM. I just did a periscope where I was showing all my samples, all the things I was thinking of getting into with Amazon in November last year but never went forward with.
MANNY: Manny question of the day to Gui: If vampires cannot see their reflections, why is it that they always have perfect hair?
GUI: You stumped me.
MANNY: What would you do if you were going out on your anniversary with your wife and you couldn't use a mirror to get ready? How would you look, without her help? You just woke up after a long sleep in a coffin.
GUI: Drool all over my face.
MANNY: These are things that I wonder about. Maybe one of our listeners can answer and post on our Facebook group.
GUI: I'm going to be posting this Q&A, after you listened, help me out with the answer.
MANNY: Question number one officially…
GUI: This one is coming from Daniel from California – "Hi Manny, I love your podcasts – you're hilarious and straight to the point on your video periscopes. Keep it going – do not sugar-coat it, that's what I love about your content. My question is about starting capital. I'm in college and on a limited budget. Most places I read up on say that I can get started in private label for $500 or less".
MANNY: That is a great question. It's one of the most common questions we get. How much money do you need to start selling stuff on Amazon FBA private label? I have flip-flopped on this and I'm not too proud to admit that. I started my journey only four months ago so I was learning what everybody else was teaching. A lot of being told was that you can get started with $500. Some people even say they started out with $200, but times are changing, it's not the same as it was a year ago. A lot of those stories of people starting with $500 are probably people who started out a year ago – I'm not saying it can't be done, it's just not as easy and it's not normal. Where would you be financially to get something going? You get different ideas and opinions but my opinion – you need at least $2000 to get started and to feel comfortable and that's the lowest amount. If you have $500 and you want to give it a go – sure do – but let me explain why I say $2000 is a good number: it should be a number that most people can come up with somehow – whether it is assets that you have to sell or something that you don't use a lot, a bank loan that you have to get, borrowing from family – try to get this initial amount to get going. About half of that $2000 is actually going to be Pay Per Click, to market your product once you get it and the other half will be to get your initial inventory. This is where it gets difficult – we are talking about $1000 to get your initial inventory and to get the review process going. More reviews are good – 20 to 50 product are going to be used, given away in order to get those reviews. I would say that 300 units are a good start – 250 to sell and 50 to give away, you would then be okay to try and get going for the first month. This is totally different from the strategy discussed in podcast 24/25 (which is available on the AM/PM site), which is where I talk about not gaining money but losing money in the first month in order to set yourself up for the future. If you are limited on cash flow, you need to start making profit right away – you've got to make sure that your research is done well and that you've got a solid product. You have to have at least $1000, 300 units – less than that makes it very difficult – with these amounts you're talking about less than $4 per unit which goes for production costs, shipping costs to you and reshipping to Amazon. That is really tight to get all in.
GUI: That's one of the things to consider – 300 units for $1000, that's $3.33 landed costs. Keeping costs higher is better – you're going to have more competition with lower costs, unless you do your research very well.
MANNY: If you don't want to be in a very competitive market, you have got to find those products that you are buying at $10 per unit because you are going to turn around and sell them for $40 a unit. As Gui mentioned – you buy your product now with landed costs; your shipment, customs costs, you're getting it here, re-boxing and shipping it off to Amazon so you're probably buying the product for $1.50. You're potentially going to have a lot of people jump in this market as this is a cheaper product. I want everybody to make money but it's a complicated subject – if you want to start with only $500, it's like throwing someone in an MMA ring with only two days of training and tell them that they're going to do okay.
GUI: It gets asked so often and many people say you can get started with $500 – you may start with $500 but starting doesn't necessarily mean succeeding.
MANNY: If you start off with 300 units and you make a $10 profit – that's after all the costs are deducted – you have 250 products to make a profit on as the first 50 are for review purposes. You sell all 250 copies in the first month and you make $2500. You started with $2000 and now you're at $2500. You now have to order inventory and wait for the inventory to arrive – you have to order them ExpressAir so it is more expensive and that cuts into your margins as well. With the $2500 – if you can get 300 before, you will be at another quarter more.
GUI: About 375. You're probably going to get the same – you shipped by boat the first time and now by ExpressAir.
MANNY: Newbies probably won't order on a boat the first time. They're probably going to use ExpressAir. Now the order is going to be 25% larger – from 300 to 375. You don't have any review copies this time. You're still making $10 profit so you are now make $3700. We're assuming you're reinvesting 100% of it. You're now almost at a point where you're doubling in, almost going in a month. You're almost doubling the inventory but remember – there's always going to be a time where you run out of inventory and a whole lot other problems. While you're not listed, your product is suppressed because you are out of inventory, where you lose your ranking. You almost want to be ordering smaller amounts and want them shipped on a regular basis to have inventory coming in. I would say that you have an income, whether you're doing this on the side, so that you don't have to pull any money out of those profits, otherwise it's going to take forever. That's my method: find the money right away, get private label going.
GUI: One of the things that I'm hesitant about is recommending somebody to go into debt. This $2000 is actually good debt because it gets invested into an asset that will potentially produce a profit. If you're not comfortable going into business by borrowing money, you should get comfortable because that it going to happen. The other option is to take the $500 and go into a different road. We've actually had Steve Raiken and Jamison Phillippi on the podcast and we've talked about how you can do some retail arbitrage or thrifting to build up capital. I would say, until you can build a $2000 bankroll, maybe you shouldn't jump into private labelling right away. You can sell stuff locally on OfferUp – I've done stuff like this in the past where I go to garage sales sourcing and I enjoyed it a lot. I once went with a couple hundred dollars in my pocket and I got to this house – they've got a full collection of unopened Lego Star Wars. Lego hold their value, they sell well. It was the last day of the state sale, everything was 50% off and it was already priced competitively. I put the $1,200 worth of Legos on my credit card, I sent that in to Amazon and doubled my money in a couple of months. Another example is where I sourced a whole garage full of books, I paid cash (I think $500), and I flipped it for 2 to 3 times the investment. If you don't have the money to start private labelling, you have to decide how bad do you want it. If you want it really bad you're going to have to find a way to make it happen because coming up with the money is the easiest part of starting up a business. If you can't figure out a way to come up with that $1500, you're probably not cut out for this. If you're starting a business and $500 is all you have – try to think of it as the first problem you have to solve in your business – how you're going to turn that $500 into $2000 so that you're quickly getting started with private label. Private labelling is a huge opportunity. Daniel, I wouldn't let that stop you – go sourcing. You can even do service arbitrage. You find an artist that's great but they're bad at marketing their services – go find them a client and get a commission. Do something to get that capital.
MANNY: Roll up your sleeves and get into it even if it's $500, I think it's easier to start with more but it doesn't mean you can't make it to the top of the hill y starting out with less.
GUI: Just look for the reason why and if your reason is good enough, you'll find a way.
MANNY: Manny's second question of the day for Gui: Question two: Where were you three hours ago and do you think somebody was stalking you?
GUI: You have me freaked out. I'm looking over my shoulder. I was in my home office and if somebody is stalking me, I'm worried.
MANNY: Let's move on to the next question.
GUI: The next question comes from Marius. "I think I found I product I want to sell. On Alibaba the price is good but then I noticed there are about 20 other sellers, selling the exact same product on Amazon. Let's just say it's a grey men's wallet with a skull on it. All 20 listings are the same, except that they say it's a different brand. The photos don't even show a brand on the product itself, it's just a grey wallet with a white skull. How is this possible? I thought with private label, we needed to add our logos to the products, if I understood some of your earlier podcasts correctly".
MANNY: We're assuming that you've done you research and even with the 20 sellers, which isn't out of the question, as long as you can crush the top sellers out of the market. His question was, how is that possible? You go out and source a product and you can create your own product as long as you have a brand. You can slap that logo on the bag or the box.
GUI: That sounds like a great opportunity to differentiate yourself from the competition and stand out.
MANNY: I just did an interview with Kevin King and he talks about how he sells his products for two to three times the amount of his competitors because he spends the extra dollar on the packaging to make it look amazing. He compared it to Apple's products – when you get an iPhone, how awesome the packaging is, not only the outside of the box but the inside and how the put everything. The other guys are probably sending the product in polly bag – you can have a nice thing that you've created for 75 cents and it just gives that value. If all the other companies are just showing the product – show your box there, open with the product inside, giving it that differentiation.
GUI: If all the products look good and even the number one seller do absolutely nothing to stand out, you're going to be golden if you actually try to not be like the other guys.
MANNY: Once you got your logo done and you have samples, have these products shown as being used; for example, somebody pulling a credit card out of the wallet. It the other guys don't have that; it improves your listing.
GUI: Don't forget to check out the periscope, don't forget to rate the podcast – if you love it, go to iTunes and give us a rating. Join us on the Facebook group: go to ampmpodcast.com, there's a lot of cool links there. We look forward to interacting with you guys!
MANNY: I do periscopes every day, just look for me on Periscope and follow me.
GUI: All the links are on the website.
Timeline:
00:46 – Episode Introduction
02:51 – Manny question of the day to Gui.
03:15 – Manny's second question to Gui.
05:08 – First question of the Q&A session – How much investment does it take to start selling private label products on Amazon?).
16:04 – Manny's method.
23:26 – Manny's second question of the day for Gui.
24:16 – Second Q&A question – should I private label a product that's being sold by multiple sellers?