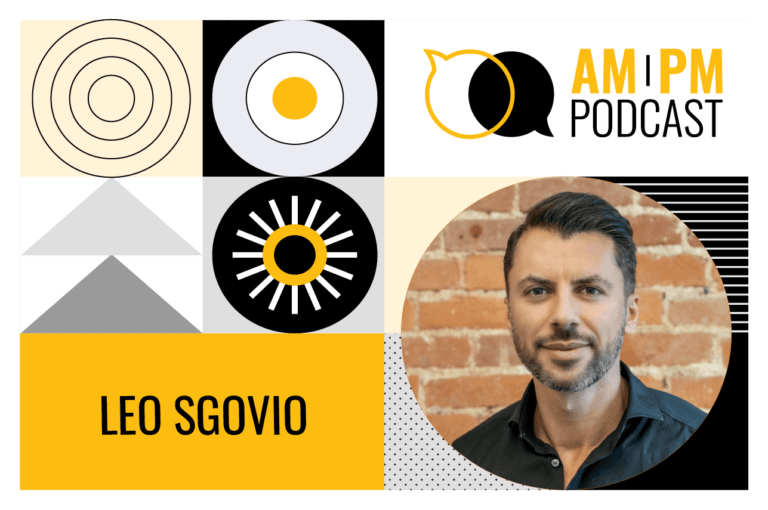 #322 – Secrets Amazon Doesn't Want You To Know With Leo Sgovio
In episode 322 of the AM/PM Podcast, Kevin and Leo discuss:
02:10 – Kevin Listening To Podcasts Inside His "Man Cave"
03:05 – One Of The Greatest Minds In The Amazon Space
03:20 – Leo Sgovio's Backstory
07:20 – How Kevin King & Helium 10 Founders Met Leo
10:20 – Counter-Attacking & EBlack Hat Tactics
14:10 – Beating Kevin In A Hacks Contest
17:00 – Winning Best Speaker And Best Hack Awards In 2022
19:30 – How Leo Got Started In The E-commerce Space
22:10 – Working As Head Of Innovation In Viral Launch
27:00 – Where Is The E-commerce Software Industry Headed?
33:40 – Launching Convomat & Growing It To 100K Subscribers In 2 Months
40:30 – Launching Products Without Using PPC
42:50 – The Formula On How To Succeed In The Software Industry
44:00 – Catch Kevin & Leo At The ASGTG Event In January
47:05 – How To Get In Touch With Leo
47:40 – This Week's Golden Nugget Words Of Wisdom
Transcript
Kevin King:
Welcome to episode 322 of the AM/PM Podcast. I hope you're having a great holiday season, and I have a happy New Year and get 2023 off to a great start. In this episode, I'm speaking with Leo Sgovio. Leo is one of the smartest people in the space. He's one of these guys that likes to know why something is working the way it is. he's the guy that will as he'll say in the interview, take the radio and not listen to the music, but open up the radio to see how it works. And that's what we're gonna be talking about today, is unraveling how Amazon works and what we think the future is going to be. Enjoy the episode. Leo Sgovio. Welcome to the AM/PM Podcast. How are you doing, man?
Leo:
Hey, Kevin. Good morning. I'm good. How are you?
Kevin King:
I'm alive and kicking. I'm alive and kicking. I just heard you recently on the Serious Sellers Podcast with Bradley, and I was a little bit jealous. I was like, man, I wanted to get Leo on before Bradley, but Bradley got you first.
Leo:
That's right.
Kevin King:
I was down in my, my warehouse shipping calendars because this time of year I have a calendar business. What I do is when I'm down there is I listen to podcasts, so it's like mindless work putting these calendars in boxes and stuff. And, but I enjoy it because it gets me outta my off of my desk and doing something different. And then I catch up on all the podcasts. So I was like listening to yours with a, with Bradley, and I listen to a bunch of others my wife is always telling me like, why don't you just hire that out? It's not the best use of your time. you could get someone to do this for 15 bucks an hour. I'm like, no, I like going down there a couple ti days a week and just doing this because it's like my man cave and it just gets me away from everything. And then I just listen to podcast and learn stuff as I'm making money. So what's better than that learning while you're making money?
Leo:
Exactly. Sometimes you can just think of what's your hourly rate, right. When you do things that just enjoy doing, you're just gonna do that because it makes you feel good, right?
Kevin King:
Exactly. Yeah. Exactly. Like I said, it breaks it up so it breaks up on the monotony. And there's times where I'm down there like, man, I should just get someone to do this. This sucks. But there's other times where I'm like what? This is like therapeutic and relaxing, and it's not permanent. it's not like I'm gonna be doing it all year long. It's a couple days a week for a few months. It's great for me. But speaking of great, you're one of the, probably a lot of people may not know who exactly who you are, but you're one of the greatest minds probably in the Amazon space. You're always on the cutting edge of everything. And it always fascinates me with some of the stuff that you come up with, but a lot of people don't know that this e-commerce stuff, and this is not really your, your background. You came over from Italy to the US and you were like a big time DJ in Miami. Isn't that, isn't that correct?
Leo:
Yeah. When I actually left Italy, that was 2007 it's because a friend of mine told me that there was this cool place in the States called Miami where we could go and have some fun here. And so that's really the main reason why I left. Back in Italy, I was DJing. I was in the fashion industry. So just having a lot of fun and Italy is the perfect place for that, right? So when we came here, I originally came to look for collaborations like DJs from the United States to bring over to Italy. And so I ended up staying here for a while. I remember getting just a visa for three months, tourist visa for three months. Then I met a girl.
Leo:
I ended up staying longer. Like obviously, laughed and then got back into the states cuz I couldn't stay more than 90 days. But I fell in love with this place and and over time I actually ended up in Canada instead of the States because I couldn't really stay here. But I discovered a world that was totally new to me, but I was just very fascinating, which is the digital world. Back then at the time it was more about search engine optimization and then all of that last e-commerce. But yeah, that's really why, why I ended up in this side of the world.
Kevin King:
So how did that happen? So you're, you're working as a DJ doing stuff in the music industry in Miami. When you came here and did someone, did you just meet somebody that was in that and it fascinated you? Or were you just like, surfing around board one day at the house and saw some stuff? Or how did that process work to actually where you got into this digital marketing world?
Leo:
Yeah, no, it was a little bit more elaborated in that. I left one I think it was December that year was during the holidays. And I went to visit some of the cousins that I had in Canada in Toronto. They used to own this very large travel business in Canada, similar to Expedia. I remember visiting their office and I saw a bunch of people behind their computers, like developers working everyone on the call, like talking to like, December is busy season in Canada, all this snowbirds going to the Caribbean, right? So it was like a busy office. And so at the time, I went there and I'm like, what, what do you guys do here? And they started talking to me about selling trips online, it was done through website.
Leo:
And this is 2007, like early, like Google was still at its infancy. And and so I went to one of them, I said, what's the highest paying job in this company? Right? And they're like, well, search engine optimization. And so I'm like, well, that's what I wanna do. I wanna learn that job. And so that's really how I was exposed to that the digital marketing world. So I remember asking them if I could work in the company. We figured things out. I ended up getting sponsored by the company to work in Canada. And in the meantime, what I was waiting for, the papers, I started studying search engine optimization and the Google analytics. And then from Google Analytics Adobe Analytics were an enterprise level analytics solutions. So really that's how I got into this space. But I was always fascinated by the technical aspect of what's behind a website or these analytics solutions never like attracted, like I'm a detailed guy, so I always liked websites that looked great, but I was more interested in understanding what was behind the website, how to build a website the source code and all of that.
Kevin King:
Yeah. I remember when we first met you, I think, was it in Las Vegas? I think it was me and Manny and Guillermo. And we were like some I think it was Stratosphere or something like that. Yeah. And we were out there for, I don't remember what it was. It was a Prosper show or it was something like that. It was like 2016 maybe, 2017. And then you were there for like, some Adobe convention or something. And I don't remember exactly how it happened, but somehow we met up and I remember when we met up at The Stratosphere, I don't know if you had just gotten into Amazon, or maybe you hadn't gotten into Amazon yet, but it was like, I remember me and Manny sitting there like, this guy's really smart. He actually knows his stuff. We need to get to know this guy a little bit better. Do you remember that?
Leo:
I remember exactly when that happened. I, and I was there for an Adobe conference. It was happening next door to Prosper. And what got me to you guys, actually to Manny to begin with was an episode on his podcast. And he was talking Black Hat with Casey Goss. That episode I think was one of the most popular episodes at the time. And so when I was at this Adobe conference, I found out that there was a prosper happening next door. And I said to a colleague of mine, Hey I'm just gonna skip it for a few hours. I'm gonna go see what's this Prosper is all about. And then outside I met you guys. It was you Manny and Guillermo. And yeah, I remember that conversation actually was very, very interesting. We spoke about a lot of things and at the time, I think it was all about understanding the Amazon algorithm, how to rank products. But yeah, that's how I met you. I remember,
Kevin King:
Yeah, and then from there we actually you ended up coming to what was it, Hawaii the Illuminati event, which is now called Helium 10 Elite. But back then it was called Illuminati. And you spoke, you brought your wife and you spoke at this, this event in that we were throwing in Kauai. And I remember you were up on the stage and it's the first time I'd actually seen you present something and you were just like blowing people's minds. I remember there was like the women in the audience, cuz you're a good-looking guy. So the women in the audience were like, I just wish he would take his shirt off and I could just stare at him forever. And then the other, everybody else was just like with their mouth open.
Kevin King:
Cuz you were showing like, I think you played like an audio, like you had like recorded some conversation with some Bangladesh ranking guy that was doing like you wanted to show it's just like you just said about ticking apart the radio. You're like, how are they doing this? I gotta figure this out. So you like called them under this guise that you wanted to hire them, you didn't really wanna hire them, but you want to hire them and you like recorded this whole call where he was like talking about exactly what he could do with like wishlists and add to carts and whatever it was. And then you like took it a step further. You're like, look, look at guys, Amazon you're always afraid of what they know about you. This is what they know.
Kevin King:
And you put up some slide like, dude. And then you're like showing some other like Black Hat thing. You're like don't do this, but you need to know people were doing this to my account. So you're like, I had to figure out what the heck they're doing because how do I combat this if I don't know what they're doing? How do I counterattack it? So you like, figured out exactly what they're doing, you're like, this is how you counterattack it. It was like fascinating stuff and you just blew people's minds.
Leo:
Oh my God, Kevin, you have such a good memory. I don't even remember some of these details, but I do remember that recording. And one thing about me some people over, over the past few years have kind of got to know this, but, or understand this, but it came across sometimes as this guy that is more into the Black Hat stuff, Gray Hat stuff. But the truth is that I naturally I generally like to understand and learn how things work because I want to know who is it that I'm actually dealing with competing with. This is back in my SEO days, we all know that there is Black Hat SEO, right? Like the link building, building blocks artificially like manipulate your rankings. In order for me to be a good business owner, and a good entrepreneur, I need to understand who's on the other side of the fence.
Leo:
You know, if, if these people are playing tricks, I need to learn the tricks, otherwise I won't be able to succeed as much as of go further along as, as they do. And that's why I repeatedly and constantly try to understand how things work. I expose people, I expose strategies, blackhead strategies that other sellers are using. Because if you are a new seller and you don't know what's going on in the space, you're just wasting your money, your savings that you work hard for. And I feel bad for these people, right? And that's why I try to open people's eyes. Now, obviously, I have fun along the way. That's really fun for me to understand that Amazon is tracking these things. And remember when I found out that Amazon tracks the sound that your machine makes, every computer makes a different sound and they call the audio fingerprint.
Leo:
So when you turn on your machine, there's a specific sound wave that your computer makes. And Amazon and other websites, they use it to track that specific machine. So if you, if they see you're logging in an account and the sound that that machine makes is the same and you're logging in multiple ones, well, they all linked them together. Now you can use different IP, you can use different user agent, but if the machine that makes the sound is the same, you're screwed. And so people don't know these things, right? But for me it's just fascinating?
Kevin King:
Yeah, I remember, like, you're always trying to figure, like, I don't even know how you figure this out, but I remember last year we were at Howard Ty's event in Paris, and there, there was like a hack contest, and we were in this, and Howard divided everybody up. I don't know, there's 30 or 40 of us there. And he said, all right, everybody it was kind of disorganized a little bit. Be like, everybody go to a room, choose a room and just split up and share hacks and choose the best one. And so everybody's like, well, what's okay, I'll go to this room, go to this room, go to this room and you and I ended up in a room, it's like six or seven people in this room, and it was like, probably the best room in the place, because everybody else we're in these other rooms and we're in this like one room, and there's like four or five of us.
Kevin King:
I'm known for like the Ninja Hacks. You're known for some stuff. There's a, Matt Altman was in there, there's a couple of other guys that really know some cool stuff. And we're like, we get into a room, like, shoot, man, I don't know if if we were in one, any of the other rooms, we would've won that room with our hack. But we're in this one room with like, the all-stars. And then the stuff was just spewing just the cool little tricks and cool little hacks. And I remember you, I thought I had a good one. I was like, man, I don't gonna win this. Whatever the, he was giving away, what, five grand or something like that, or 10 grand, don't remember what it was. 10,000 cash. Yeah, it's 10,000 cash. Like, I got this, man, I, I got a good one, and I give mine.
Kevin King:
And I'm like, all right. Everybody's like, that's awesome, that's awesome. Asking me questions, writing notes. And then, then you get up there and you're like, I got two but lemme give you the first one. And you get the first one. And it's like, how to reset the honeymoon period. there's different things that are out there about, but then you had this like, no, everybody's like, rolls eyes. Yeah, we already know this one. What's your second one? You're like, wait guys, wait, wait, wait. Let me show you. I have this new way, this new cool way that I just figured out to do this. And you showed it, and I was like, I just lost 10 grand right there. And you ended up winning the whole thing. You don't have to give, give it away here, but because that was a NDA and under everything, but how did you figure that out? What did, was it trial and error, or was it like you heard something from one person and then you tried something and then you put two and two together? Or how did you figure that out?
Leo:
It's interesting that you asked me this, Kevin, because that actually method, it was discovered by mistake. And then I appreciate you saying we have an NDA because other people have just shared it and sold it as, as there was their idea. But it's okay. This, this method was, was found by accident because I was trying to actually like launch a product. And by mistake, I deleted the ASIN through a flat file. And then when I reuploaded it, I got, I assigned a new ASIN, and then I had to figure out with Amazon how to get the inventory back, because now the inventory got all stranded. And so I'm on the phone with the Amazon catalog team trying to understand how to get my inventory back without pulling it all.
Leo:
And then the guy didn't even know if this, what I was suggesting him to do was going to work. And then I'm like, listen, just give it a thrive. If you have access to this tool, just please merge two ASINs for me. And then he is on the phone with me, and I'm refreshing seller central, and it worked. I'm like, I'm like, thank you so much. That's it you can hang up the phone. And then I went back on Amazon and the BSR had changed. I'm like, wow, this is powerful. This honeymoon just got reset for this product. So then I tried it again, but this time I did it myself, just uploading flat files waiting in certain period like, but there's specific way of doing it. And it worked again. I'm like, all right. So we got a method and then the 10 grand was worth it, though.
Kevin King:
But not only did you win that back in May, but then in August you came to the Billion Dollar Seller Summit. And I remember you were like, you had asked me for Kevin, what should I talk about? Or what should I do? Or how should I present this? And I gave you a few ideas and tips. Like, people just want actionable stuff you know. They don't want a bunch of fluff, they don't want a bunch of corporate or theory. They just want like do this, this, this, and this, and you're gonna have this result. And so you put together a presentation of several things like that, and you ended up winning the whole thing again. So 2022, I think has been a good year for you as far as like winning best speaker or best hack or whatever, everywhere you go.
Leo:
Yeah. Yeah. Kevin, thank you. Actually, I always appreciated your advices. And I remember back in 2016 Illuminati Mastermind, you came to me, it's like, wow, that information was by far the best, but it went way over my head. And since then that those words resonated with me. I always tried to improve the delivery of the content, and also trying to understand really what people on the other side were perceiving my content as right. And so at BDSS, I tried to really use a totally different type of structure for my content so that it was easily digestible but also actionable items that were broken into different kind of strategies that someone could just take it and implement it back with your team. So winning that to me was a validation point, but also very, very meaningful because the whoever shows the best speaker was actually the audience and not the organizers or anyway, was, was a legit win.
Leo:
But yeah, 2022 was very, very rewarding for me. Just a month or so ago, I also got featured on Forbes. So I know I have, I have a very good kind of goal for the next year as well. My goal is obviously to try and help as many people as possible. Cuz I know it's hard everyone wants to be an entrepreneur. They want to achieve good dreams, good financial freedom and all of it, but it is not easy. Right? And I shared this with Bradley as well on his podcast, but even like the software space is very crowded. So I have good intentions for next year, but I appreciate you specifically because you've been always, even though I asked you to mentor me, we haven't done that yet, but you've been always very honest with me and a good friend. So I appreciate Kevin.
Kevin King:
Yeah, yeah. Appreciate everything that you've done, done as well. How long have you actually been selling on Amazon? When did you actually first start and did you start in private label or did you start in something else? Or when did you actually start getting your feet wet on this Amazon game?
Leo:
Before Amazon, I actually sold on eBay. I used to, I used to sell shoes on eBay. I found a supplier from China back in, I think it was 2004. But then I, I kind of like, I didn't understood back then the opportunity until 2000 and later 2015 when I, I found out about private label. So on Amazon, I went straight private label, never did wholesale. And I got into beauty space pretty much right away. My only mistake, I will say is that I started selling in Canada instead of selling in the US. And it was kind of easier for me because I was based in Canada, my manufacturers were in Canada. And so it was just easier for me to just get it from the manufacturer and ship it to the Amazon FBA in, in Canada. But that was also not as rewarding as my friends that have been selling in the US. So that if I had to start again, obviously I would scrap Canada, is it 1/10 of the US maybe, maybe smaller and just do US for sure. But yeah, probably. But I think for me has been always the best kind of way, way to go and build my own brand instead of promoting other people's products.
Kevin King:
When did you actually enter the US market? So you started selling in Canada, how long did it take you before you actually entered the US market with your products and actually started making that the primary focus?
Leo:
Two years later, that's when I entered into the US.
Kevin King:
So like 2017?
Leo:
2017, yeah. Mid 2017, that's when I entered the US. And, and right away I saw huge, huge, huge difference between operationally how the business was running, but also the numbers were completely different. What took me a month to reach a number in Canada, in US, I was doing it in the day. And so at the, at the time, I understood that. And the problem is that required the same amount of effort and time and I was just, I was just working 12-15 hours a day. And so it was a no-brainer for me that us was definitely the place to to sell amazon.com
Kevin King:
Now, right around that same time too. And, and I'm, I'm guessing this probably goes back to you like to understand how things work is not only were you selling in the, in Canada, in the US your beauty products and your other stuff, but then you're like, I need to know more. And so you actually worked for Viral Launch for a little while. Like didn't you, you took a job with with Casey on Viral Launch. And for those of you that are listening that, like, what's Viral Launch? I never heard of Viral Launch. At one point it was viral Launch Jungle Scouts and Helium 10. Those were the three big they were all competing trying to become a dominant player in the space. Now it's Helium 10, Helium 10's by far the biggest. And the other two, other two are still there, but Viral Launch basically for all general purposes is dead now. Yeah. But you took a role there as like a technology advisor or something like that. Was, was that just to kind of like, get in the inside of the radio again kind of thing? Or what was that about?
Leo:
Yeah, I met Casey, actually the Illuminati mastermind. He was one of the speakers as well, if you remember. Yeah. And t the time, Casey was this it was a god in the Amazon space. Everyone loved Casey. He had always some insights into the Amazon ecosystem.
Kevin King:
Super smart guy.
Leo:
Super smart, one of the sharpest obviously. And I remember one night having a quick chat with them, and I knew Viral Launch at the time, viral Launch was known for their launches.
Kevin King:
Pretty much all were doing back then that, that's why they spoke at Helium 10 event, because they weren't doing software at that point. Yes. They were just doing launches.
Leo:
That's right. And they had a big, big client, which I was following at the time. They were also in the beauty industry, and I was following meticulously. I wanted to understand, what is it they were doing Art Naturals, right? That's right. Yeah. And so I went to Cassey, they said, are these guys doing A, B, and C? And at that time, he couldn't really talk because they were his clients. But then he came back to me the day after and he said, we need to talk. So we exchanged phone numbers. A week later he calls me is like, would you like to join Viral Launch as Head of Innovation? We need someone like you. Right? And and what he asked me to do was exactly what I was doing for from home. Just in my spare time was my hobby to just try and figure out the Amazon algorithm, but this time Casey wanted me to do this for his company and pay me for it.
Leo:
So obviously it was a no-brainer for me. For a lot of my friends at the time, sellers they, they thought I was going back to a nine to five job, but I'm like, you guys don't get it. This is my passion. I like to understand and this time I'm actually building software with this knowledge. And I helped at the time Casey build what's today, their keyword research tool, so that I got a preliminary work. I got 40, 50% of the, kind of like the core, the algorithm of that tool was actually built by myself with regards to finding the root keywords and building that database of keywords that then was then used to seed other ones, which was then turned into their keyword research tool. But yeah, it was also a very good experience for sure. And Manny was very upset about that, cuz Manny wanted me to be part of of Helium 10.
Kevin King:
I remember. I remember,
Leo:
Yeah. I said, Manny, you're just one week too late. I feel bad now. I don't want to like turn my back to this guy in case he's a, he's a cool guy, a cool guy, right? But yeah, that's what I, yeah,
Kevin King:
I remember it, it went from you speaking in Hawaii to Kevin on the Helium 10 Elite. Leo's not allowed to come on Yeah, because you were working for the competition and it's like no Leo right now.
Leo:
Yeah, it's true. Yeah. And that happened recently as well. But then I was given again the white flag instead of the right card. This industry it's like that. And I understand, and I appreciate people's passion obviously, and roles in, in this community, but it's also very important to be integral, I would say and always yourself like there's always opportunities around the corner, but sometimes people look at just the dollar sign. They don't look at ethically or even like long-term what opportunity really means. And so like eventually people, like you said they have to make some decisions. For example, putting me on the side for the time being because you're part of the competition. But like just learning experiences, I guess.
Kevin King:
I mean, and that evolved you actually creating your own software Convomat which we'll talk about here in just a minute, but what, before we get to that, what do you, I mean, you a lot of different people in the software space. You work for Viral Launch, you did the guys at Helium 10 really well the people at you know some of the others out there. Where do you think this is going? There's so much software out there now. There's a lot of sellers that started selling and maybe selling didn't work out for them, or they figured, Hey, this just takes too much money for inventory. And it's a constant struggle. Let me just go sell digital air and create a software tool that solves a problem.
Kevin King:
Whe whether it's inventory or PPC or influencers or whatever. And now when you and I first started back in 2015, there's like five different softwares maybe, and now there's probably a thousand or if not more that are out there. And most of them probably have 30, 50, a hundred members a lot of 'em are small, some of 'em are successful. But where do you think that's going? Do you think there's gonna be consolidation there? Do you think there's gonna be a lot more of that, but what do you think's gonna happen with all these little tools? Or do you think there's room for all these little niche tools for sellers?
Leo:
Kevin, my opinion on this is very, very straightforward. I don't think there's going to be a consolidation, simply because each one of these tools are built using different technologies. There are so many different programming languages out there. Only maintaining one tool is very, very difficult and complex in the backend. And, and now aggregating and consolidating multiple ones becomes a real struggle, especially when you're looking to automate things and make things easier for the seller. Today we're very used to getting a response, whether it is a purchase online or a software, but we want an immediate response, right? From any kind of tool or, or interaction that we have on a daily basis in our lives. And that is now possible through technology, of course, but not when technology becomes unnecessarily complex.
Leo:
And that's why I don't believe in necessary aggregation from that perspective, unless that is done in a methodical and very strategic way, like what Adobe, for example, did by integrating Photoshop with Illustrator, with all of that required a team of hundreds of engineers and also it, it took years like Adobe's been around for, for several years, right? This space right now, it's, it's crowded, but not to the level to the size of Adobes is very, very large space, the Amazon ecosystem. But like I said to Bradley, once it ultimately comes down to the seller, there could be a thousand different software solutions out there. But this is not 2016 anymore, right?
Leo:
Where you launch a software, everyone is looking for the Bask research tool, the best product research tool. And so as long as you can blow them away with the cool UI and some marketing you can win the customer, right? Right. Now, sellers are very, very mature and experienced, and they know when the data looks fake or when the data point is actually legit. And that's why we see some software companies right now getting a lot of traction because it makes sense like the story behind it and the, and the, the data, like everything is making sense. And so the sellers actually believe, and they validate that belief through real data. But coming up with something new today is not easy. And like unplugging your Helium 10 account to join another software that is perhaps similar might damage your account instead of helping you, because now you're losing all the historical data.
Leo:
You don't know anymore what happened in 2019 when perhaps your price was a dollar cheaper, and that's why you sold 300 units more, right? Like, there is a lot that goes behind it. And so I think innovation obviously is always going to be needed, but it is not as easy to innovate as as few years ago, because now Amazon is even coming up with our own tools. Like we didn't have the brand analytics in 2016, 2017, and 2018 until like two years ago, a year and a half ago. We didn't have the query the search query report.
Kevin King:
Yeah. We used to if you want that information, you'd have to have a connection over in usually in China and actually pay to get these, remember like, was that 2018? That was the hot, I think it was 2018 maybe it was 2017-2018, somewhere around there. There was a hot thing about everybody was paying big money to get all these PPC reports and like backend keywords and stuff out of these leaks that were mostly coming outta China and India at the time, do you remember all that? Now Amazon was just like giving that stuff to us on a platter.
Leo:
Yeah. And, and that's why I think Amazon, it's kind of like, I'm seeing again, just Google. It's a dejavu for almost for me. If you look at, if you've been in the Google space long enough you are just seeing now Amazon coming up with similar tools and similar data, and so that's why I think that the space now is becoming a lot more mature. And that's why even though there are a thousand different software companies, some people become loyal to people behind the software. Like, some people work with me because they like Leo, is my software better than another one? Maybe in some parts, yes, and some not. But eventually, people get trust into the person behind the software company. That's what makes a software like Manny was very successful. I think also for is charismatic personality in the space. And, and even now when he launched the NFT project, just people throw money at him because they trust him. He did very good in the industry, left a good footprint, but it's hard to replicate that success over and over in the industry in general, I'm not talking about many in particular right now,
Kevin King:
But replica speaking of replicating success, you basically just launched, I think you just told me you launched a new product like two months ago, and you've already got this product up over a hundred thousand dollars in sales, and you're using not the necessarily the traditional methods. you can't do the search find buys anymore. some of the ManyChat stuff, people are still doing some of this, and it still exists, but it's not the big fad and the big craze, like, like it was. So you gotta get more innovative now and you gotta use, some of it is, is innovation. Some of it is just tried and true marketing techniques and to trying to game the system. But you just took a product you just launched a new product from zero to a 100K in about two months, and real sales, not like promotional sales or, or whatever. How, how did you do that? And I think you developed some sort of tool to actually, can you talk about that a little bit?
Leo:
Yeah, yeah, yeah. This is actually my new product. We launched it, I think, at the beginning of September. And it was a totally new niche for me. So I didn't really have a lot of experience, but I truly believed in, in this niche. And so at the beginning I spoke about this at the BDSS in Austin about the review strategy with buy. So we obviously prepared the listing to be successful, but the strategy for the launch was totally different than the traditional search find and buy. We wanted to actually invest a lot more into long-term branding and specifically collaborations with influencers. So we planned this launch very strategically around certain key dates. For example, the prime early Prime that happened in October. And so we scheduled some collaborations with creators on TikTok just before that.
Leo:
And I remember we were doing an average of 20-25 units a day. And then when the influencer posted on TikTok, we went up to 120, and then we kept going up to one 50, and then Prime Day kicked in. We did 200 at a point where we, we just went out of stock. And since then, we haven't been able to ship a good chunk of inventory on a boat. We just kept BHL like every, every, every week, because we are selling so many units that the boat will take too long and we don't want to miss out on this Q4 rush, right? And so we are just shipping every week a couple of thousand units, but that's costing us a fortune in in shipment. But but yeah, like, so what we did, we tried to schedule every week collaboration with influencers and that was also done in a strategic way based on their audience instead of just going after the numbers.
Kevin King:
What do you mean by that?
Leo:
The average seller goes after the keyword search volume. They go after the number of followers, right? They just focus on the eye level metric. I went after was the actual persona that resonated with our brand. And by persona, I mean the audience of these specific influencers. So we took a lot of time to research these people and see what kind of content they posted over the past 30 days what type of reactions they were getting from the audience. And then eventually we partner up with a few of them, which got a really huge good, good response from their audience. And in fact, what I believe, I don't know exactly, and that's why we build Convomat Connect.
Leo:
I don't know exactly if the video went viral or somebody else posted it, because since then, the sales never went down. And so I believe that what happened was we drove external traffic, which, which is something that Amazon is in love with, from TikTok. I was also doing some Google ads at the time, Google campaigns, and then prime, early Prime came kicked in for a couple of days. So the sales kept going up, and I think at some point, Amazon was promoting our product via email, because we kept carrying a bunch of sales after Prime Now no influencer campaigns, no Prime, just a bunch of sales. And so I think they were just promoting these products. I remember Casey Goss used to call this the marketing machine, I think, or something like that, when you basically like now get featured into the Amazon own marketing, like newsletters, and they feature you in some of their advertising material. So that's, I think, think what happened. But we constantly now do influencer marketing. The difference is that with the new software that I built, now we have insights. So we have full visibility over what's happening.
Kevin King:
So you can track the, and conversions and everything.
Leo:
You can track everything, right? So we also have an integration with the attribution we see, even if people have added to cart or page views. But we also see if that influencer video got featured or got shared on TikTok, sorry, on Instagram or YouTube or somewhere else. And we also now getting traffic from another channel. So this way we can then pinpoint and perhaps go back to the influencer and say, Hey, next time you post, forget about TikTok. Just go on YouTube, because that's where we get most of the sales from. So that's really what's making now like this being more of a game changer for us, like the analytics and insights behind this type of strategies.
Kevin King:
So basically, just to summarize for this new product came out. You first put it up on Amazon and you went and got a bunch of Vine reviews just to get the, get those initial reviews. And then once you got a bunch of Vine reviews that came back good then, then you started this influencer campaign on TikTok and a few ads on Google. Did you run some PPC on Amazon as well?
Leo:
No PPC at all.
Kevin King:
No PPC, no search, find, buy. No sending an email from your house list or something?
Leo:
None of that. None of that. We really didn't have a chance to do it, Kevin, because we ran out of stock and we ordered, I think the beginning 3000 units. Then we placed another order of five and then another 10. So we, we just didn't have time. I couldn't do PPC because I didn't have enough stock. Yesterday I had a call with a guy from Israel and his strategy is just PPC. And I said, guys I love what you do, but you know my mine is completely the opposite. I don't do PPC at all. So I appreciate people that know how to launch products with PPC. But in this case it was just branding, advertising through TikTok. Optional advertising collaborations with the creators on TikTok.
Kevin King:
So how much are you having to pay these creators? Like when you, when you collaborate with them, are you give 'em a commission or an affiliate commission, or you pay 'em a flat fee upfront, or a combination?
Leo:
So w with some of them, we, we couldn't do the affiliates. Now we can, because with Convomat connect, we can actually track that. And so we are now proposing them an affiliate commission on top of their collaboration fee. But the lady that really initiated that kind of launch like that viral activity actually on TikTok only cost us $75 for that post. So to me, that's really a no-brainer. The ROI on that campaign, if I measure it now, is probably like seven figure. It's crazy.
Kevin King:
It's crazy.
Leo:
Yeah, yeah. So it was a little bit too manual based on how I like to run things, because we literally went through maybe 500 profiles and got really maybe four or five replies. That's really the pain point. They, when it comes to working with influencers, a lot of them don't open their messages through TikTok, they don't even receive the message cuz the platform's kind of broken right now. Unless you are connected, you cannot communicate with them. So it's a little bit difficult to get ahold of them. And a lot of them also use managers. You have to communicate with them like, so this is one of the reasons why I ended up building this platform. Cause we wanted to make it easier and I normally build platforms for myself and then eventually some of my friends like, oh man, can I use this?
Leo:
Can I use your platform? And then it becomes a SaaS. But I know, like I, I always build it for my own business. And actually, this is something I wanted to mention earlier, building software, like for people that have failed, maybe are doing private label, it's an alternative way to make money. Problem is that I recently hired a developer and he built a similar solution in the past. And when he saw mine is like, oh wow. He said, I can tell that you are a seller. Like, the way you build this thing is exactly like the UI in the UX is exactly for an Amazon seller. I worked on a cement project before and that's the same thing at the end of the day, but yours is way easier to use. So a lot of, I think the software companies also don't succeed because of that. Cuz they don't sell on Amazon, they don't go through the pain themselves.
Kevin King:
Yeah, I agree with you. I mean, I think that's some of these big corporations that are doing software, you got a lot of developers that have never sold, don't understand it. And I think it's critical that someone that's developing software either be an active seller or have recent experience as a seller. Cuz it makes all the difference. You can just tell and it's huge. Now you and I are gonna see each other here shortly. it's almost the new year and you and I are gonna be speaking at an event in Brooklyn, New York the ASGTG event that Ed does. That's coming up I think like January 10th or 11th or something like that. Have you ever been to this event?
Leo:
I have, yeah. I've been there a couple of times. It's probably one of the most overwhelming events.
Kevin King:
Have you spoken at it or have you just attended?
Leo:
Just attended, yes.
Kevin King:
I've spoken at this event like three times and you and I are both speaking at this event. This audience, for those of you who don't know ASGTG is an event that's put on every year by Ed Rosenberg up in Brooklyn. And in Brooklyn is the largest Jewish community of Amazon sellers out there. Some of these guys are doing wholesale, some of 'em are doing FBA. But it's a very big group and I think there's some statistic, like 7% of all sales on Amazon worldwide come out of one zip code in Brooklyn. So there's some really big sellers and these guys are intense. They're eager to learn, they're eager to get knowledge and they, they come to this event, they don't go to a lot of other events.
Kevin King:
You'll see some of 'em sometimes at, at different events, but a lot of 'em, they just stay in their own community. They stay in their own world. So when you and I come in there, we're like fresh meat. We're like, oh my gosh some of the techniques that we, you and I have shared, it's brand new to them because they're not exposed to some of these other events by choice. And so when we go in there and we speak on stage we're blowing minds with stuff. And when you get off stage, all I can say is make sure you go to the bathroom before you do your talk, because you're not gonna be able to go to the bathroom or get a drink of water for about two hours after the talk, cuz you will gimme surrounded when you get off that stage, like by 50 of 'em and they'll follow you everywhere you go, asking you questions? And this event has probably the best buffet in the entire Amazon space. So like, the food there is like just over the top. It's a really cool events, a one day event. But it's one of my favorite events to do. And, and you and I are both gonna be there speaking. It's gonna be awesome.
Leo:
Yeah, Kevin, likewise, I am, I'm super excited to seeing you and it's always a pleasure to even chat with you and see what you are up to. But I'm excited about this event in, in New York. It's my first time speaking at ASGTG, but I remember last year, I agree, the food was amazing really enjoyed it. But the kind of the level of sellers was by far the best one. this sellers in Brooklyn definitely know what they're doing. They're very advanced and the level of like sophistication and operations behind their brands, it just blows my mind. So I'm not surprised to see or to hear that that zip code in New York is like, probably, what did you say? What's the percent?
Kevin King:
77% of all sales worldwide on Amazon.
Leo:
That's impressive.
Kevin King:
So if people want to learn more about like this new software tool you have for influencers or get in touch with you for any reason how would they do that?
Leo:
Yeah, the best way to actually reach out to me is through Facebook or LinkedIn. My end all on both is Leo Sgovio as my first and last name. And if they're interested in Combomat Connect and BETA is opening in probably two to three weeks. Probably just on board 10 to 15 people for now. And then they can go to combo mat.com or send me an email through the, the website as well, and I'll be happy to onboard them.
Kevin King:
Awesome. Well, Leo, I appreciate your time today. This has been fun. We could probably keep talking here for a long time. We'll have to do it again and talk like you all about AI and how that's gonna influence everything we're doing in e-commerce. We'll have to revisit that later in 2023 at some point.
Leo:
Yes, Kevin, let's do it. I think it'll be a fun episode for sure.
Kevin King:
Awesome. Well, we'll see you in just a few days in New York, man. Have a great new Year and we'll talk to you soon.
Leo:
You too, Kevin. Let's see you soon. Happy holidays.
Kevin King:
All right, thanks,
Leo:
Bye.
Kevin King:
I hope you enjoyed that talk with Leo and myself. And if you can make it out to ASGTG in New York in January, you can find some information on their website and meet us in person. Look forward to seeing you there. If you're able to make it to that event. We'll be back again next week with another episode. In the meantime, I hope you have a great New Year' and a great start to 2023. I just wanna leave you with these words of wisdom before we go, as we head into 2023. Remember, the people that you spend time with determine who you become, the people you spend time with determine who you become. So love your family and choose your peers, the people you spend time with, determine who you become. Love your family and choose your peers. We'll see you next week.
---
Enjoy this episode? Be sure to check out our previous episodes for even more content to propel you to Amazon FBA Seller success! And don't forget to "Like" our Facebook page and subscribe to the podcast on iTunes, Spotify, or wherever you listen to our podcast.

Want to absolutely start crushing it on eCommerce and make more money? Follow these steps for helpful resources to get started: