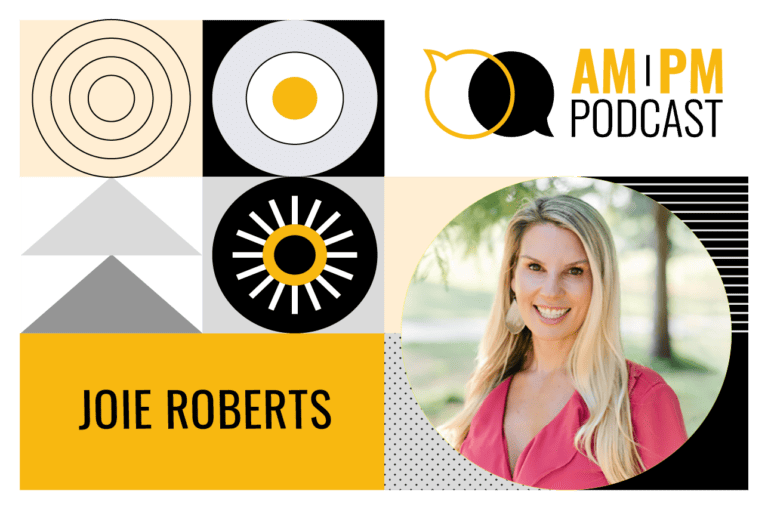 #352 – Selling Luxury Products & Empowering Women In The Amazon Space With Joie Roberts
In episode 352 of the AM/PM Podcast, Kevin and Joie discuss:
• 01:54 – How Did Kevin And Joie Meet?
• 02:42 – Talking About Joie's Amazon Journey
• 04:43 – What Did She Do Before Entering The Ecommerce World?
• 06:27 – It's Really Nice Living In Austin, Texas
• 11:31 – Why Amazon Seller Events Are The Best
• 14:20 – The Biggest Challenge In Her Amazon Journey
• 15:27 – Why Should Sellers Consider Selling Expensive Products?
• 18:26 – What Happened To Her Brand After Exiting It?
• 21:01 – A New Journey In The Women's Health Category
• 23:44 – Finding Her Niche Keywords
• 24:29 – Empowering Women In The Amazon Space
• 28:36 – Why Is The Amazon Space A Male Dominated Industry?
• 30:29 – Selling Branded Wallpapers
• 33:22 – Corporate Life Versus Entrepreneur Life
• 35:46 – Coaching Amazon Sellers And Being A Partner In AMZInsiders
• 38:25 – Why She Recommends Freedom Ticket By Helium 10
• 40:18 – Why Hiring An Amazon Coach Can Pay Off
• 42:51 – The Fame, Satisfaction, And Fulfillment Kevin Gets From The FT Course
• 44:21 – The Joys Of Hosting Her Own Podcast
• 47:45 – Joie's Tips For Newer Sellers
• 49:57 – How To Get In Touch With Joie Roberts
• 51:22 – Kevin's Words Of Wisdom
Transcript
Kevin King:
Back again this week with episode 352 of the AM/PM Podcast. In this episode, I'm speaking with Joie Roberts. Joie started her Amazon adventure back in 2017 with a small, inexpensive product, didn't work too well for us. She kind of regrouped, and in 2020 started again, and within a year she sold her business after growing it to a million dollars in sales. We talk about that journey, talk about how there's not a lot of women actually in this Amazon selling space and what she's doing about that and a whole lot more and joy. And don't forget this summer, I'm debuting the billion dollar Sellers newsletter. It's 100% free for listeners of this podcast. So be sure to go to billiondollarsellers.com and put in your email address and name to get on the beta list so you can be one of the first to get this brand new newsletter. It's gonna be chockfull of advice and tips and strategies and hacks for e-comm and Amazon sellers, billiondollarsellers.com. Welcome to the AM/PM Podcast. Joie Roberts, or is it Joie?
Joie:
Hey, Kevin. You nailed it. It is actually Joie Roberts, but I do go by Joie, even though it is Joie Roberts my whole life. Everyone is called me Joie. So they're both correct.
Kevin King:
But speaking of names, you're actually making a name for yourself. I remember when I first met you a couple years ago I think it was at a, like a BDSs or something. I think you came with one of your partners, Jamie or something like that and we met, I think.
Joie:
Yes, it was a few BDSS ago and it was in Austin. And so I popped over for some of the parties and I was selling my first brand at the time and yeah, BDSS was one of my first introductions. I think that was 2021 to the super cool Amazon selling community as a social part because I had been selling, but I was really just doing it head down and working really hard on my business.
Kevin King:
So you've been doing it for a while. I mean, you've run many, several different businesses, I think but you've been doing, you were selling on Amazon since like quite a few number of years before that, right?
Joie:
Right. So I attempted and I'm saying attempted because it's important to recognize your failures. I sold a product in 2017, briefly, I realized it was not the right product for me to sell, and I quickly shut that down, tabled selling on Amazon. And then in 2020 when Covid shutdown and I was running another business at the time, I thought, you know what? This is my time to build an Amazon business properly.
Kevin King:
So how did you learn about this Amazon stuff? Did you see something online? Did you take a course? Did you had some friends that were doing it? How did you find out about the opportunity?
Joie:
Yeah, great question. The first time I did it, I just winged it on my own and I thought, Hey, I wanna sell a product. And I knew about selling on Amazon cuz I worked for a big art company in the past that sold on Amazon and I managed their account. And in 2020 when I made the decision that I am gonna sell properly, I'm not going to risk mistakes and I'm gonna really build a business that I want to sell, that is when I took it very serious and I found a coaching program. And that was AMZ Insiders, actually my current business partner, Jamie Davidson's program that I chose to join so that I'd have a mentor.
Kevin King:
So you found that in 2020, was that during the the clubhouse days or was that?
Joie:
It was. Yes. Yeah.
Kevin King:
You found out he was hustling that big time on Clubhouse.
Joie:
He is an og a clubhouse. Yes.
Kevin King:
Like 50,000 followers or something like that. He is, it was crazy.
Joie:
Exactly. Yes, he has, he still has a lot of followers on Clubhouse.
Kevin King:
So that's how you found out about that program through Clubhouse or you knew it before that?
Joie:
I knew it before Clubhouse, but I did pop on to Clubhouse to hear what he was saying and join the conversations.
Kevin King:
So what is your background? You said you did some work for an arts based company. Was that, do you have a background in e-commerce or what were you doing before this whole e-commerce thing?
Joie:
Yes. I served 16 years in the corporate world before going out on my own right outta college. I worked for NBC News in San Francisco, and I think I was there six or seven years. And I moved from San Francisco to Austin, Texas where you and I both are. And then, well, I took a job in news in Austin and I felt like it was a terrible career decision. And so I made the jump from television into marketing. I worked on the digital marketing team for Callaway Golf. And from there somebody who was at Callaway Golf came in and scooped up a bunch of us from the digital marketing side. And that's how I ended up at a company called New Era Portfolio. And I, by the time I left there, I was VP of sales and marketing. So yeah, I have a strong interest in e-commerce marketing and I knew about algorithms and seo, which is what did attract me to Amazon.
Kevin King:
And when you were in news, were you on camera or, or behind the scenes talent?
Joie:
I was a little bit on camera and I mostly wanted to be behind the scenes. I did, I was a writer for tv. I did producing kind of that like seven on your side consumer stuff. Mm-Hmm. <Affirmative> really got me excited.
Kevin King:
So what the, what brought you to Austin was then a job opportunity or did you just had heard things about Austin wanted to come check it out, or what brought you actually to Austin?
Joie:
I got offered a job at the local CBS news station, and this was like 15 years ago. And I took the job and I quickly realized that it was not San Francisco. And at the time, Austin was a lot smaller.
Kevin King:
What do you think of, so you've been in Austin for 15 years?
Joie:
I have.
Kevin King:
I've been here since 1990. So I came here right after I graduated from college at Texas a and m. So I've been here 30, what's that, 33 years now. And it's changed dramatically.
Joie:
It has, do you call yourself an Austinite?
Kevin King:
I would probably say that, yeah. I've been here, you know, well over half my life. So I, it's, it, this is my home. I grew up in Dallas, but this, this is my home. And, and I actually at one point when things started getting hectic here back around the 2007 and 2008, and I was like, man, this place is just booming. And it was starting to lose a little bit of its Keep Austin weird kind of thing and changing. I was like, maybe I want to actually go somewhere else. So I actually looked and almost moved to the country of Panama. And I, but then I, I made my pros and cons lists and I'm like, Austin still beat out everywhere else that I've could figure that I'd want to be even with some of the negatives here. So I was like, I guess I'm staying in Austin.
Joie:
And now look at you. You're living basically right next to downtown living the best life?
Kevin King:
Yeah, I've lived all over Austin <laugh>. Yes. And I'm right in the heart of everything. Yeah. I, I like it. I mean, I, I have a, I lived out in the suburbs, well, I lived in the about, out by the old airport for a while. And then I moved out, bought a house out in the southern suburbs and my wife at the time did not care for that. And she actually wanted to move back into the city. And I was like, eh, I don't know. I like it. Can I out here? I set this whole house up, spent a lot of money, you know, customizing and decorate, decorating it, but came in to a highrise in the heart of Austin on Rainy Street. And now I don't wanna move. I'm like, I like it here. I'm in the middle of everything. It's not that I go down to Rainy Street and, and have, you know, drinking all the time on the quiet side, but it's convenient, I mean, to everything. And it's, I can look out my window and, you know, see the river and see the whole skyline, which from a perspective most people don't see in Austin. And it's really nice. And so I have no complaints.
Joie:
Yes, you have it. Good. And that's the beautiful thing about Austin is you can live whatever life you want here.
Kevin King:
What is it, what's your favorite thing about, I mean, everybody out there, I mean, Austin's become one of these big cities that, for people to move to, I mean, or even just to visit, I mean, I know like on bachelorette parties, it's right now they all come to Nashville, to Austin or to Vegas. It seems like those are the three hotspots. What is it about Austin that you think draws so many people? I mean, it's, it's become like the Silicon Valley of, of internet marketing. I mean, you get Joe Rogan to, you name it, everybody's, who's pretty much anybody is here or has an office here. What do you think it is that's drawn everybody here?
Joie:
I think originally the draw was, let's say like five to 10 years ago, the city of Austin did a big push to get e-commerce companies to move here. So they did tax incentives, they did 10% kickbacks for building construction here. So that put Austin on the map as like, Hey, we wanna have this economic growth. And so we got pretty lucky. Like Google came here, we had HomeAway, we had really big Tesla, you know, came and moved in Whole Foods. And that drew the young crowd to come in. And it really is a great place to build your business. And it's family oriented
Kevin King:
And it's got a lot of, got a lot of everything. I mean, other than some roads that haven't kept up. You got the hill country, it's not like the rest of Texas. You have the hill country out with all the vineyards, you have the, the rivers, you have the outdoor stuff, you have the cool vibe, really good restaurant scene, really good scene for younger people. The high tech scene, it, there's just, there's, I agree with you. There's a lot here. I think it really started with mtv. MTV did the version of the real world here about Yes,
Joie:
I remember that
Kevin King:
20 years ago or so. And I think that's what actually started this cool hipness for Austin. And I think it's just snowballed since then. Like you said, lots of companies have, you know, whole Foods was founded here and their headquarters is here. Oracle's headquarter world headquarters are here. Dell was founded here and headquarters. Tesla moved and SpaceX, they moved all their stuff here. There's tons of the list goes on. But it's, Texas is a very tax friendly state and then Austin's just the cool place to live, but it's also driven up the price of everything here. That's the, I remember my, my apartment was like $300 a month back when I first moved here. And now you can't even get a box on the street for $300 a month.
Joie:
No, you cannot. You can't even get a ticket to a show for $300 a month.
Kevin King:
<Laugh>. Exactly. So this switch into e-commerce, how's it, how, how's it going for you? How are you liking it?
Joie:
I'm obsessed specifically with Amazon. And I wasn't expecting in 2020 when I made the decision to sell on Amazon again, it, it wasn't necessarily that I wanted to do it as a side hustle, but it really took over my brain. And I have found after I branched out with the Amazon selling community, we all kind of get wired like that, where everybody who is selling or a service provider starts to get this addiction. And we really do sit around and talk about Amazon all the time. Where in my past when I would go to conferences and events, we maybe talked about work and then we talked more social. But I just love that I can be in a community and feeds that obsession I have of the coolest, latest and greatest stuff with Amazon and what works and what doesn't.
Kevin King:
You bring up a good point there. And I've noticed this, I've been to lots of conferences for different industries and there's nothing that seems to be quite like when you go, when there's a, to an Amazon oriented event that I, I don't know what it is, you always have the new people there that are shy and they don't know anybody and you know, they just go and they, they take their notes and they go back to the hotel at night. But then you have the rest of everybody. It's, it's almost like a little click, like a little group. And it is different. You know, I was just at an event a few months ago inVe gas, an AI event, and it was like 400 and something people there and there's probably 25 Amazon sellers, but the Amazon sellers kind of grouped together, you know, and, and we're doing, going out to eat and going to the bar and doing, doing things versus everybody else was just, you know, networking a little bit during the event and then they, they go back to the room or whatever.
Kevin King:
It's a different vibe. I don't know what it is about this entrepreneurship and selling on Amazon. It's like you, you are wired differently. And you have this like instant magnet that draws each other to, have you noticed that, I guess as well?
Joie:
Yes, I have. And it's, it's like kind of like if you know, you know, and I feel like because I'm now around people who think differently or get excited about this Amazon stuff, it makes me wanna continue to build and it's inspiring so I'm not getting bored where in other industries I thought, well, maybe I should shift and try something else. Like I'm still all these years very excited about it. And to your point, yeah, I've been to non-Amazon events like masterminds and stuff and, and the Amazon people will group together and then the people not in the Amazon space come up and kind of look at us like, wait, you guys just talk about Amazon all the time? We're like, yeah, we do.
Kevin King:
What's been the hardest part of starting your journey on Amazon? Is it just there's so much to learn, so many hats you gotta wear when you're starting? Or is it the financial side or is it figuring out products? What, what has been the the biggest challenge actually to doing this full-time?
Joie:
Yeah. With my first brand that I built from zero to a million in 12 months I wasn't scared of what I didn't know. I was ready to jump in, even though I didn't know what I was gonna do. The hardest part that I ran into, and this was 2021, was just so many inventory problems and product problems and running out of inventory and mismanagement of everything to do with my inventory. So that, those were hard lessons. And I, I do feel lucky that I started with an expensive product cuz I had a lot of room in my margin for error. But you still don't wanna learn those hard lessons when your inventory, you run out of inventory or your inventory doesn't arrive perfectly cuz you can take a big hit. But I did have room for error with that.
Kevin King:
So let's talk about that. Actually, you did your, your first product that got to a million was an expensive product and that's counter to what most people teach out there. Most people say Amazon's all about price, all about the lowest price. You gotta be able to compete on price, and I disagree with that. And obviously you do too. What is, why, why should people consider selling more luxurious or higher end items? you might not sell as many but there's, like you just said, there's higher margin. You can sell 10 of a higher end item versus a hundred of a lower end item and not have all the, the crazy competition and all that stuff. But what are, what are you, why did you decide to go counter to what pretty much everybody teaches and does?
Joie:
Yes, exactly. The point you made is you sell less, you can make more. The first product I sold in 2017 was a low, low dollar product. And I was doing it out of a passion and it was this strap that connected to strollers because a friend of mine's nanny lost hold of her daughter's stroller and the stroller rolled down a hill. So I was thinking, oh, well what if they had a strap that connected to the stroller? So I quickly went to Alibaba, found this strap, it was selling, and this was back in 2017. It was selling for $6 and 99 cents. I mean, Kevin, there is no margin in that. There's no room for growth.
Kevin King:
But you could get into it cheaply. You, you didn't have to do, didn't cost you a lot for inventory or anything. So that's, that's the draw to a lot of people,
Joie:
Right? It costs nothing. I mean, what maybe I spent 400, $500 on that whole endeavor. That's nothing. That's like trying something and, and realizing, oops. So 2020 when I said I'm gonna do this again before I even found a product to sell, I made the decision that I wanted to make $100 every single unit I sold. Wow. And that's how I started. Because now I mentioned I worked for Callaway Golf and I worked in the art world. So I am very comfortable with high margins and luxury products.
Kevin King:
So what category are you in? What are your current is your current product in?
Joie:
So that product was sports and outdoors. I sold that business. I currently sell in women's health. So I have about I think I'm at like 10 ASINs in women's health. And those, my lowest product is just a fun product that I sell for $20. But I do have products that sell for over a hundred dollars still because I do believe in, for myself, big, big margins. And I like my margins big.
Kevin King:
So the company you started in 2020, that was with a hundred dollars profit per or more per unit, you've already built that and sold that?
Joie:
Right. I built that in exactly 12 months to 1.2 million in sales. And I sold it and it was a hard decision to exit it. The company grew very, very quickly and it was one of those decisions of, hey, I can keep running this, I can put it on Walmart, I can take it to Australia, New Zealand, or I could sell it and start a new Amazon business because I know how to sell. So I had a really good offer from a buyer and made the decision to exit.
Kevin King:
Was that like an individual buyer or one of the aggregators?
Joie:
I talked to aggregators, but I gotta tell you, 1.2 million in sales is still kind of small for an aggregator. It was at the time, I don't know now, but at the time it was. So this was a private buyer.
Kevin King:
And how are they doing with it now?
Joie:
Great question. I'm so glad you asked because nobody's actually asked me that. I do creep on how their sales are doing mm-hmm. <Affirmative> in Helium 10 and they're not doing as well and the reviews are down and I definitely can see their sales have dipped cuz they don't have the passion I had for the selling of the product. It's not that I loved the product, I loved selling it.
Kevin King:
Do they have experience in Amazon or was this their first foray into Amazon stuff? The buyer.
Joie:
So they have a team that will run Amazon for them. So you know, employees that do it for them, I don't think the owners actually know how to sell on Amazon.
Kevin King:
Okay. So yeah, I see that happen a lot with people just looking at it for on PnL basis and they don't know anything about it and they just hire some people to run it. And then those people, exactly like you just said, they don't have a passion. They're punching a clock from nine to five and they don't really care if the cells go up or down or if it's suspended it doesn't affect their bottom line versus us as a seller, you're suspended or something's going on, you're like, this is money straight outta my pocket, I gotta get this fixed.
Joie:
Yes. And that's why you didn't meet me for like, you know, years into my selling because I was just heads down and I was building this business and I didn't have time for anything else, like my whole heart and everything was in it.
Kevin King:
What are you hoping to do with now with the, the women's health brand? What are you hoping to do with that? Are you hoping to build that, to sell that as well? Or are you just having fun right now or what, what, what's your goals there?
Joie:
So right after I sold the first brand, I wanted to finish this book that I started writing and I wrote a book called Nothing in the Oven because I faced a lot of infertility issues and I wrote this book. So I sell this book on Amazon, which was also a goal. I wanted to know what it was like to sell a book on Amazon. So I do the Kindle direct publishing, which is a self publish KDP. And from there is where I started finding products to put into my fertility health line. And I gotta tell you though, with coaching and all the other things I wanna do, I haven't launched the two big hero products that I want to do. So that's my goal this year is to get these two products up. And my other goal with that brand is really to learn from everything I did with my first brand and make this brand stronger, grow it a little slower and potentially build a better community around the women's health. So yeah, maybe one day I will sell it, but it is not the crazy you know, zero to a million like I did previously.
Kevin King:
The health line is all around infertility, right?
Joie:
Yes. Yeah, I call it women's health because it is fertility, but it, it kind of can branch out a little bit. I never wanna pigeonhole myself to just fertility. But yeah, it's like women's health.
Kevin King:
So is this more like devices and and physical things or is this more like supplements and more alternative medicine type of stuff?
Joie:
Some of it is like like a hand carved how would I describe it? Like figurine that brings you good luck, right? Because people are into that and the keywords matched up. So that's one of 'em. The other is, yes, I am going to launch a supplement cream that will go along with it and launching anything to do in supplements and creams, you have to be very careful. So I'm taking my time to make sure I get that right and I'm having it made in the US. And then other are just products that I think are good for anybody who either wants to get pregnant or just protect themselves from like any harmful chemicals.
Kevin King:
Cool. That's cool. That's a big problem out there. I guess there's a lot of people looking for that type of stuff on Amazon or is it, is it competitive or is it kind of, you really found a good little niche where you can kind of stand out?
Joie:
I'm all about the niches to stand out. My sweet spot for selling is anything around 30,000 searches and I'm like, this is gold. I typically stay away from things that are blown out and overdone. And I also like niches where people get really attached to it. So if it's a sport you're into and people buy mostly in try all the new cool things with sports. That's why I like sports and outdoors. And then with, yeah, the women's health, the people who are searching. If you're searching for that, you're probably gonna make a purchase.
Kevin King:
Yeah, I would think so. That's cool. That's cool. So I mean, speaking of, of women and women's health, one of the things that you've been passionate about is you noticed, I guess going to a lot of these events that it's a bunch of dudes everywhere and, and just, just a bunch of dudes and you know, I even get I get pushed back a lot of times like on billion dollar seller, some like, where are the women's speakers? You know, I'll have four out of 14 or something. And people were, there's like, what? And I think there's just not that many women out there. There's some smart women, some of 'em though are like yourself that are, they don't speak, you know, well now you do. But a few years ago they're just keeping their head down doing their thing and so they don't come out. And then that leaves a smaller pool. And so it's, it's a male dominated industry, but you've made it part of your passion. You started a podcast, the Fearless Sellers, it's like all about women, women empowerment women in this space. Talk to me a little bit about what you're doing there.
Joie:
Yeah, thanks for bringing that up. Fearless sellers, the women of Amazon was born from exactly what you were just saying, going to these events and the men are pretty dominant as sellers. I started to dig into, hey, where are the women at? And also the women that I was meeting at the events were absolutely incredible. They were sellers, they were moms, they're building softwares or their vendors. Like they have a lot going on. And when I was building my business, like you said, I just kept my head down and I thought everybody on Amazon was making hundreds of thousands of dollars a month. And I didn't really give myself a lot of credit. It had nothing necessarily to do with being a woman. But there is a bit of a difference of women versus men with, especially if we have a family of how much we have going on. So I dug into the statistics and found that only 25 to 30% of US sellers are women. And I thought, hey, you know what? There's an equal success rate for women and men selling on Amazon. It's not that men are better and it's not that women are better. I am gonna say women are better at shopping. So <laugh> in theory, I think we're better at sourcing cuz we're good at shopping <laugh>.
Kevin King:
So, but how's it at 20 to 25%? I think, see, it sounds high to me. I think it might be actually, or if it's, if it is that number, then that means there's a lot of 'em that are just staying at home and not, not,
Joie:
Yeah. And a lot of 'em are husband and wife team. So I, okay,
Kevin King:
Okay. If you can conclude that I, I, I can can see that. I mean yeah, as a woman, especially if you have children, you know younger children like you have a, you do, I mean that can be a challenge to, and then you gotta pay attention if you're married to your husband and ti and then you got the travel and then everything else. And it, it can be a huge juggling act cuz we, entrepreneurs sometimes like to, to work every waking hour.
Joie:
We do. And I like to work every waking hour and I was doing this when my kid was a baby and he was little. I would put him to bed and I'd stay up till one, two in the morning obsessing over my listing or Photoshopping my photos or you know, recording a video. So yes, it is demanding and the podcast was really a way to celebrate the successful women in this space. It is not to separate like, hey we're women and we're great. It's more like there are women doing great things and there are men on the podcast as well, but the majority I'd say let's, 70% of my guests are women. Cause it is important to cheer other women on and say, Hey look, I'm doing this, you can do this. And men or women can all come together and build on Amazon.
Kevin King:
Why do you think it actually has become so male dominated and why do you think, I mean, I guess it's maybe it's certain professions, you know, you could look across I guess a lot of professions way, but why, I mean, like you said, e-commerce is equal opportunity. It's not like, you have to have extra muscles or something, you know, to do it. Like in some professions, you know, you need to be stronger to lift beams on a big construction building or whatever it may be. But in, in this, it's equal. Why, why do you think it has has skewed towards the, the male side?
Joie:
I think entrepreneurship in society kind of gets geared towards men and men will take the risk on the side of their current jobs to run a side hustle where that kind of recruits men and kind of gets the boys club like, Hey, I'm doing this side hustle, I'm doing this. And from my career as my corporate world for women, those weren't our lunchtime conversations. It wasn't like, Hey, we work this corporate job, we should all start Amazon business. It was actually more like I felt like I was always being talked to about the like multi-level marketing stuff. Like other women were trying to get me into their like network marketing, which is you know, men and women. But when I started selling on Amazon, a lot of my female friends were confused and they're smart professionals and they had jobs, but they were like, wait, you're actually gonna be like the seller on Amazon. I was like, yeah, instead of shopping I'm going to be the person who is selling you the stuff on Amazon. And I think it's just conversations in circles and entrepreneurship in my experience has always been geared more towards men in business.
Kevin King:
Yeah, I get that same thing as someone will ask me in the elevator or something, what do you do? Say I sell products on Amazon. And they just look at you like, oh, okay. They, they have no idea, they don't get it. And they say, I guess you know that that must work cuz you're living in one of the higher floors of the building and you're doing this and that. So it, I'm like, yeah, it, it, it actually works. And then they'll start asking you questions, you're like, ah, you know, this is too complicated to explain you know, on the next 20 seconds before the door opens.
Joie:
Well, yeah, and some people laughed at me when I when I first told 'em like, Hey, I'm actually, you know, I have my job and I have my, I was, I still own it. I have a commercial wallpaper company and I've had it for nine years so people know me in the wallpaper space. And then I had my kid and I thought, I do wanna spend, have more flexible hours. And I do still run the wallpaper company, but not as aggressively cause I like Amazon, but I told people, Hey, I'm selling on Amazon. And they laughed and that discouraged me from telling anybody what I was doing.
Kevin King:
And when you say wallpaper company, that's like you just have a website and people, if they wanna do some sort of custom thing in one of their rooms or on the side of a building or something or what do you mean by that?
Joie:
Yeah, it's commercial only. So I did, like in downtown Austin, I did Under Armour's commercial building. I did HomeAway's building, I actually did some of Tesla's building, it's actual commercial design. So I have a graphic designer who will come in with me and we come up with concepts. So think of it as like branding your company inside. So I've done Dell Children's Hospital,
Kevin King:
That's when you walk in and like behind the reception desk there's some sort of cool piece of artwork or some cool cool design and you're creating with your graphic designer that design getting their approval. And then actually you have a process to get it manufactured, then you hire somebody to go and install it for them basically.
Joie:
Exactly. Yeah, that's exactly what I do. I've been in fine art publishing an artwork I guess 12 years now because after Callaway Golf I worked for that fine art company, artwork company.
Kevin King:
But Callaway Golf taught you a lot about luxury stuff cuz that's high dollar stuff and golfers and everything. And Calloways, I think they're based here, right? In Austin or?
Joie:
Yeah, so their digital team is in, is in Austin and then they're in San Diego actually where I grew up. They're in San Diego. So that was a perk of working there as I got to go fly to San Diego you know, every few months and work there. But, you know, I wasn't passionate about golf and I didn't wanna talk about golf and golf balls and the latest driver. So that was one of the reasons I was okay leaving and going to the art world. But it, but to your point, yes, it was luxury and Callaway Golf did kick that off.
Kevin King:
What do you find the biggest differences between your previous corporate life and now your entrepreneurial life? What do you find, what, what are the some of the things that you like? Is it the freedom, is it the set your own schedule? Is it do what you want it? And what are the some of the things that you don't like? Is it maybe, you know, now I gotta pay for crazy amounts for health insurance or whatever it may be? What are some of the pros and cons?
Joie:
Yes, all of that . I don't like that it can be very chaotic and unorganized and there's not a team to come together to say, okay, let's all fix this. It's really up to me and when I make activity happen or I do something, there's a ripple effect. So I need to be ready for it. And nobody cares about your business as much as you do. And if you know you, you, what's the saying? It's like you try to hire, right, but you let them fail fast and then you have to get rid of people who aren't holding their weight on the team. That is very disappointing. And that's the reality of an entrepreneur where in the corporate world, you have a team and you're making somebody else money and you're working for somebody else and you know, your coworker takes too long on their lunch break and doesn't show up a few times they get fired. It doesn't totally impact you because you're still just nine to five.
Kevin King:
And what are some of the positives though? That those are some negatives. What are some positives to
Joie:
Actually positives are endless. I mean, there's endless positives, right? You're your own boss, you can work from anywhere. You can have potential that is unending, like your earning potential is not capped. And that was the biggest reason I took the jump and started my own company because my commission structure got changed and capped and I thought, oh wow, I'm making you guys so much money that you're capping my commission, so I'm just gonna leave and I will do my own wallpaper and art company on my own. And that is really where I got the bug of, Hey, I can do this myself and I'm responsible and I can now be in charge of how much money I make.
Kevin King:
So what's it like now you're, you're involved with AMZ Insiders and you're like are you one of the partners there or you one of the, what, what is your actual title or role?
Joie:
Yes, I'm the managing partner. So yeah, I, I joined as a coach just to see what coaching Amazon sellers would be like. And then, yeah, I made Jamie Davidson an offer to be an equal partner back in, I think it was actually, it was right after your B D S S. Was that like August? Yeah, we had a really good discussion at, at your event. And then I came on as an equal partner. So almost a year, not quite yet.
Kevin King:
So what's it like actually teaching people now, when you were the opposite just a couple years ago, do you feel like you have, I guess that's a short flip, you learned so much in that time where you're comfortable to teach them? Or do you have ever have any like imposter syndrome or anything like that because you're still in the process of learning yourself? Or is that what actually makes it better? Because people can kind of follow along for the ride and or talk to me about that a little bit.
Joie:
Yeah, all of the above. The one thing about coaching that I always wanna be authentic and if I don't have the answer, I will get another one of our coaches. Cause I'm not the only coach. There's, you know, there's a handful of us and I will go get another coach and I'll say, look, it is about the team of coaches. It is not just about me. I can't tell you exactly how to build your business identical to what I did, but I'm gonna give you my advice and we'll pull this other coach in. So I always try to be authentic. And do I get imposter syndrome? 100% yes. Some days, especially if I'm talking to somebody who has sold more than I have that is, you know, exceeded 1.5 million in sales, then I definitely do get imposter syndrome. And I'm, I like to say I'm pretty humble and I try to be self-aware and I will pull Jamie in who you know, has sold over a hundred million in product sales on Amazon. And I will pull him in and say, look you know, help me through this with these people. And I navigate it that way because these are people's businesses and I would only want advice and mentorship from somebody who really knew what they were talking about. So that's the number one thing. As a coach, I just never pretend like I know something if I don't.
Kevin King:
I know a lot of really successful sellers that never went through a course or never you know, didn't watch a whole lot of YouTube videos. They kind of were figuring out on themselves, but then they decided instead of doing a course, I'm gonna hire a coach, or I'm gonna join a program and, and put the money in that instead of sitting there watching, you know, 50 hours worth of videos, they're like, I'm gonna hire someone. It's almost like hiring a mentor or hiring someone that you a go to that you can ask questions for. And it's an interesting strategy that a lot of people actually don't do, cuz it typically costs a little bit more. But I think it's one of the better you can, you learn from those who've been ahead, all you need to be is one step ahead of the person that you're teaching and, and you can teach them. And so that, I think there's something to that where people actually should maybe pay attention a little bit more to like what you're doing with AMC Insiders rather than just going through some set course. What do you think about that?
Joie:
I agree. And it's good to have a, a separate set of eyes that is not emotionally attached or financially attached to your business. Take a look at what you're doing, take a look at your full marketing approach, look at your PPC, look at if you've made words negative too quickly or are you not adjusting your bids? Just simple things from the outside I think are helpful for having a mentor. And I also welcome everybody's teachings. Like, like I absolutely love Freedom Ticket in Helium 10, and we encourage all of our program is based off of Helium 10, and I always say, you know, do our step-by-step program, talk to me with your mentorship and your coach and also take in Freedom Ticket. Like just collect as much information as you can because at the end of the day, it's their business. And I will be there to talk through it with them, but they're gonna be making the decisions.
Kevin King:
Yeah, I remember when I first started selling F B A, I'd been doing importing and selling e-commerce for years when 2015 I, I, I had seen the amazing.com course, that was the hot thing back then. And you know, they were, they sold 35,000 of these like 5,000 bucks a piece, probably did really good business over the course of several years. And they're still around, they're, but they, I had a little training program that I watched online, it's like a four-part webinar series to try to get you to buy the course. At the end of that I was like, I don't need to buy this. I know how to do all this stuff. I've been doing this. So I didn't buy the course and I just jumped in. But once I jumped in, I, there was enough things, I was like, okay, how do you do this thing here?
Kevin King:
I could go figure it out. But then I found somebody, I paid 'em $3,000 back then, like, you know, this is before there was all this coaching stuff. This is in the, you know, there's hardly any, there wasn't a Helium 10, there was hardly any software and pay them $3,000. And I don't remember if that was for a couple weeks or a month or what, what that was. But I could pick up the phone and talk to them and ask 'em questions or they would look at my listing or, or tell me. And it was really good. And, and I probably knew more than that person about everything to do with e-commerce and marketing, but I didn't know Amazon. They had, they were a step ahead of me on Amazon. So it was, it was worth every penny of that. And sometimes that's what we need to do to get to that next level in, in this and, and get out and meet people. Like you said, getting to events and then and expanding your network.
Joie:
Yes. And when the members of AMZ Insiders that I get to talk to face-to-face one-on-one about their business, when their sales turn around or when they start getting their first product sales, I mean, Kevin, it feels like I'm getting my first sales again. Like I get that high of yes, you are winning. And and that is one of the reasons I love coaching is because I get that fulfillment of seeing people be successful and seeing the magic that happens on Amazon.
Kevin King:
Yeah, that's why I do it too. I mean, that's, people say, why do you, well, I first started the Freedom Ticket originally I was gonna do it myself, and then Manny and GH at who owned Helium 10 at the time, said, Hey why don't you just do it with us? And then I'm like yeah, I don't know, maybe I'm wanna do this on my own. Then I start thinking about it, I said, well, I do it on my own. I gotta drive all the traffic. I gotta pay a 50% affiliate commission to somebody. I gotta organize everything. I gotta hire VAs, I gotta do all the this, you know, set up the credit card processing mess with all that. If I partner with them, it'd be 50-50 partnership. And I don't gotta do any of that. I just gotta do what I do best.
Kevin King:
I'm like, that's the smart way to go. So we partnered up and we originally sold it in 2017 when it came out, originally it was like a thousand bucks or we tested pricing like a thousand or 1500 or something like that. And then in 2019 they decided to make it free and they decided like, Hey, let's incorporate it into Helium 10. As you know, if as long as you have any kind of membership on Helium 10, you can go through this course. And so we reshot the whole thing and we've reshot it three times and then we keep it updated, but three total overhauls and we did it again in 2021, and then we've updated it since then. But the number of people that have gone through it now is crazy. I mean there's, I don't know, I don't know the exact number, but it's close to 200,000 people that have actually started that course.
Kevin King:
Not, not everybody finishes it, but they've actually started it. And I get recognized as a result of that all over the place here in Austin, in the last year, I've been recognized like five times I've been, you know, going to an HEB or standing in line to check out someone comes and task me on the shoulder. Hey, are you the the Amazon guy? I've, I've been recognized in New York by Uber drivers that picked me up. I've had tons of stuff like that. But where I get the fulfillment though is like going to a prosper show, like the last Prosper show in March, standing in line to go to one of the parties that was up on the top floor of, of the Mandalay Bay. And there's, I hear I was standing there with Steve Simonson and a couple people behind me.
Kevin King:
I started hearing this, someone saying, no way, no way, no effing way, no way. So I turned around, I was like, what's going on? The guy's looking straight at me and he is like, Kevin King, I'm Soandso I just wanna say thank you. I took your course and four years ago or something like that on Freedom Ticket, and now my company's doing 50 million a year. And I'm like, holy cow. You know, and that's where I get, I'm not doing 50 million a year. So I'm like that's awesome. So I get fulfillment from that, that I gave. I didn't do that. He did the work, he did everything. But I'm the one that actually, I gave him that foundation. And that's, and that's what I try to do. And the Freedom Ticket, I just give you the knowledge and the foundation, not here's 10 steps, like everybody asks this, these are the 10 steps, find a product that does this, this, this, this. I don't, I don't do that. I give you more of the general knowledge and then it's up to you to go implement all that. And that's what they did. And they're hugely successful. And I have that happen quite a bit at different events. And so that's the fulfillment I get from that.
Joie:
That is incredible. Yes. And you have laid the foundation and all the work and the videos are all worth it. When you see those people making money and 50 million, like that is incredible that you got to be the jumping off point for, I mean, that's life-changing money.
Kevin King:
Yeah. He's if he's got decent profit margins and decides to sell, sell that, that's fu money. Right. So that, that's you know, and I'm not, I'm not at that point yet. I don't have fu money yet. But I'm, that's, I'm building a company right now with some partners that we will hope to, to we're building it to sell. And hopefully a few years from now, I may reach that point, but I'm enjoying what I'm doing. I enjoy hosting the podcast, talking to people like yourself and enjoy the teaching and the speaking and and I still sell. So you, you got to, I mean, if you're gonna tell people you've gotta keep selling, that's like with you, you know, if you're coaching people, how can you coach somebody If you did this three years ago and you haven't really opened up a seller central since then.
Joie:
Exactly. And, and people, I got a lot of recognition for selling, building and selling my brand. And I always wanna stress like, Hey, I am a seller. I get the changes that are happening happened to me. One of my warehouses was in a storm in Dallas, and they said, we're not shipping your products for four months. Like I am in the trenches all the time. And that I think is what makes a good coach, because I'm in it day in and day out, and I completely understand it and I get it.
Kevin King:
How are you lacking hosting the fearless sellers? How do you liking in doing that?
Joie:
I love it. That is bringing my television news background into my passion with selling on Amazon and just celebrating successful people who all motivate me. So I feel very honored that I get to host super awesome people on my podcast and that I get to run it. So I I absolutely have a huge passion for my podcast. What
Kevin King:
Do you think the hardest thing is right now for new sellers entering this? What are you seeing, like new people that have just found out about this opportunity and they're like, oh, this looks good. Has it jumped the shark? Have I missed the boat? What, what is, what's the hardest thing or that, the biggest mindset shift that pe new people getting into this need to have?
Joie:
I think that mindset of it's saturated is out there. And I think what will set the new sellers apart to be successful is you gotta be more innovative. You really need to take a current product that is selling and you need to find a way to make it better. Can you make it a remote? Can you add an app to it? What can you do to improve it for, for the consumer? This is no longer, Hey, let's just sell stuff. I mean, on Walmart, you can do that, right? There's still an opportunity to just buy stuff from China and sell on Walmart, but on Amazon, you need to build a brand and you have to have really good products, and that's how you're gonna win.
Kevin King:
Yeah. There, there's an old saying in business that there's only two things that matter for any business, and that's innovation and marketing. Those are the only two. Without those, if you can't master those two things, you, you master nothing. And that's exactly what you just said. You look at all the top companies from APP that have been successful and made a difference in the world to am from Amazon to Apple computers. I mean, look at Apple. I mean, that is innovation with all the different things that they came out with the iPad, the, I mean the iPad, the iPad, the iPhone, you know, the, the colorful computers back in the, in the nineties or late early two thousands that they came out with. And then the marketing, the be different, you know, the, the commercials that they're famous for, the comparing themselves to the PC guy, all that, that's what really blew them up.
Kevin King:
And you can, you can analyze that and almost any field, and that's what you gotta be thinking of now as an Amazon sellers use that platform. It's a beautiful platform where all these eyeballs are coming, but figure out how you can innovate and market differently. And that's sounds like what you've been doing, and that's what I think a lot of people need to be focused on. And it, it's hard it's not easy to do that and it takes a lot of creativity, but that those type of people are, I think, gonna have the best chance for success.
Joie:
Exactly. Yes, I agree. And I do think everybody should be selling on Amazon, and they have to have that mindset. You gotta be innovative and you gotta look ahead and you gotta market. Well,
Kevin King:
Joy, I really appreciate you coming on here and speaking today. So if people want to get ahold of you or find out more about any, listen to the podcast or find out about your coaching or, or just get in touch with you for any reason what's the best way to do that?
Joie:
Yes, thank you. Fearless Sellers, the women of Amazon is on your favorite podcast app, so check that out. And my Instagram is always a great way to directly connect with me. It's Joie Roberts dot official, Joie Roberts Official or Joie Roberts. And then, yeah, AMZ Insiders. That one's easy. It's just amz insiders.com.
Kevin King:
Awesome. Well, thanks again for your time. I'm sure I'll be seeing you at some event here in Austin or somewhere else around the world where all of our, our brothers and sisters are gathering.
Joie:
Yes, Kevin, thank you. It was an honor to be here with you today.
Kevin King:
Like Joie said, finding something that you're passionate about and that you really care about can make all the difference in this business. You know, you can sell anything you want, but if you're truly passionate about, you're gonna have a, a another level of care and concern and effort. And that's what she did when she sold the first business, and that's what she's doing now with her new women's health oriented business. Great stuff from Joie. Really appreciate her coming on. We'll be back again next week with another awesome episode. In the meantime, have some words of wisdom for you when you're thinking about what business you get in and what should you do next. Think about this. What is the business that will put you out of business and how do you build that? First, what is the business that will put you currently out of business, whatever your current business is out of business? And then go and build that first. We'll see you again next week.
---
Enjoy this episode? Be sure to check out our previous episodes for even more content to propel you to Amazon FBA Seller success! And don't forget to "Like" our Facebook page and subscribe to the podcast on iTunes, Spotify, or wherever you listen to our podcast.

Want to absolutely start crushing it on eCommerce and make more money? Follow these steps for helpful resources to get started: