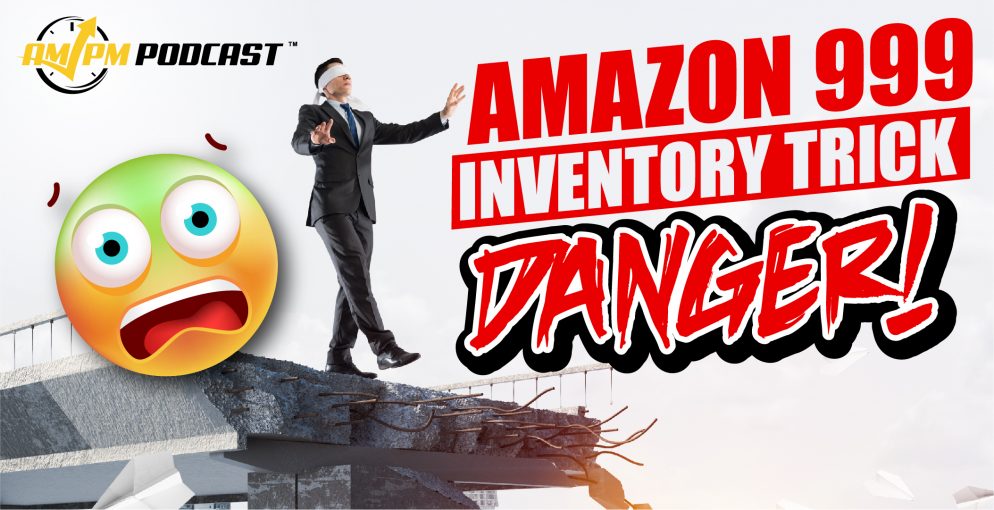 The Danger of the 999 Amazon Shopping Cart Trick – AMPM PODCAST EP 181
Could you be getting inaccurate Amazon sales estimates with the 999 Amazon shopping cart trick?
Some may remember this old inventory hack in the early days of the AMPM Podcast to see how much inventory your competitors had left for their products.
The basic idea was that you visit a listing and add the product to your Amazon shopping cart. You also set the item quantity to 999, and if the seller did not possess that many items in his or her inventory, Amazon would alert you and tell you how many units of the product were left. You would effectively spy on a competitor and find out how much was left in their stock for that particular ASIN.

While it may seem like a clever Amazon competitor analysis idea, this spying activity may actually bring you more trouble than it's worth.
On this episode of the AMPM Podcast, host Manny Coats talks about a few things centered around the famous 999 Amazon shopping cart trick, including:
Guillermo's trip to The War Room conference with Ryan Deiss and Roland Frasier from Digital Marketer in Las Vegas, Nevada
What the 999 Amazon shopping cart trick is and how it works
How accurate is calculating Amazon sales volume estimation with this Amazon shopping cart trick
Is the trick better than using Amazon sales estimation software like Xray by Helium 10?
The flaws in using the 999 Amazon shopping cart trick only to calculate accurate sales volumes on Amazon products
The variables that can impact the accuracy of using the 999 Amazon inventory trick
The Helium 10 alternative to using the 999 Amazon inventory checker
Enjoy the episode? If you found this episode helpful, be sure to check out our previous episodes for more insight into being a successful Amazon FBA Seller! Don't forget to "Like" our Facebook page and join the conversation with over 22,000 prominent other sellers! And don't forget to subscribe to our podcast!
Want to absolutely start crushing it on Amazon and make more money? Follow these steps for helpful resources to get started: