ABOUT MANNY COATS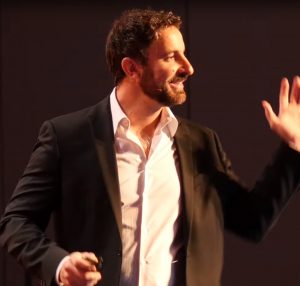 Hi there, my name is Manny Coats, and I was the orginal host of the AMPM Podcast.
I have been involved in online businesses since 1999, wetting my toes by creating the world's largest and most visited humor site, TwistedHumor.com
Over the next 14 years, I founded or co-founded a number of successful companies involved with online marketing and sales, as well as PC software. In 2013 I started a mobile game development company which I still run today.
In late 2015, I jumped into the Amazon Private Label business after tons of research and networking. All of my previous 16 years of experience have helped mold this new business — everything from my online marketing and sales businesses to the insanely aggressive search-optimization tactics involved with marketing mobile games.
I'm the mastermind and founder of Helium 10, Seriously Good Software Tools for Smart Amazon Sellers. I made my first $1,000,000 in Amazon Sales 9 short months after starting out; I celebrated at the Hyatt hotel bar as I was getting ready to speak at the 2016 Amazing Summit.
Snapshot Facts About Me
I was born in Spain.
I like dark chocolate over milk chocolate.
I put brownies in the freezer and prefer to eat them hard.
My max bench press ever was 335 pounds for 1 rep.
Everybody who meets me is surprised at my height of 6'4″.
I don't have tonsils or wisdom teeth.
I have a titanium plate in my neck.
I'm a PC guy, not a Mac guy.
I used to be a wanna-be-hacker on the Commodore 64 when I was a kid. My friends played sports, I used a computer. I had 'Elite 0 Day warez' status at a lot of BBS sites. If you know what that means, you're old, and a nerd like me.
I wanted to be a cop when I was old enough to apply. I got into finance instead at the age of 18.
I became the youngest manager of a finance company. I couldn't even legally have a cocktail to celebrate my promotion.
I created a magazine with no experience at age 22 and sold it 1 year later to one of my largest advertisers.
My first company was called Googolplex, well before Google had been created.
I published 3 of the first books ever about 3D Animation back when the industry was just starting out.
I took 95% of my full net worth and invested it into creating a bodybuilding protein company — And at the same time, I used the remaining 5% of my net worth to create my first website. One failed, and one went on to generate more than $5million per year.
I was about to be evicted and had my vehicle repossessed due to risking it all on these two companies. 12 months later, I was holding the largest paycheck I had ever seen in my life.
I bought an expensive online marketing course from a well-known guru and watched in real time every day as he showed how to market a niche health supplement using pay per click. It ended up failing during the course, making no money, but it taught us students some good lessons. I ended up taking that same product niche that failed for the guru during the course, created a product with it, and turned it into my most profitable supplement business ever (6 figures monthly.)
My company was one of the very first companies to offer anti-spyware/adware. We were doing this almost a year before the big brand names we all know started adding this to their software.
I nearly invested a small fortune into a new startup called eBay, but was advised against it by my financial advisor at the time. He said, "We have never heard of this company, and our analysts say to pass." Ouch! This financial advisor is still one of my best friends today despite that blunder.
In 2007 we had a meeting about a new phone called the iPhone. My team suggested we make 'Apps' for this new device that had revolutionary new tech. I turned the idea down. I believe I was quoted as saying, "Why would we invest time into making software for a single phone when we can make software for the PC." Double ouch!
I founded a popular online affiliate network. I also co-founded a popular child safety software company. I later traded both to my business partner in exchange for the mobile business portion of our company.
I believe in If-It-Fits-Your-Macros dieting as the easiest way to stay in or get in shape.
I will not do any indoor cardio unless I am doing one of two things: 1) Listening to a podcast 2) Playing a video game
I love to race cars with an Organization called NASA.
I don't watch traditional sports, but I love UFC and Formula 1.
I've won 2 national champions in auto racing.
I've never been arrested.
Tony Robbins might possibly be the one person outside of my parents who had the greatest influence over how I got to where I am now. I bought his 'cassettes' about 20 years ago.
I think my BBQ steaks taste better than any restaurant steaks.
I was asked (and accepted) twice as a speaker to a private insiders conference where hundreds of attendees paid a whopping $10,000 each to attend and be a part of that course.
My brother means everything to me, and he has unselfishly helped me build everything I have today. He is an amazing person.
My brother and I launched a clothing company in December 2015. It is an experiment that is looking very promising.
I recorded my first podcast episode of the 'AMPM Podcast' 1 week before December 2015. But due to creating intros, website, follow up podcasts, and the tons of other projects I had going, the launch didn't happen until nearly a month later. You can catch that episode here:
https://www.ampmpodcast.com/episode-1-introduction-to-ampm-podcast-and-manny-coats/
I began developing Amazon seller tools (what became Helium 10) out of my own necessity because there weren't any tools around at the time that could do what I wanted to optimize my seller experience.
I've hosted and presented on a webinar with a 102-degree fever with Gui who was also sick.
I used to own a Great Dane.
Oculus 3D is my new addiction (when I have time).
My house internet is way faster than the office internet.
I've lived in California my entire adult life, until just recently; now I live in Austin, TX.