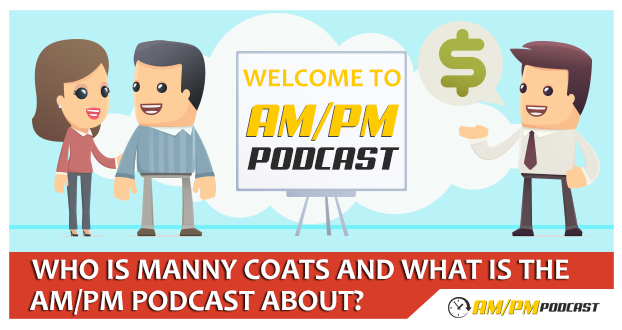 EP1: Introduction to AM/PM Podcast and Manny Coats
This is the first episode of the AM/PM Podcast with Manny Coats. The podcast's name comes from Manny's desire to help you create passive recurring income at all hours of the day (AM & PM).
This episode is more of an overview of what's to come and an introduction to Manny so you can learn why you should listen to him, and what's in it for you.
Manny Coats is a California based self-proclaimed "Serial Entrepreneur" who has started businesses in several industries.
Manny's first business was a 3D animation business where he was one of the pioneers in the industry. He later went on to create an online sales and marketing company with revenues nearing $5,000,000/yr. Manny began using Alibaba.com (before using Alibaba was cool) to source products from China for his companies.
After a few years of running his online sales and marketing company, he started a health supplement business that quickly grew to over six figures per month. While running his businesses, it wasn't uncommon for him to spend upwards of $200,000 per month on AdWords advertising.
Manny had developed software products in the past, but when the "app boom" started, he quickly learned the business and started multiple game development companies, which together have released over 200 titles to the App Store. Because of his success in the app industry, he's been invited several times to be the speaker at multiple app development events.
So why should you listen to a successful online marketing, supplement selling, app dominating, AdWords spending random stranger if you are looking for advice on you Amazon selling business?
Great question, I'm glad you asked!
In the past, Manny saw opportunities and jumped on them without a parachute. This time around Manny is capitalizing on his vast experience selling and marketing online, dealing with Alibaba and foreign suppliers, outsourcing, creating products, etc… and will be documenting his journey for you.
Manny has set an ambitious goal of generating $25,000 in sales in his first 90 days on Amazon, and is shooting for a lofty $250,000 sales in his very first year.
Will he make his goals?
Subscribe to the AM/PM Podcast and become an Insider to find out.
0:43 Manny's Introduction of the AM/PM Podcast
1:17 Discover what we'll be discussing in future AM/PM Podcast episodes
4:53 Who is Manny Coats, and why you should listen to him
7:19 Why after having several successful gaming companies, Manny decided to start an Amazon FBA business
10:31 Manny sets a very ambitious goal for his first year selling on Amazon FBA
12:12 Why Manny intends to get into a "super crowded market" with so-called "bad products"