ABOUT TIM JORDAN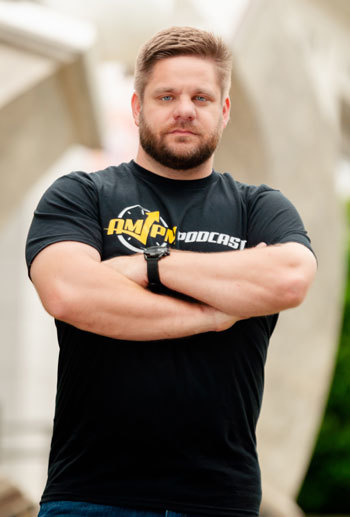 Hi there, my name is Tim Jordan and I am the host of the AM/PM Podcast!
I have always been one of those super entrepreneurial people, but I have to admit that lots of those attempts ended up being busts…. Luckily, they were also INCREDIBLE educational opportunities, and they are what has led me to where I am today!
My first entrepreneurial venture was in middle school. My dad took me to Sam's Club where I bought big boxes of king-size candy bars for $0.50 each. I would then carry them around school selling them for $1.00 (and eating a lot of the inventory!). I told everyone it was for a band fundraiser, and I was busted when the band director finally caught up to me. I wasn't even IN the band!
I was not a great student in high school OR college…. I was always more interested in projects, jobs, and adventures! I lived all over the country and gained a little bit of "culture" from a lot of different places!
In college, I became a volunteer firefighter (I was chasing adventure) and this led to a passion for the job. Right after college, I ended up applying for a position in my NEW home town. Out of 2,500 applicants, I was one of the 25 that made it! I ended up working for 10 years as a full-time firefighter and EMT. The schedule allowed me to pursue lots of other side hustles, which I did with GUSTO!
My first large-scale venture was a high-end landscaping and construction company. We did everything from outdoor kitchens to koi ponds and waterfalls. I was able to grow that company (as a SIDE hustle!) to more than 3 million a year in revenue!
After selling off that company, I landed my next side gig as a procurement agent and business development expert in a company supplying goods to the U.S State Department! I was buying and shipping everything from Russian dump truck tires, to diesel power generators, to tools…. All over the world!
From there I found e-commerce by ACCIDENT! Hit my first million in around 7 months on Amazon, and the rest is history…..
A few random facts:
My first pic with a celebrity was with Johnny Cash in the Nashville Airport at just a few weeks old!
I used to be involved in technical mountaineering… Ice axes and all!
As a firefighter, I once had my face mask melted in a fire. The melting point is 1200 degrees Fahrenheit. When I came out of the structure, my leather helmet was on fire!
I once met a client at a Maasai BBQ in the grasslands of Kenya.
I owned a shipping company that was based in the USA and China, with a full-time staff in Shanghai.
The largest thing I ever shipped was a 40,000 pound BULLDOZER from the USA to East Africa.
I was on a FEMA search and rescue team. I am a trained and registered: Structural Collapse Specialist, High Angle Rescue Specialist, Haz-Mat Technician, Confined Space Rescue Specialist, and Trench Collapse Specialist.
I once made ESPN in high school on a football highlight reel! Except, I was the victim… I was SMOKED on a savage hit by Lamar Woodley! He played at my rival high school and now has a Superbowl ring.
In college, me and some friends made a rap CD. Our group was called "Lil' Timmy and the H-Town Boyz". It was a joke, but it got shared ALL OVER campus.
I have owned motorcycles, but after my gig as a firefighter and responding to wrecks, I will never own one again!
I can drive or operate anything on wheels, sleds, or tracks. No joke. If it has an engine, I can drive it.
Manny Coats was a legit racecar driver. I was .001 second behind him in a competitive go-kart race once….
In 2019 alone, I flew over 250,000 ACTUAL miles going to events and speaking gigs.
I owned a company in Guatemala, where we sourced fair trade goods for Amazon sellers. Still one of my favorite places in the world.
I get occasional kidney stones. I once had one in China that required surgical removal. I got to visit 4 Chinese hospitals in 3 days, and ended up staying in the country much longer than expected!
I get crazy carsick if I am not driving, but I have NEVER gotten air sick flying.
MY first trip to China, I didn't know I needed a Visa. I sweet talked my way into a 72 hour pass from the Chinese customs agents!
I once bought some construction machinery in Shanghai, and I am now certain it was the Chinese Mafia….
I was in Haiti in 2010 right after the earthquake, where I spent weeks in a field hospital working 18 hour days. That was the saddest time of my life.
I am an AMAZING visionary and strategist, but NOT a great executer or integrator!
I once stole a boat from a marina to perform a water rescue in a flood. Made the front page of the newspaper showing the boat I jacked.
I have owned many old muscle cars, many of which I completely restored: from rebuilding the engines to painting them.
I used to do tree work. I once cut off the end of my finger in a wood chipper.
I HATE when people chew food with their mouth open!
I have been a guest on a TON of podcasts, but the VERY FIRST ONE was the AM/PM Podcast back when Manny Coats hosted it. My first appearance on a podcast, and now I host it!