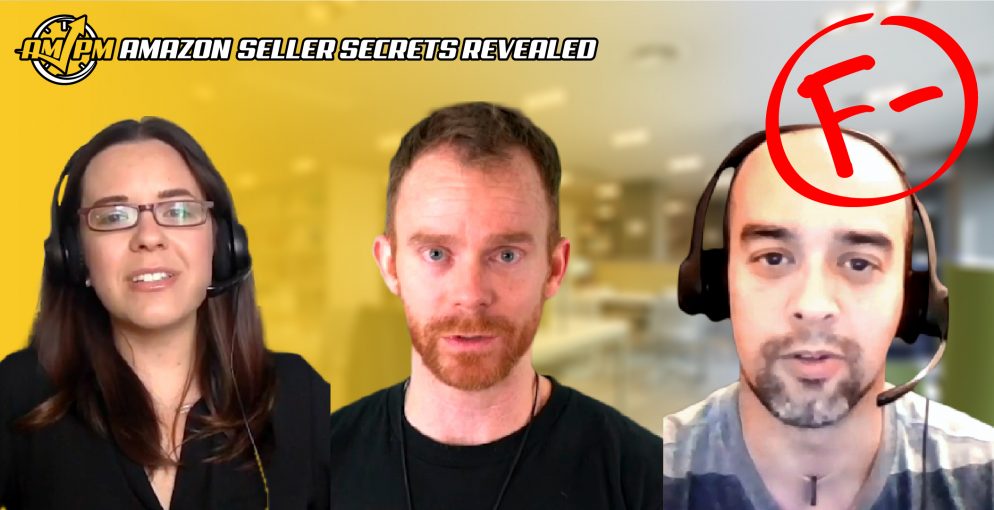 3 Amazon Products That Failed to Sell and What Went Wrong
Any experienced seller can share a story with you regarding Amazon products that failed to sell.
Whether it was just the wrong product to sell or the market conditions were not favorable, sometimes products just don't sell the way you were hoping.
However, not every Amazon product launch failure has to be seen as just a failure. Any entrepreneur worth his or her salt will say each failure is a valuable lesson that you often cannot get from studying alone. Learning from Amazon products that failed can help any new or experienced seller to focus on their strengths to avoid another product flop in the future.
Each of our speakers has a story to share about their own Amazon product that failed shortly after launch, but each also reveals what was learned from the experience to inspire inexperienced sellers to still try and not be deterred by the notion of failure.
Today's question that focuses on Amazon products that failed to sell is:
"Name a product that failed to sell for you on Amazon, and why do you think that was?"
See the full Amazon Seller Secrets Revealed video here:
Subscribe to our YouTube Channel
Here is a more in-depth look at the expert answers: 
The revelations about when Amazon products that failed to succeed include… 
Chelsea Cohen, Co-Founder of Badass Business Builders
"The product that failed to sell for us on Amazon was actually single ingredient supplements. I think it's because the only differentiator we had was trying to sell on quality, trying to sell on being better instead of being different. What a lot of people are looking for are a lot of different ingredients put into one so that they only had to take one product. Having a single ingredient wasn't as appealing and the market also was very saturated in the space."
Seth Kniep, Co-founder of Just One Dime
"There are many products that I can share with you that failed, and I wish that I could tell you that my success rate is up to 100%–it's not. Up to 90% of our products that we launch succeed, but there is still that 10% range. So we found these backpacks at 5 and Below that were selling for really cheap. And they had some sort of discount at 5 and Below, like a discount on top of a discount. And so we bought some and threw them onto Amazon. They didn't do well at all, they just sat there.
So we took them back and we stuffed them with all these ideas. We basically built out these packs to prepare for school and sent those back in. Those started to sell and every time they sold, and we made a lot of money. But we never sold enough to justify going back into it again because I didn't look at the competition and study what other people are doing.
If there are 30 different sellers crushing it in this area and I come in and just try to do the same thing, what are my chances of succeeding? I need to fix a problem that no one else is fixing. The best way to find that is by studying the critical reviews."
Anthony Lee, COO of SixLeaf, LLC
"I created a custom baby carrier. The problem is that I chose a little elephant character instead of just doing a pattern, and it failed miserably. The reason why is because of so many other people who thought, "Man, if only there were some other patterns we could choose from, we'd buy the carrier. I probably only sold a small handful and the rest was a complete flop."

LOOKING FOR MORE AMAZON SELLER SECRETS REVEALED CONTENT? 
Want to absolutely start crushing it on Amazon and make more money? Follow these steps for helpful resources to get started:
Have more questions or stories about learning from Amazon products that failed to sell? Let us know in the comments!