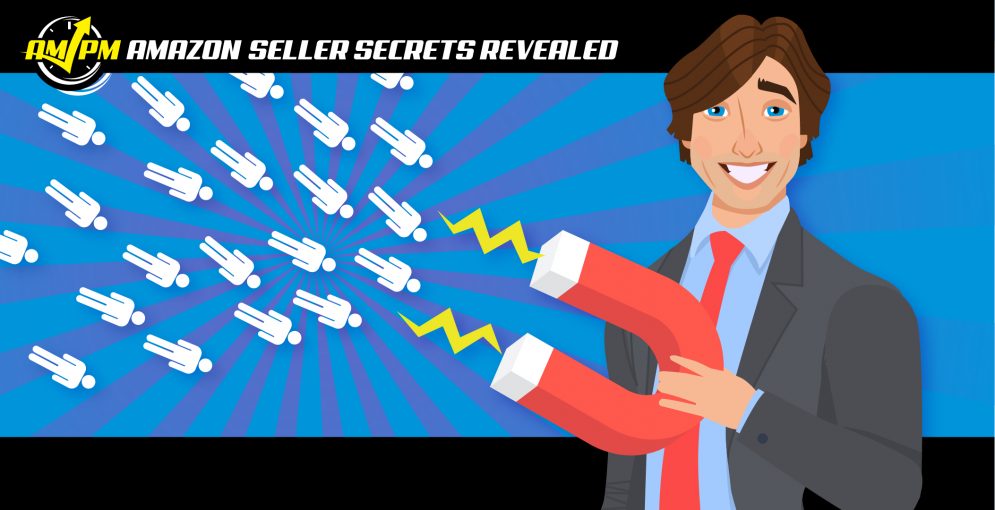 How to Attract More Buyers to Sell Your Amazon Business
After you have successfully launched your product with big profit margins and made enough money, you may decide that you want to sell your Amazon business.
Just like any other entrepreneur looking to have a profitable exit, you may want to live life at your own pace or get into a new industry. Whatever your reason is for wanting to sell your Amazon business, you'll need to attract potential buyers who want to purchase it from you.
Even if your product has traditionally sold very well, you may still run into some issues with capturing buyer attention. Optimizing your business to have an upward trend at the time you want to sell your Amazon business is the ideal way to get noticed by others looking to buy.
Today's question that focuses on how to sell your Amazon business is:
"How Can You Widen Your Potential Buyer Pool for an FBA Business?"
See the full Amazon Seller Secrets Revealed video here:
How to Attract More Buyers to Sell Your Amazon Business
Subscribe to our Youtube Channel
Here is a more in-depth look at the expert answers:
Ways to improve your ability to sell your Amazon business include…
Coran Woodmass, Founder of The FBA Broker
"That's a great question actually, and I'll talk about this from a buyer's perspective or an investor looking to buy into an Amazon-based business. Make the business run as hands-off as possible so the owner time required to run the business needs to be as little as possible. Ideally, you want to get to a point where the business is generating enough cash flow and running without you to a point where you may not want to sell, right? That's when a buyer and investor will pay more for your business.
Buyers with the biggest budgets have the least amount of time. So they may have 50 to $100 million. We've got some family offices were talking to private equity firms that have these type of cash budgets. They don't have a ton of time to actually come in and run the business. So, even if your business is large, if you're doing five, 10, $20 million in revenue, if you're the main bottleneck if you're the main thing running the business. When you go to sell, if you're wanting to sell for top dollar, you may need to be held into the business for a time to replace yourself."
Scott Deets, Co-Founder of Northbound Group
"The faster that you're growing profitably, the more buyers are going to get excited. So the first thing I always encourage people is a lot of times people wait a little too long to sell their businesses. The growth rate will start to slow–if you were growing at 100% a year, but now you're only growing at 20% a year, what is the buyer going to think about next year? The growth level is going to level off and it's going to become flat. Who's interested in trying to restart a flat business? So the biggest thing that you can do is to have large enough earnings.
One of the other key things that other people don't think about is the fact that most of the buyers of these businesses right now are US buyers. [Also,] you can use something in the US called the SBA Loan, or Small Business Loan, as a buyer to finance the purchase of the business. What that means for you as a seller, though, is that you have to be a US entity in order for the government of the United States to have tax returns on you to use an SBA Loan.
Why does that matter? It matters because if a buyer can finance 75% to 80% of your business, they can pay you that money upfront, and they can pay more for your business because the profits of the business are going to finance the sale."
Shawn Hart, Co-Founder of QuickFastHurry
"It's a fact that broker that you use, because you and I, we might send out an email to a small list of potential buyers that are broker has their lineup of banks and buyers. They have both private buyers and private equity buyers. Number two, widen your pool of buyers by diversifying in several different industries, different categories if you're on Amazon, different industries."
Want to absolutely start crushing it on Amazon and make more money? Follow these steps for helpful resources to get started:
Get the Ultimate Resource Guide from Manny Coats for tools and services that he uses every day to dominate on Amazon!
New to Selling on Amazon?

Freedom Ticket offers the best tips, tricks, and strategies for beginners just starting out!

Sign up for Freedom Ticket

.

Trying to Find a New Product?

Get the most powerful Amazon product research tool in Black Box, available only at Helium 10!

Start researching with Black Box

.

Want to Verify Your Product Idea?

Use Xray in our Chrome extension to check how lucrative your next product idea is with over a dozen metrics of data!

Download the Helium 10 Chrome Extension

.

The Ultimate Software Tool Suite for Amazon Sellers!

Get more

Helium 10

tools that can help you to optimize your listings and increase sales for a low price!

Sign up today!
Protect Your Amazon Brand with a Trademark!

Protecting your brand from hijackers is vital. SellerTradmarks.com provides a

streamlined process for obtaining a trademark

for your business and shielding your products from fraud!

Want to REALLY Show Off Your Products? Get Professional Photography!

Presenting your products with professional grade photography has been proven to improve sales on Amazon, so what more incentive do you need?

Ready to Get Serious About Your Amazon FBA game?

The Illuminati Mastermind offers

monthly training

for advanced level sellers.

Reserve your seat today

so you don't miss out on this helpful webinar!

Does Amazon Owe YOU Money? Find Out for FREE!

If you have been selling for over a year on Amazon, you may be owed money for lost or damaged inventory and not even know it.

Get a FREE refund report

to see how much you're owed!