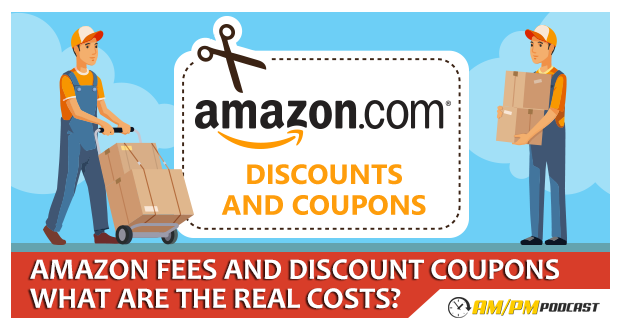 EP4: A Behind the Scenes Look at The Real Costs of Getting Product Reviews
Product giveaways and discounts are an effective way to gather reviews for a new product, but the fees associated with running a giveaway can be confusing and overwhelming. This post clears up any confusion you may have about these fees with an actual real-life example.
On our first review promotion we decided to use a review service to offer 50 units of our first product at deep discount. The representative of the review service encouraged us to give it away for free, but in an attempt to spread out the reviews a little we decided to offer the product for $1.99.
This is a product with a manufacturer's suggested retail price of $29.99; we set a selling price of $19.99 and a perpetual "Sale price" of $17.95.
Given that the review promotional price was only $1.99, the Amazon fees were calculated off of that price. In this case Amazon charged $1.00 for Order Handling, $1.04 for Pick, Pack and $0.63 for Weight Handling and $1.00 referral fee. These fees came up to a total of $3.67. Our revenue for each unit sold was $1.99 so our net loss per unit sold was $1.68.
Additionally to the $1.68 of Amazon fees (minus revenue), we must consider the Cost of Goods Sold. Between product hard costs, and inbound shipping cost, our total per unit came to near $7. This means that for every unit we gave away to a reviewer we incurred a cost of $8.68.
Going back to the fact that we gave away 50 units, the total cost of this promotion was $434.
In retrospect, we probably could have charged a bit more for the discounted units without negatively affecting the outcome of the promotion too much and reducing the overall cost of this promotion.
We started the promotion at around midnight, and in only an hour we already had 10 people take us up on the offer. The remaining coupon codes flew away overnight.
I've put together the important numbers of this promotion below in order to make it easier to read and consume. Remember I've set up a community of Amazon sellers on Facebook; be sure to join in the conversation and get your questions answered today.
MSRP: $29.99
Selling Price: $19.99
Perpetual Sale Price: $17.95
Review Price (50 Units): $1.99
Order Handling: $1.00
Pick and Pack: $1.04
Weight Handling: $0.63
__________________________
TOTAL FBA Fees: $2.67
Referral Fee: $1.00 (Typically 15% or $1 whichever is greater)
Total Fees: $3.67
Revenue: $1.99 (Price we sold the discounted units for)
Net Revenue: -$1.68
Inventory Costs (Including inbound shipping): $7.00
Total Cost Per Unit Given Away : $7 Cost + $1.68 = $8.68
Actual giveaway cost: $8.68 x 50 = $434
0:41 Introduction to the episode content
1:05 Example fees on an actual product giveaway
5:05 Why a free giveaway may not be necessary (or ideal)
6:03 What costs to keep in mind if you're considering doing a giveaway