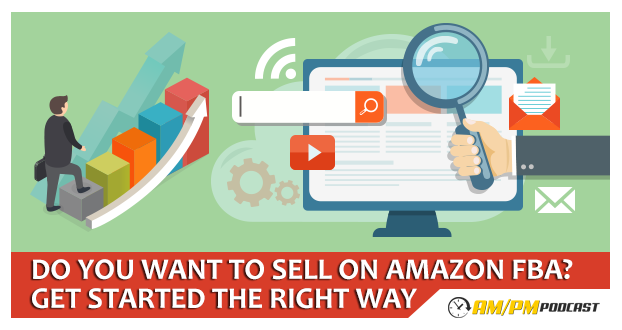 EP5: Amazon Private Label – How to Get Started and Why You Should Do It Now
Wondering how to get started selling on Amazon and why you should do it? Great! Read along as Manny Coats explains the first steps you should take in order to start an Amazon private labeling business.
Manny's short-term goal is to make $25,000 in sales in the first 90 days of his Amazon business. For transparency sake, it is important to make a distinction between sales and profits. There are too many people boasting their sales numbers without openly disclosing the actual profits that revenue generated. So to make it crystal-clear, we're shooting for $25K in revenue, not profits. We'll discuss the profits that revenue represents in later posts.
It didn't take Manny very long to get his first product listed on Amazon, and it generated about $2,000 in sales on the first week with no marketing and only one 5-Star review. It is a very niche product most people don't even know exist. We'll be discussing more results with this product later on after we deploy some marketing campaigns for it, but this quick example goes to show you about the power of tapping into the "Amazon Machine".
FACTOIDS ABOUT AMAZON
– Jeff Bezos (Founder of Amazon) first named his online bookstore Cadabra but dropped the name as it was often confused for "Cadaver"
– Relentless.com was one of the other possible names for Amazon. (Try it on your browser)
– Back in 1994 when Amazon.com was registered online listings were mainly alphabetical. Bezos wanted a word starting with "A" that would convey the size of the "Biggest Bookstore on Earth". He found Amazon was one of the biggest rivers on earth and he decided to register Amazon.com
– The Amazon logo looks like a smiley face, but is also an arrow going from A to Z to represent they sell all types of products
Why Amazon Private Labeling?
Selling on Amazon is one of the few businesses you can start with very little capital and have the infrastructure of a multi-million dollar company at your disposal. You can start with a product you're passionate about and focus your business around that (and you get to be your own boss!). Best of all, you're not restricted to one product or one brand, by leveraging the infrastructure Amazon has made available to sellers you can scale quite quickly through pay per click advertising or other advertising channels.
When Manny was first thinking about selling on Amazon one of his friends recommended he start out without a professional account. In fact, he made it sound like it was super-easy to get started. After doing some research, Manny realized it's not as easy as his friend made it seem (specially when you sell in large volume).
Creating Your Seller Account
The first thing to do if you're serious about private labeling is to create your professional seller account on Amazon Seller Central. There are several reasons for getting a professional account, some of the more important reasons are: reduced fees, and the ability to become a "Featured Merchant". As of the time of this writing, there is a $39.99 fee to become a professional seller; this fee pays for itself by selling 40 items per month. Hopefully you're not getting in business to sell 40 items per month (unless you're real estate, fine arts, or exotic cars dealer); so the $39.99 should be a no-brainer. The fact of the matter is, starting a business takes capital, be sure to invest in the right tools and services that will help you succeed. Your Amazon Pro Seller account is one of them.
Personal Name or Company Name?
When creating your account you will be asked for the name or entity that owns the account. You have a decision to make here; will you go with your personal name, or create a legal entity for this new business?
Let me be clear and say I'm not an attorney or an accountant, nor I play one on TV, but I can tell you I run my businesses under LLCs. These legal entities help you protect your personal assets in case of lawsuits, and can also provide some tax advantages. Of course, I highly recommend you consult with your lawyer and accountant before making this very important decision.
Congratulations! You now have a Professional Seller account on Amazon… The next step is to find products to sell, but how?
How to Find Products to Sell on Amazon
The first thing to do is product selection. Is there a market, or product you're passionate about? Are you into specific sports or hobbies such as horseback riding, backpacking, and canoeing? If you manage to find a business you have a passion for, things tend to be easier, but (and this is a BIG but), do not go into business just because you have a passion for the niche. You must be sure it is a viable and profitable business; after all, passion doesn't pay the bills. (For most people.)
It's also important to keep your eyes open for opportunities; some products are not going to fall into your passions. Chances are you won't even use (or like) some of the best products you find; the important part is not whether you like it, need it or use it, what matters is if other people (hopefully a big number of people) like, need and use your product.
If you train your brain to look for product opportunities, you'll start having product ideas everywhere you go. As you go about your day, look for things around you. Make a list of the ideas you have during the day (I recommend EverNote for all your note taking needs.) Once you have a nice list going, check Amazon for these, and similar, products.
Amazon will even make your research job easier by recommending related products. For example: if you were to start your search looking for headphones, you could, hypothetically, see that there are shower speakers in the related product section. Clicking into those shower speakers could then produce results related to "bathroom products" that could lead you to find a cool bathroom product with high margins, low competition that you can source on Alibaba.com. Boom! You have your first viable product idea.
Product ideas can literally come from everywhere. Keep your eyes open and take notice of products being used and/or being advertised all around you. If you're at the dentist or getting an oil change, you could flip through magazines and pay attention to the ads. If your kids are watching TV, notice what type of toys and games are being advertised during the breaks. Can't sleep at night? Check out what the shopping networks are selling. Wasting time on social media? Check out what your friends are doing, and pay special attention to the products your friends use.
If you find a product you find interesting, you can then look for a way to source a similar product, or a product that helps the same audience in a different way.
The ideas I just shared with you work, even if you're not working; but if you want to actively research products, Amazon.com is a great tool as well. Amazon has categories that update very frequently that help us know what's hot right now. You can find those listings here:
http://www.amazon.com/gp/movers-and-shakers/
http://www.amazon.com/gp/most-wished-for/
http://www.amazon.com/gp/new-releases/
http://www.amazon.com/Best-Sellers/zgbs/
Most of these pages can be filtered by categories and sub-categories, so if you're looking for products on specific categories, these pages are great!
Another fantastic way of using Amazon.com for our research is the search bar. If you type a generic search on Amazon, you'll notice there's a dropdown with more specific search term suggestions. These suggestions can help you come up with product ideas, and have the added benefit that these suggestions are being generated because consumers are actively searching for those terms on Amazon.
PRO Tip: Think Ahead!
As you conduct your research think ahead. Once your first product succeeds, can you come up with related products to sell under the same brand? Having a collection of tightly related products can help you in the long run because Amazon will suggestive-sell your products from within each of the products' listings. Another added benefit of having a collection of tightly related products is that it increases the chance that a big company will make an acquisition offer to buy your business for a nice payday.
Thinking ahead is great, but remember, focus is key at the beginning. Go through the motions, get your product out there, promote it, get reviews for it and make some sales. None of this will ever happen unless you get started. What are you waiting for?
0:45 Introduction to the AM/PM Podcast (and the reason for the name)
1:50 Recap of Manny's goals in his Amazon business
2:20 Early results on Manny's first product on FBA
3:05 Nerdy factoids about Amazon
5:18 Why Amazon Private Labeling?
7:25 The first step to do if you're serious about private labeling
8:46 Should you set up an LLC or start out under your personal name?
9:50 How to find products to sell on Amazon?
10:58 Example of a weird product Manny is selling on FBA
11:54 How to find products as you go about your daily routine
15:05 Finding products on Amazon.com
18:26 Why it is important to create a brand with your products
20:40 Why you should start with just one product