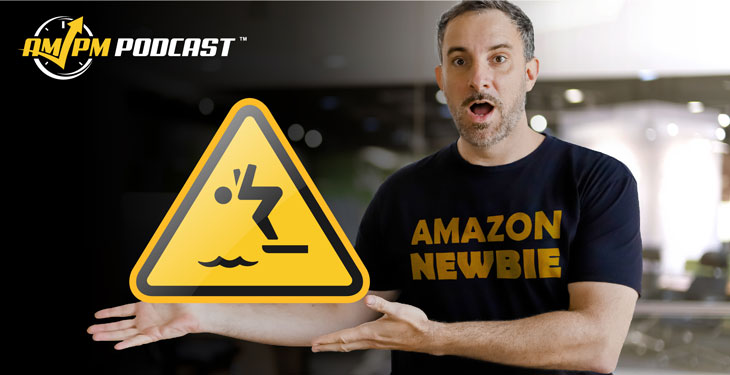 Before Taking the Plunge: A Pre-Launch New Seller Perspective – AMPM Podcast EP 190
On this channel, we have featured many people who have already launched a product, but what about a new seller who is getting ready to launch a product?
We talk to many sellers who have had success with their products, so for this episode, we wanted to change things up to concentrate on the experiences new sellers have before launching a product at all.
These new seller experiences can range from frustrations of settling on your product niche to dealing with a manufacturer. Thankfully, there are now many resources out there to help new sellers get educated about how to launch a new product, but not all courses are created equal.
Check out the video podcast here:
In episode 190 of the AMPM Podcast, host Manny Coats speaks with new seller Kala Myles. She has yet to launch her first product but has gone through all the experiences that make up the bulk of the seller journey such as product research, Amazon selling education, dealing with suppliers, and more.
Kala offers a perspective on Amazon selling that we don't always think about but is critical to being successful: remembering those first crucial steps in the seller journey.
In this episode, Kala discusses many insightful experiences with Manny, including:
00:30 Introduction to Kala Myles
02:38 Kala's Future First Product and Avoiding Hijackers
05:23 How Did You Get Started Learning About Selling on Amazon?
06:11 What Amazon Courses Should People Be Wary Of?
07:43 What Have Been Your Favorite Amazon Course So Far?
08:27 Kala's Crazy Experience with Ordering a Logo
09:20 Kala's Crazy Experience with Sourcing
11:10 What is Your Expectation 12 Months After Launching Your Product?
12:20 How Much Money Are You Starting with to Launch Your Product?
13:15 What is Your Minimum Order Quantity?
14:02 Starting with the Right Number of Units is Imperative
15:05 Securing Funding for to Launch Your First Product on Amazon
16:05 When You Don't Want to Target a Top Keyword
16:44 Knowing Your Numbers
18:15 The Profitability Calculator
19:15 Interesting Ways to Increase Your ROI
20:31 Are You Going to Be Sourcing from China?
21:01 What Is One of the Biggest Mistakes You See Other Sellers Making?
22:10 What Are Your Ninja Tactics You Are Waiting to Employ?
23:51 What Products Do You Avoid?
24:34 What Sources Do You Use for Product Research?
25:30 Join the FBA High Rollers Facebook Group
25:58 Avoid Out-of-Date Amazon Courses
27:01 The Importance of Trademarks
Enjoy the episode? If you found this episode helpful, be sure to check out our previous episodes for more insight into being a successful Amazon FBA Seller! Don't forget to "Like" our Facebook page and join the conversation with over 22,000 prominent other sellers! And don't forget to subscribe to our podcast!
Want to absolutely start crushing it on Amazon and make more money? Follow these steps for helpful resources to get started:
Have any thoughts on new seller issues? Let us know in the comments below!