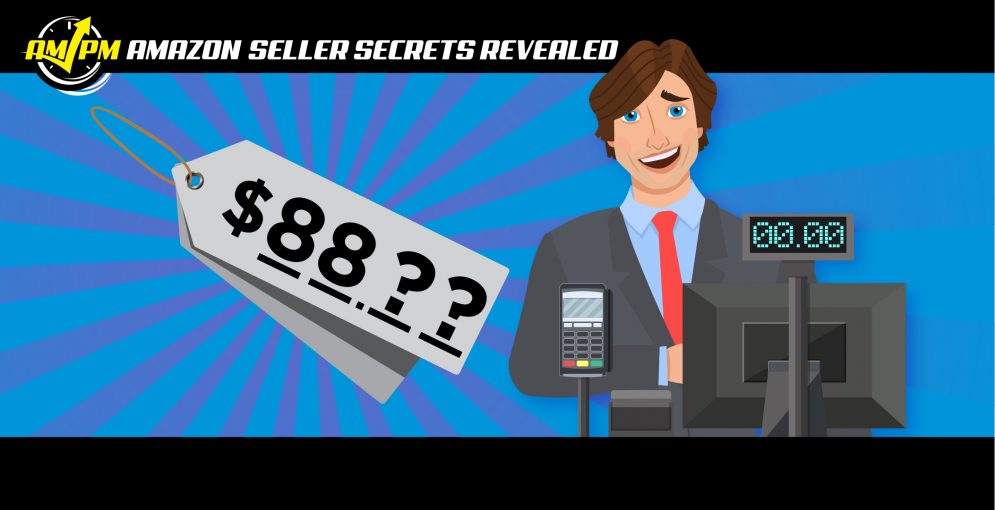 How Significant is Pricing Amazon Products at .00, .99, or .97?
Pricing Amazon products can feel like the biggest tug of war in the minds of many sellers. Do you price it lower to undercut the competition, or do you price higher to make your product appear more valuable?
More interestingly, how do you end your pricing? Do you make it something like $9.99, or an even $10.00? Does it even matter? The answer may surprise you, depending who you talk to when pricing Amazon products.
In this episode of Amazon Seller Secrets Revealed by the AMPM Podcast, our guests talk about pricing Amazon products and how they like to end their displayed prices online. Is it a strategic marketing ploy, or is it just a cultural thing?
Today's question that focuses on pricing Amazon products at certain penny intervals is:
"How do you price your products and why? Do you end it with .00, .99, or .97?"
See the full Amazon Seller Secrets Revealed video here:
How Significant is Pricing Amazon Products at .00, .99, or .97? - AMAZON SELLER SECRETS REVEALED
CHECK OUT MORE VIDEOS ON OUR YOUTUBE CHANNEL!
Here is a more in-depth look at the expert answers:
Here's how top sellers approach pricing Amazon products…
Barbara Boschen, Co-Founder of Comerchant Relisting Software
So if it's something that is more, um, and even maybe general commodity type thing, like a soap sampler or something that you would give as a gift, I'll tend to do that with $19.99, $14.99, $9.99. I try to find products that fit those characteristics. So if it's selling for $14.99, my cost has to be less than $5, right? To cover amazon fee and my margin and everything. But those amounts I think are really meaningful to a customer. Like it's actually more expensive to them to sell it for $18.99 than $19.99.
For a more luxury-oriented product, I will do 00. so it's $36.00 or it's $40.00. It's never $39.99 or $49.99 because at that price point, you're in a different mentality.
Greg Mercer, Jungle Scout CEO
For pricing products, we've done a lot of split testing around this actually, and the results from these split tests have shown that it doesn't matter whether you use like 90, 95, 97, or 99. None of the products that were tested, even the ones that sell very well had enough volume to ever reach statistical significance.
At the end of the day, it doesn't really matter at all. Which one of those you choose. The split test that did reach statistical significance was like 19.99 versus 20.00. And that one actually did convert a hair bit better than the .99. So I price, all my products at .97 or .99, it doesn't matter.
The only advice I'd give to you guys is just don't do the .00. Just do a penny or a few pennies lower than that.
Nick Katz, The Japan Guy
You have to research as to what kind of pricing is normal and what feels right to the customer. I sell a lot in Japan and I live in Japan, and they don't end products with 99. You kind of get used to the prices in the country you're in and if you see a price is not right. It just kind of feels weird. I've been in Japan a very long time and they finish with 80, so it could be 80 or 800. So for example, $18 in America would be about 1,900 yen. So if I wanted to sell an $18 product in Japan. I would price it at, for example, 1,980 yen or 1,800 yen. [This] is really, really weird for like a Westerner. I'm from England; that's a weird price in England, but it feels right in Japan.
Want to absolutely start crushing it on Amazon and make more money? Follow these steps for helpful resources to get started:
Get the Ultimate Resource Guide from Manny Coats for tools and services that he uses every day to dominate on Amazon!
New to Selling on Amazon? Freedom Ticket offers the best tips, tricks, and strategies for beginners just starting out!
CLICK HERE TO SIGN UP FOR FREEDOM TICKET
Trying to Find a New Product?
Get the most powerful Amazon product research tool in Black Box, available only at Helium 10!
Want to Verify Your Product Idea?
Use Xray in our Chrome extension to check how lucrative your next product idea is with over a dozen metrics of data!
GET THE HELIUM 10 CHROME EXTENSION
The Ultimate Software Tool Suite for Amazon Sellers! Get more Helium 10 tools that can help you to optimize your listings and increase sales for a low price!
CLICK HERE TO GET STARTED TODAY
Protect Your Amazon Brand with a Trademark!
Protecting your brand from hijackers is vital. SellerTradmarks.com provides a streamlined process for obtaining a trademark for your business and shielding your products from fraud!
CLICK HERE TO GET YOUR TRADEMARK
Want to REALLY Show Off Your Products? Get Professional Photography!
Presenting your products with professional grade photography has been proven to improve sales on Amazon, so what more incentive do you need?
CLICK HERE TO GET PROFESSIONAL PRODUCT PHOTOS
Ready to Get Serious About Your Amazon FBA game?
The Illuminati Mastermind offers monthly training for advanced level sellers. Reserve your seat today so you don't miss out on this helpful webinar!
CLICK HERE TO JOIN THE NEXT WEBINAR
Does Amazon Owe YOU Money? Find Out for FREE!
If you have been selling for over a year on Amazon, you may be owed money for lost or damaged inventory and not even know it. Get a FREE report to see how much you're owed!
CLICK HERE TO GET YOUR FREE REFUND REPORT