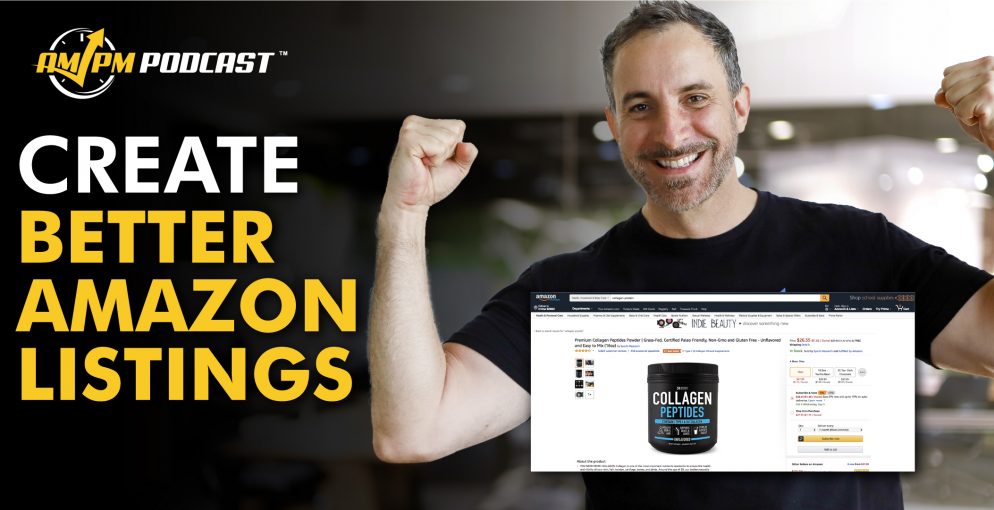 Amazon 101: How to Create the Best Amazon Product Listings – AMPM Podcast EP 183
Amazon 101 with Kevin King continues where he and Manny discuss how to build the best Amazon product listings!
Ensuring that your Amazon listing is perfectly optimized is crucial to the success of your product launch. New and experienced sellers alike can make the same mistakes when building their listings, which can have negative effects on your sales and your ability to compete in your market niche.
By using the best Amazon product listings as a guide, you can evaluate your own Amazon listing optimization efforts and make improvements where necessary.
Check out the video here:
In AMPM Podcast episode 183, host Manny Coats asks Kevin King his thoughts on how to create the best Amazon product listings. Elements of the listing include product photography, keyword research and implementation, building the parts of the listing correctly for launch.
Build the Best Amazon Product Listings
In this episode, Manny's questions about building the best Amazon product listings include:
00:48 – Reintroduction of Kevin King
02:40 – What Are the Most Common Mistakes Sellers Make on Their Listings?
04:18 – What Resolution Quality is Best for Amazon Product Images?
05:00 – What is the Best Ratio of White Space to Have in Amazon Product Images?
07:04 – Split Testing Images Before Launching A New Product
08:13 – Sellers Not Doing Correct Keyword Research
09:41 – Is It Better to Rank #1 for One Keyword That Gets 100,000 Searches Per Month, or 10 Keywords That Get 10,000 Searches Per Month?
10:31 – What's the Most Important Part of an Amazon Listing?
12:10 – What is the Best Strategy for Adding Keywords to Your Amazon Listing?
17:30 – Don't Put Your Brand Name First in Your Product Title
18:04 – Can You Use Emojis in Your Listing Bullet Points?
19:04 – What Tools Do You Use in Finding Amazon Keywords?
21:40 – Kevin's Product Photography Strategy
24:20 – Adding Video to Enhance am Amazon Product Listing
25:34 – Joining Kevin's Courses on Freedom Ticket

Enjoy the episode? If you found this episode helpful, be sure to check out our previous episodes for more insight into being a successful Amazon FBA Seller! Don't forget to "Like" our Facebook page and join the conversation with over 22,000 prominent other sellers! And don't forget to subscribe to our podcast!
Want to absolutely start crushing it on Amazon and make more money? Follow these steps for helpful resources to get started: