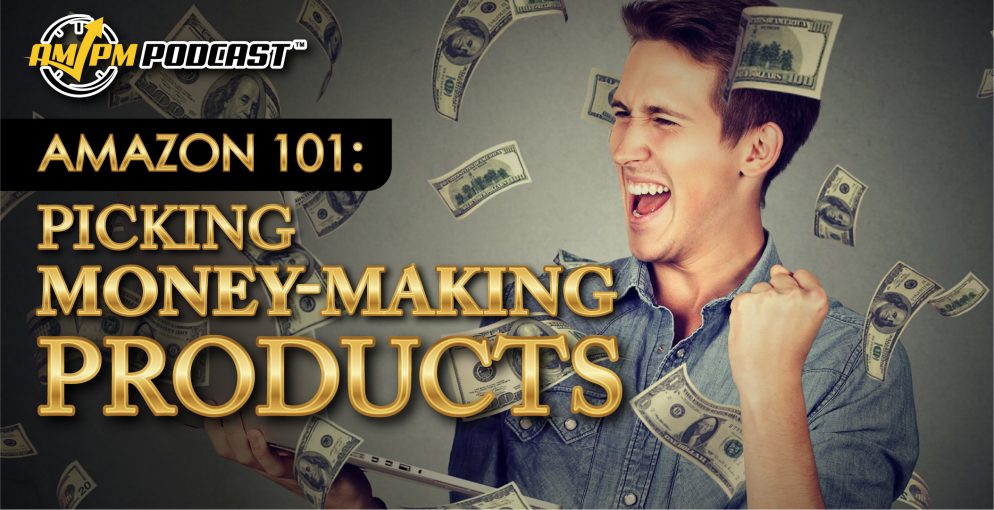 Amazon 101: How to Pick the Products That Make Money on Amazon – AMPM PODCAST EP 182
This Amazon 101 series will let you in on the expert secrets for choosing the best products that make money on Amazon!
Manny has a special treat for all the new sellers who want to learn how to start selling on Amazon! Together with his good buddy Kevin King, he will be creating this three-part series to explain the finer points of how to make money on Amazon in the beginning.
Check out the video here:
In AMPM Podcast EP 182, host Manny Coats speaks with Kevin King, a 7-figure Amazon seller, and teacher for Illuminati Mastermind and Freedom Ticket, on the best methods to use for finding the best things to buy and sell for profit on Amazon. He also divulges expert advice on what to do once you have chosen your product to get your listing up and running.
Whether you are a newcomer to selling on Amazon or are an experienced seller wanting to find better products to sell to make money on Amazon, you'll get the most up-to-date advice from an Amazon master.

In this episode of the AMPM Podcast on how to pick the best products to make money on Amazon, Manny and Kevin's discussion includes:
00:25 – Manny and Kevin Introduce the Series
01:35 – Introduction to Manny and Kevin
03:42 – Finding the Best Products is About Finding Good Opportunities
06:50 – How to Find and Pick A Profitable Private Label Product to Sell on Amazon
07:38 – Investing in Oversized Products
08:00 – How Important are Reviews When Looking for a Product?
09:50 – Potentially Low-Profit Margins with Smaller Products
12:12 – Once You Find a Product, How Do You Know If It Will Be Successful?
19:40 – Making Sure Your Next Product Has Good Keywords
21:45 – How Important is Selling Through Amazon FBA?
22:55 – Images Are Crucial in Optimizing a Product Listing
25:00 – How Important is Being Passionate About the Product You Are Selling?
26:57 – Should New Sellers Offer Variation (i.e. Multiple Colors, Shapes, etc.) in Their First Product at Launch?
28:51 – What Are the Most Important Things to Get Right on Your Amazon Product Listing?
30:45 – How to Manufacture a New Product to Sell on Amazon
32:07 – What Products Should New Sellers Stay Away From?
33:43 – Great Product Sourcing Resources for New Sellers
34:03 – How Much Money Does a New Seller Need to Get Started Selling on Amazon?
36:58 – Ordering Inventory Ahead of the Lead Time to Avoid Stocking Out
38:26 – What to Do If You Choose the Wrong Product to Sell
40:22 – Are There Good Places to Source Products in the USA?
41:37 – Freedom Ticket and FBA High Rollers Facebook Group
Enjoy the episode? If you found this episode helpful, be sure to check out our previous episodes for more insight into being a successful Amazon FBA Seller! Don't forget to "Like" our Facebook page and join the conversation with over 22,000 prominent other sellers! And don't forget to subscribe to our podcast!
Want to absolutely start crushing it on Amazon and make more money? Follow these steps for helpful resources to get started: